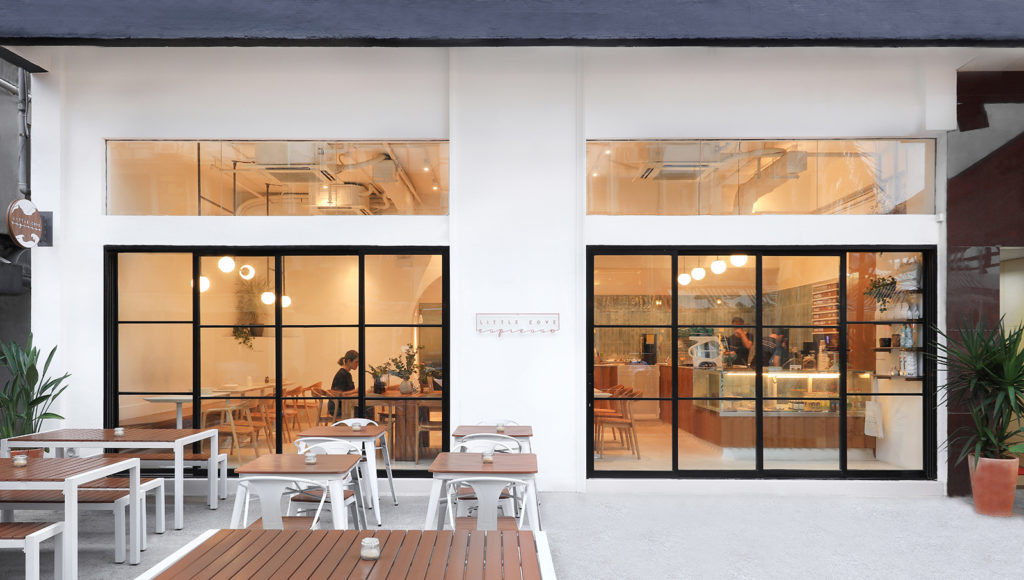 Untold stories between cafe owners and interior designers (Photo: Studio Adjective)
The decision on opening a coffee shop may take only one second to make. However, it takes a much longer time to work with your design team to build your ideal shop. Different ideas in design, aesthetics and concepts will consumer not only money and time but also passion. Here are some behind- the-scenes stories of cafe owners and their design teams that have been never told before.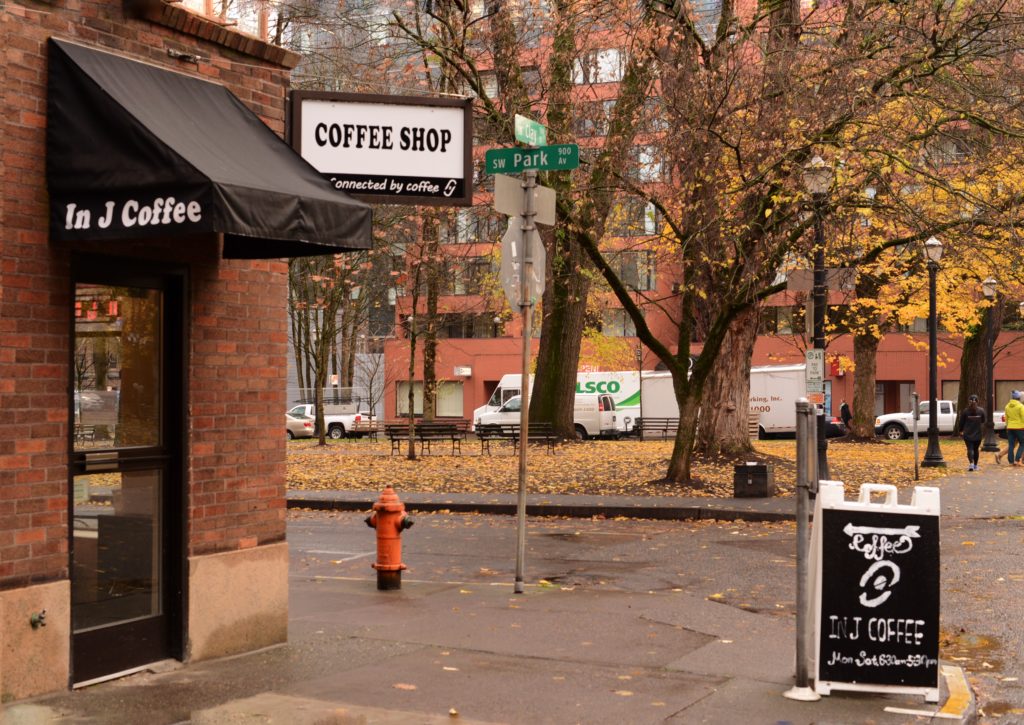 In J Coffee in Portland  (Photo: In J Coffee) 
Dream Shop vs Reality
Joe Yang is a young Chinese entrepreneur in the United States. Living in Portland, he has been soaked in the coffee culture for a long time. As an owner and barista, Yang understands well how far away from his dream coffee shop it is. "My coffee shop (In J Coffee) opened on January 12 this year," said Yang, "After two years' experience in the US coffee industry, I decided to open my own shop." Yang's coffee shop reveals characteristics of warmness and coziness. "Most of remolding and decoration were completed by ourselves." Yang gave up the idea of recruiting a design team due to a limited budget. Instead, he sought for valuable advice from many coffee shop owners, which greatly helped improve their work efficiency.
Also, as Yang confessed, the cafe is not like what as he planned originally, "My dream shop should be bigger than this one (500sqft now), featuring a kitchen and a roasting space." Like many entrepreneurs, Yang prefers to be realistic to start small. "We don't have a design team for the small budget on decoration. As I want to create a relaxing environment for customers to enjoy, so I keep the coffee shop in a simple classic style."
As a proverb goes, "Good wine needs no bush." Yang made a compromise and chose to spend the money on the other thing. "I decided to use them all on the coffee machines," he said. Such a decision is not rare to see in many coffee shops.
Featuring a maple wood bar counter and white walls, the decor makes it like a homy dining room. "Customers always appreciate how cute our coffee shop is, which I believe is one of the reasons they become regulars now," shared Yang, "The welcoming environment along with friendly customer services is very important. But good coffee matters more."
Tip from Yang
The quality of coffee, sometimes, is not as important as how a coffee shop looks. But owners should do their best to provide good coffee. Good looks play the roles of guidance on attracting more customers.
Challenge vs Communication
Adam Frampton and Karolina Czeczek founded the architectural practice Only If in New York City back in 2013. Before the establishment of Only If, both had working experience in the Netherlands and Hong Kong at OMA, a firm founded by Rem Koolhaas in 1975.
After completing two cafe projects, Voyager Espresso and City of Saints at Byrant Park, both located in New York City, they found that "doing anything unconventional is always a challenge."
Voyager Espresso is their first project completed in 2015. Frampton introduced, "We had broader latitude to define the identity and visual language, since it was their first location. In that case, we had a very constrained budget (and space), but that drove some of the material invention and unusual decisions with the spatial organization." With these projects, they have approached all aspects of the design iteratively, so there's always discussion and consideration of different approaches in their process, both internally within their team and externally with their clients. Communication plays an important role.
Everybody has their own philosophy in aesthetics. For Only If, the design team has their own understanding about popular aesthetic trends in coffee shops. "We're responding to what's happening now and the expanded role that coffee shops play in the freelance economy, but trends are sort of boring and we like to avoid them," said Frampton.
Czeczek shared her own thinking about coffee and aesthetics, "Aesthetics is only one aspect in the design of small shops and coffee bars. Although our work has gained attention because we're creating a very different aesthetic and material language from many contemporary cliches, we're not simply interior decorators. Perhaps because of our background as architects, other aspects which we consider equally important include the organization of the space, the social settings created for customers, the ergonomics of coffee service, and the integration of all these things together."
It can be challenging for designers and architects to design an aesthetic coffee shop but this also gives them a stage to show their deep thinking and understanding of the world.
Tip from Only If
We approach all aspects of the design iteratively, so there's always discussion and consideration of different approaches in the process, both internally within our team and externally with our clients.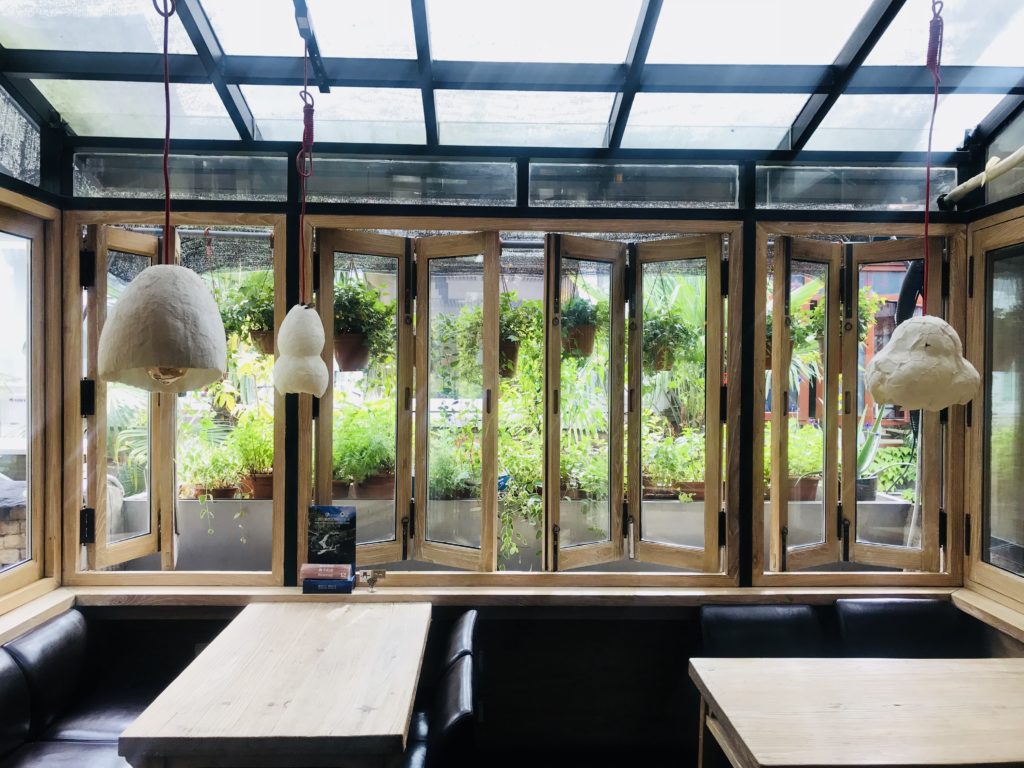 Café Dan in Shanghai 
Compromise vs Insistence
The owners of Café Dan Taka Niuya and his wife Zeng Tao are content that they insisted on the style they sought for when they established one of the earliest Japanese cafes in tourist attraction Tianzifang in Shanghai in as early as 2007. Niuya also holds a PhD degree in physics.
"My husband drew the design plans as we had a clear idea of the cafe's style. We recruited a team to help us. At first, the team didn't listen to us but we insisted on what we wanted to achieve in the cafe as a style. Gradually, they understood what we aimed for and together helped us to achieve the goal. We are very happy about the result as the cafe is now," said Zeng.
For the cafe, Niuya and Zeng sourced the ideal wood pieces themselves. Some were second-handed pieces from demolished sites while others were made to order from wood factories. "We wanted to keep the natural texture and streaks in the wood.
We didn't want anything extra but this special treatment took us a long time to make sure the maker that was what we looked for," smiled Zeng, "We also liked natural light shining through the cafe, so we turned this traditional balcony into a lovely green room with wooden window frames." Niuya regards this as a communication with the nature, which reminds him of those old times when he roasted coffee beans at camp sites in Japan. As for the couple, the customers love the decor of the cafe as well as a good cup of coffee brewed by its owner with traditional Japanese "Matsuya."
Tip from Café Dan
Insist on the style that you like and don't change much as your customers become regulars because of the decor and taste of the coffee shop.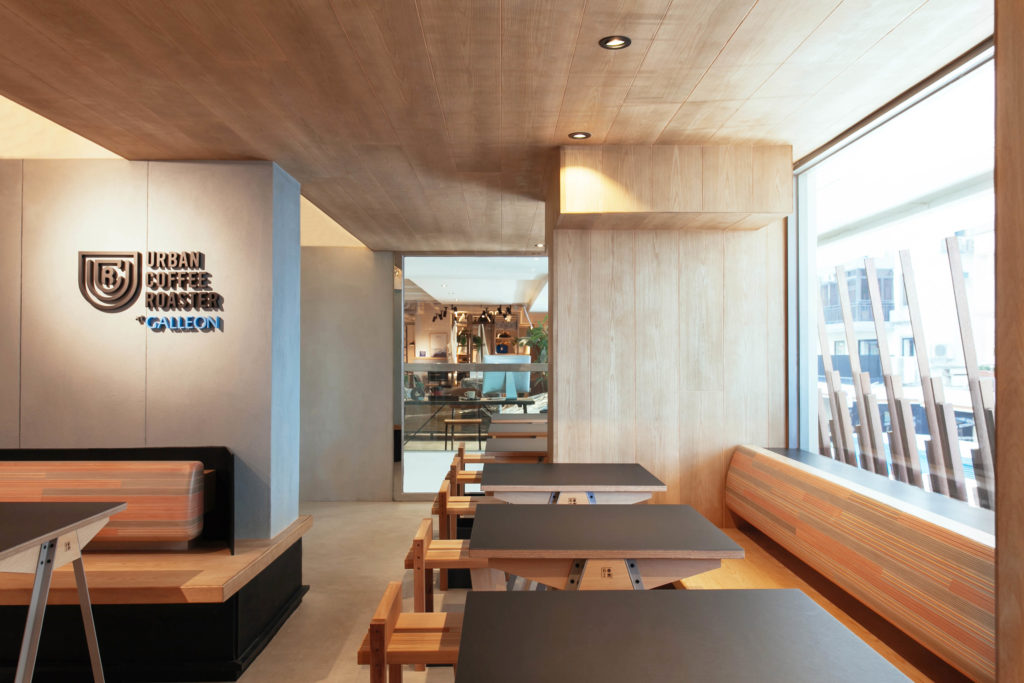 Urban Coffee Roasters in HK by Studio Adjective (Photo: Studio Adjective)
Understanding vs Interpretation
Similar to Portland, a city like Hong Kong is never short of good coffee shops. The award-winner Wilson Lee co-established the Hong Kong-based Studio Adjective in 2016. The Design Director holds a belief that a good design should be able to narrate a good story. The studio has completed around 10 coffee shops and cafe projects so far. "It's important to complete a design with a reasonable budget."
Lee thinks that it is very important for designers to "really understand the market and translate it into a suitable design language" in a bid to make coffee clients listen to them. "Because this is an important bridge to link with the client in assisting them to make a good profit afterwards," as he shared how they gain the trust from clients, including local coffee brands NOC, Urban Coffee Roaster, and Little Cove Espresso.
When customers are into taking photos with a nice backdrop in a cafe, to designers, "it's more important for the design or aesthetics to be able to bring out the characteristics of the brand and also having a relationship with the context," commented W. Lee.
Don't just focus on the interior design for the project either. The goal is to create a design for the brand that can be self-sustained on the market and able to tell their unique stories. The designer always needs to dig deep and bring out the core brand value, which the design is developed with, W. Lee told CTI.
Tip from Wilson Lee of Studio Adjective
Translate abstract design concepts into understandable languages. Sometimes, design concepts can be difficult to understand. The team should always discuss how they should deliver their design thinking in a common language between the clients and the market. And to be sure the clients will be also on the same page with us and work out the concepts together.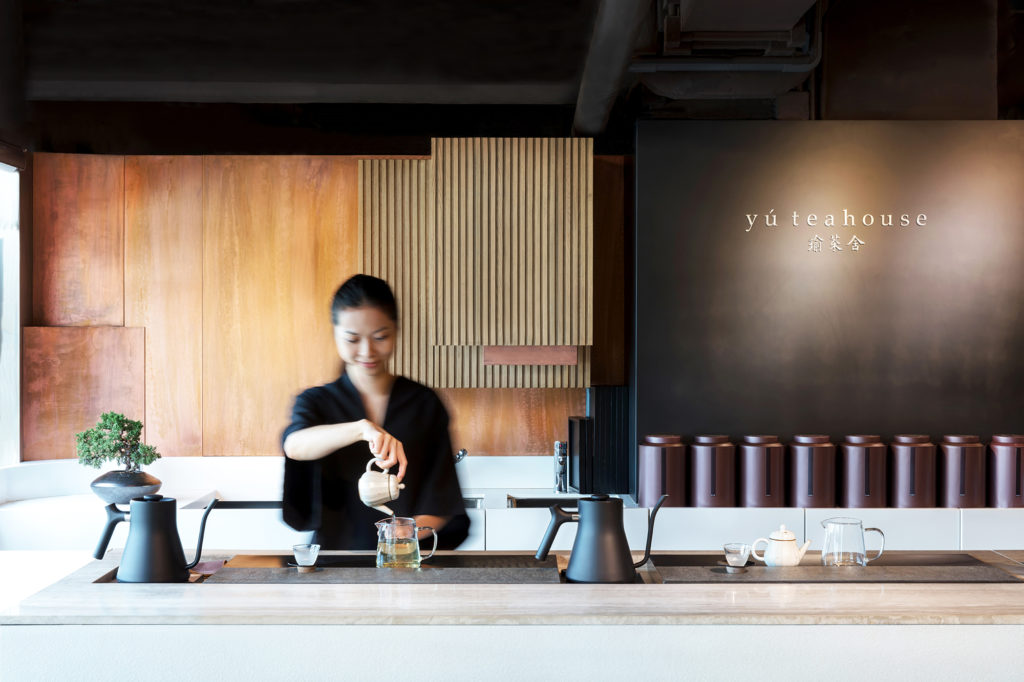 yu teahouse by Studio Adjective (Photo: Studio Adjective)
Aesthetics vs Practicality
Samson Lee, Senior Interior Designer with Studio Adjective, strengthens that one should balance aesthetics and practicality. "Usually, clients are satisfied with our first design plan," he shared, "but it is more challenging afterward. It takes a long time to persuade them to stick to one style and not to bring everything that they like into the shop."
"Sometimes, clients approach us and seek for design styles alike the established brands in the world," W. Lee shared, "We have to persuade them realizing the importance of their unique identity instead of designing a space just to 'look good'."
Many people think aesthetic trends affect design for sure. S. Lee agrees, "It does happen, for example, the choice of materials, information and technologies. But it is only a small part of design, say around 25-30%. We believe every coffee shop should have its own style and characteristics, including its values on which the design should be based."
More and more cafe owners seek for stylish designs. The need pushes design firms to suggest fresh new ideas and better design plans at the same time. Sometimes, it makes customers feel proud to visit a renowned coffee shop which looks gorgeous. "Customers like such coffee shops too," said S. Lee.
Tip from Samson Lee of Studio Adjective
As designers, we compromise from time to time when we can't get both. Our job is to help cafe owners build an aesthetic yet very functional space that will improve work flow.
Conclusion
It's always important to find the balance point at every single stage during the design of a coffee shop, through communication, compromise, cooperation or even negotiation. The coffee shop owners and their design agencies form a team to achieve the same goal. In the end, "coffee shop is a social place for gathering and a place for a quick getaway."
---