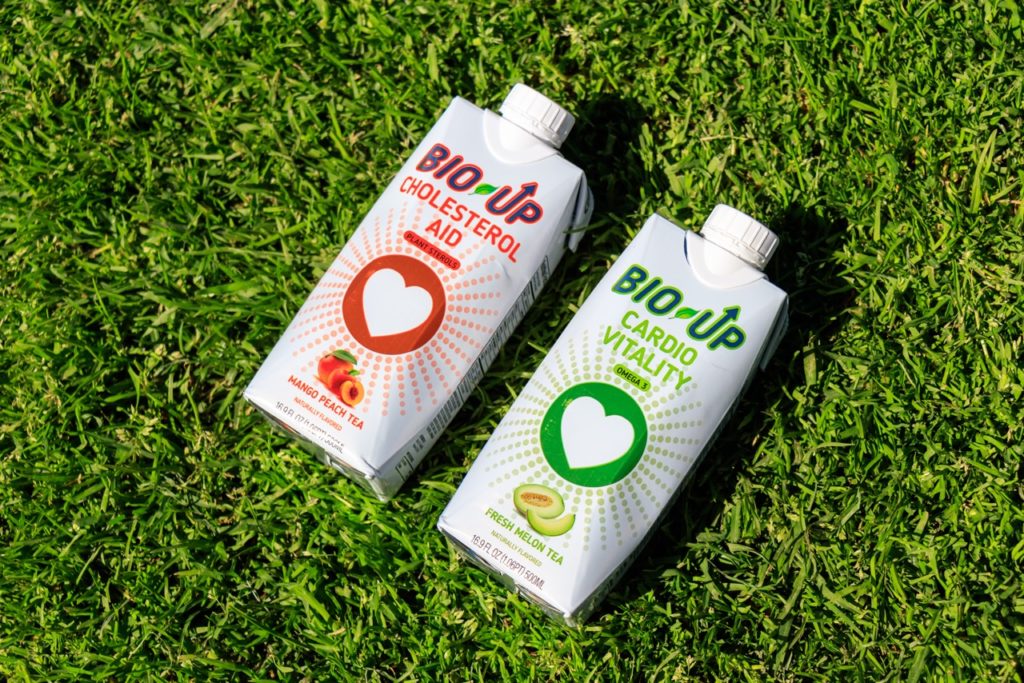 Not long ago, Bio-Up Mimetic Technologies Inc. rolled out a new and revolutionary brand of functional beverages: Bio-Up. With its refreshing functional teas Bio-Up aims to keep customers healthy and feeling great.. Bio-Up boasts a proprietary liposomal technology to create maximum absorption of the important nutrients in their drinks.
Sounds intriguing? We are happy to talk with the Bio-Up beverage team for a closer look.
When Science Touches Trendy Drink
– A group of scientists revolutionizes the beverage industry.
Q: What is Bio-Up Mimetic Technologies Inc.? What products does it offer?
A: Bio-Up Mimetic Technologies is a technology firm that aims to use its proprietary liposomal delivery system to revolutionize the consumer products industry. Initial applications of our technology include functional teas and dried dietary supplements. We are exploring applications in coffee and ice cream in addition to other new product development.
Q: How and why did the company start? Who else is part of the company and what fields were you in?
A: Bio-Up Mimetic Technologies was started by a group of scientists who founded Vestar, Inc., a company to that developed a technology for anti-cancer and anti-infective drug delivery using liposomes. Our scientists later adapted pharmaceutical liposomal technology for application in consumer products. Our founding scientists include John Baldeschwieler, Ph.D, a pioneer in liposomal science and a Caltech Chemistry Professor Emeritus, Crispin Eley, Ph.D, Bio-Up's current Chief Scientific Officer, and Don Hodgson, Ph.D. Additional founders include Janet Braun and Adam Cochran, both of whom were part of the team at Vestar. Bio-Up Mimetic Technologies aims to utilize liposomal technology to improve consumer lives through science.
The Bio-Up Beverage division is operated by Christopher Boyer, President, who is an award-winning marketing executive for beverage brands like Nesquik, Dasani, Honest Tea, Coca-Cola, Juicy Juice, Kraft's Pacific Blend Coffee, and Abuelita Hot Chocolate.
One-two Punch of "Good for You" Product
– Bio-Up Functioning Teas tastes cool while functioning cooler.
Q: What are Bio-Up Functional Teas?
A: Bio-Up Functional teas help consumers maintain their health by providing important nutrients enhanced by science. Our first two formulations are:
Cardio Vitality: created to help maintain heart and circulatory health. With 350 mg of Omega-3 fatty acids (200mg DHA and 100 mg EPA), our liposomal delivery system allows for 4.7 times better absorption of the Omega-3s than regular gel caps. DHA and EPA have been shown to help maintain heart and brain health. Cardio Vitality has a refreshing melon mint flavor, low sugar, and no artificial ingredients or GMOs.
Cholesterol Aid: created to help reduce the risk of heart disease and maintain healthy cholesterol levels. Cholesterol Aid contains 800mg of plant sterols, which have been shown to help maintain healthy cholesterol levels and reduce the risk of heart disease (when combined with a diet low in saturated fat and cholesterol and taken twice daily), delivered via our liposomal delivery system. Cholesterol Aid has a refreshing peach mango flavor, low sugar, and no artificial ingredients or GMOs.
Bio-up intends to release additional formulations, providing a whole line of functional beverages that are formulated to help consumers actively manage their health.
Q: How do they compete with other functional teas?
A: Bio-Up Functional Teas are functional beverages that really work. They differ from other functional beverages because they contain a liposomal delivery system that carries our important nutrients through the digestive system intact, into the small intestine where they are quickly and efficiently absorbed into the bloodstream.
Our consumer is the "health activist": someone who is actively managing their health, so that they can stay out of the doctor's office. Health activists are using foods and beverages to aid them in their quest to stay healthy and vibrant, and are demanding more from their foods and beverages.
Q: What are customers' feedback on the products? Did it meet your expectations?
A: Customer feedback has been incredible. We are hearing from many customers that they feel amazing after using the Bio-Up products for 30 days, and they are seeing improvements in their health scores. Many note higher energy levels, less craving for carbs and sweets, and therefore some loss in weight. All like the flavors and find Bio-Up refreshing to drink.
Because the liposomes are made from lipids, they have a slightly creamy texture, which make our beverages richer than plain tea. Consumers have noted this richness, and most say they like it. They are also surprised at how good the products taste, especially because they consider Bio-Up to be a "good for you" product, so it's a bonus that they both work, and taste good.
"You Are What You Absorb"
-Pioneers apply the 4.7-times-better technology to consumer products.
Q: What is liposomal technology? Could you introduce your proprietary liposomal technology?
A: Bio-Up's proprietary liposomal delivery system utilizes tiny phospholipid vesicles to protect fat-soluble nutrients as they travel through the digestive system. Once they reach the small intestine, the liposomes are specially formulated to mimic natural digestive tract dispersions and quickly and very efficiently release their nutrients which are then absorbed through the intestine wall into the bloodstream for immediate distribution throughout the body.
According to a recent study conducted by Huntington Medical Research Institute (HMRI), Bio-Up's liposomal delivery system allowed patients to absorb nearly 90 percent of the DHA and EPA carried in the liposome.This was nearly identical to the uptake seen with salmon, one of the best sources of EPA and DHA found in nature, and 4.7 times better than traditional gel caps.
Q: Liposomal technology is conventionally used in pharmaceutical applications. What inspired you to apply it into beverage industry? Are you the first one to produce functional beverages through this technology?
A: Our scientists, who were pioneers in the development of injectable liposome therapeutic agents were ideally positioned to adapt this technology for consumer products, including beverages. They were able to reduce the cost and complexity of liposome manufacture for products containing fat-soluble active agents like Omega-3 fatty acids. Our liposomes are different because they disperse these fat-soluble materials in the bilayer of a liposome, made from the natural mixture of phospholipid constituents in plant seeds. Rather than include a water-soluble molecule in the center of the liposome, dispersing molecules in the bilayer allows the nutrients to be easily processed and quickly and efficiently released in the small intestine for optimal absorption into the bloodstream. Bio-Up has a patent pending for our liposomal technology.
Q: How does the liposomal technology work in making teas? How do liposomes help with nutrient delivery? What are the advantages of liposomes delivery system?
A: By dispersing fat soluble nutrients (Omega-3 fatty acids) in liposomes we can ensure 4.7 times better absorption by the body than traditional Omega-3 gel caps. We place our liposomes with nutrients in a black and green tea base because tea has inherently healthy qualities, including high levels of catechins, including EGCG, which is an antioxidant.  Liposomes protect their contents through the stomach and prime them for absorption in the small intestine by providing a copy of the natural structures used in digestive processing. For Omega-3 in particular, the advantage of great taste palatability and no fishy burp back is an added bonus of the liposome encapsulation.
Q: In your opinion how will it develop in the future? Will it lead a trend in beverage industry? Or what challenges will it confront?
A: We are very excited about all the applications of liposomes to deliver improved absorption of fat-soluble nutrients with a wide range of benefits, from enhanced focus and cognitive support, athletic recovery to anti-inflammatory activity, to name a few. We have many other versions of the beverage planned with hard to absorb nutrients such as curcumin, lutein, CoQ10, phosphatidylserine, and more.
Bio-Up Mimetic Technologies has licensed our technology to a dried supplement company called Needed, and they are utilizing the technology to deliver Omega-3 fatty acids in a dried format for use as additives to prepared food.
We strongly believe that absorption is critical for foods and beverages.  If you ingest a high amount of a nutrient, but lose most of it in the digestive process, then that is not helping your health. We are excited to address the widespread problem of nutrient absorption by utilizing our liposomal delivery system, because ultimately "you are what you absorb."
Healthy foods are always the best source of nourishment. It's exciting to have beverages like Bio-Up that can help health-conscious consumers enhance their diets with important nutrients which are not naturally occurring in quantities in foods or not easy for the body to absorb. Liposomes are capable of making a huge difference in nutrient absorption, however, liposomal technology is still somewhat new in the nutrition area. The challenges are in educating consumers about the benefits of liposomes, which means the company has to continue its efforts in educating the market.
You can learn more about Bio-Up Mimetic Technologies Inc. (biouptech.com) and Bio-Up products (drinkbio-up.com)
---