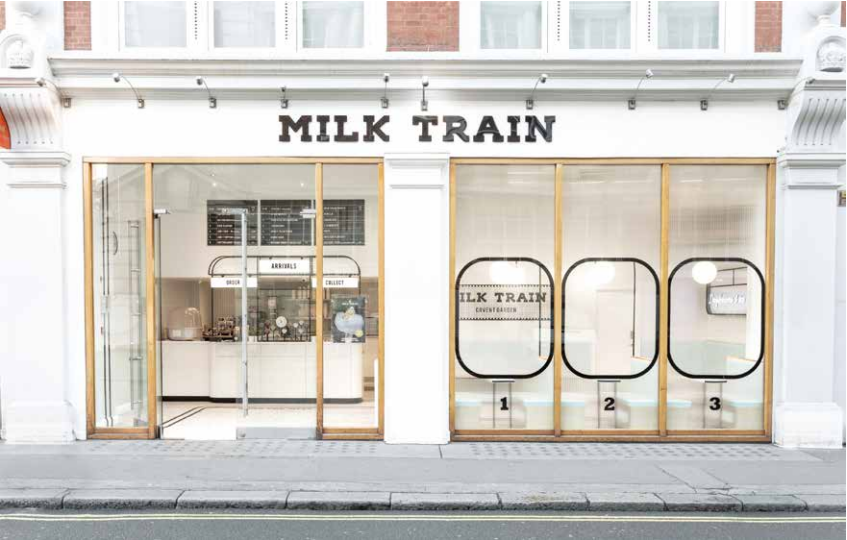 Relocated and relaunched in December 2018, Milk Train's first permanent space has been a phenomenon on Instagram for its trendy interior design and its irresistible innovative ice cream menu. The instant fame online last year made Milk Train take a step forward and created this unique, dream-like "wonderland" for its customers and fans, in collaboration with the London-based commercial design agency FormRoom*.
The Train-themed Ice Cream Shop
Milk Train is a typical customer-driven story where the Instagram-worthy interiors greatly strengthen the bond between the brand and its potential customers and fans. "When creating any design blueprint, we believe that the beauty lies within the smaller details," the agency said.
To FormRoom, the biggest challenge with Milk Train was how to find the balance between timeless and immersive. Milk Train aims for a design that could be unique and interchangeable from season to season, which allows the brand interior to evolve as swiftly as Instagram trends do. As for the word "train" in the brand name, the design team took inspirations from art deco aesthetics in traditional train stations in a bid to establish the brand identity with customers' perspective but in a much fresher and cleverer way. The playful message "Mind the Melt" on the floor is a nice touch attracting customers' attention as it would do in a real train/tube station, which also offers an indication to "wait behind the message" when there is a queue.
Milk Train has four core values, namely surreal, timeless, British and immersive. The interpretation made by the design team gives the ice shop a lot of spaces for seasonal decor or promotions. The most important thing is that you can find all these little details which will make you smile in reply. For example, the train concept doesn't lie in "Mind the Melt" alone. The seating areas mimic the setting of a real train coach. Standing in front of the shop outside, it feels like watching an animated movie co-starring real human munching on an ice cream in a coach.
It's interesting that the space is so versatile that it can be easily adapted to different occasions, either Valentine's Day, Chinese New Year or artistic installations thanks to a dramatic ceiling feature inspired from the train's "steam." The grand arch with globe lighting perfectly matches its timeless British train design. Mosaic tiling and way-finding through the space are brought from train station visual cues as well.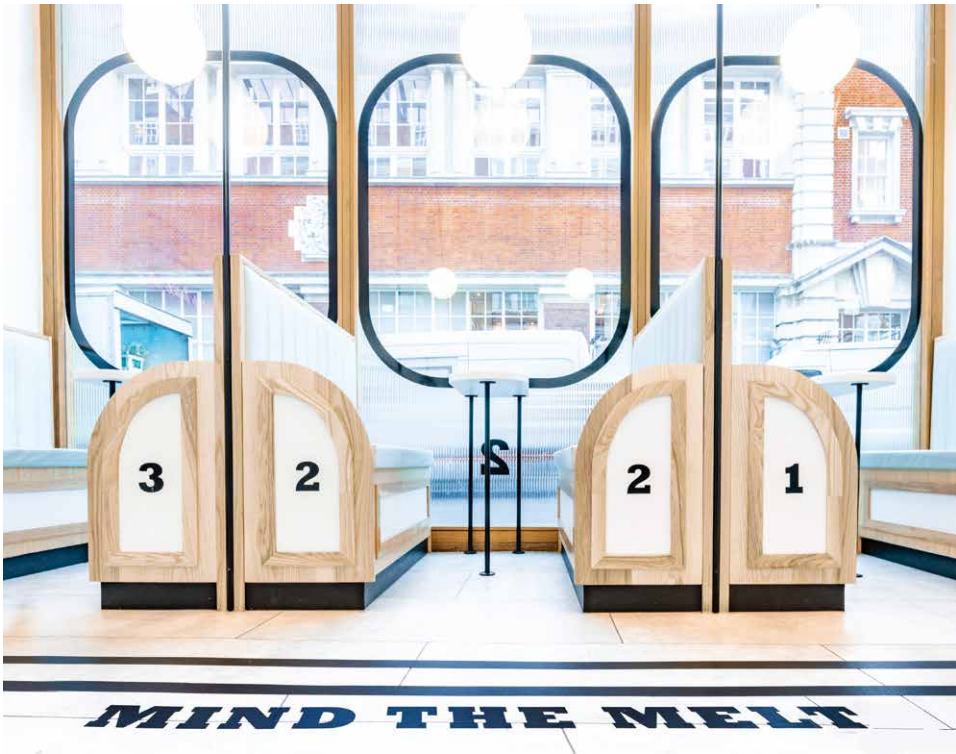 Aesthetics of Ice Cream
Milk Train offers a wide range of ice cream flavors, which also features DIY elements. First of all, its signature cotton candy cloud can match to any flavors of your choice for just 1 pound (8.83 yuan) extra. The eye-catching final touch to the ice cream is just too irresistible to refuse.
A cotton candy floss or a cloud is not new as a sweet treat or a combo to other food. For example, Mellower Coffee used it for its Americano presentation a couple of years ago, which was called "Sweetheart's Rain." Milk Train's version makes its Instagram followers show up offline to "check-in" and post their own shots.
Boasting 64 thousand followers on Instagram, Milk Train has launched a series of social promotions to encourage customers to post their poses with its signature ice cream. To travelers from all around the world, this might not be good news. The marketing strategy not only boosts sales but also encourages long queues.
However, Milk Train doesn't stop innovation in flavors either. In a bid to celebrate the 2019 Chinese New Year, Milk Train introduced eight new Asian flavors for a limited period of only six days, which included Matcha, Hojicha, Purple Sweet Potato, Black Sesame, Custard Tart, Thai Tea, Lychee & Jasmine,and Lucky Tangerine. Certainly, as far away as London, ice cream makers have found inspirations in tea as well.
Furthermore, the ice cream shop put its Milk Train Cherry Blossom Tree Specials as a seasonal menu from March 28 to April 5. The signature cotton candy cloud thus turned pink, which made the presentation even more irresistible for girls. With each purchase, the customer got a free gift of Snapdragon Apple blossom seeds to take home. This bonus brought eco-friendly ideas into the real life of their customers. If you think you could only get the cloud with the ice cream, you may get it wrong at Milk Train. You could add it on top of your drinks as well though it is strongly advised not to top the cloud on a hot drink. Why's that? Well, you can have a try!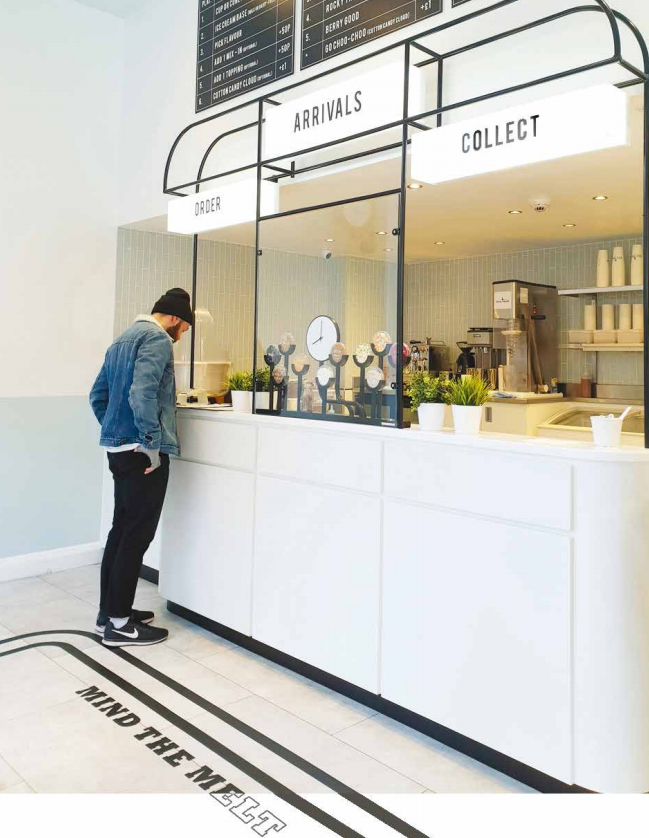 You're Featured!
As social media becomes one of the most powerful weapons in branding and marketing, Milk Train uses their customers' shots in their official Facebook and Instagram accounts. Such a strategy attracts many customers to post and tag the shop online.
"We think beyond separate offline and online customer journeys. Brands need to create experiences, which leverage the advantages of both, because that's how customers behave today," the agency said, "Online can drive footfall into stores through considered social media and brand experiences. If those spaces are engaging and shareable, they will then drive customers back online to share and shop." Going beyond aesthetics, Milk Train is believed to promote a stronger sense of "brand love" to a notoriously experience and digital hungry demographic.
Milk Train now holds photo competitions every Friday, which asks customers to post their photos using the hashtag #milktrain. To celebrate the Star Wars Day on May 4th, Milk Train posted on its Facebook page, which reads: "MAY THE 4TH BE WITH YOU! HAPPY #STARWARSDAY To celebrate, we have Light vs Dark ice cream today only, complete with cookie sabres! Because we'd have cookie sabres if we were one with the force. Whilst stock lasts! In Jedigum vs Sithberry."
Sound interesting? Well, "Mind the Melt" and we'll see you there!
Milk Train
12 Tavistock St, Covent Garden, London, UK
@milktraincafe
---