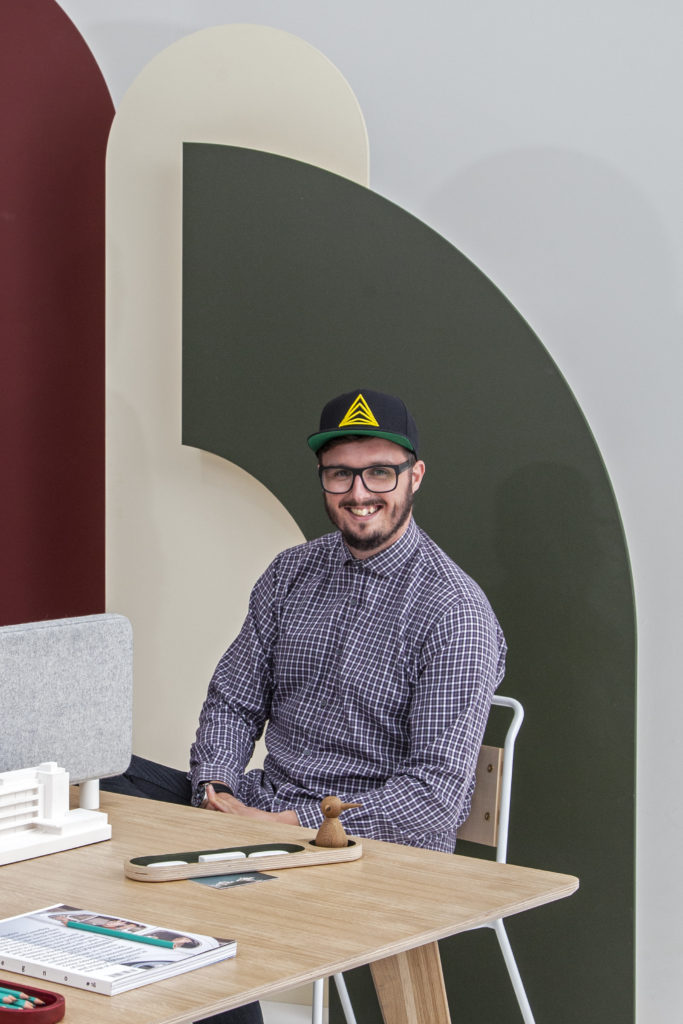 The specialty coffee scene in Saudi Arabia is growing and prospering as more good-quality coffee available in eye-pleasing coffee shops. Saudi-Arabian-based Brew92 is one of them. The coffee chain just opened the third store, which is also its second flagship store. The two-story space features an onsite roastery and comfy seating areas with well-designed geometric wall decors. The design team behind Brew92's three stores is British design firm Liqui Design founded by Cameron Fry in 2007. "Because things can be different" is the company's motto as it strives to blur the boundaries of art, design, furniture and more, presenting a fresh yet inspiring design style to the world coffee community.
Q&A with Cameron Fry
Could you please tell us more about yourself?
I'm Cameron Fry, Founder and Creative Director of Liqui Design. I left school at 16 and went straight to design college studying 3D design and initially focused on jewelry design and making where I acquired a city and guilds qualification but after becoming frustrated with the size of the
finished objects, I decided to move in to furniture. I then moved on to study Higher National Diploma in 3D design and followed that with a BA honor in three-dimensional craft, specializing in contract furniture.
How did you establish Liqui Design?
The name comes from English word "liquid" because I was studying HND I specialized in plastics and I was doing a lot of fluid shapes. The irony is by the time I got to my final year I had had a crisis of conscience and decided to only work with sustainable materials. But I wanted to stick with the name and see it becoming an international design brand from just a concept at college. The logo was designed by my father who is a graphic designer and illustrator. It was on all of my early drawing and presentation sheets for college and university, so it really means a lot now when I see it on the side of our delivery truck or a huge shipping crate going to the Middle East or the USA.
What makes Liqui Design stand out from other competitor studios?
I think it's all of the above, I started out wanting to build a multi-disciplined design practice and that's a lot easier said than done. However, slowly but surely, over the last 11 years we've achieved it. The fact that we have our own manufacturing is a huge part of what we do. It's also the fact that we come from a product and furniture background opposed to just straight interior designers. So our level of knowledge in detail and materials is higher than a lot of other practices that do the same type of work as us. It's quite rare that we have our own product ranges, so we can customize this for clients very easily with very little extra cost rather than our competitor companies as they need to ask manufacturers and then contained with minimum orders and bespoke pricing.
The icing on the cake is the fact that we own a top-flight branding agency as well. So, when we say turnkey, we mean it. The consistency between the brand and interior is really important. When the designers all sit in the same studio, it makes it a lot easier to achieve.
What is your first design relevant to coffee?
A cardboard coffee table. It was my final year piece that I showed at New Designers in London (in 2007). It was actually the design that got me shortlisted for New Designer of The Year.
You have designed three stores for Brew92 in Saudi Arabia. Could you please share how you started the project?
The company had heard of us because of some of the smaller projects we had completed. They came to visit us after we designed London Coffee Festival. They loved our design aesthetics and really liked the fact that it comes from a place of knowledge. It's because I used to run a coffee shop on weekends when I first launched the business. So I understand the operational side as well as how to make it looks appealing.
How did you make your design consistent to the brand while each store has its own characteristics for example, for Brew92?
This comes down to the fact that we have our own product range and we can create new and bespoke pieces for clients. Although each store has a theme that is different to the last, the furniture or lighting is consistent, just bespoke variants. If we introduce new pieces, we still run them alongside pieces you would find in the original store creating a narrative and consistency.
How do you like the specialty coffee scene in Saudi Arabian region? Any differences from the UK?
It was quite behind when we first started working out there, but now it's really picking up the pace. The millennial generation is really engaged with it. Because the Saudi people don't drink and alcohol is illegal, the coffee industry is fast becoming a massive part of everyday life.
What's the biggest challenge when designing a specialty coffee shop in Middle East, compared to that in Europe?
It's much the same. What I love about working internationally is that it doesn't take long before you realize we are all human – our personalities, needs and emotions are all much the same. It's only cultural differences that we have to pay attention to but that doesn't take long to understand once you talk to the client and research the region.
How many coffee shops have Liqui Design created so far? What's the most memorable project?
I've lost count but it's quite a few.
When designing a coffee shop, will you help your client choose coffee machines/makers to match the design concept? How do you usually do? Which is your favorite espresso machine brand?
We tend to not need to get involved because we work in specialty coffee, our clients normally know a lot. If they don't, we point them in the right direction. Picking my favorite machine is very difficult; we work with a lot of machine manufacturers from around the world on their brand experiences, so to pick a favorite would probably be a bad idea.
Could you please use three key words to describe your design style?
Friendly, Sustainable, Detailed.
In your opinion, what does "aesthetics" mean to coffee shops?
It's a big part of it. It's important to create a really nice space to be in. Gone are the days where you could throw some fruit crates on the floor, stick an espresso machine in the corner and call it a coffee shop. People are expecting more now.
Do you go to coffee festivals often? How do you see the development and trend of the coffee industry?
I go to a lot of coffee festivals and the main thing I see changing in the industry is it's becoming a lot more professional. The science behind coffee has been one of the latest trends. So you really have to know your staff to be part of it.
What do you do at leisure? What inspires you the most?
I live on the south coast of England so I love kite surfing and taking the dog for a walk with my wife along the seafront. Nature inspires me the most. If you're not mind blown by Nature, you're not paying attention.
Personally, what coffee is your favorite cup?
Black single origin (Ethiopian) pour-over. As you can imagine, I've had some amazing coffee over the years, but Ethiopian tops the list for me.
Project by Liqui Design/Group
2019 Brew92, Riyadh, Saudi Arabia
2018 Emmanuel Coffee Shop, Hove, UK
2017 Rancilio Trade Stand, London, UK
2017 Brew92, Jeddah, Saudi Arabia
2017 Kaffi Coffee, the Hague, Netherlands
2016 Trade Stands for Cafedirect, Rachel's, Faema, Nuova
Simonelli & Victoria Arduino, La Cimbali & more, London, UK
2016 Muni Coffee, City of London, UK
2016 Beanberry, London, UK
2015 London Coffee Festival, UK
2015 Coffee Masters, London, UK
2014 De L'Orient Roastery, Abu Dhabi
2014 Artisan Coffee Ealing Broadway, London, UK
2013 Beyond the Bean, London, UK
2012 Artisan Coffee Putney, London, UK
---