In the center of Covent Garden in London lies Whittard of Chelsea's flagship store. As one of the oldest British tea brands, it was established in 1886 by Walter Whittard. Now the flagship store has a tea bar downstairs, which is a new "initiative" launched by the brand to show the art of afternoon tea after the successful trial at its Regent Street St James store. If you take a closer look, you will not only find a wider range of loose leaf teas than expected on offer here, but you may also be surprised to find cocktail-infused teas. This summer, in order to attract more tea drinkers and have a fun twist, Whittard expanded its collection, adding a new limited edition – Cocktail Tea, which you can bring all four new flavors back home, such as Tropical Punch, White Sangria, and Mojito.
A Booze-free Take
Unlike other flavored teas, cocktail tea is more about using all kinds of herbs, fruits, spices, or blossoms to re-create the taste profiles of classic, well-known cocktails by blending the typical ingredients, according to Timm Ziemann, key account manager for Asia Pacific with Hälssen & Lyon. Celebrating its 140th anniversary, the family-owned company is a leading tea specialist in Europe, whose business customers include international tea brands and private label companies. "From Moscow Mule with a hint of cucumber to Bloody Mary recipes with tomato flakes or fruity Coladas with pineapple and coconut and so on," explained Ziemann.
If you are worried about the ABV (alcohol by volume) in such teas, well, the fact is that cocktail tea blends don't contain alcohol at all. However, "You can enjoy these blends as a hot beverage or you let them cool and infuse them with gin, rum, or whisky to obtain an alcoholic cocktail," suggested Ziemann. Hälssen & Lyon has developed teas to match classic gin cocktails by adding the slightly tart note of juniper combined with lemony nuances. The inspiration can come from classic and trendy cocktails, which can also lead to the creation of new recipes that taste fantastic if you infuse them with spirits and pour them over crushed ice, according to Ziemann.
For those who look for a more fruity flavored cocktail tea, Whittard's Tropical Punch and White Sangria can be great. "Tropical Punch is a bright, full-bodied blend of luscious green tea with juicy mango, apple, and beetroot," said Lexie Morris, general manager of Whittard China, "We've coated it in Japanese matcha for added depth, adding a sprinkling of pretty sunflower petals as the finishing touch!" White Sangria features apple, pineapple, sweet mango with a scattering of ginger for that classic sangria gutsiness.
It's important to choose the right "base" tea to match the flavors of a certain cocktail. Ziemann advised, "Some cocktail recipes work very well with a slightly tart base of black tea, while others require the freshness of green tea." Alternatively, the sweetness of Rooibos is ideal for some compositions of tea blends.
The Rise of Cocktail Tea
Cocktail tea is surely getting a greater share of the tea market as well as the consumers' attention. "The consumers worldwide have become very adventurous and are always looking for new experiences," Ziemann pointed out. A wide range of renowned tea brands have put cocktail teas on the shelves, such as British brand Fortnum & Mason, Spanish Tea Shop, and Canadian David's Tea. To Whittard, the cocktail tea line has been a big success since its launch in June. "Everyone has loved our cocktail tea blends – from young to old – because they are so refreshing and perfect for entertaining," shared Morris, "With the younger generation, customers are looking to explore tea in their own way, and some of our more creative blends have strong appeal to this consumer segment."
The number of younger consumers in tea has been on the increase. In traditional tea-drinking countries like China and India, the tea culture has revived among millennials in recent years. The data from China Tea Marketing Association shows that the tea beverage market in China reached 50 billion yuan in 2018 while 90% of the consumers were aged between 18 and 35. Whittard has also expanded its operations in China to introduce more varieties of tea blends and innovative ways to drink tea to its Chinese customers. Morris believes that there is something that the British and the Chinese share, a real cultural appreciation and love for tea and everything to do with brewing and drinking tea.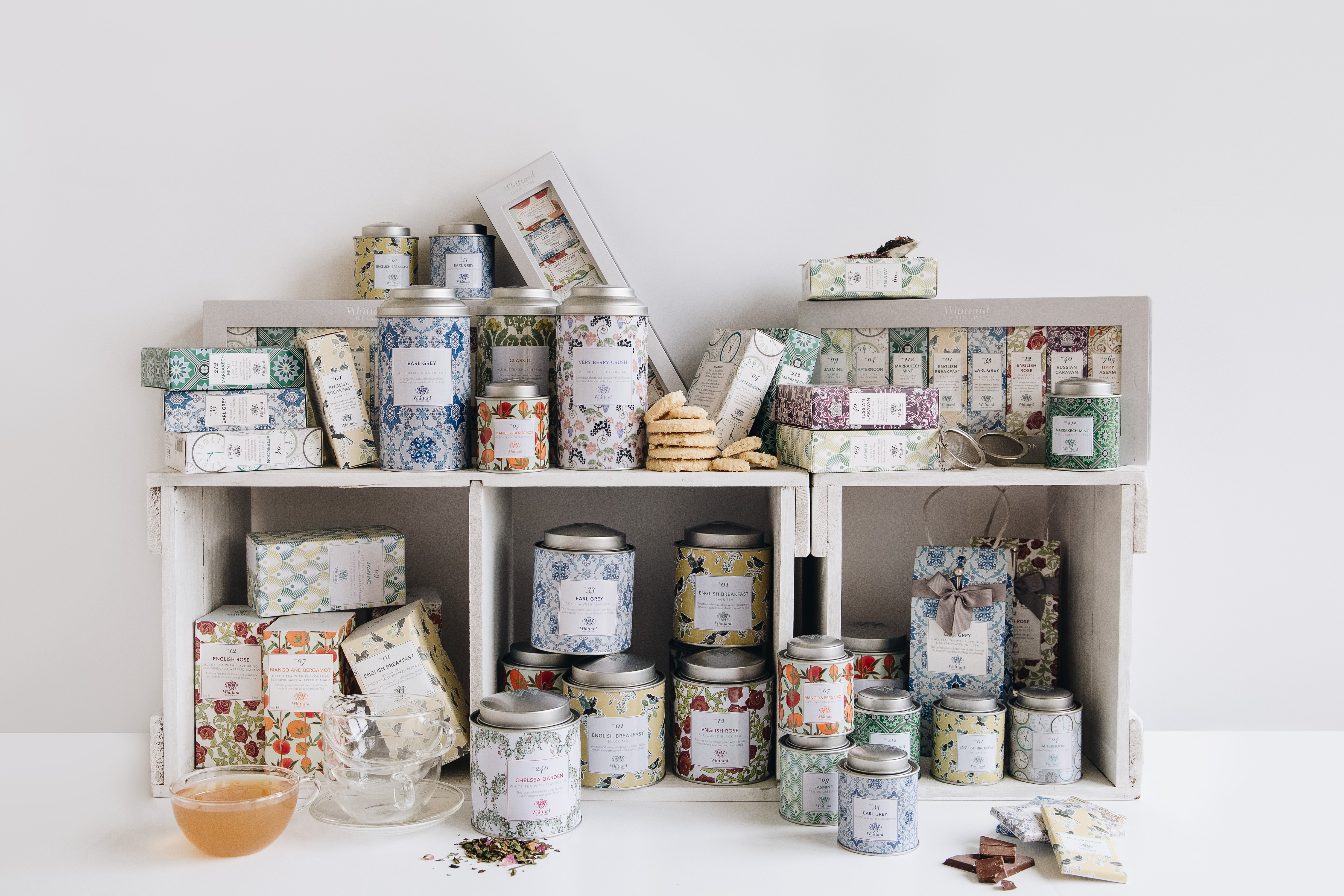 On the other hand, according to global online survey company YouGov, the tea consumption in the USA, a traditional coffee-drinking country, grew 20% between 2000 and 2014 and people under 30 were the main group of consumers. "With thousands of years of history, and many cultures enjoying tea in different ways there's so much richness to the tea drinking experience," said Morris.
Creativity is the key to win more younger consumers in the tea market. Morris said, "We're still exploring new frontiers with our unique, creative products – and if there's one thing our founder Walter taught us, it's that tradition and innovation make surprisingly good partners!" Attractive packaging plays an important role in winning consumers' heart. Morris stressed, "The name and the packaging is also a big part of our creative process – each tea represents a distinctive experience with its own intriguing story. We spend a long time dreaming up the best ways to tell this story." From old-school flower patterns to contemporary Paul Smith-inspired illustrations, Whittard experiments with new styles for different tea edition lines. The company has also cooperated with illustrators to design their product packages to attract more customers. For their cocktail tea selections, the packages use pastel illustrations and bright colors that match the blend names to create a summer feeling.
Competence also matters. Hälssen & Lyon takes another approach when it comes to innovation. "Our specialty is that we do not create mass products but offer tailor-made solutions," Ziemann continued, "So that our business customers get their individual recipes they can create together with us. And there are no limits!" The company sources raw materials from more than 130 countries, which allows it to rely on a network of long-standing partnerships with the origin. The shift of lifestyle is an important factor to allow cocktail teas to shine.
A report by international event company AReNA in 2018 shows that nearly 40% of global consumers had the desire to decrease their alcohol consumption for health reason while a report by Bon Appétit indicates that the market for low-zero-alcohol beverages is expected to grow by 32% between 2018 and 2022.
"The overall trend of health and wellness is very beneficial because people look for healthy alternatives to drinks with high sugar content and tea is not only a healthier thirst quencher but offers endless varieties, too," concluded Ziemann.
A Peek into the Future
Re-creating taste profiles has been a key trend in tea. Similar to cocktail teas, dessert teas which use tea blends to mimic the taste of desserts are emerging. Dessert tea is a great way of reaching consumers with a "sweet tooth" as Ziemann suggested. So far, Hälssen & Lyon has already created many of these dessert delicacies for different international markets, from Strawberry Cheesecake and Apple Strudel tea to Truffle Praliné and Chocolate Muffin tea. "Of course, you have to adapt the taste profiles of tea recipes to match the market's preferences, more or less flavor, more or less sweetness and so on," he advised. In Hälssen & Lyon's Cookie and Cream tea, caramel pieces can be not only tasted but also found.
For Whittard, Morris believes that having something that is on trend and relevant for our consumers can be the most challenging element of the process. She told CTI, "We want to be ahead of the curve, but not create something that is totally whacky. It does still need to taste delicious!" The tea brand pays a lot of attention to the tasting process, "Because many of our teas can be served hot or cold," explained Morris, "We need to make sure that they work both ways." Being an international company, regulations and compliance is another key to success. "For instance, cornflowers are non-compliant for China, and finding ingredients that can replace this pretty little flower is challenging," Morris explained, "It also always comes down to compliance – we sell to over 40 countries worldwide so making sure that our blends can reach as many of our customers as possible is important to us." This means adding hibiscus or elderflower to a tea blend makes a great difference as it affects the countries and regions it can sell to.
However, no matter whether it is a cocktail tea or a dessert tea, the trend creates a healthier way to find alternatives when you are eager for a boozy drink or to indulge yourself in sugar and cream.
 "For some time now, we have seen the influence of the current nutritional trends on the creation of new teas," said Ziemann, "So, brands have started to offer protein teas or teas with additional fiber." New ingredients are viewed as "weapons" to conquer the markets, so we will surely see more combinations and creations of teas in future.
At the moment, Whittard is working on a summer picnic inspired range for 2020, "Think blue skies and sunshine, picnic baskets and blankets, and a jug of deliciously refreshing iced tea," Morris shared. Either it is for well-being or just for entertaining, teas have brought us so many health benefits and enjoyment, not to mention a whole new experience from playful flavors to an increasing number of the way we can drink a cuppa.
About Hälssen & Lyon
As an international family-owned company with 140 years of experience in the tea business, Hälssen & Lyon has a long tradition of responsibility – to our employees, our partners, and to society.
About Whittard of Chelsea
Founded in 1886 by Walter Whittard, the British brand Whittard of Chelsea has spent over 130 years sourcing the very best tea, coffee and cocoa, so every customer can savour the adventure of a truly excellent cuppa.
---