Matcha, originally written as "mocha" (meaning powdered tea) in Chinese, is a traditional drink made from high-quality green tea that are steamed and ground into powder. In the 21st century, it is a frequent ingredient in cafes, milk tea stores and bakeries. With its typical light green color, matcha has satisfied taste buds for more young customers and become their preferred afternoon tea choice.
As shown in Chinese Matcha Industry Report 2019, there were 94 matcha-dedicated brands with nearly 500 stores in the market in July 2017; In the middle of 2019, Beijing, Shanghai and Canton were home to 15 matcha brand chains each. Most of these brands choose Japanese matcha as their trademark product, and the style of their brand name, packaging and advertising materials is very "Japanesy".
This midsummer, the glaring sunshine witnessed Ting He Zheng settle down in the city center of Shanghai. This independent specialty match store is where Xu Zezheng, the founder, wishes to start the journey of reviving Chinese matcha.
Removing Tags of "Japan" and "Uji" from Matcha
"I decided to open this store only one year ago." Said Zheng, who was a game scenario art designer before. He has been interested in ancient Chinese culture since he was little, and his passion about Chang'an, the prosperous capital of Tang Dynasty, drove him to Kyoto, a Japanese city where Tang style remains. While looking for the lingering beauty of Tang in Kyoto, he met matcha by chance in a traditional garden. "The beautiful place served authentic matcha with a handmade dessert, which is an old experience that is passed down in Japan." Described he, "This is why my store is called 'Ting He Zheng', meaning Garden and Zheng. It is about my first encounter with garden matcha."
No phrase can describe his experience with matcha better than "hit it off". At that time, Zheng visited Japan five times straight and his destination was always Kyoto, where he spent days visiting tea houses and learning tea ceremony. While being immersed in matcha experience, he felt sorry that matcha originated in China in Tang and Song Dynasties but thrived only in Japan. "In the Chinese market, we don't promote that matcha comes from Chinese." In fact, however, the original matcha technique of "tea whisking" was presented in The Story of Ming Lan, a TV series in 2018 based on the Song Dynasty, and caused a heated discussion with many followers.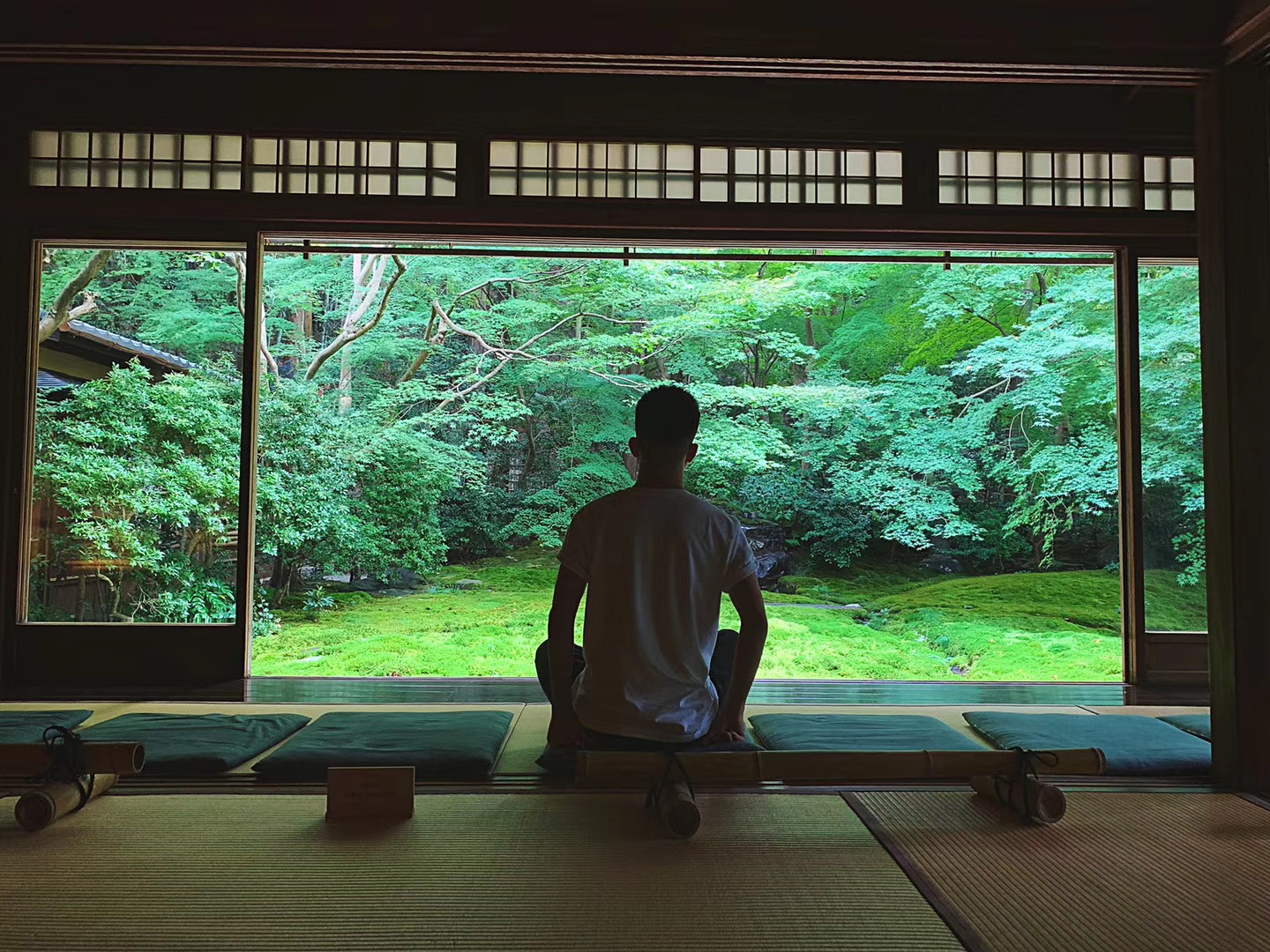 When Zheng intended to plant a flag on the virgin land of Chinese matcha and bring the authentic drink back to Chinese customers, the market feedback opposite to matcha "authenticity" set an obstacle for him.
Around the world, matcha powders for sale at the end of the global supply chain are taking advantages of exaggerated advertising. The story is the same even in Japan. While the matcha with lower quality flowing into the market, the highest-quality matcha from prestigious tea companies, like the one from Ippodo Tea founded in 1717, is unaffordable and only served for company leaders, political personnel and other high-class customers in tea companies. Even the famous matcha city Uji is not a representative of high-class matcha, but only a place for popular brands with high sales.
"Most of matcha in the Japanese market — if not all of them — are imported from China. Many tea factories in our country are 'hidden', as they are Japanese-funded and have signed contracts to provide tea only for Japan. Their products are not sold in Chinese mainland, but they are really good tea." Zheng mentioned. Luckily, the domestic market seems to have waken up, as a bunch of tea producing zones have emerged, such as Shaoxing Royal Tea Village, Mochacun in Henan, tea fields and factories in Sichuan and Chongqing, and Tongren Tea Village in Guizhou where Zheng comes from.
Matcha And Matcha Flavor: Putting the Cart Before the Horse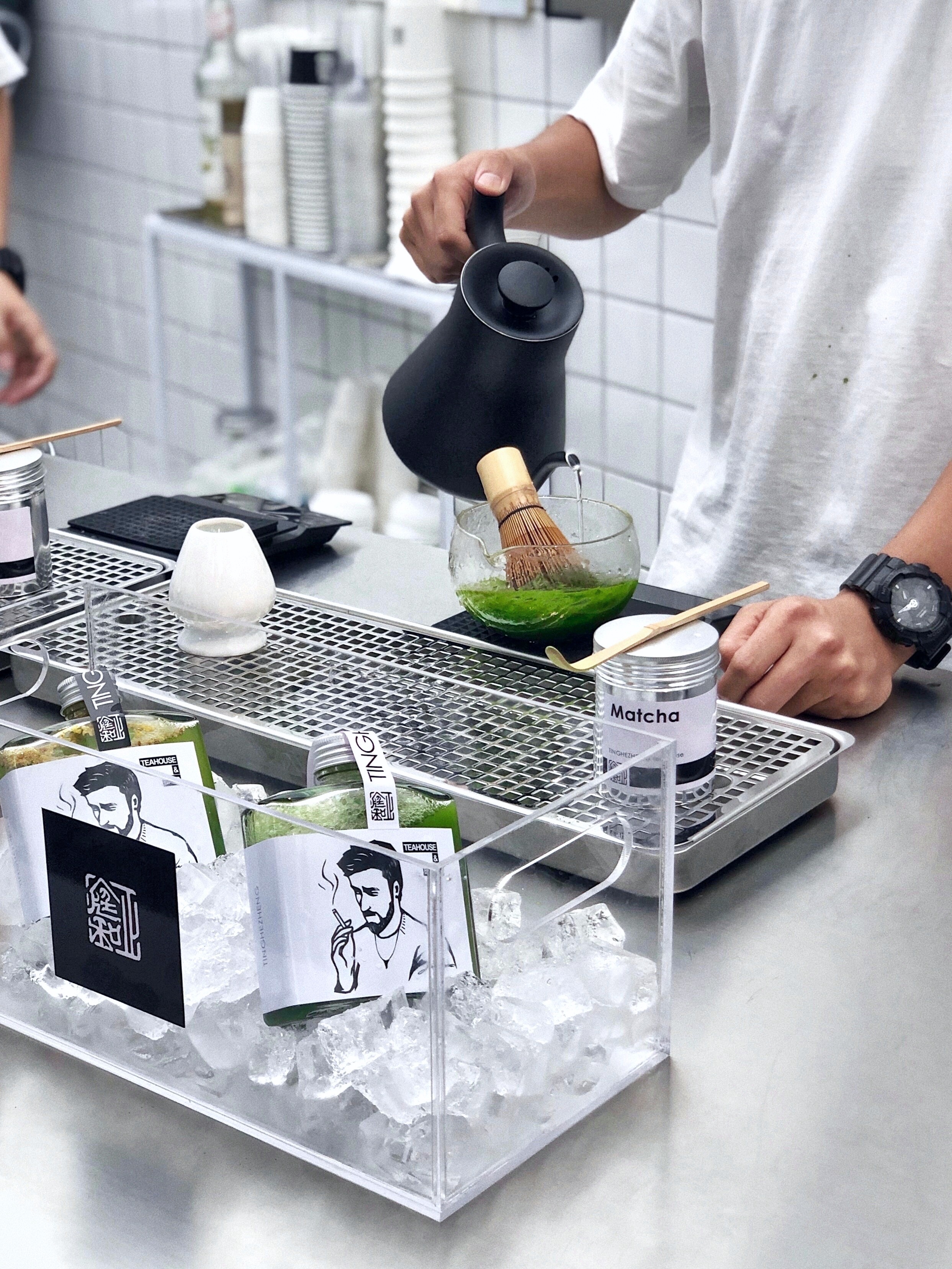 Talking about matcha from Guizhou, Zheng used local diet habit to explain the difference between Chinese and Japanese matcha. Though people from Guizhou and Sichuan both love spicy food, Guizhou people were the first to eat chilies in China and created more than 10 processing techniques to keep fragrance of pickled chili and get rid of the numbing spice. These efforts made chili more acceptable and finally it became a common food in China. This is similar to how matcha became acceptable in Japan. In the Southern Song Dynasty, monks brought traditional Chinese tea culture to Japan, but the bitter drink didn't satisfy every consumer. To remove the bitterness of tea leaves, Japanese people tried to have tea with other ingredients or put tea into deserts. Matcha then became acceptable and popular in Japan, and the Japanese matcha took shape.
Bitterness, the natural flavor of tea created by polyphenol and chlorophyll, is the essential difference. "All Chinese matcha that I have tried are bitter, but bitterness doesn't decrease its flavor. Since ancient times, no matter how the market changed, the domain of bitterness in tea flavor has never been shaken. The cost of getting rid of the unpleasant flavor might be reduced nutrition."
As Japanese matcha gets popular, however, the pattern in which people consume the drink has been led and shaped in a very different way. A good example is the popular Starbucks Green Tea Frappuccino. The drink has "alienated" matcha as a color, a flavor that adds extra taste, and an ingredient that can be processed with cream and other bakery materials. This case shows that the seemingly large demand for matcha is not for the drink itself, but its possibility to be applied in various ways. This trend echos with the change in the Japan Ice Cream Association's "Customers' Favorite Ice Cream Flavors 2015", where matcha flavor which used to be the fifth in 2010 rose to the third.
Modern Return of Chinese Matcha
Ting He Zheng intends to use a modern and innovative way to bring back Chinese matcha made by whisking tea, a traditional technique in the Song Dynasty.
Three Drinks Made with Advanced Domestic Tea Powder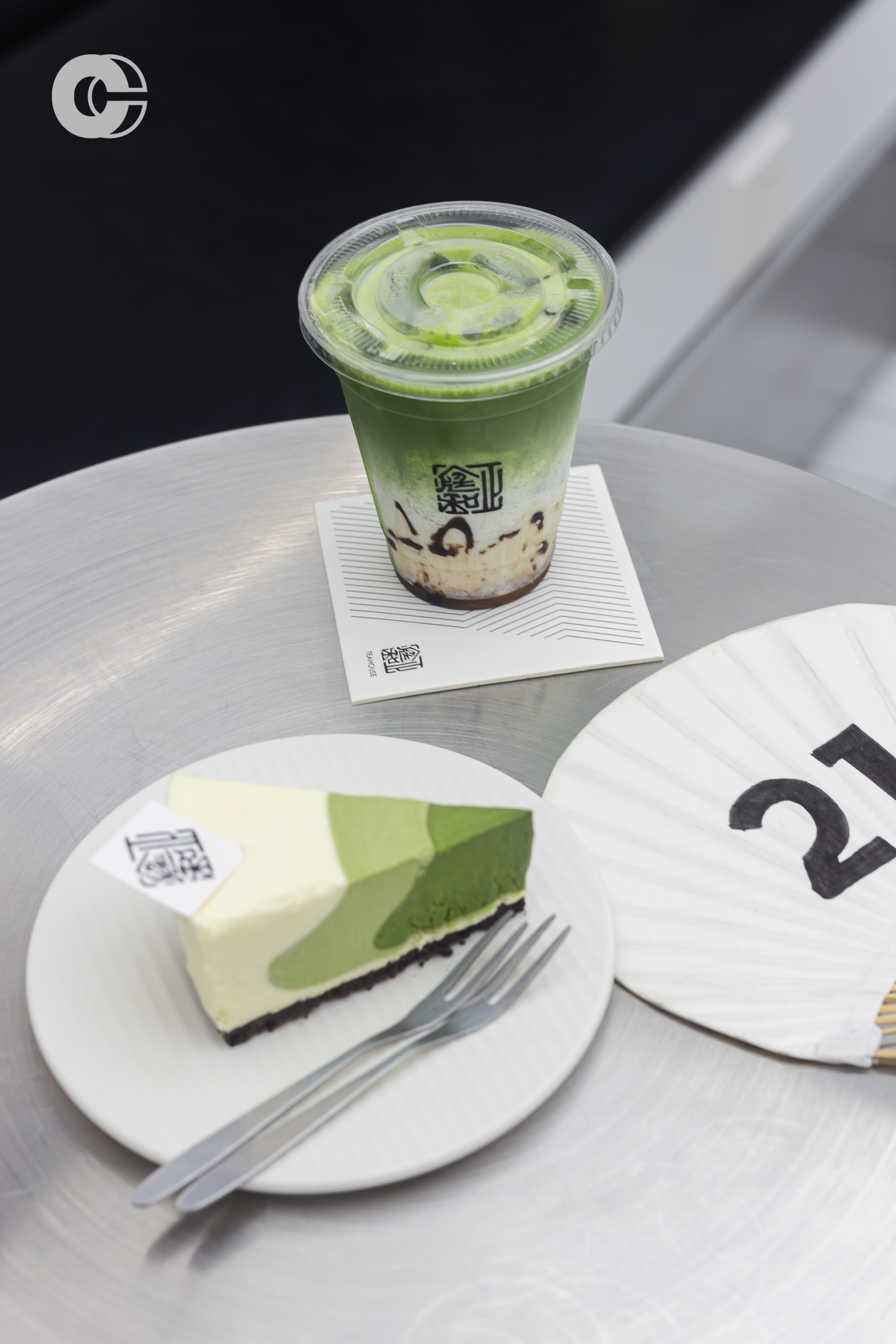 In less than half a year since Ting He Zheng opened in August, the update and design of the matcha menu have been centered on three drinks: Chinese style, Matcha latte, and Matcha special. Zheng wants to learn from the marketing effect of Americano, and apply the experience to putting the tag of "Chinese" on matcha.
Though he always recommends Chinese matcha to customers, he gradually, during the uptrend phase of the store, adjusted to public taste and introduced matcha latte to satisfy those who have been used to new style tea drinks and milky coffee. The mild flavor of this mixed drink may entice customers to have a further try.
Matcha special is an innovative mix of matcha and sparkling water or a cocktail. To fit the neighbouring sleepless and bustling night life, Zheng regularly changes the recipe for the special drink, making it a fun choice for returning customers. The retailed matcha beer is also popular among customers.
The current matcha comes from Shaoxing Royal Tea Village. It stands out for its strong taste, and only 4 to 5 grams of powder is enough to make a cup of deep green matcha drink with a rich aroma; The powder is so delicate that a light blow can turn it into a green fog. Made with tea powder at the right taste profile, the only a few matcha desserts served in the store are perfect complements for Chinese matcha.
Domestic Fashion with White Design
With the pure white design and the silver gray tables and chairs, the space is small yet not cramped. The staff uniforms are also in white, which takes cues from traditional Tai-chi and tea art costumes, and reflects Zheng's wish to promote matcha culture in an original and authentic way.
To get rid of the link between matcha and cute ACG culture, Zheng designed the store logo in a seal shape, aiming to interpret traditional element in a young and modern fashion way, instead of replicating the outdated shape of an old item.
"Some Japanese designs are too much and may make men resist, as they may think the design is too cute and feminine. The prefer masculine and sharp styles. So I try to add male elements to remove the gender tag of milk tea or matcha, to make it acceptable for everyone. "
Transparent Demonstration Instead of Trying by Yourself
Zheng told us that the decay of matcha was caused by the decisions of emperors in the Yuan and Ming Dynasties. Tea art developed from boiling, frying to whisking, and became a high-class lifestyle for scholars and officials. However, Zhu Yuanzhang, the vulgar founder of the Ming Dynasty, decided to get rid of tea bread, making matcha no longer fashionable and the stone grinder, the major tool for tea grinding, once extinct.
The complicated matcha rituals may slow down the return of modern matcha. Ting He Zheng, as a rising star in the industry, decides to avoid the pitfall of letting customers try themselves. Instead, a staff member makes the drink in five minutes behind the transparent glass to show basic steps, enticing curious customers to watch how their order is made.
On the shop window right opposite the road are displayed matcha tools, which attract passers-by's attention against the transparent glass and the strong sunshine.
Making A Standard Specific for Matcha
Every cup of matcha drink in Ting He Zheng is eligible for tea competition popular in the Song Dynasty, which judges tea quality based on elements like water temperature, grinding time and bubble thickness. Currently, Zheng only carries on tea competition irregularly in the making process.
"Customers can look at every cup of matcha we make. When they are used to matcha, they will be able to judge based on bubble thickness and lasting time, and the level of Tiaogao (meaning 'mixing concentrate'), and their suggestion can help our staff make adjustment. Such mutual-thinking and interaction is part of tea competition spirit for me, and this pattern may fit Chinese customers at the current stage."
But he doesn't mean to just stop here. While promoting the store and the brand, he wants to, taking Ting He Zheng as his first station, be an advocate to make a standard for Chinese matcha. "I want to promote quality and make a public standard."
The first step is to bring the domestic matcha with highest quality. Only when customers have tried the best one, can they tell the difference in quality. In the near future, Ting He Zheng will introduce different matcha from more tea factories, and list information on the menu like place of origin, matching tea and flavor. This will allow customers to make their choice while training sensitivity of their taste buds to matcha. "It is a good vision, and I hope I can lead the Chinese standard."
When customers develop a consolidated drinking habit and understanding of modern Chinese matcha culture, Zheng wants to hold a blind tasting in the store to host customers and compete tea powders. With craftsman spirit, Zheng says he will not change products regularly to please the market, but he will introduce seasonal products, such as matcha chocolate for Christmas. He may also join pop-up events and markets to spread and cultivate matcha culture.
In your opinion, what does matcha represent?
I think matcha represents a spirit of Chinese people. Each country has its own features, but our shining points are not amplified. Matcha is one of them. I want to revive matcha, and make Chinese people proudly tell others "Matcha comes from us" when the world sees the drink. Matcha is a heritage with many thousand years of history, and I want to spread the happiness engraved in matcha to everyone.
For those matcha used to complement baked desserts, what influences do you think they bring to matcha itself?
It is understandable. As the price of matcha is really high and the making process is very complicated, it is important to reduce the cost. Also, there are seven ranks for matcha in Japan. Apart from those higher ranks that are drinkable directly, those lower ranks shouldn't be wasted, and bakery is a good way to use them. But I can't understand the way to remove bitterness and create "natural" sweet tastes. Sometimes it even doesn't smell like seaweeds, a normal smell of authentic matcha, but like buckwheat.
Is Japanese matcha the same as our traditional "tea whisking"?
No. There is one difference: the Tiaogao in Chinese tea whisking is simplified in Japanese tea ceremony. This step is to fully mix water and tea powder. Some Japanese teahouses skip this step, and whisk the tea just by hand. This is tiring and increases the risk of failing. If it is not well processed, customers will drink unmixed tea grounds.
Nowadays, many normal customers may sieve matcha powder. This is a mistake. No matter what the level of matcha is, it is produced through nearly 20 procedures like selection and grinding. It is essence. The tea blocks are the result of incomplete stir, and it is a waste to sieve these blocks.
---