What makes a good cup of coffee? Well-roasted beans, excellent brewing skills, beautiful latte art… Yet, there's still one important element that hasn't been fully valued yet —— the coffee cup. When it comes to wine, people always care about the glass just as they do about the origin or the brand. No matter if it is a Riedel or Spiegelau wine glass, or even a champagne glass, the right glass will maximize the taste of different types of grape. Coffee, which has a complex flavor wheel just like wines, also deserves a cup that is just right.
A Desire of the Coffee Cup Design
"We knew that the coffee community cares so much about the origin, roast, and brew method, so we thought it would be a shame not to put equal importance on the actual method of consuming the beverage," said Mark Vecchiarelli, chief marketing officer for KRUVE. KRUVE is one of the pioneers in the coffee cup design industry. The company's EQ Glassware with its special design to 'harmonize all your senses' when drinking coffee won the 2019 Best New Product from the Specialty Coffee Association. Surely KRUVE is not the only company in the industry that dedicates itself to coffee cup design. Founded in 2001, and as part of the architecture design company Rios Clementi Hale Studios, notNeutral completed its first coffee cup design project with the American coffee brand Intelligentsia Coffee to help the coffee company create a family of coffee cups for their new shop in Venice, CA, USA. Now, notNeutral has developed a range of fine coffee cup collections, such as LINO and FINA which have been recommended by Forbes and many other media.
Nevertheless, the business of coffee cup design doesn't only stay inside the design sectors. Ceramists and artists have stepped in as well. For example, MK Studio which specializes in ceramic vessels first designed and produced coffee cups for coffee professional Mikaela Gervard in 2016. Gervard eventually took out 2nd place at the World Barista Championship that year with the MK Studio's customized coffee cup. The collaboration further led to a bigger collaboration with The Coffee Collective, a Copenhagen-based specialty coffee shop.
It is not difficult to see that coffee cup design has recently become a serious matter for more coffee brands and shops. Magdalena, the ceramist of the MK Studio, told us: "Yes, definitely in the past five years, there are a lot more specialty coffee bars who are pursuing perfection. To do that, they want something different and special that will define their style and maximize the drinking experience."
With the third-wave coffee booming around the world, people nowadays require high-quality coffee. That is to say, people want coffee where "beans are sourced from farms instead of countries, roasting is about bringing out rather than incinerating the unique characteristics of each bean, and the flavor is clean and hard and pure" as described by Pulitzer Prize-winning food critic Jonathan Gold. To meet that requirement, single-origin beans can now be easily ordered online. Professional roasters are accessible worldwide. After all, to better present and enjoy coffee, we still need a well-designed coffee cup.
"We were in the right place at the right time. Collaborating with Intelligentsia baristas, we were able to provide something to the third-wave coffee market that simply didn't exist yet. Customers and brands began to realize that updating the vessels we drink and brew coffee from can be improved and/or reinvented," explained Clancy Pearson, senior designer for product and technologies for notNeutral and RCH Studios.
Unique and Accessible
Even though more and more coffee brands and companies have focused on improving coffee cups, not all of them have a full understanding of what makes a good coffee cup design, and some only focus on one aspect of it, as Vecchiarelli pointed out.
A good coffee cup design, according to Vecchiarelli, will have the right aesthetic elements on one hand — it can be the artistic, creative, interesting, etc. On the other hand, the coffee cup design needs to incorporate the right scientific criteria. That is to say, the coffee cup design should help enhance the aroma, the taste, and other good features of a coffee.
KRUVE's award-winning EQ Glassware provides a good example. The drinking vessels not only have very interesting shapes with beautiful crystal borosilicate that will impress you at first glance; but also the hand-blown double-walled glass can keep the drink hot and your touch cool. Moreover, the bulbous shape and large liquid surface area of the EXCITE glass traps and circulates aroma, while softening acidity and enhancing sweetness. While the INSPIRE glass, with its narrow inner glass shape and smaller liquid surface area, focuses and funnels the aroma while enhancing acidity.
"We believe we have designed one of, if not, the best coffee glassware when it comes to both form and function," said Vecchiarelli.
The pursuit of perfection in 'form and function' has been practiced by notNeutral as well, but they are looking more to balance the two. Pearson believes that a good coffee cup design needs to be "accessible but still unique." He said: "We are fans of engineering and beauty. We invest the same amount of design rigor in function and appearance." All notNeutral's coffee cup collections contain a clean minimalism design with a good sense of architecture in it, while the cups are still very comfortable to hold when filled with hot liquid.
However, reaching the balance between the appearance and function of a coffee cup is never easy. When notNeutral creates a new coffee cup design, they need to do a lot of research and development in the first stage. Sometimes, they have to scarify a beautiful design to make the coffee cup work functionally; because if the coffee cup doesn't work functionally, it will ruin the whole coffee drinking experience.
Pearson told us, when they were developing the early version of the LINO expresso cup, they made it an innovative triangular shape. However, the cup failed the test of functionality by spilling beverage everywhere. The sample was thus discarded.
The solution to making a perfectly designed coffee cup is "iterations — LOTS of them", according to Pearson. At notNeatral, 3D modeling and 3D printing plays a big part, so does getting feedback from their customers. While for MK Studio, as all their products are handmade, ceramist Magdalena needs to go through a lot of "trying and failing" to make a coffee cup that satisfies her customers and the coffee cup users. Sometimes, she has to restart from the very beginning because of a tiny flaw in the final product. Vecchiarelli also told us KRUVE had spent lots of time having debating and 'battle-testing' to ensure they got the right mix of appearance and functionality. He said: "We are our own biggest critics and we never stop aiming for perfection. So, we rely on our drive and persistence to get to the right conclusion."
The Future of Coffee Cup Design
As the third-wave coffee keeps on sweeping the world, people start to pay attention to every aspect of coffee just as they do with wine. "The specialty coffee industry is constantly pushing to get better in every way and it continues to become even more specialized. There are more and more people training and becoming knowledgeable in every aspect of the beverage," said Vecchiarelli. Coffee cup design specialists like KRUVE will help educate customers and develop the trend.
While from the design perspective, new techniques and materials will be applied in coffee cup design, notNeutral has already used 3D modeling and designing extensively and they believe that additive manufacturing will be widely used in the future when it comes to coffee cup design. Pearson told us: "We can print in an array of plastics, carbon fiber, metals, ceramic, glass, and even bio-material. Ceramic and glass printing is improving by the year, as well as 3D printing with recycled materials."
However, that doesn't mean that the industry will abandon the old-fashion way of creating coffee cups, Pearson stressed.
Indeed, Magdalena and her MK Studio is still busy with orders for customized handmade ceramic coffee cups every day. "Ceramics is timeless. I don't see it as a trend or fashion so it's hard for me to say what is trendy. I create pieces that will serve people for years and make them happy every morning when drinking coffee," she said.
No matter what kind of design form or what innovative material dominates the coffee cup design trend, what is for certain is that a good coffee cup will make your drinking experience better than ever. And every coffee lover deserves a good cup for their favorite coffee!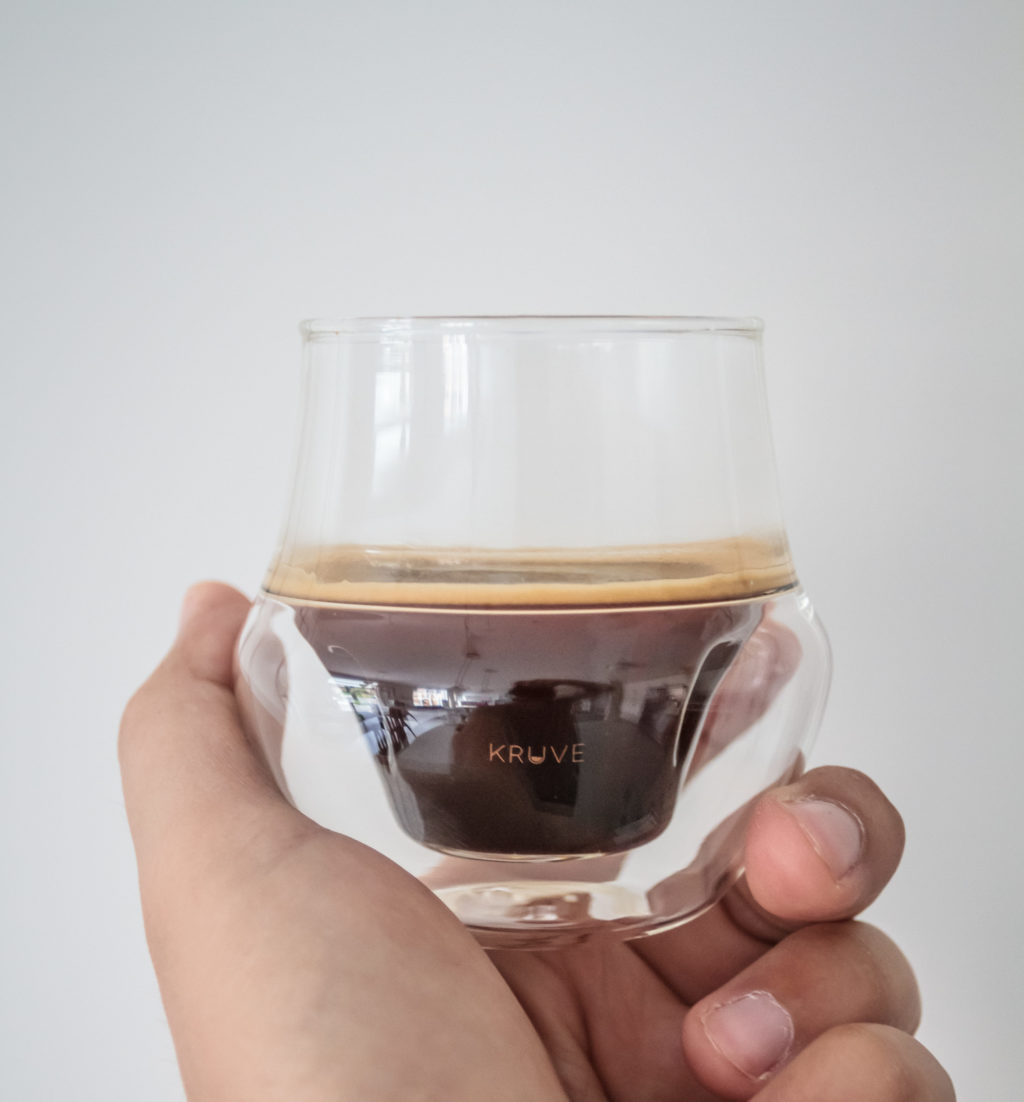 KRUVE
KRUVE is comprised of engineers, product developers, designers, marketing specialists, and entrepreneurs. They have proven experience working for Fortune 500 companies developing products and services and have a successful track record bringing their own products to market.
notNeutral
Founded in 2001, notNeutral was born out of the idea that architecture is more than just a building; it is everything in the designed environment. As the design-child of Rios Clementi Hale Studios, notNeutral believes that there are many stories to be told in their designs, and they tell them by creating objects that become a part of your daily rituals.
MK Studio
MK Studio was founded by ceramicist Magdalena and chef Michal. The couple met in Poznan and now call Copenhagen home. There they make fun, colorful and high-quality ceramics together. Thanks to the marriage of the two fields — gastronomy and art — MK Studio has a unique insight on what's functional, what's beautiful and what's cool right now.
---