For most young people in China, coffee is now a necessity. No matter it is to refresh their mind before they start their day at work or to have a weekend afternoon chat with friends, café is where they'll choose to go. Today, Starbucks has opened more than 4,300 stores in 180 cities in Mainland China. Luckin Coffee reports 6,500 locations all over the country. The size of the coffee shop market in China has doubled since 2013, which achieves an annual compound growth rate of 18%.
Belle Wang, Associate Food and Drink Research Analyst at the world's leading market intelligence agency Mintel, said: "The quick expansion of new retail coffee shop and businesses across the country has stimulated more coffee consumption among consumers, resulting in strong sales volume." The thrive of the coffee shops in China, on the one hand, demonstrated that coffee is constantly being integrated into our lives. On the other hand, it means the competition among coffee shops becomes even fiercer. If a coffee shop wants to survive in the game, they have to be unique and attractive enough for the picky consumers.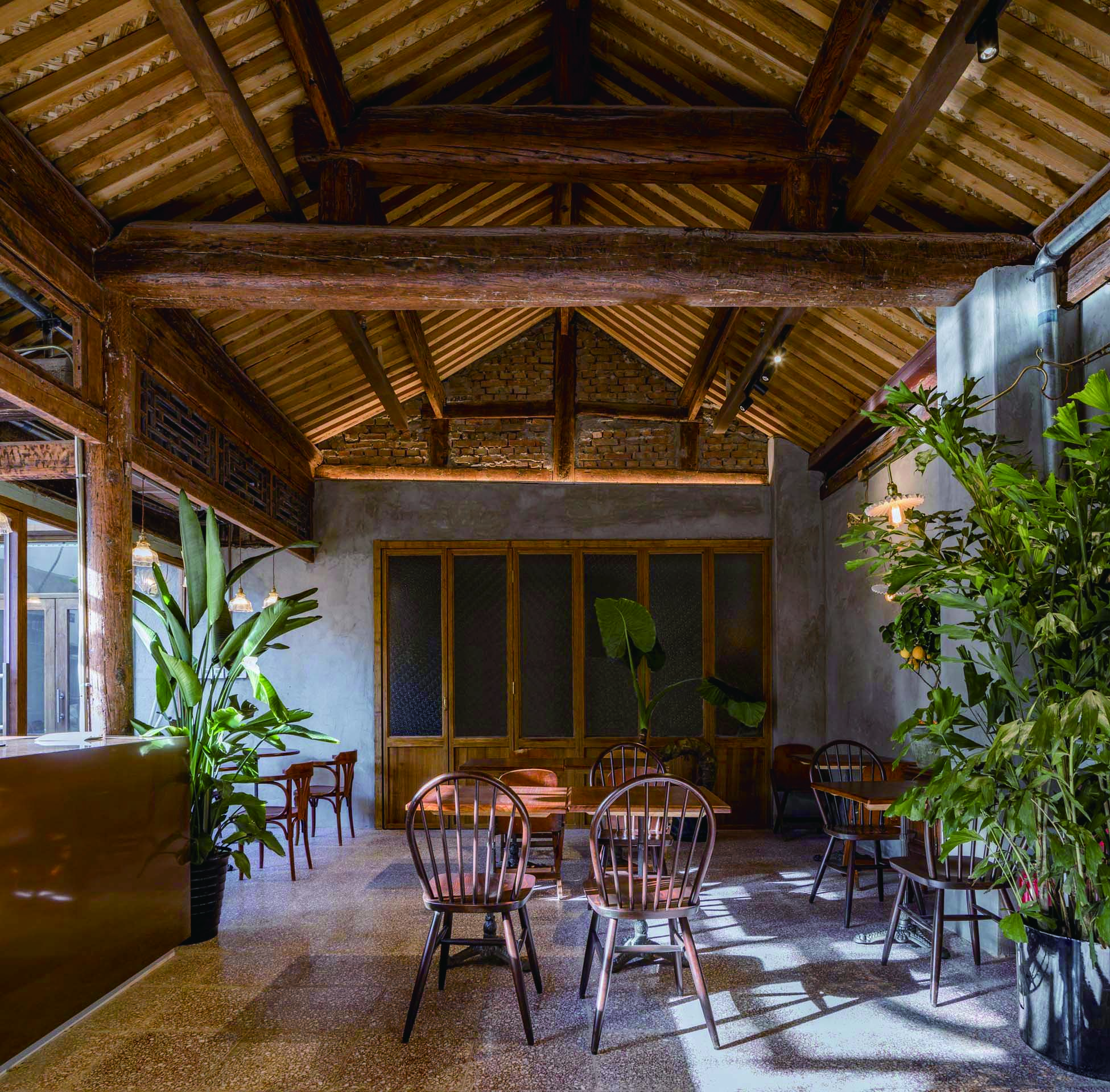 Metal Hands is among those who stand out. First started at Wu Daoying, one of the oldest and popular communities of Hutong in Beijing, Metal Hands has already opened six stores in both Beijing and Shanghai. Apart from committed to exploring the high-quality domestic coffee, Metal Hands is also famous for its exquisite interior inside old historical buildings. Jiangtao Ding, the owner of Metal Hands, shared his philosophy of coffee shop design.
The unique and intriguing vibe
Creating the right atmosphere is crucial for a coffee shop. A study from the International Journal of Hospitality Management shows that the coffee product in a coffee shop only accounts for 48% of a customer's emotional connection to the business. While the remaining 52% up to other factors, mostly from the café's environment.
While to have a nice vibe for a café, the venue choice is what counts most. "It is difficult to create an atmosphere out of the air, and it is even more difficult to erase the existing personality of a space. Therefore, the location choice is very important, as it basically will determine the tone of the café and whether it can perfectly match the style that a brand wants to express," said Ding.
From Beijing's iconic Hutong to the former French Concession in Shanghai, Metal Hands seems especially fond of old buildings and old community. Ding told us the reason behind: "I like Hutongs in Beijing, as it is earthy but foreign. It is historical, but it does not resist new things. Just like coffee as a foreign thing, it is more and more fused into our existing life."
Located in Dongsinanyang Hutong, Beijing, Metal Hands' sixth shop as the brand headquarter is renovated from a rehearsal spot for Beijing Dance Academy of China Performance Group back in the 1960s and 1970s. The building has a complicated structure, with both higher frame structure and wood structure tile-roofed house of a traditional Chinese courtyard.
The design has remained the traditional wood columns and roof, as well as the old ceramic tile on the concrete, the old turquoise window, the old terrazzo floor tile, which gives people a feeling of the past. However, merged with the artisan steel wall lamps and other steel decorations, the café also has a vibe of youth and its energy. Moreover, the detailed layout and fixtures also add up to the overall atmosphere of the space. For the headquarter shop, tables and chairs from the old times were purchased by Ding from abroad. While for Metal Hand's Shanghai shop, classic glass cups with old red print word "Shanghai" is used to serve coffee. The playful combination of coffee and café as something new and old fixtures from both local and abroad leaves consumers a special feeling of the time when having a cup of coffee here.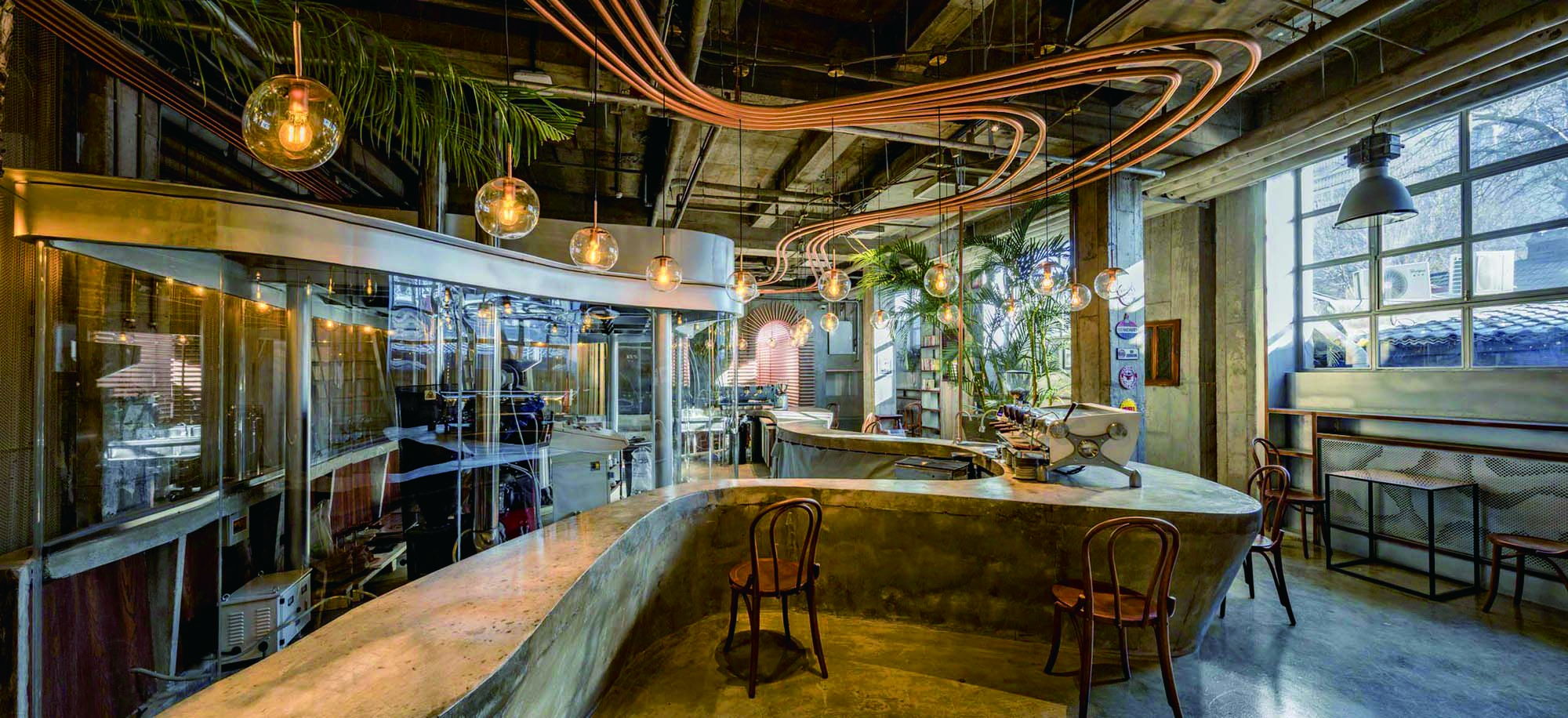 A consistent style
When it comes to coffee shop design, what Ding cares most is "the aesthetic unity of the shop styles, which also has to match up with the brand style". If you have been to some of the Metal Hands coffee shops, you will find each of them is quite different. Their first shop is more like American industrial style, while their second is leaning to New Chinese style, and their third shop is white minimalism.
Nevertheless, the magic thing is that you can still recognize Metal Hands as soon as you walk into the coffee shop. This is because Metal Hands has something empathizes in all their shops – the good lighting and the metallic elements. "Metal Hands does not pursue a mature and stable style. We explore the style according to the advantages and disadvantages of the building itself. The only thing we insist on is that the lighting in the shop needs to be good," said Ding.
Lighting has the power to completely change the mood of a space. Brighter lighting can add more energy space, and that is extremely important to places of small sizes, which most Metal Hands shops are.
For example, minimal white color is widely used for Metal Hand's third shop. It not only added features to the shop but also it increased the reflection of light to make the small space less crowded. Moreover, large scale windows and skylight windows also appeared often in Metal Hands coffee shops to make the shops look brighter and cleaner.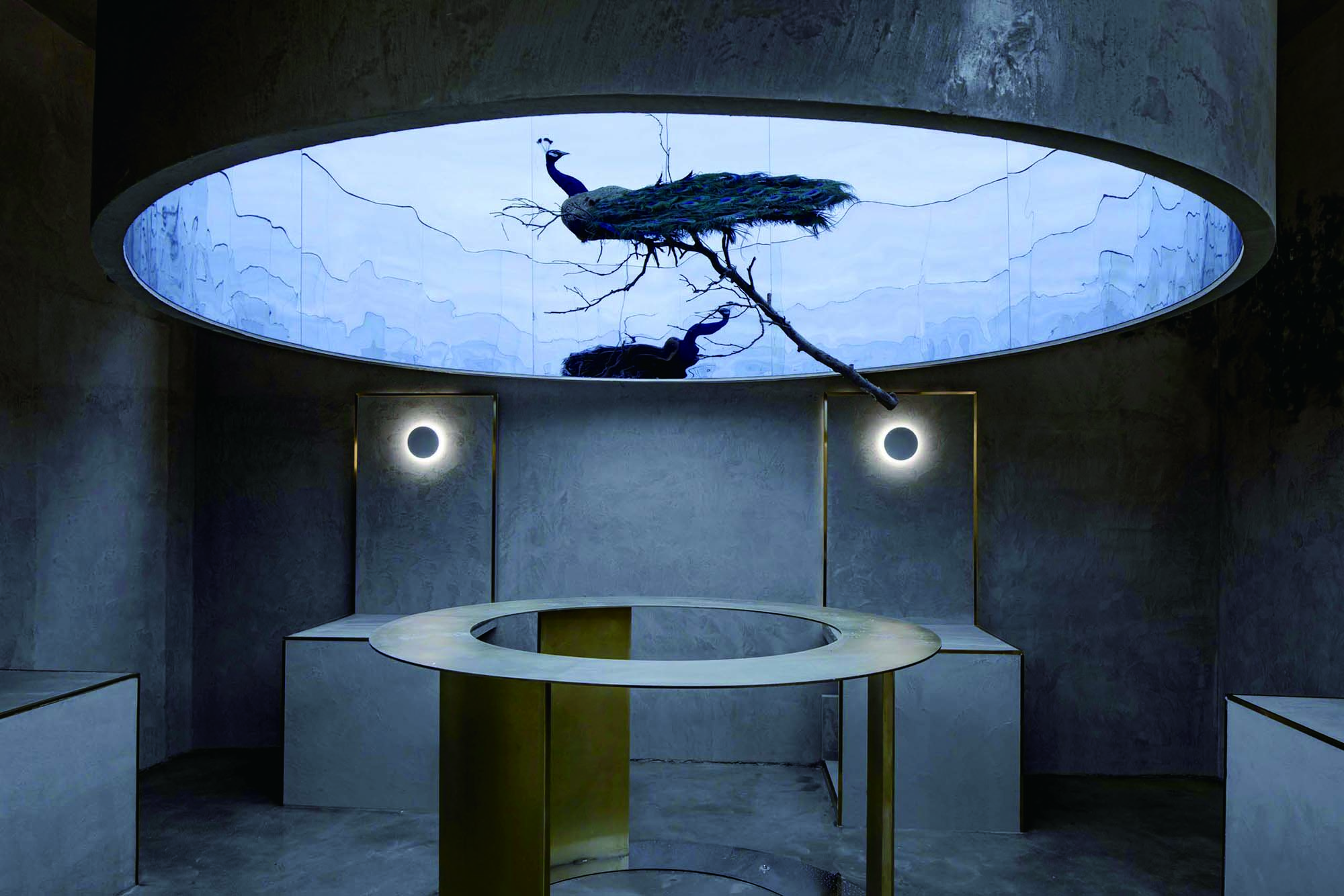 As an instance, in their Shanghai shop, a big scale of glasses window has been put to face the road. It opens up the space and makes more light into the shop; but at the same time, it is also a way of showcasing Metal Hands to the passerby.
More important than the lighting are the metallic elements. Metals can be seen in all Metal Hands designs. Some of them are massive like the 11-meter long futuristic metal pipe time tunnel at the new headquarter shop; others are small details, such as a lamp, a shelf or a column, fused into the old wooden and brick buildings. The metal elements in all Metal Hands design not only form a consistent unique aesthetic style but also it represents who Metal Hands is as a coffee brand in the China market.
"Metal should be our most prominent elements in design, and it is linked to our shop name Metal Hands, which is inspired by the first coffee machine in our store. It is a tie rod machine from the 1960s, and its brewing head is like a metal hand. Metal Hands reflects our cores brand: adhere to the exploration of coffee quality and the spread of coffee culture with an uncompromising attitude like metal."
Future of Coffee Shop Design
The latest research from Mintel shows that the consumers' love for coffee in China has seen the overall market value reach an estimated RMB64.7 billion in 2018, growing an impressive 7.5% from 2017. And it will keep its rapid growth in the foreseeable future. There will be more coffee shops in China, and they'll probably be more like those Korean coffee shops – young, trendy, and the iteration of style and aesthetic will be faster and faster according to Ding. Yet Ding committed that he personally prefers the old-fashioned European coffee.
There's no denying that the coffee shop design has to fit consumers' expectation as time moving, but what is more important is to know who you are as a brand and never lose the core of your brand. That is why Metal Hands still stands out on the battlefield with both its design and its coffee.
---