The coworking space is no longer a new concept as those dedicated spaces have been scattered around in not only metropolitan cities but also towns and even tourist cities.
It's a place where freelancers meet like-minded people as well as to enjoy the freedom that they work in a cozy or social-friendly environment.
Back in 2005, an American software developer named Brad Neuberg started what he called a coworking space inside a local wellness center. The inviting place not only embraced the initial idea of the freedom and independence of working for himself but also supported the community concept, working alongside with others.
Almost 15 years later, we find that coworking spaces are everywhere to be seen: They are aesthetically designed with a diversity of functions to support daily office work and well maintained by dedicated yet professional community managers. To many people, it is hard that find a coffee shop where they can stay for the whole day for working,which also provides a free good Wi-Fi service, not to mention normal office facilities like printers or meeting rooms.
The Vibe of Coffee Shops
As time goes by, more coworkers find themselves savoring both a freshly made hand drip coffee and a nice working space nowadays. The cafe service is highlighted in many coworking spaces while some of them even use 'cafe' in their brand names.
Maven Coworking Cafe in Taipei is such a mix of cafe and shared workspace. According to the Maven team, they believe good coffee and quality working spaces are equally important. "Our goal is to refine the experience of remote working and create a space where creativity and innovation can bloom." The cafe has two floors for its wide range of customers. "The first floor is operating as a more casual cafe with a minimum charge for one beverage per person," introduced Erin Lee, cafe manager of Maven, "For the second floor, the space is more isolated and more suitable for focus-oriented work with a minimum charge for two items from our menu." The space is versatile enough to hold occasions like private events and meetings though the fees vary based on type of event and time that may consume.
Unlike normal coworking spaces that many coffee bars are self-serviced, coworking cafes are coffee-service focused. At Maven, you will get not only its signature espresso-based drinks, but also pour-over coffees too. "Sometimes, we work with some roasters from the world to provide a special selection of beans, for now we are providing coffee beans from La Cabra," said Lee. Maven also provides homemade cakes and food services (incl. Vegan options) for customers but it doesn't mean that it compromises when it comes to necessary amenities for remote working. The space is equipped with services including stable fast Wi-Fi, power plugs, comfortable seating and working spaces as well as multifunctional printer/scanner/copier.
A Place for All
According to Lee, many people in the neighborhood often drop in for just a cup of coffee, "Think of Maven as a coworking space in disguise of a coffee shop." However, Maven is not the only shop in this 'disguise'.
In other part of the world, Tagwerk Coworking & Cafe in Bocholt of Germany was established by Matthias Paschold when he was looking for a new office space for his digital marketing agency. The idea of coworking spaces is sprouting in the country, "It's a real hype right now," as he described. The nice website of Tagwerk features an individual section for its cafe, which is run by the team themselves.
Tagwerk is a place welcoming all customers. Paschold believes that gastronomy matters a lot to the development of the brand. The quality in food and service is one of key progress indicators for the team. "After the start-up phase, we quickly realized that our audience would like to accept our gastronomic offers. So we decided to expand this further," he shared. The gastronomic part is demanding as well as challenging for Paschold and his team. But the gastronomic-focused coworking space also provides all facilities that most coworkers need, not to mention a good cup of coffee. The tariff for Tagwerk varies, with both day rate and hour- ly rate available to meet different needs.
With a concept of "all-in-one local hangout", the Holler in the town of Bentonville of the United States is another great example to define coworking cafes. Boasting almost 1,000 square meters for multiple purposes, such as coworking, dining, and socializing, the place used to be an old factory.
The space is now refurbished into a modern industrial style. The lofty Holler opens from as early as 7am for working days til late night, such as 1am at weekends. People can find different types of seating areas that can be suitable for both working and get-together here. The catering service runs all day long with a wide range of coffee and drinks to boost brainpower, from hand drip coffee to refreshing signatures like Cold Brew Shandy, a ntiro coffee with fresh orange juice, or Lemon Vanilla Bean Latte.
The diversity of the Holler is also found in its community building. As its website states, "We wanted to create one place that could capture all of this energy, optimism, and potential. A place where our people can gather, no matter the occasion or time of day. A home-away-from-home". For example, community events are held regularly at the Holler such as Shuffle- Board League and Geeks Who Drink Pub Quiz.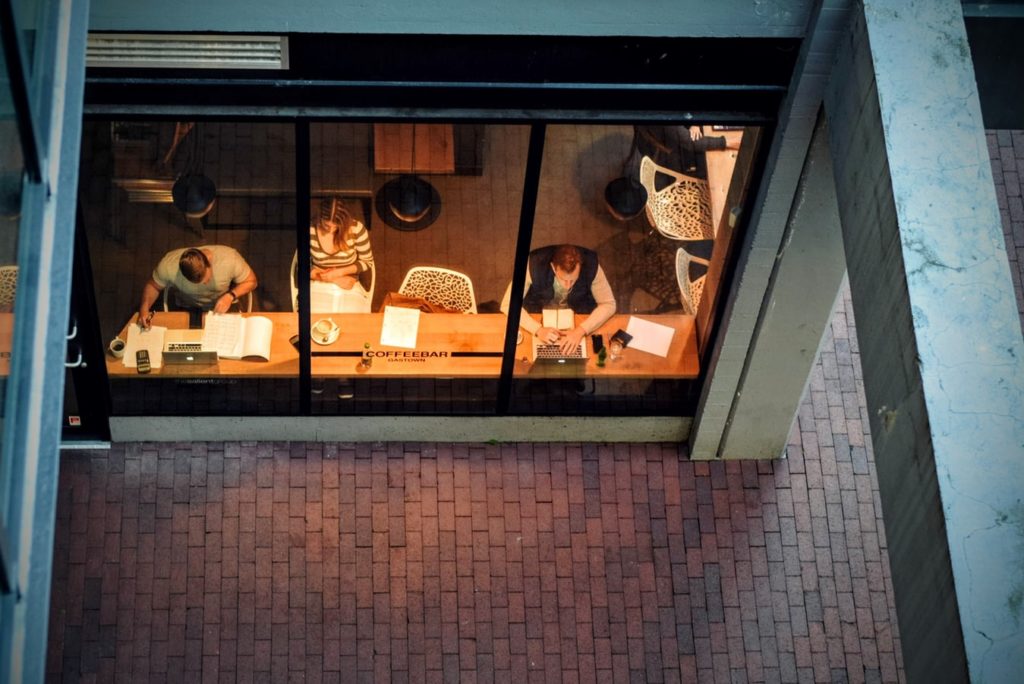 The Big Community and Future
Apart from establishing brick-and-mortar spaces for coworkers, there are people building online portals to help people find their ideal spaces to work in, for example, Cowork Space, Cowork Cafe, and Coworking.Coffee.
Coworking.Coffee is a representative among such websites. Established by Fabien Vauthey, the online network offers basic information of coworking spaces and city guides too. Empowered by search tools, database, and recommendation engine, the user can easily locate a perfect place to work while enjoying coffee without compromising on taste. Users can also add new workplaces as well as rate and comment on one as they like. By now, Coworking.Coffee has covered over 40 countries and cities such as Singapore, Tokyo, Seoul, and Taipei.
For instance, the coworking space in Taipei is just growing, as Lee introduced, "It takes time to promote the concept of coworking space but more people are enjoying the lifestyle of it". In her view, the future of coworking means more dedicating profession-oriented spaces. "There may be some niche coworking spaces targeting different groups of people of the same interest, say profession, lifestyle," she said. "Some coworking space may be more relaxing while some will still take the form similar to the traditional office space. Eventually everyone will find a space that they can relate to."
To Paschold, the upcoming plan for Tagwerk is expansion of gastronomy. "We will expand our gastronomy offer even further, also for the people who like to drink gin and tonic in the evening. We will put our focus even further on that."
---