Technology performs a magic trick in the coffee world. All of a sudden, people can enjoy a coffee life without even stepping into a cafe.
Before, we relied heavily on a skillful barista to brew the perfect morning joe to wake up us. However, innovators, ranging from tech giants like IBM to start-ups across the globe, have refreshed our knowledge and perception of where and how coffee can be 'consumed'.
From Self-serve to AI-empowered
At this year's HOST Milano, the coffee corner, or self- serve coffee box, was a trend that saw many big coffee brands showcase their latest models of smart coffee vending machines. Ranging from a desktop style to free standing machines, the 'coffee box' can be put in any place that you could think of. The most important thing is that it can make proper coffee with a variety of beverages, including customer-oriented DIY options.
For example, FRANKE's new Specialty Beverage Station is the one that you as an owner can tailor its beverage recipes and payment methods with the service support from this Swiss automatic coffee machine maker. When as a customer, you can DIY drinks, all self-service by clicking on the touch screen. The interesting part is that the coffee machine can use three different coffees as base: Espresso, Cold Brew, and Cold Brew Infusion. The Cold Brew Infusion is the one that tastes like nitro coffee with its signature cascading effect. But there is no nitrogen added! Until you try the coffee, you won't realize this coffee is just a 'sibling' to nitro coffee. The technology behind it is so smart that it mimics the taste as well as the look of the popular drink on the market. It is full of flavors based on the chosen beans, especially when you try to DIY a drink using this as a base coffee.
The development of technology can also make coffee vending machines cheaper and easier to maintain. According to Schaerer, another fully automated coffee machine maker from Switzerland, their products now can support 'Scan to Pay'; on some models, the brand even adds a WeChat payment option, which shows its ambition to explore more on the Chinese market. Such a function can greatly bring down the cost for manufacturing and after services, compared to traditional POS machines for beverage vendors. Meanwhile, it also makes it possible to be used in more scenarios in real life, ranging from offices to schools, from streets to airports.
We've seen a growing popularity of mobile payment in various life situations across the world. But sometimes a QR code or a self-serve coffee machine can also help reach the target audience and do promotions. In order to celebrate International Coffee Day on October 1 as well as attract more customers, Costa Express in the UK offered free coffee to the public for a whole day last month. Over 8,500 Costa Express machines participated in the promotion. The self-serve coffee machines by the NO.1 coffee brand in the country can be found in petrol stations and convenience stores. This phenomenon is not only in the UK. If you pay attention, you may find unmanned Starbucks Express in places like Abu Dhabi airport.
In South Korea, self-serve coffee corners are no strangers to local coffee drinkers as such scenes have been often encountered in many popular Korean dramas. Recently, Touch Cafe has attracted much attention thanks to its customers' enthusiastic experience posts on social media like Instagram as well as its quick expansion which boasts 46 locations across the country, including two still undergoing refurbishment.
Meanwhile, the country has seen a rapid growth in adopting robotics to cut down labor costs as well as to make coffee more accessible and interesting for customers. For example, Dal.komm Coffee's outlets have recruited many robot baristas at more than 60 locations like schools, airports, and shopping malls in the country. Orders are placed through a mobile application or directly on a cashier on site. The robot barista then brews fresh coffee and the customer will receive a 4-digit code to pick up the coffee from a secured pick-up box. Due to hygiene and quality control, the drink will be thrown away if it is not picked up within 10 minutes. (But another one can be ordered free of charge.)
It's interesting that artificial intelligence (AI) technologies are now adopted in the coffee scene worldwide. As early as in 2015, an unmanned coffee shop, Honest Café, from British leading vending service provider Revive Vending opened in London. The biggest difference between Honest Café and a self-serve coffee booth was Watson Analytics[1], a natural language-based analytics service powered by IBM. The AI technology helped the management to understand and analyze consumers' behavior, ranging from product sales and selections to the timing of purchases. By making the most of such data, the management could identify those who buy as a social experience or just come across for a cup of coffee and then correctly time promotions.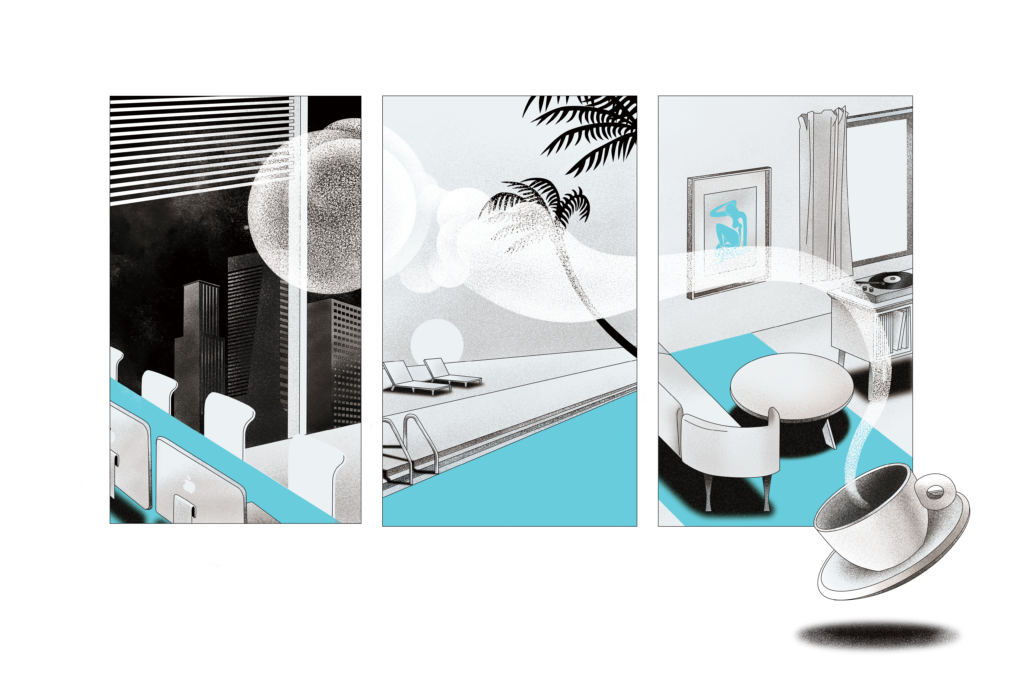 Illustrated by Xinjia Liu
Coffee by Delivery
Thanks to the rapid development of food delivery services in China, to order a cup of coffee online becomes easier than ever. Supported by insulation technology in packaging, your coffee can stay warm or chilled until it reaches you. Coffee delivery has been on the fast track and we see many local coffee brands come onto the scene and grow into giants. luckin coffee is a great example as its expansion speed and development has exceeded the expectation by both the coffee industry and the public. Through its own mobile application and a mini-program on WeChat, a popular communication app in China, customers can easily order a coffee within a few clicks. In the past two years, the brand has not only grown into a coffee chain with over 3,600 stores across the country, but also been listed on NASDAQ since May 17, 2019.
Many people believe that the success of luckin coffee is not replicable for other coffee brands due to its unique business model. However, luckin does open up a new world for the Chinese coffee market, not like any other brand or not elsewhere. It makes coffee accessible in terms of price and location for people. Last month, it opened a space-themed coffee shop in Beijing in partnership with NASA (the National Aeronautics and Space Administration of the United States) as the brand has launched a new round of marketing campaigns by working with big Intellectual Property (IP) brands and assets. The cafe employs a robot barista to serve customers as well.
Although many cafes argue that a coffee by delivery will not taste as good as the one you get from a store directly, more people are starting to enjoy the convenience and discounted prices that come with the delivery service. The popularity of coffee by delivery do not only make local brands like luckin coffee and Coffee Box earn thousands and millions of customers but also leave coffee chains and independent coffee shops with no other choice but to offer delivery services to take a slice of the big cake of the Chinese market.
According to a report on consumer trends in coffee in China in 2019 by CBNDATA, the number of coffee orders online grew by 60% in 2018, compared to that in 2017. More Chinese started to order coffee from specialty coffee stores when they went online, providing delivery services. The number of orders for hand drip increased by 153% in 2018 from a year earlier while the favorite coffee origin was Yirgacheffe.
A Touch of Technology
To many coffee lovers, they all have a 1m2 coffee corner at home for their favorite coffee beans, brewers, grinders, and even a home espresso machine. Last month, La Marzocco showcased its latest HOME mobile application at the HOST Milano for its large number of coffee clients with single group head machines, which is also regarded as the brand's aim to 'step into' the Internet of Things (IoT), turning coffee making as a fun adventure to play around with digital methods. The user can find useful video tutorials to learn special skills and techniques through the app, record their brewing recipes as well as easily call for service and technical support.
Revolution of Digitization You could find that so many coffee brewers are fully automatic now. During the Seoul Cafe Show 2019, many exhibitors showed their innovations that could brew coffee and record recipes too. People have applied a number of ways to improve the taste and quality in their cup at home. With one click, it can prepare a hand drip itself; some of them are programmable while others can make cold brew coffee just in five minutes.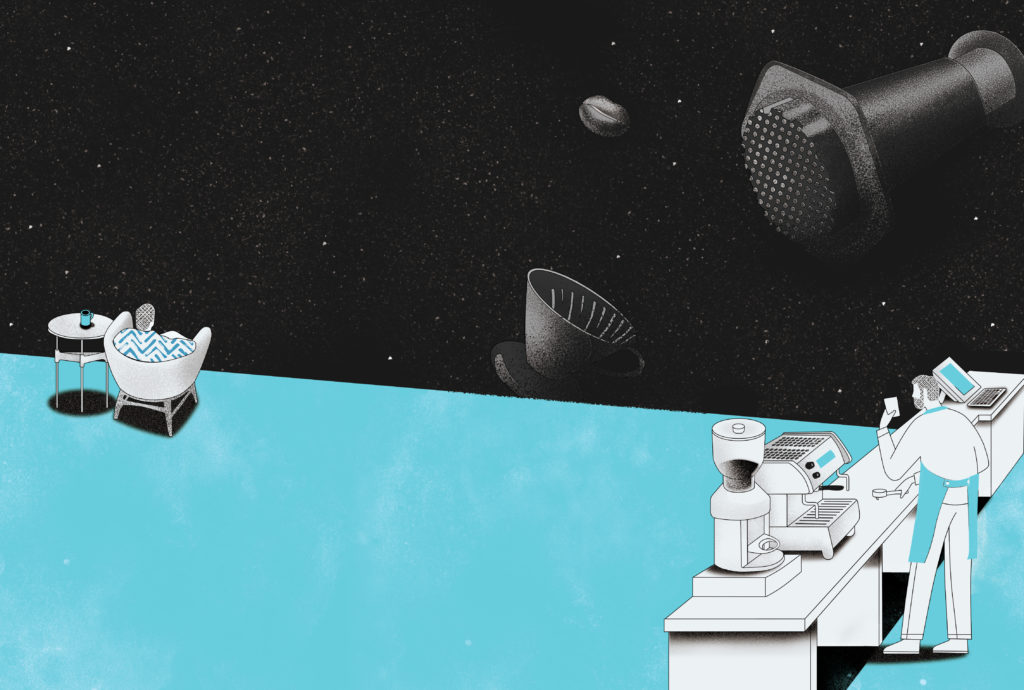 Illustrated by Xinjia Liu
One example is iDrip. The automatic coffee brewer not only adopts IOT technologies but also partners with World Barista Champions to reproduce the champion's cup for its customers. The technology behind it can mimic and record the brewing skills and techniques used by different champion baristas. With its mobile application, users can explore more about the flavors and brewing tricks during the making process as well as order their drip bag coffee easily.
The other is Sonic Dutch, a cold brew coffee machine. The radio-like machine can quickly prepare a cold brew as fast as in five minutes. Using a special brewing technique through vibration, the machine can not only record different cold brew recipes by turning up or down its 'volume', but also play music as a speaker when the coffee will be extracted via sound wave. Sounds magic, right?
Adoption of Top Notch Technologies Thanks to the advanced technologies, wherever you are now, you can not only visit a coffee farm thousands of miles away with your own eyes powered by virtual reality but also find out who grew your coffee and see all along the supply chain through blockchain technology. Onda Origins based in Seattle was founded three years ago by Paul Tupper and his brother. The company started from a garage in a hope of contributing to transparency in coffee. Last year, they put on VR (virtual reality) headsets for their customers, which took them on a tour of the coffee farms where their coffee was grown. The project was also equally important to the growers as they could see the maximum financial benefit from each cup of coffee that is sold.
Now, Onda Origins offers coffee that is blockchain-traced. Ivonne's Blockchain-Traced Coffee is believed to be the world's first coffee to be fully traced back to the farmer who grew it on a blockchain ledger, according to the brand's website. Maybe it doesn't make sense to you how blockchain can actually work for a coffee farmer. The power of the technology is that this process has maximized profits for the farmer, Ivonne Herrera, which makes her farm profitable for the first time in recent years. In a bid to use blockchain to create transparency for customers as well as growers, Onda believes that it will greatly improve the cup experience for customers while improving profits and lives for coffee producers.
Back in 2017, when the Starbucks Reserve Roastery in Shanghai opened its door to the public, it introduced an AR (augmented reality) game for its customers to explore the large store as well as an effort to blur the fine line between online and offline shopping experiences. Customers could download its mobile app to play the game or use the AR scanner on Taobao to scan the QR code in store. A map would be downloaded to the smart phone as the customer could start the hunting journey just by scanning anything that they were interested in inside the roastery. The app could also be used as an optional way to order drinks and food in store. This approach made the whole store visit like playing Pokemon Go, digitizing the customer experiences. Now, the AR technology can be adopted to supply chains or for transparency. In some cases, customers can even use an AR scanner to find out what beverage is inside the can.
The exploration of technology in the world of coffee is continuing. It is merely a start for those high technologies to be used in the supply chain of coffee. When we appreciate a nice freshly brewed coffee from our machinery friends, we should also appreciate those engineers who are the creative mind behind smart technologies and those farmers who are thousands of miles away on the coffee farm. Think out of cafes: There is just another 'intelligent' world of coffee!
[1]Watson Analytics
The service is no longer available for purchase. To quickly and easily discover patterns and meaning in your data, consider trying the all-new IBM Cognos Analytics 11.1, which includes guided data discovery, automated predictive analytics, and cognitive capabilities such as natural language dialogue, making it possible for you to interact with data conversationally and obtain easy-to-understand answers.
---