It's a balmy summers evening, there's more action then your eyes and ears can process along the sand swept footpaths of Cottesloe Beach, you're thinking "What next? I know, gelato!". Then you're thinking "Maybe I shouldn't, is there is a truely healthy option?". It is always a hard choice when it comes to tasting true happiness versus staying fit and healthy. When you feel like delicious and refreshing ice cream, sometimes you're hesitant as most of what's available is full of cream and sugar, you worry too much about calories and fats you're going to need to deal with.
Who wouldn't love a good-for-you ice cream, low fat, gluten free, non-dairy, vegan… And if I tell you there's an ice cream that's loaded with probiotics? Probiotics are live bacteria and yeast that are good for you and your digestive system, imagine having them in your ice cream, you wouldn't feel that guilty sensation while enjoying your ice cream anymore. Let's be honest, no matter how healthy something is, you'd still prefer something delicious. Well, there's some good news, there is a healthy option and it's thanks to Good Vibes.
What is Good Vibes?
Good Vibes is Australia's first probiotic gelato featuring the natural cultures of kefir. Kefir is actually a traditional fermented beverage originating in the middle-east and the Good Vibes story is really the coming together of two ideas. One being the discovery of the almighty kefir and how truly good it is for our bodies and our gut health. The other was the creation of delectable kefir recipes for everyone to enjoy. What better way to share their favourite new ingredient than to make it into a mouth-watering range of gelato!
So Why Kefir?
All of Good Vibes' gelato is made with kefir, an ancient fermentation process that naturally contains multiple strains of probiotics and helps restore your gut's natural flora. There's literally billions of probiotics in every scoop and as everyone is finding out, "Gut health is the key to overall health".
Learn from The Pro!
The founder's quest was to make Good Vibes the best. Where is the world's best gelato made? Italy, of course! That's where Alberto Pallini, owner of Gelaterie Pallini in Italy's Lombardia, is based and regarded as one of the greatest gelato maestros in the country. His gelato is awe-inspiring. Good Vibes couldn't resist the opportunity of infusing his genius and passion into their sensational gelato creations. Alberto's key advice is "Always, no matter what, use the very best ingredients" and that's exactly what they use. Good Vibes scoured the globe to ensure every single ingredient that was mixed lovingly into each flavor was exceptional. When you taste their flavors, you'll quickly understand that this has become part of the Good Vibes core philosophy.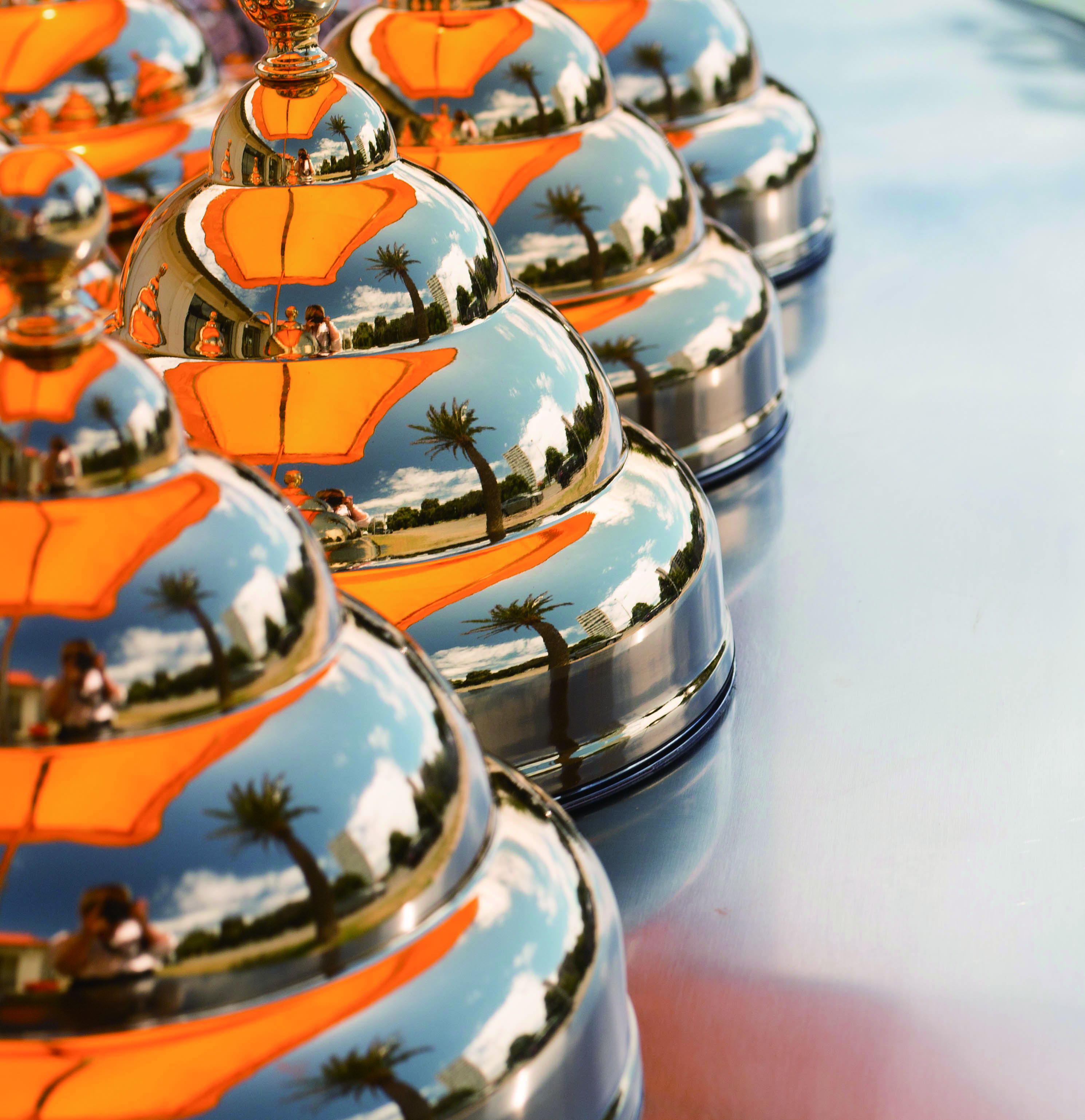 Good Vibes' most popular dairy flavor is Salted Caramel Swirl and their most popular vegan flavor is Mango Passion. In May 2021 they won two silver medals at the DIAA Victorian and Australian Dairy Awards for their Salted Caramel Swirl . Good Vibes is extremely proud of this achievement "As we were competing against gelato that contain lots of sugar and fat to make the gelato taste good, while we have managed to make it delicious but substantially healthier as we use only natural ingredients, our gelato is lower in sugar and gluten free, as well as being packed full of our live kefir".
Look at Those Colours!
Aimed at savvy millennials and Gen X consumers with an understanding of the wellness benefits of probiotics; the challenge for the Good Vibes brand and packaging design was to stand out and drive traction in an increasingly saturated market. The design needed to get noticed and create a loyal band of believers, not just for the product but in the brand.
With so many brands using generic conventions of wellness, (think craft markets, hand crafted aesthetics and soft earthy colours), Marx Design took a different design direction. The aim was to position Good Vibes as a personality strong enough to live up to its name, lively, energetic and relentlessly positive. A brand with instant visual appeal and a design concept that does justice to its health promise.
Inspired by the "Good Vibes" name (derived from the Turkish word Keyif, Kefir means "feeling good" ), Marx looked back to a time when wholesome good vibes were in full swing, taking cues from the 60s and 70s psychedelic poster art of Victor Moscoso.
Each pack utilises Moscoso's clashing colours that fight with the eye, the f lowing interlocking word-mark is a nod back to the freedom of his typography. The spiral patterns of churned ice cream add another playful link to the influence of Moscoso, forming an ownable, organic abstract brand asset, as well as representing the flavors within. Think burnt orange for Salted Caramel & Sunshine and creamy blue for Very Vanilla.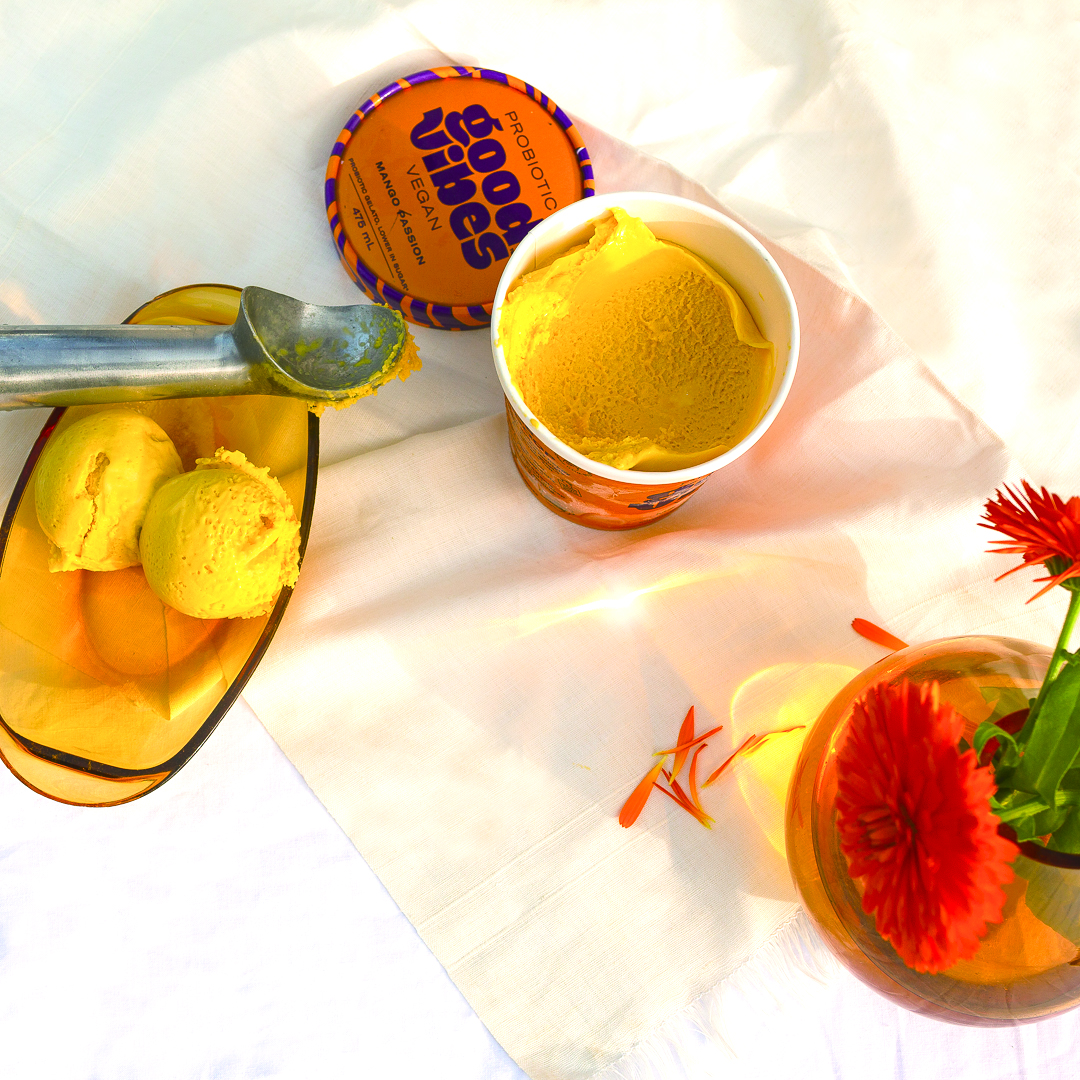 The Melting Moment
It's not an easy feat to both reward yourself with something so delicious knowing that you're also consuming such important probiot ics every healthy gut needs. You're walking away with a cone or cup of Good Vibes, lips all sticky and sweet.
You don't need much else to finish off your day then with a gelato of this calibre. The beautiful sun is about to set and you think to yourself, "Just one more scoop, I reckon I deserve it, hah!" Not knowing your feet are already tapping their way back to the gelaterie.
---