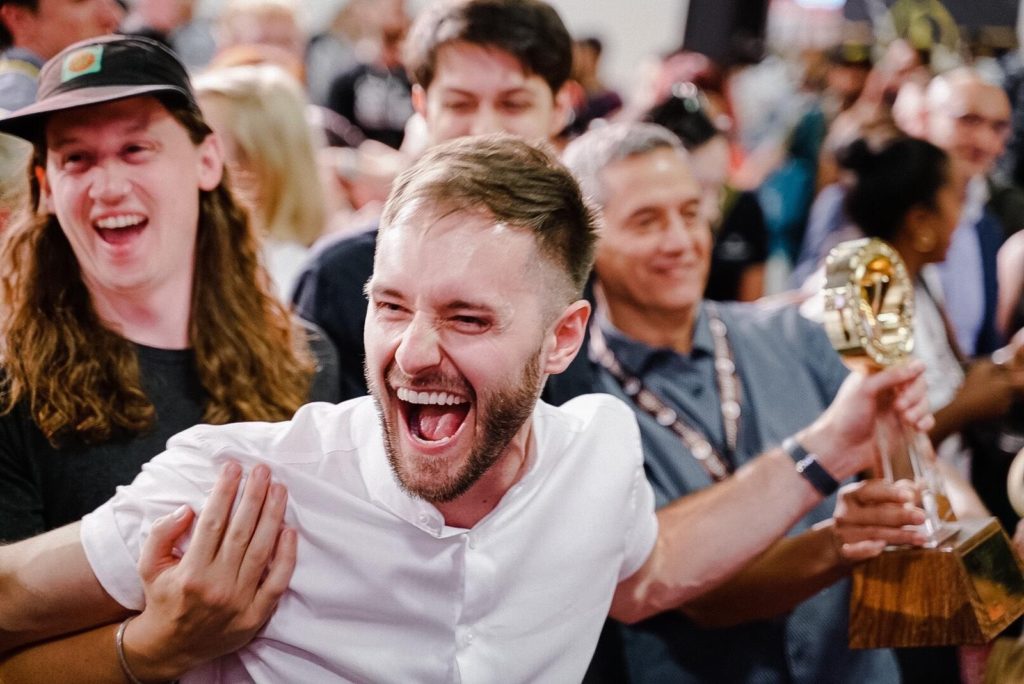 Representing the United Kingdom, Dan Fellows won again! He retained the title of World Coffee in Good Spirits Champion, "The moment of announcements was of course a huge moment for me!" he shared, "I didn't realize at the time, but I immediately fell to my knees when I realized I had retained my world championship." The winning meant a lot to him, as was the experience of sharing the stage with his amazing friends along the way as he competed and surrounded by friends, family, coffee producers and roasters.
A Spirited Coffee Journey
The journey all started from Fellows' 18th birthday. "I was working as a chef in my home town of St Ives and was invited to work on the bar that evening. As well as a fantastic cocktail menu, the bar had an amazing coffee offering." It was the turning point for this young man who then entered the fascinating worlds of coffee and cocktails.
Like many barista peers, Fellows regards competitions as a way to learn and improve. The primary drivers behind competing are enjoyment and development as he tells CTI. "I love that competitions allow me to push myself and learn as much as I can." It's not only because of the sheer enjoyment he gets out of competition, from concept creation and development to practice and competition itself, but also for the consistent motivation that keeps him learning and doing the very best he can all the time. "This has always helped me to simply focus on delivering the best drinks and routines I feel I can, and I always enjoy sharing these with anyone I can in a similar way, be they friends, family, judges or guests."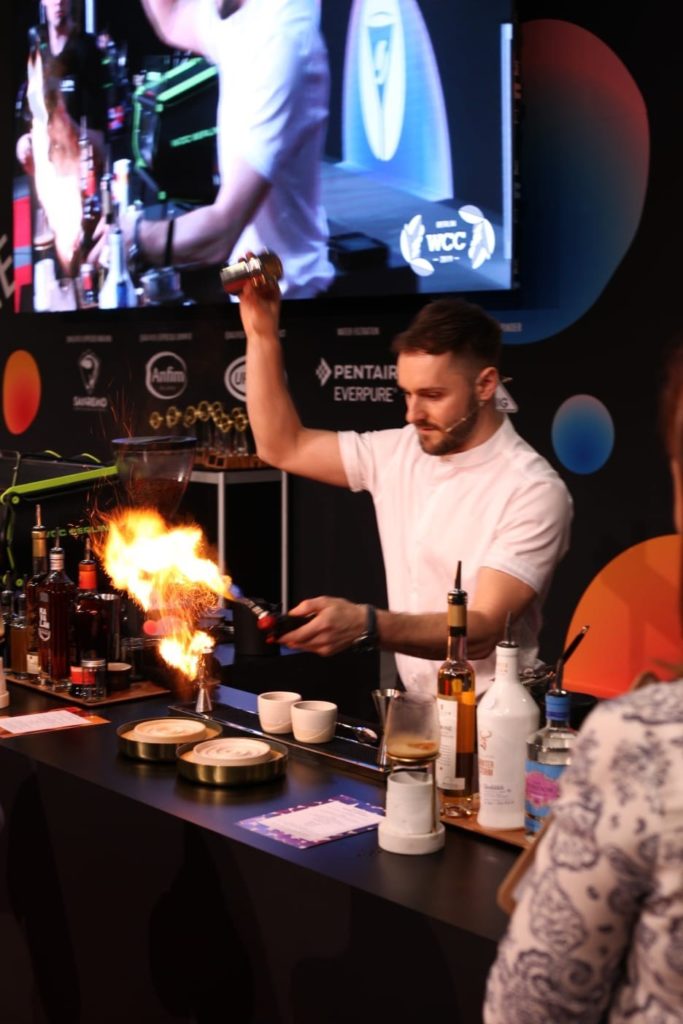 To some extent, Fellows is a lucky competitor. He began competing seven years ago and won the 2012 UK Coffee in Good Spirits Championship straightaway. Now, he has two world champion titles. You can see a long list of his winning records on the website of Origin Coffee, where he worked as Head of Wholesale for seven years. But what people haven't seen is his passion for coffee and cocktails and continuous efforts. Fellows didn't stop trying and competing after so many winnings. "I am very fortunate to consider competitions as a hobby and find them immensely fun and rewarding. I always compete with the goal of pushing myself and learning, rather than focusing on a certain outcome," he explained.
Preparation for a world competition can be exhausting. Through the years of competing, Fellows has not only polished his professional skills but also learned lessons from it, for example, how to balance between travel, his career and competition. "I am a big believer in compartmentalizing different focuses," he said, "This applies when I am preparing for a competition. I set very clear goals and timelines in advance to ensure every minute I allocate to a task is used efficiently and in a focused manner." When recalling the competition stage, he said the "IT" moment he enjoyed the most was that right before announcements when all competitors shared a shot of whisky together. The competition sometimes is not about the result but about a time when all competitors show the best of themselves.
An Impressive Drink Tells A Story
Inspiration plays a critical role in the WCIGS competition. Fellows is always asked such a question: Where do you start when designing a coffee cocktail? The secret of those innovative drinks is to focus on a particular concept, coffee ingredient or method, creating a drink which celebrates the inspiration behind the drink, as he shares. "I love drinks that have a story. I love when a bartender explains how and why the drink came to life, why the ingredients are chosen and how they work together."
If you have watched this year's WCIGS, you must remember Bonfire Toddy created by Fellows. It was the second drink he served on the final stage. The concept was to recreate a memory of drinking Hot Toddys[1] on the beach on Bonfire Night in St Ives, as he shared on his Instagram account (@danfellows1). You can not only learn about the latest innovative drinks in his posts but also feel his passion and love for coffee and cocktails through the screen.
Kick off A New Start
Outside of food and drink, Fellows also shared his following plans, which reveals some parts of him that you may not know. He is planning to enter for a power-lifting competition in the coming months. "I think I enjoy the objective nature of the sport after so many years competing in mostly subjective coffee competitions!"
It may be hard to see Fellows competing on the stage again this year as he will take a year off, trying to help as many people as he can. "When I won WCIGS 2018 in Brazil, I immediately reverted to practicing for the 2019 competition. This year, I plan to help people through coaching, judging, master classes and training full time," said he.
As part of his five-year plan, he will travel as far and wide as possible promoting coffee cocktails. Recently, he just hosted pop-up coffee cocktail bars in China.
Last but the most important, Fellows will celebrate another big thing in life: Getting married! "I am fortunate enough to live in London so love to explore the city with my fiancée Emma, as well as taking every chance I can to eat and drink delicious things."
Talk with Dan Fellows
If you didn't enter the coffee world, what would you see yourself do as a profession?
I have a degree in business management, but also love trying to motivate people, so maybe something to bring these together! I also love sport and helping people, so I would perhaps have explored this more in a different life, maybe as a coach or trainer!
How do you like the coffee community and culture in Asia? Any special experiences to share with us?
I absolutely love it! I have been fortunate to visit many parts of Asia and am always amazed by the people and culture.
Which origin of coffee do you like the most, or the one you drink a lot recently? Why do you like it?
I love exploring new and developing origins. I have been fortunate enough to have tried a few Chinese coffees and have been massively impressed by the quality. I hope to one day visit Chinese coffee farms to see how they operate and to try even more Chinese coffee.
Name your favorite daily food except coffee.
Any home cooked meal! I have less and less time to enjoy these, so I appreciate them whenever I can!
[1] Hot Toddy
Also known as hot whiskey in Ireland, Hot Toddy is typically a mixed drink made of liquor and water with honey (or, in some recipes, sugar), herbs (such as tea) and spices, and served hot.
Competition History
2019 WCIGS – 1st Place

2019 UK CIGS – 1st Place

2018 WCIGS – 1st Place

2018 UK CIGS – 1st Place

2016 UKBC – 1st Place

2015 UK CIGS – 2nd Place

2012 UK CIGS – 1st Place

* WCIGS: World Coffee in Good Spirits

UK CIGS: UK Coffee in Good Spirits

UKBC: UK Barista Championships
* All photos provided by Dan Fellows
---