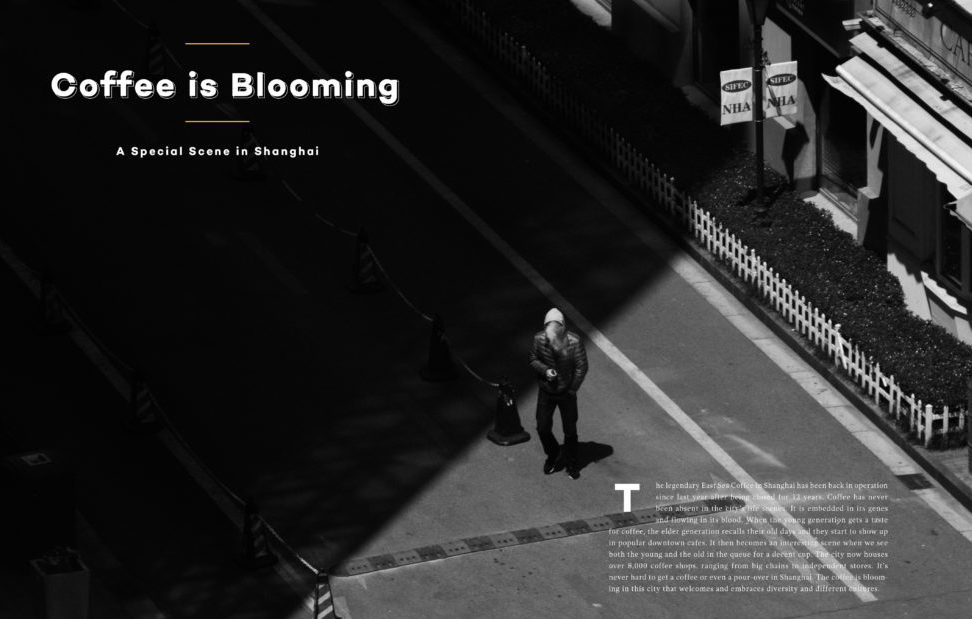 The legendary East Sea Coffee in Shanghai has been back in operation since last year after being closed for 12 years. Coffee has never been absent in the city's life scenes. It is embedded in its genes and flowing in its blood. When the young generation gets a taste for coffee, the elder generation recalls their old days and they start to show up in popular downtown cafes. It then becomes an interesting scene when we see both the young and the old in the queue for a decent cup. The city now houses over 8,000 coffee shops, ranging from big chains to independent stores. It's never hard to get a coffee or even a pour-over in Shanghai. The coffee is blooming in this city that welcomes and embraces diversity and different cultures.
Manner Coffee
From 2m2 to over 60 Locations Nationwide kou
Established in 2015, Manner Coffee is famous for its compact size — its first store on No. 205 Nanyang Rd in Shanghai covers only two square meters on the ground floor in an old residential building downtown. Founder Yulong Han shares that his aim is to promote coffee culture in China, making coffee a daily drink for Chinese, just like soy milk. A good coffee doesn't always mean being expensive. For example, an 8oz latte costs 15 yuan or 20 yuan for a larger size. All customers can get a discount of five yuan off any drink if they bring a reusable cup. If you bring your own container for roasted coffee beans, you get discounts too! It's worth mentioning that the price has stayed the same for the past four years. A good coffee means being accessible to consumers even at the entrance of a local food market. Manner did it. It makes it a perfect location to promote coffee culture to locals, especially those who go to do their grocery shopping every day. Get a coffee and get your shopping done. If you go to Majestic Theatre, you can get a cuppa during the intervals now! Manner Coffee now has over 60 locations nationwide such as Shanghai, Beijing, Shenzhen, Suzhou, and Chengdu.
Add: No.205, Nanyang Rd.
Opening hours: 8:00-18:00
Add: No.329, Tongren Rd.
Opening hours: Mon.-Fri. 7:30-19:30, Sat.-Sun. 8:30-19:30
Blacksheep Espresso
For a Decent Local Roast
Metallic outside with a pure white interior decor. The minimalist design style of Blacksheep Espresso is attractive enough for you to push the door open. Boasting its own roastery in Minhang District, the coffee shop uses its self-roasted coffee beans for both espresso-based drinks and pour-overs, under a brand called Terraform. You will find many interesting options on the menu. Traditional espresso-based drinks are called 'Old School'. But you can pick your flavor by choosing from three different coffee beans, one blend with two single origin coffees. On the Single Origin Beans Menu, you will find 10 different coffees, divided by the processing method, namely, special, washed, and natural. There are two different brewing methods available, pour-over and syphon for black coffee. If you are lucky, you can get a coffee processed by Semeon Abay who works with Ninety Plus and is known for his skills in coffee bean processing. Apart from nice coffees, small treats like cookies and cakes can be great to go with your coffee. Chest pins are a great option as a souvenir if you are a tourist. It also has a coffee bar in service at Power Station of Art.
Add: No. 164-9, Mid-Jianguo Rd.
Opening hours: 8:00-18:00
PARAS
Special Drinks for Four Seasons
In winter, we always look for something green to warm our eyes. This location used to be a pop-up store for the brand, PARAS, on Xinle Rd. It is now a permanent location that welcomes all, including pets. Stacked old newspapers serve as stools while the latest editions are on hand for a good read with your coffee. The green color extends to its window frames too. PARAS updates its menu every two to four months. Normally, there are 12-15 drinks on offer at the same time. Now the festive menu for winter is available until spring. Inspired by the Christmas signature drink Mulled Wine, Mulled Coffee contains no alcohol at all but uses grape juice. The drink features a mild cinnamon taste with a fruity citrus flavor. The orange slices balance well with both the coffee and the spices. As it cools down, you can expect a sweeter taste with a fuller body. If you prefer something creamy, Pistachio Latte will be a top choice for its yummy nutty flavor and whipped cream topping. Its new location on Fengyang Rd. opened to the public last month, which is just a stone's throw away from Starbucks Reserve Shanghai Roastery.
Add: No. 80-1, Xinle Rd.
Opening hours: 8:00-18:30
Add: No.659, Fengyang Rd.
Opening hours: 8:00-18:30
o.p.s.
Coffee is … Presentation.
o.p.s. stands for open-minded, possibility and space. The cafe's winter menu has only six drinks, which lasts until March. Once you make a decision, you will get a special card for your chosen drink. Waking in Dublin uses an anaerobic Costa Rica coffee for a nice cinnamon taste, a Scotch whisky, and palm sugar, topped with lightly whipped fresh cream. The base liquid is warm while the topping cream is directly from the fridge. The contrast in the temperature and texture of liquids is so nice that you can't help having another big mouthful. For those who want a refreshing taste, try Kyashiki. It uses a washed Ethiopian coffee with shots of a Umeshu plum liquor and a Japanese whisky. The added yuzu and jasmine white tea highlight the refreshing fruity notes. However, the drink is regarded as a medium for baristas at o.p.s. to create a coffee experience for customers. Each customer will be served individually. The barista will explain carefully, step by step, to guide him/her to enjoy the coffee-infused drink. Note that o.p.s. doesn't offer a take-away option, which means you need to choose a good time to avoid the long queue and take your time to finish the drink in store. (P.S. Don't go in the afternoon of weekends!)
Add: No.1, Lane 177, Taiyuan Rd. (Close to West Jianguo Rd.)
Opening hours: Mon.-Fri. 11:00-20:00, Sat.-Sun. 9:00-18:00
Cafe ON AIR
A Diversified Space Designed for Food and Coffee Lovers
Hidden away from busy Middle Huaihai Rd., this is the second location of Cafe ON AIR on quiet Sinan Rd. The wooden decor and dim lights give the space a warm homely touch. You can find a lot of geometric elements throughout the place, even in the toilet. The big table in the center makes it easy to serve a big group or as a workshop table. There are many individual seats opposite the long bar, providing office workers a top destination for lunch. The plug sockets with USB ports make it a good place to work on the go, too. The cafe uses single origin coffee beans roasted by Copenhagen-based April, a coffee roastery brand established by the 2019 World Brewer's Cup Championship Runner-up Patrik Rolf Karlsson in 2016. The cafe has an on-site kitchen at the back. So diners can get house-made desserts, pastries, and meals here. Pastas are highly recommended. You can appreciate the domino system of lasagne as you indulge in the savory food. The best time to visit is a working day morning or afternoon as you may have the whole space to yourself. However, its outdoor seats are popular among selfie lovers. Don't miss out!
Add: Unit 1, No. 30, Sinan Rd.
Opening hours: 8:00-20:00
---