A highlighted event during CafeShow 2019 is the World Coffee Leaders Forum (WCLF), which is a professional coffee knowledge-sharing platform. The forum has been co-currently held with Seoul International Café Show since 2012.
Every year, the world's respectable coffee experts and scholars will gather together in Seoul to discuss the industry's recent issues and trends with the goal to find solutions for its sustainable development.
The speaker list: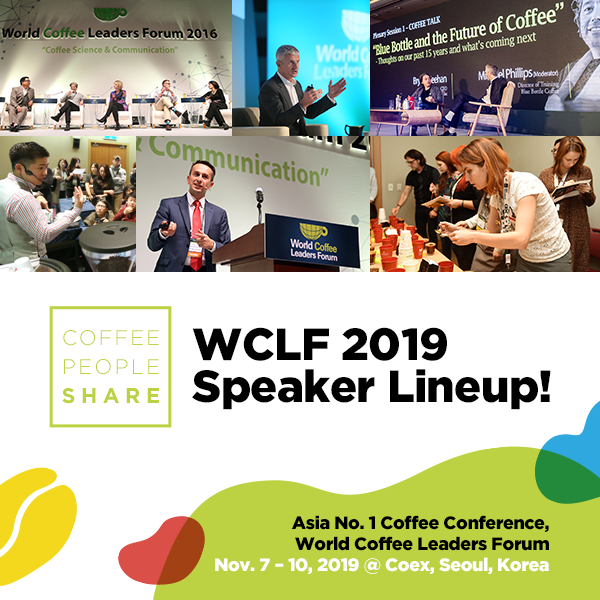 José Sette (Executive Director, International Coffee Organization (ICO))
Peter Giuliano (Chief Research Officer, Specialty Coffee Association)
Kim Elena Ionescu (Chief Sustainability Officer, Specialty Coffee Association)
Michael Sheridan (Director of Sourcing and Shared Value, Intelligentsia)
Isabel van Bemmelen (Managing Director, Progreso Foundation)
Peter Kettler (Global Product Manager, Fairtrade International)
Jen Apodaca (Vice President, Roasters Guild)
Will Frith (Founder, Building – Co-roasting space in HCMC)
This year, the forum will focus on global paradigm shift from owning to sharing, sharing economy while the theme for this trend is "Coffee People Share." Coffee communities and people will share their ideas and opinions about this theme during the event.
Dates to save: November 7–10, 2019
Location: Coex, Seoul, South Korea
For those people who would like to register with super early bird fee, please contact at info@wclforum.org or visit www.wclforum.org
---