SCAJ is an annual specialty coffee event that celebrates its growth by gathering top coffee companies together with producers and equipment makers. According to Specialty Coffee Market research conducted in 2016 by SCAJ, the consumption of specialty coffee in estimated to have reached the level exceeding 8% of all coffee consumption in Japan.The specialty coffee industry is attracting attention as an emerging successful business model. The expansion of the consumption market has led to the expansion of SCAJ itself, with the total number of individual and corporate members combined topping 1600 as of the end of 2016, making SCAJ the biggest specialty coffee vent in Asia.
This time we were thrilled to visit SCAJ as this year's theme was "The Age of Innovation" and Japan is certainly no stranger to innovations and technologies. Here we gathered the most important trend from SCAJ 2017 to see where the specialty coffee is heading.
Go Green or Go Home
Everyone knows that hospitality industry waste tremendous amount of resources and, unfortunately, it is very hard to change. But being a much smaller part of it allows specialty coffee to change business model step by step. And as usually specialty coffee professionals are young, it also gives them two very important advantages: energy and enthusiasm. This year during SCAJ we saw not only energy-saving and eco-friendly coffee machines and grinders like HG one grinder, that is very easy to clean and maintain, but also coffee bonsai that can be grown at home and will not grow into an actual coffee tree, but will still be nice as your own coffee in a pot.
Changing industry bite by bite, ECOPRESSO introduced cookie cups.  The cup is basically a cookie that allows you to pour coffee inside, this time the size allowed baristas to prepare espresso or macchiato for the guests of SCAJ. The cookie cups are available in 3 flavors: classic butter cookie, sesame seed in black and raspberry which gives the cup light pink color. Moreover as it is a cookies, washing the cups will not be a problem anymore. The cup will last for about 10 minutes till it will start getting wet, so you have a lot of time to finish your espresso. What is more, at the bottom of the cup there is a sweet layer, that makes coffee and a cookie unite perfectly. Bottoms up!
Specialty Coffee to Every Household
Japan is famous for tech innovations and creativity, and specialty coffee is no exception here. As coffee culture in Japan is blooming nowadays, people study more and more about this drink and visit seminars and coffee shops to try new things. In Tokyo everyone has a favourite coffee shop and you can find a lot of good ones around the city. This shoes that Japanese people are very serious coffee drinkers. That is why, this year during SCAJ we could notice one very important trend: specialty coffee is going into homes. Of course, as we are all used to think that specialty coffee belongs to coffee shops, baristas and roasters, but what if you can be your own barista and experiment with any kind of coffee you want? Starting with electric syphon by BODUM, that allows you to just turn on the button and come back when the coffee in e-Bodum is ready, saving time and energy. Also the new syphon has a reusable filter that will last for a long time.
Talking about technology, we cannot escape the first appearance of Japanese tech mogul, Panasonic, at SCAJ. This time they presented a new roasting machine that can fit in any kitchen and can roast up to 50g of green coffee. As the matter of fact, Panasonic even provides 3 bags of green coffee (300 grams each) with the machine purchase, then you can subscribe for a monthly green coffee delivery. Moreover, every coffee has a unique profile that you can check in a specially designed by Panasonic app (totally Apple friendly). Depending on the beans, roasting takes up to 12 minutes. So you can enjoy very fresh coffee right after waking up.
Optimizing working process
To make the process of roasting and brewing faster Acaia brought to life its new Acaia Orion Machine, as after you set the right amount of (green) beans, the machine will automatically doze it for you without mistakes. It can save a lot of time during a busy day. Also the automatic bean dozer has a great minimalistic design in cosmic black color and soft curves. The machine is available in the US, South Korea, Japan and Australia and is being welcomed by these markets as this bean dozer is something that everybody has been looking for.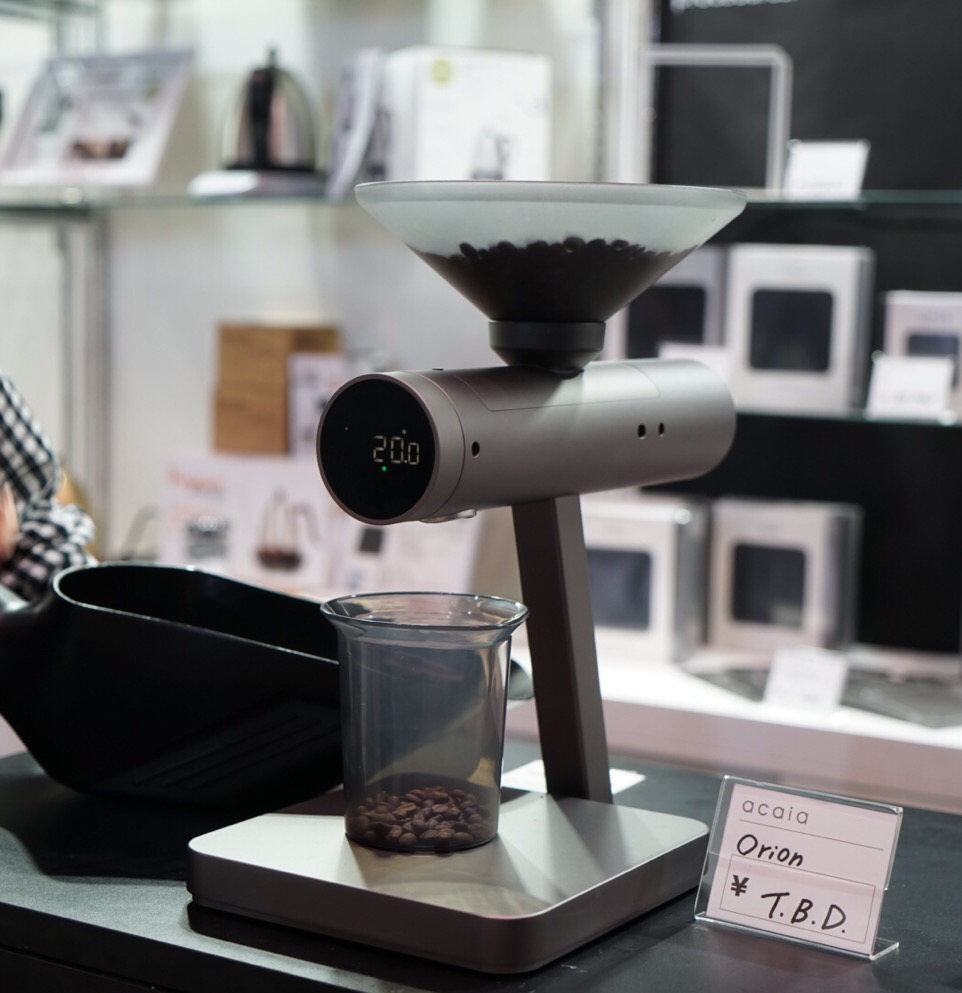 Bubble Lab from China presented their automatic dripper that can be easily hidden in a table making working space bigger. The dripper goes from the table and by itself looks for coffee to brew, as it is programmed to look for round shape with coffee or tea inside as the machine recognizes it automatically. If there is not anything like this on the table, machine will keep looking and then just go back into the table. Bubble Lab created a machine that optimizes working surface and barista's time.
Minimalism as an Appreciation of Space.
Japanese design has always been something special. This special design might be the result of the country's need for everything compact and highly convenient, without any useless additions. Its minimalistic and clean lines has been always praised by fashion designers and architects. Kitchenware and coffee equipment is no exception here. SCAJ gathered a lot of brands to show their masterpieces. One of them was definitely standing out,  American Press, even though it is not fully Japanese, as the designer is from San Fransisco, it will suit Japanese lifestyle perfectly. The new press makes you re-think your good old French Press. The invention was created for coffee shops as well as home users, this equipment is very easy to use and clean! Unlike a French press, with an American Press grounds remain contained in a patented reusable pod before, after and during brewing for easy cleanup, and you're actively brewing as you press, not just straining out grounds as you would with a French press.The materials are high quality and eco-friendly.
It Takes Time to Win
Taka Ishitani is a freelance barista that has been competing for the title of the Japan Barista Champion for 12 (!) years. And as Stephen King once said: what separates the talented individual from the successful one is a lot of hard work. And it was 12 years of hard work for Taka Ishitani and finally he won it! So now he is getting ready for the finals in 2018 in Amsterdam. We wish best of luck to him and can't wait to see him performing during WBC 2018.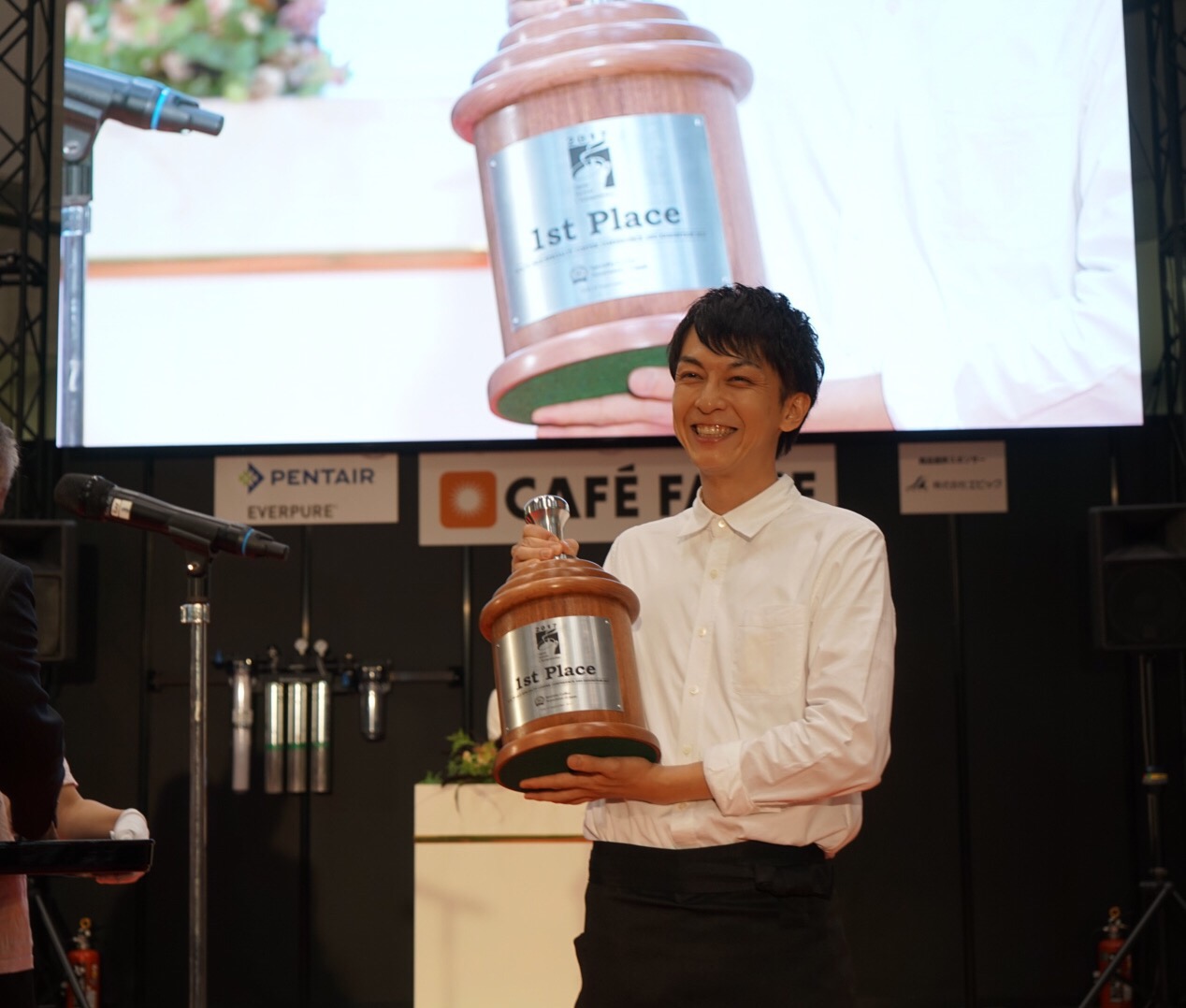 See you next year, Tokyo!
---