A few months ago, I was reading an article about Muriel Cooper, one of the most influential print and computer graphics designers of the 20th century, when I stumbled upon one of her quotes: "Information is only useful when it can be understood". This is a phrase that has been stuck in my head ever since, because it is so relevant in today's day and age.
We are constantly bombarded with information, but how much of it can we actually understand? In the business world, information asymmetry–when one party to a transaction has greater access to relevant information than another–can be exploited in many ways.
So, when it came to writing this issue's cover story, I knew that I wanted to address a topic I believe is particularly relevant in today's coffee industry: transparency. If we are being literal, being transparent is the ability to see through A something. But in modern day business, it usually means providing accurate and clear information to relevant parties about your product or service and the way you conduct your business.
However, just like Muriel said, one must first understand the information in order to make it useful. The trouble is, we often don't have all the information we need in the first place, let alone use it properly.
In recent years, I have witnessed efforts in the coffee industry to change this narrative, particularly with the help of digital tools and assets. That's why I reached out to a few experts in the field to discuss how digitalisation can help create a more level playing field in the coffee industry and bring about tangible results when it comes to transparency practices.
Be Transparent About being Transparent
In the business world, being transparent has become an important factor in developing relationships of trust with customers and employees. It allows all parties involved to understand what is happening, why it is happening, and the result of the actions taken. In other words, it provides a level of accountability.
In the modern day coffee industry, the term "transparency" is thrown around a lot. But what does it actually mean? Transparency, simply put, is the act of making information accessible to all interested parties. In the context of the coffee industry, this typically refers to the prices that coffee importers, coffee roasters and cafes charge for their product.
Some argue that true transparency also includes sharing information about the origins of the coffee beans, how and when they were roasted, and information on how they were processed. Others believe that transparency should go even further, to include things like business practices and ethical sourcing.
So what does transparency mean for the coffee industry? Is it about what farmers are getting paid for their coffee? Is it about how the coffee is sourced? What about fair wages for baristas? Navigating the coffee value chain while trying to answer such questions can be daunting, and the answers are often murky.
But one thing is for sure: in recent years the coffee industry has started a conversation about transparency. This stems from a wider business trend of increasing transparency in all industries. Times are changing and modern day consumers demand to know more about the products they're buying and the companies they're supporting.
That in itself is pushing many industries to add transparency practices in their value propositions. However, there is a line between offering transparency and leveraging the term as a marketing strategy.
A few years back when I was studying business, I remember reading about the marketing mix and the 4 P's: product, price, place and promotion. Imagine it like a bag of things you need to make a brand successful. In today's business world, I would argue that there are some other things thrown in there: sustainability, transparency, accountability etc.
Some companies will use the word "transparent" to describe their business practices or product when in reality, they're not being completely truthful. This is where things can get complicated. The main issue here is that we all might have different understanding of what transparency means and this confusion benefits marketing departments more than any other interested parties. Perhaps we are not asking the right questions. When it comes to the coffee industry, here are some questions that may provide food for thought: Is having access to information enough to make an informed decision? Shouldn't we work towards actually understanding this information and what it means for the coffee value chain? Do we need to be transparent about being transparent?
To try and answer such questions, each of us needs to consider our place in the coffee value chain. Are you a roaster? A cafe owner? A barista? A consumer? Each perspective might offer a different answer and that is logical. What's important is that, whichever part of the coffee value chain you find yourself at, you can understand when you are provided with the right information and how this information might be useful to you.
Let's Get Digital
Donny Miller said, "In the age of information, ignorance is a choice." As we continue to move forward in the digital age, this statement holds more truth than ever before. With easy access to an unprecedented amount of information at our fingertips, it's easier than ever to be well-informed about the products we buy and the companies we support.
If you think about it, the fact that we have access to so much information in the first place stems from the continuous innovation and development in technology. The internet has allowed for a global connectivity and flow of information like never before, and this is only set to continue with the advent of 5G. The increased speeds and capacities of 5G will enable even more complex applications and higher volumes of data to be transmitted, furthering the possibilities for digital transformation in all industries.
The access to such an amount of information has inevitably brought about a change in consumer behavior. We are now more likely to research a product before we buy it, and we are also more likely to take our business to companies that share our values.
When it comes to the coffee industry, we can already see how digitalisation has changed the way business is done. For example, more and more roasters are adopting fully digital solutions for their green coffee buying. This allows them to have greater transparency into the origins of the coffee they're buying, as well as traceability throughout the supply chain. As a result, roasters are able to offer their customers coffees with stories that can be told and traced all the way back to the farm level.
Cafe owners are also starting to use digital solutions to streamline their businesses and offer a better experience to their customers. For example, some cafes are using apps that allow customers to order and pay for their coffee before they even arrive at the cafe. These days baristas can use high-tech brewing equipment that allows them to dial in the perfect espresso with just a few clicks. And thanks to social media, it's easier than ever for cafes to connect with their customers and build a community around their brand.
At the farm level, digitalisation is also starting to make its way in. Farmers are starting to use apps and software to manage their plantations, track their production, and even sell their coffee directly to roasters or importers. In short, digital tools are changing the coffee industry and the way business is done. Leveraging such tools to create a more transparent coffee industry is a logical next step.
Boots on the Ground
When I started my research, I was most curious about the initiatives and projects that are currently underway to make the coffee industry more transparent with the help of digital tools. I wanted to know how the people behind these projects defined transparency and what actions they were taking to achieve it.
It's important to understand that applying the use of digital tools to achieve transparency in the coffee industry is a very broad topic. There are many players across the value chain and they all have different needs and challenges. Most of the projects I discovered are focusing on one particular aspect of the coffee value chain and many times it was not clear how these initiatives would be benefiting other parts of the chain or if they were taking a holistic approach.
There is, however, a community of coffee professionals eager to exchange ideas, knowledge and tools on coffee digitalisation. This inclusive and dynamic community is called Digital Coffee Future and albeit still small, it's growing fast. Digital Coffee Future is a virtual hub that focuses on coffee digitalisation and it's open to any coffee actor. The idea is that by creating a neutral and pre-competitive space, different stakeholders can have more efficient and effective conversations about how digital and non-digital interventions can work together to improve the coffee industry as a whole.
By bringing together farmer organizations, traders, roasters, NGOs, public institutions, tech providers, academics, baristas and individual coffee professionals, Digital Coffee Future hopes to build a strong and inclusive digital coffee network. They do this by organizing community events, educational opportunities and by working to make sure everyone's voice and experience is represented.
I had a conversation with Elisa Criscione, Founder and CEO of Digital Coffee Future, about the role of digital tools in offering transparency throughout the coffee supply chain.
"We need to ask ourselves, are these tools actually offering transparency? Or are they just perpetuating the same old power dynamics? How can coffee producers use the data generated by these tools to their benefit? I think what many companies don't understand when developing digital tools is the challenges on the ground," Elisa says. "You really need a local perspective."
Elisa believes that it is essential to have a very local context when developing these digital tools and that it takes time and effort because each cooperative has different needs.
"Co-ops in Central and Latin America are contracting software developers to build their own system that works for them," says Criscione. "You have to have a very local context and even then it takes time and effort because coffee organizations and co-ops differ in sizes and have different needs. We are using a bottom up approach via our education program to address these needs."
Digital Coffee Future is currently working on two educational trainings. The first one will pilot in Central America to train small exporters and cooperatives how to understand digitalisation and how to approach the digitalisation process. The second training is targeting other market actors such as roasters, to help them understand digitalisation from their perspective. Digital Coffee Future is definitely a great example of a project that is taking a holistic and inclusive approach to coffee digitalization.
Connecting Farmers to Markets and Finance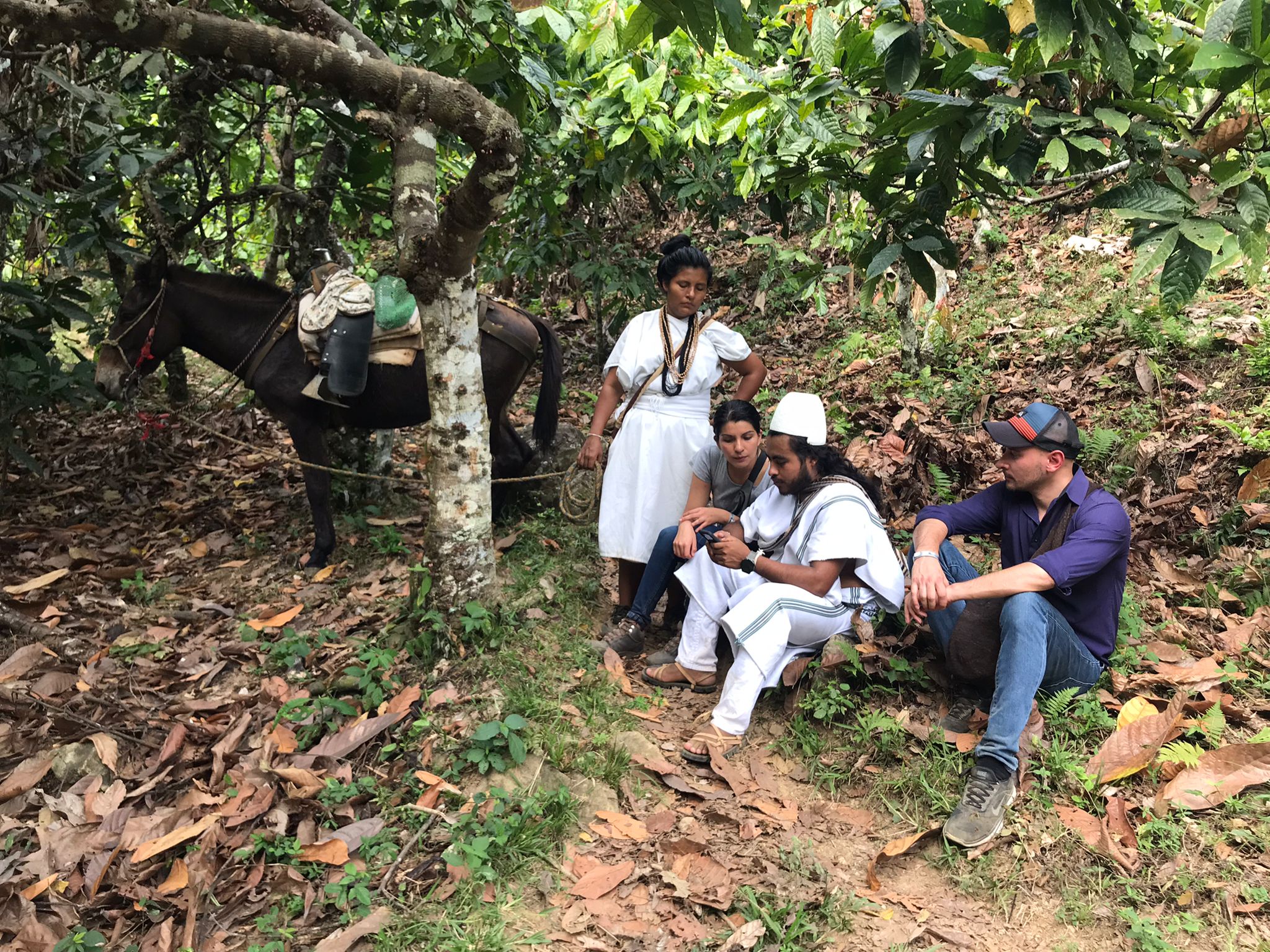 So, how exactly can coffee producers use the data generated by digital tools to their benefit? To understand what this translates to, I reached out to Progreso. Progreso is an Amsterdam-based NGO with over 20 years experience in coffee and cocoa value chains, providing access to market and finance for smallholder farm households. In 2018, the foundation launched the Beyco "Beyond Coffee" platform to increase digital inclusion in the coffee sector and allow producer organizations to form smart contracts using blockchain technology.
By using a shared ledger system for smart digital contract formation, the Beyco platform enables data collection and management throughout the supply chain, with encrypted track records of all transactions for both sellers and buyers.
Beyco has continued to grow since its launch in 2018, with almost 600 users. It has engaged over 340 sellers from various parts of the world including Latin America, Eastern Africa, and South-East Asia and 250 buyers from different parts of the world including Europe, North America, and Eastern Asia.
Further to that, two years ago Progreso developed an app for farmers which is connected to Beyco. The app's purpose is to facilitate traceability of coffee up to the farm level but most importantly, the app is being used as an internal management tool, as it records not only deliveries and payments, but also internal credits for the farmers.
This data synchronises with a dashboard which allows the producer organizations to manage their information and group their deliveries. By connecting this app to the Beyco platform, it gives users insights into who contributed to a particular coffee offer and what prices were paid.
The team behind Beyco created a solution that not only integrates traceability and transparency throughout the chain, but one that also enables access to market and finance for producer organizations. I had a chat with Isabel van Bemmelen, Managing Director at Progreso Foundation, about what this means.
"We see a lot of demand for transparency and traceability in the coffee sector but I think it's important to understand who owns the data and who is really benefiting from it," says Isabel.
The Beyco app and platform can be used for traceability and transparency, but according to Isabel it has mainly been developed with the objective to connect farmers and their organizations to markets and finance. This is essential to be able to develop sustainable trade relationships and make investments in the field to improve and maintain quality and productivity.
This year Beyco also added an 'Financier profile, to connect credit lines digitally. "The launch of the financier profile is a dream come true" says Isabel. "When producer organisations have credit lines available related to their export contracts, it makes it easier for them to buy the coffee from their members during harvest period and export it on time, for the requested quality. Without liquidity, it is hard, if not impossible for producer organisations to manage. That is why it is essential to have access to both the market and credit lines, at the same time."
As Isabel notes, the objective is that data may support the producers in getting access to better prices, but also to finance, which is essential for producer organisations in order to export their coffees, but also for buyers to receive the coffee they need.
Crypto Baristas, Season 2, Episode 1: Transparency
And while Progreso is using the power of blockchain technology to increase digital inclusion in the coffee sector, two brothers in New York decided to use NFTs (non-fungible tokens) to see if they could create a community- driven project that would support coffee initiatives.
Nick & Dan Hunnewell, founded the Coffee Bros. Roastery in 2019, with a mission to provide high quality, freshly roasted coffee while simultaneously supporting initiatives that have a positive impact on the future of coffee. One year ago, Dan & Nick launched "Crypto Baristas", a project that allows coffee lovers to enjoy a unique experience while supporting coffee initiatives at the source. NFTs are used to create this oneof- a-kind event. These virtual world tokens are a type of cryptocurrency that represents a unique asset. These assets can be bought, sold or traded like any other asset but because they're built on blockchain technology, they're also secure and immutable.
For many of us, blockchain technology and cryptocurrencies are still a bit of a mystery. Using digital assets like NFTs to support coffee initiatives is not something you hear every day. At least we are not there yet. I reached out to Dan to find out more about their project and discuss digital assets like Crypto Baristas that can have a positive impact on transparency practices in coffee sourcing.
"Many people are still suspicious regarding cryptocurrencies" says Dan. "It was a challenge to convince people that this was a serious project. We were not experts ourselves and we are still learning a lot."
The brothers teamed up with lead illustrator Tony Bui to create a fun-loving and caffeinated bunch of 60 hand-drawn characters, which they then put up for sale on Rarible. They divided their goals into seasons, with Season 1 focusing on raising funds to open their first NFT-funded cafe space in New York City. In order to do this, they needed to mint and sell a total of 455 NFTs.
Basically, minting is the process of converting digital data into digital assets that are recorded on the blockchain. The team was successful in their efforts, and were able to raise US $200,000 in just 4 months. As I am writing this, they are about to open their very first brick-andmortar cafe space in New York City, which will be funded entirely by the sale of their NFTs.
Inspired by the success of Season 1, the team is currently launching Season 2 of their project. This time around, they're partnering with the Cup of Excellence, a high quality coffee competition, to scout potential farming partners in Honduras.
As Dan explains, the goal is to have a direct relationship with a coffee farm and use the Crypto Baristas project to invest in said farm's processing and post-harvest capabilities.
"We're submitting our best lots into competitions like the Cup of Excellence to help secure 4x+ the value. That, in turn, will allow us to raise the price of all other coffees coming from the farm," he explains.
The team is also looking to use the project to establish a transparent farmgate price for their partner farm. Coffee Bros. believe that by displaying the farmgate price and production costs, they can help push for change in the way consumers think about the coffee they're buying. During our chat, Dan confessed to me that the duo had some issues with their importers not being transparent about the prices they were paying to farmers.
"They were withholding data and were very reluctant to show us anything when we asked. It's really important for us to be able to show the consumer where their money is going. At the same time we want to ensure the long-term success for the farm we partner with," he says.
"Our focus lies in transparency and sustainability regarding all aspects– creating a more efficient and transparent supply chain for Coffee Bros., upgrading equipment and processing technologies, and improving the physical health, mental health, and payment structures for those that work on the farm. Ultimately, the goal is to use the Crypto Baristas project to create a transparent business model that can be replicated by other coffee companies."
What I also found interesting is that some of the money raised from season 1 will help with construction and the conceptualization of how to tie the digital world with the physical. As Dan explained to me, a portion of proceeds will explore how to tie the MetaVerse and the real-life experience together in their new cafe space. Perhaps a future where a customer can walk into a coffee shop and directly interact with the farmer who produced their coffee is not as far away as we think.
Crypto Baristas is a project that's still finding its feet, but it's good to see a team that's so laser-focused on transparency. It's also a great example for showing how to use digital assets to invest in real-world projects in the coffee sector. I think the brothers are taking a step towards the right direction and I have a feeling that as Season 2 progresses they will work even more on transparent practices regarding data collection.
A Different Kind of Digital Tool for Baristas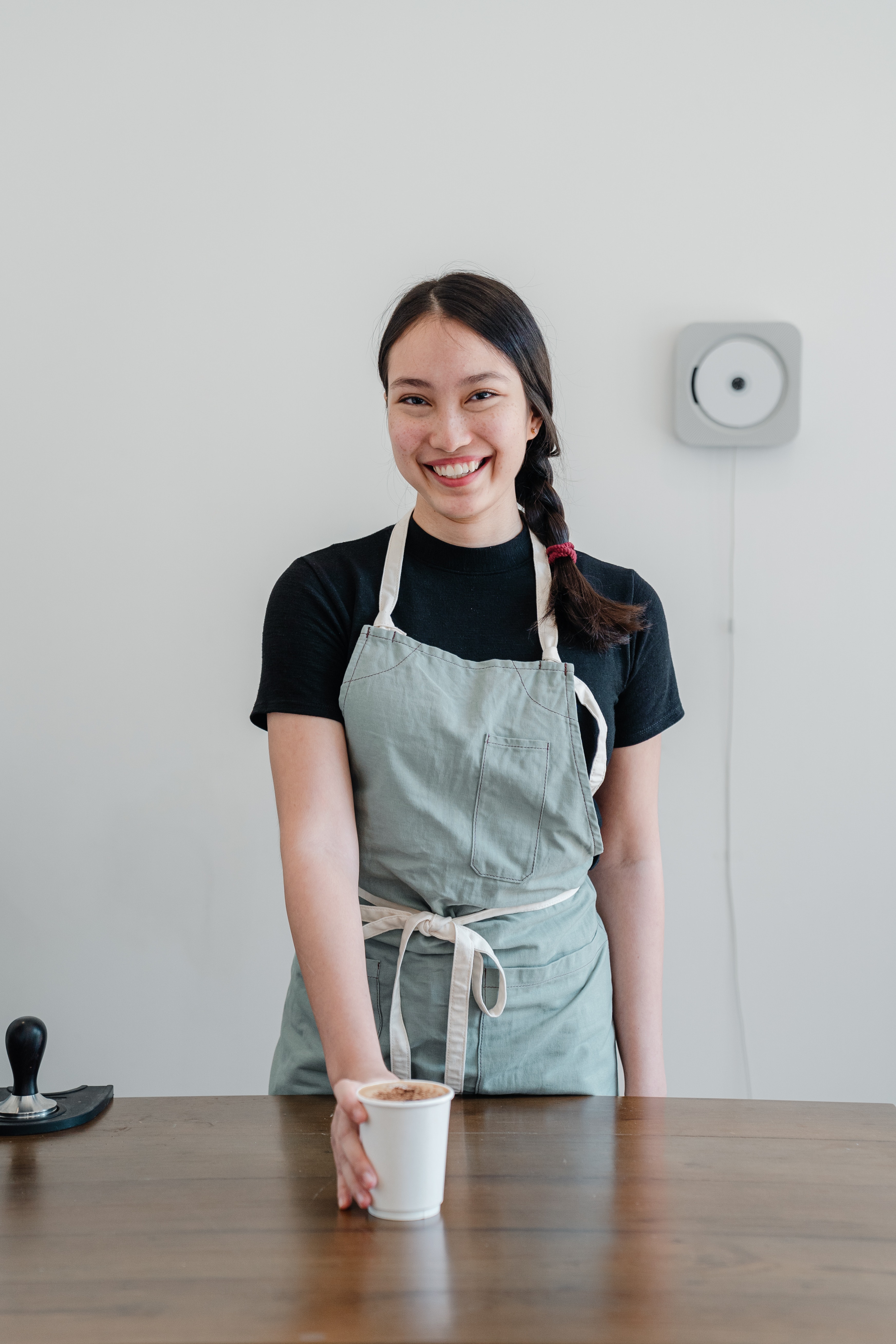 You might have noticed that most efforts revolving transparency tend to focus on the supply chain. In other words, where the coffee comes from and what goes on before it gets on our hands. But what about the people who actually make our coffee? The baristas. At a first glance, it might seem that talking about transparency regarding barista wages might not have a place in this article, since it's a subject that does not directly involve the coffee supply chain.
And what I mean by that is, a conversation about someone's work earnings usually involves discussing labor laws and policies, which are different from country to country. So, on the one hand, we have a global product, coffee, and on the other hand labor laws that vary depending on where you are in the world. This can make it difficult to have a coherent discussion about transparency when it comes to barista wages.
But if we think about it, baristas are an essential part of the coffee industry, and the way they're being treated says a lot about the kind of transparency that exists (or doesn't) in the industry. Within the professional coffee community, we often regard baristas as ambassadors of our industry. They are the ones who have direct contact with the customer, and they play a big role in how the customer perceives coffee.
What ' s interesting is that the first and last link of the coffee supply chain, the producer and the barista , are usually the ones who make the least amount of money. Can this change with the help of digitalization? The team behind the Barista Wage Calculator believes it can. The project is a joint venture by Coffee Magazine, South Africa's dedicated coffee culture magazine, non-profit Open Cities Lab, product design and development company Black Box, the Specialty Coffee Association of South Africa and Ciro Coffee Academy.
The calculator was inspired by the Living Wage Calculator, which was developed by Code-4SA and Open Data Durban. Like the Living Wage Calculator, the Barista Wage Calculator (BWC) was created to assist employers, managers and owners in the coffee industry to fairly negotiate a living wage for employees. By collecting data for over a year, the team was able to develop a user-friendly platform that provides a much-needed conversation starter between baristas and cafe owners.
The BWC takes into account the National Minimum Wage , experience and qualifications when calculating the wage. The website also includes a dashboard that factors in the cost of living, province of employment and transport costs in an effort to give a more accurate representation of what a living wage should be. I had a conversation with Nkululeko Mthembu, Carla Leigh Ziady, Iain Evans , Melanie Winter and Richard Gevers , all member s of the team behind the project, to get a better understanding of what the future holds for digitalising the conversation around baristas' wages.
Iain and Melanie, publisher and editor of the Coffee Magazine respectively, admitted that they are seeing a lot of discontentment in the South African context of baristas not knowing what they are worth. "There was no tool and only hearsay, so we decided to take action. A barista that works for three year s has a different level of experience to one that works for 15 years and has participated in a number of courses to up skill ." says Iain. "Different skill set s need to be rewarded differently, like in any other job and we wanted to help cafe owners understand why and how they should be paying more for those skills . Of course all this needed to be verified with data."
Richard, founder of Open Cities Lab, goes further to say that both baristas and cafe owners can use this data to make more informed decisions but it's important that it doesn't stop there. "The impact of the app can show people certain things but what we hope happens is that the conversation continues with decision makers, people that can actually affect change. In other words, we hope that the technology, data and insight becomes action and policy."
Having a conversation regarding wages is always a delicate matter. This might also be the reason why this project only exists in one country right now. Given the nature of the project, it can mostly be done on a national level unless there is an international body that can help with cross-border regulation or sufficient funding to support it.
Carla, Lead Design & Project Manager at Black Box, thinks there is still a long way to go with BWC, "It is conversation that is not had enough. Baristas are speaking to each other about it but there is a general consensus that if you have this job then you are not going to earn very well and that's the way that it is. Their ambition needs to be repsakred," she says.
"Unfortunately many cafe owners are shying away from conversation. It is a hard conversation to have, people might end up losing their jobs and coffee shops might get bad reputations. But this is real." The team is currently working on further releases regarding user experience and additional features for the app. They believe that there is still work that needs to be done regarding how users understand the data results.
However, even if they do understand the results, are they going to use the information at all? When someone's job might be on the line, it is easy to understand why they would not want to be the one to start this conversation. Talking about transparency and being honest about what a cafe can afford to pay is not always an easy thing to do. But unless this conversation happens, the cycle of underpayment in the coffee industry will continue.
One way or another, all the experts I spoke to agreed that knowledge is power and that if more people are armed with the right information, progress can be made. The success of digital tools will only be as big as the willingness of those in the coffee industry to use it.
From my perspective, it seems that there is still some hesitance to move away from the status quo. Perhaps this is because the benefits of digitalisation are not always immediately obvious or because people are afraid of change. It could also be due to the same old power dynamics at play and a focus on marketing rather than sustainability.
But I remain optimistic. I think the potential for digital tools to increase transparency and knowledge sharing is too great to ignore. As we've seen with the examples above, digital tools have the potential to create more transparency in the coffee industry and to ultimately benefit everyone involved in the supply chain. I believe that the key to unlocking this potential is education.
If more people are aware of the benefits of digitalisation, then they will be more likely to demand it from those who control the flow of information in the coffee industry. In other words, we need to start a conversation about digitalisation and its potential to create a more transparent coffee industry. And that conversation needs to happen now.
---