The concept pop-up, which often refers to a small and temporary shop exhibiting or selling products, emerged in the early 2000s. The idea arose from metropolitan art scenes where artists created and displayed their artwork among vacant commercial buildings and warehouses. It is the ephemeral attribute that makes the pop-up idea an appeal, and it has promptly applied into commerce.
Today, pop-up stores are increasing in popularity as a hybrid model between online shopping and brick and mortar retail. Pop-ups are far more than a formal introduction of a brand to its consumers, they are able to create high-touch and intimate experiences which have been an essential part of any brand's journey to get in front of its clients. According to PopUp Republic, a retail marketing database, the great thing about pop-ups is their "fear of missing out" quality, and this key appealing factor makes customers feel they are taking a unique experience that is "here today, gone tomorrow".
When it comes to the coffee world, the pop-up concept is also well-embraced. It is always necessary to figure out how the dominant player behaves in the market before we start our own path. This article focuses on the pop-up stories behind the café giant Starbucks. Here's a look at some representative examples of its modest pop-up shops catching our eye and let's find its recipes.
Starbucks Espresso Journey by Nendo
– ordering coffee by books?
Starbucks does not seem like a veteran leader of pop-up stores. It was in 2012 that its debut of pop-up shop was opened, hidden in the trendy Omotesando district of Tokyo, for just for three weeks. Designed by renowned local studio Nendo, the store was conceptualized as a library reflecting the "Starbucks Espresso Journey".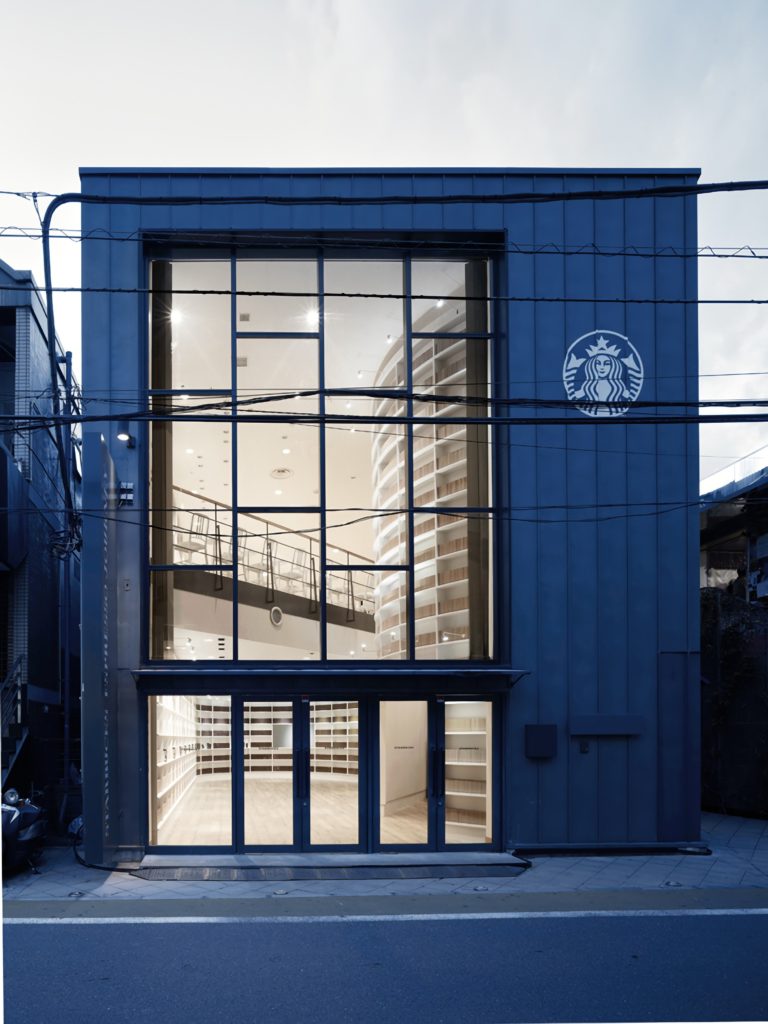 The "library" featured an arc wall lined with floor-to-ceiling bookshelves, inviting customers to explore the space. The books which were well-designed employed a colour based system, i.e., nine colour covers each representing a classic espresso drink. Visitors were free to pick any books that were scattered on the shelves, take it to the barista in exchange for a corresponding coffee which matched their selected book. Of course, they can keep it reading and meanwhile enjoying the drink in the tranquil space.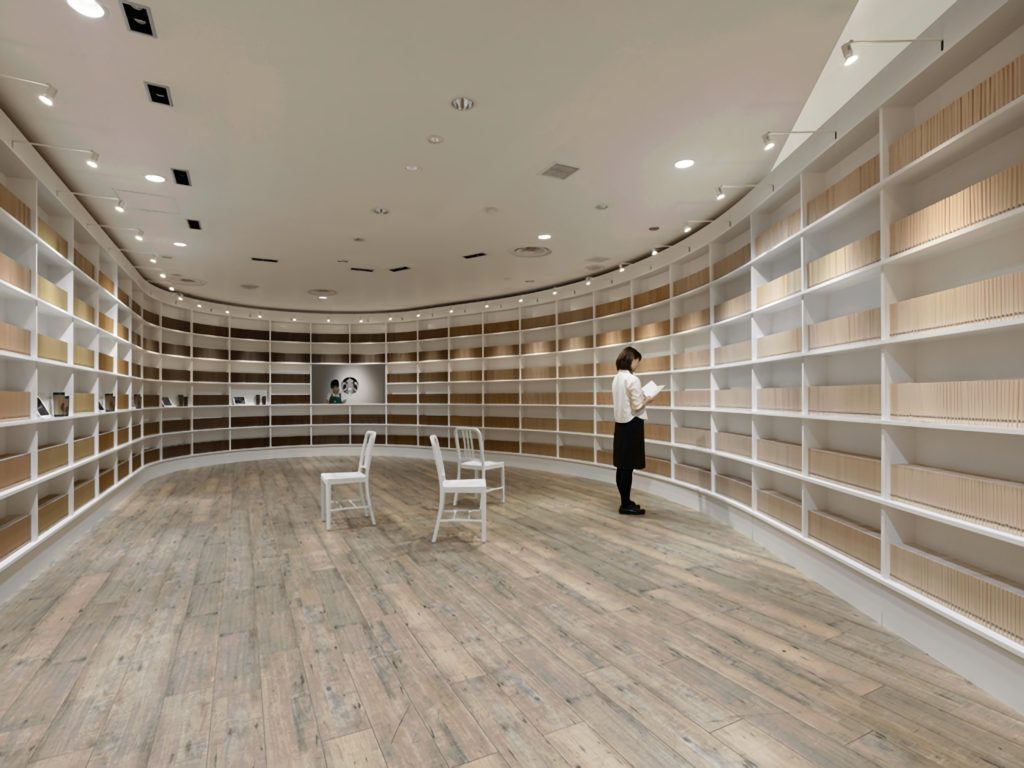 More imaginatively, the reverse of each book binder was carefully pre-cut with a shape of tall or short tumbler size. Therefore, customers were welcomed to select, learn, enjoy, and also create their own Starbucks tumbler!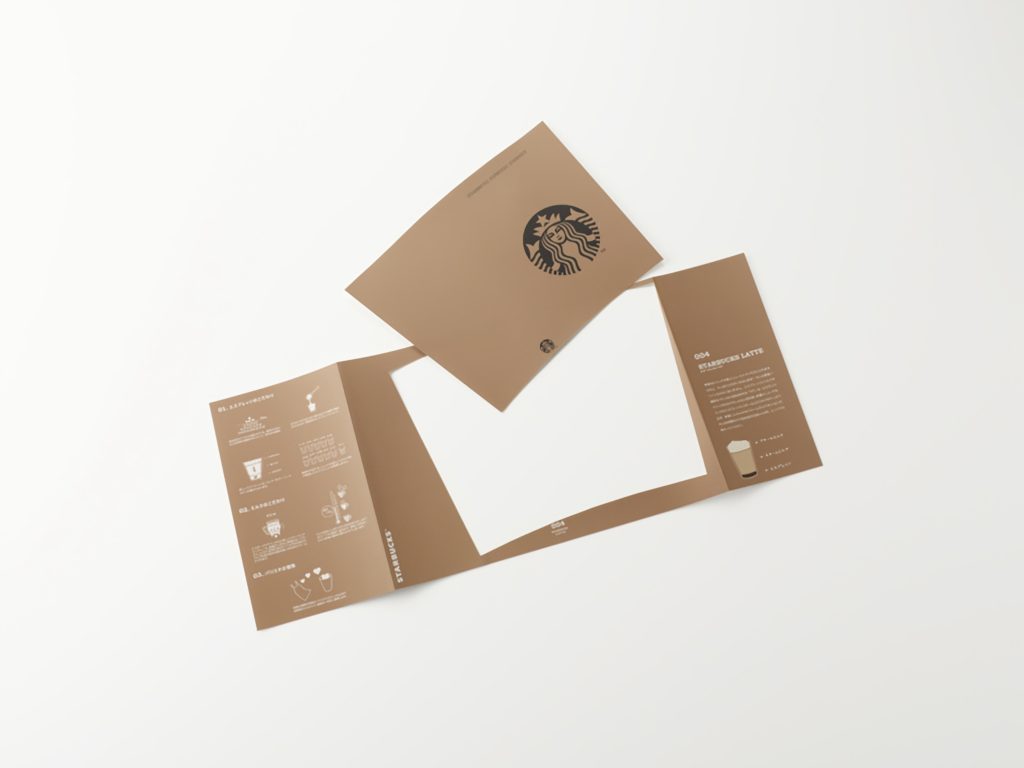 "More so than attracting new customers, we're aiming to strengthen communication with our core customers," said Starbucks Japan. Though its first shot to adopt the pop-up idea, the concept reinforces the link between coffee and reading which are both part of everyday life, and more significantly, makes the café experience much more interactive.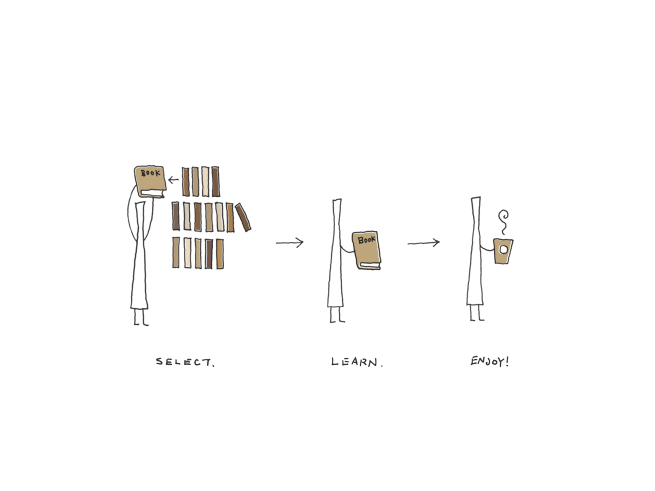 Starbucks x Pentatonic
– sitting on chairs made of Starbucks' cups?
Starbucks looks deeper into pop-up activities more than an advertising campaign. The one-month Starbucks pop-up bar in 2017 London Design Festival is a good example illustrating its green goal to increase environmental sustainability via innovative store design. This time, Starbucks UK aimed at a startup homeware company Pentatonic which specializes in creating furniture out of recyclables, working together to create something valuable out of its own store waste.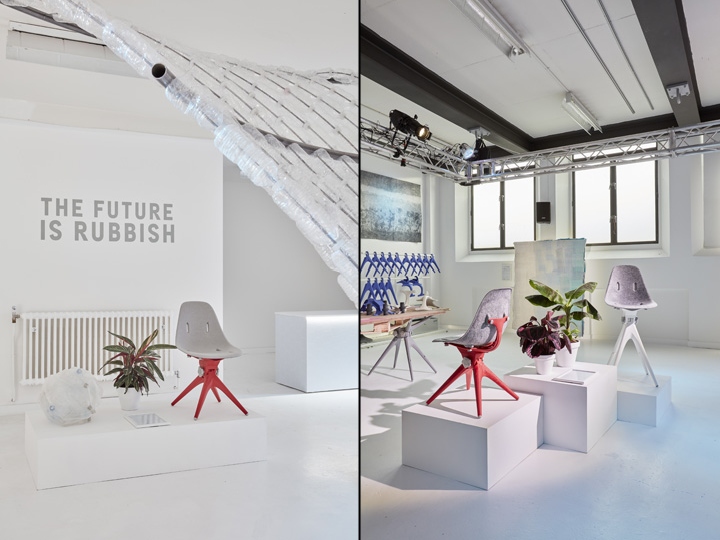 Along with a countertop and tables that were made from Starbucks' recycled paper cups, the pop-up store spotlighted a specially redesigned Starbucks "Bean" chair. The iconic chair was mainly produced with polyethylene terephthalate (PET) which was a common substance in frappucino cups and lids. Besides, the frame, cushions and legs of the chairs were all manufactured works from plastic cups and bottles. Furthermore, the bar offered nitro cold brew and Chemex brewed coffee in return for donations to the charity Clean Up Britain, a small organization concerning about the environment and particularly the increasing problem of litter. When the pop-up activity was over, according to Starbucks, you would find those materials and bean chairs allocated to Starbucks stores in central London.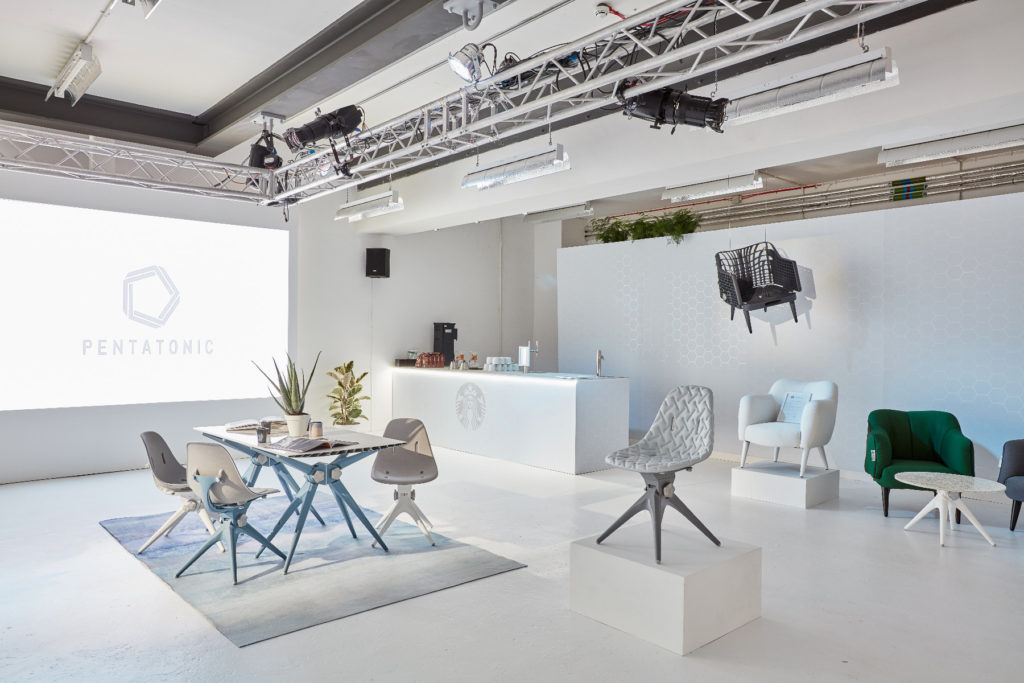 Its drive behind this pop-up move has shown Starbucks' attention to detail toward its commitment to sustainable mission. It is of critical significance to be environmentally accountable and making store environments out of its own waste marks a sustainable application of post-consumer waste.
Starbucks Seasonal Pop-ups
– visual aesthetics to kick off every season
You have to admit that Starbucks is a master of seasonal and limited time offers. When the seasonal drinks happen to be served in a temporary store, Starbucks makes you need to try its new products.
During Christmas in 2014, Starbucks Taiwan launched a Christmas Pop-up Store in Taipei from 6 December to 25 December. With "red" as a keyword, the store consisted of one coffee shuttle, one Christmas cottage, two coffee-brew kiosks and one pillar box with a Starbucks logo, all of which were red visual elements. Customers were encouraged to take part in its four-step activity: make your own drip bag coffee, experience hand-drip or French press coffee, learn its online shop, and finally take a photo, in return for a souvenir postcard which you can put directly into that Starbucks box and mail to your friend.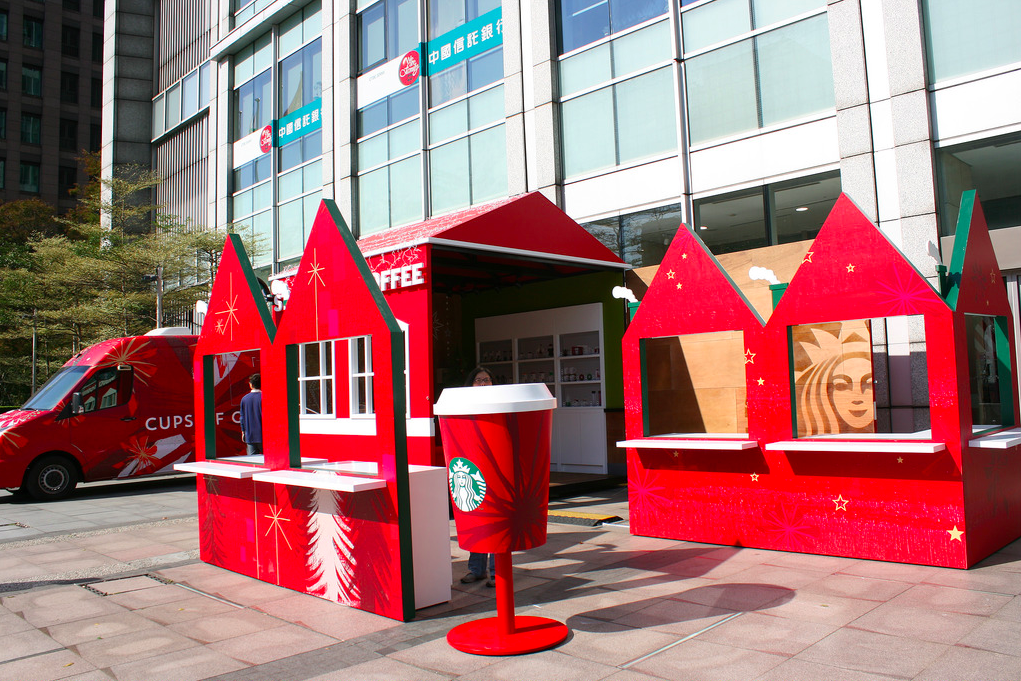 Two months before 2016 Valentine's Day, Starbucks Japan collaborated with Suppose Design Office and created an unconventional White Winter Starbucks concept store near Tokyo's bustling Shinjuku station. Instead of the traditional red colours that symbolize Valentine, the whole coffee house was wearing white to evoke a silent snow world. Visually, the ceiling was decorated with fluffy white papers, the wall was painted with a snowy mountain theme, and all the furniture were covered white. Acoustically, noise reduction tools were used to abate the noise in the big city, and sound-absorbing materials were adopted to mimic the rustling leaves and snowfalls. Surrounded by this chill, it would be of great happiness if you had a hot chocolate in your hand. Yes! That was Starbucks' promotion method to boost sales of new chocolate beverages, available for only three weeks.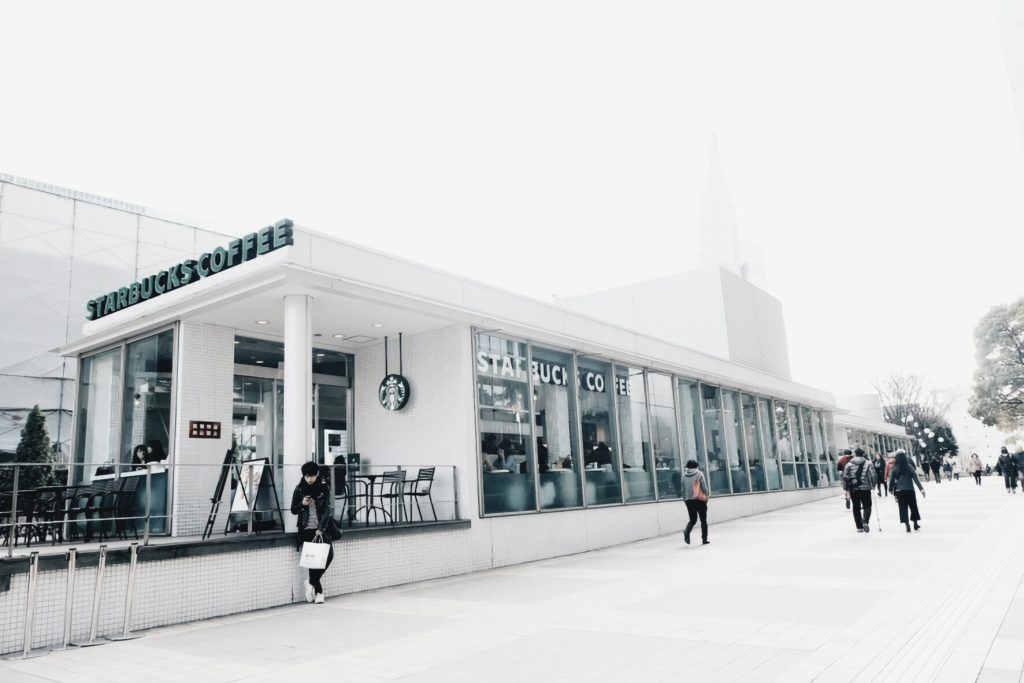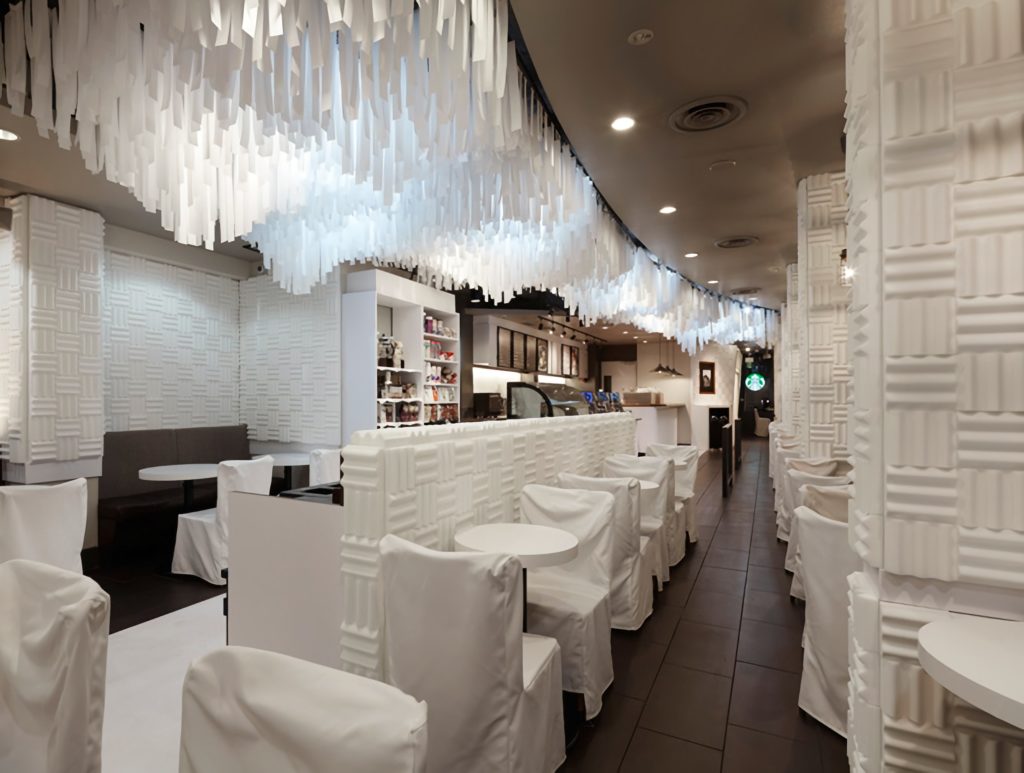 With the approaching of the season of lavender comes the temporary "purple" store. Leaning on the poetic West Lake in Hangzhou, Starbucks China aimed to create a romantic atmosphere of sunshine, lavender and coffee. During the limited time between late July and late August 2017, the glass house was filled with lavender field and offered a series of purple subsidiary products such as transparent cold brew bottles with lavender patterns and lilac umbrellas.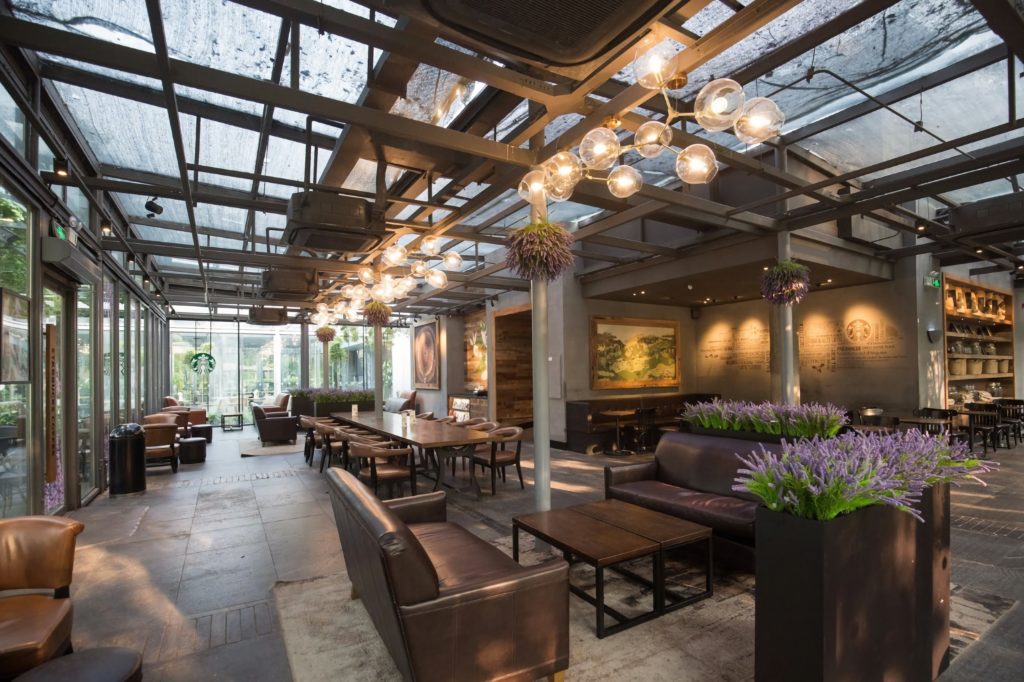 Even its common frappuccino, Starbucks never stops at creation. When everyone thought it must be a trick, Starbucks Japan made a strawberry pop-up greenhouse just a few days after April Fool's Day this year. It conjured up a lively strawberry farm, standing a "strawberry wall" and rows upon rows of countless strawberries, which were used directly to make the "Strawberry Very Much Frappuccino". Many customers felt a bit upset since the pop-up store only lasted for four days.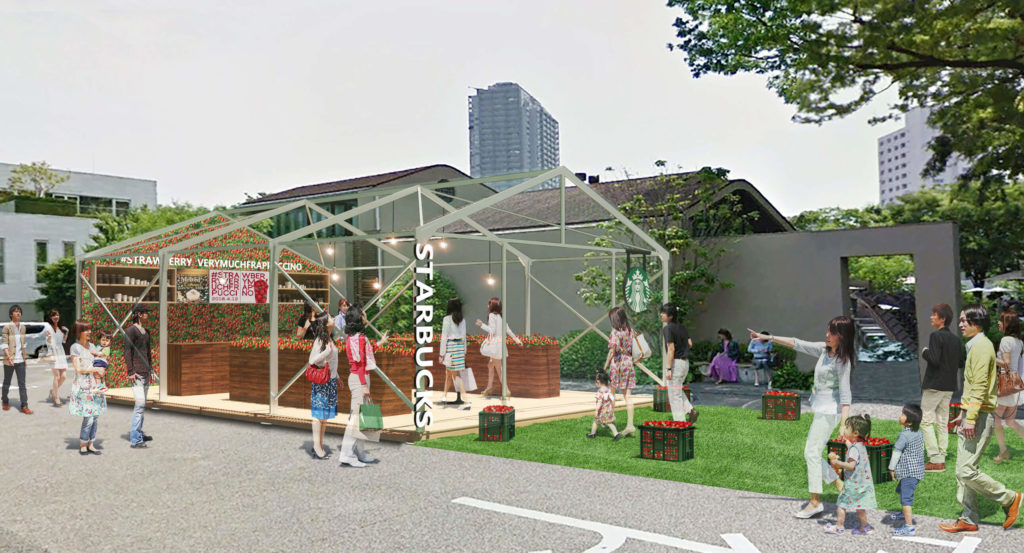 You might say, as a dominant conglomerate in coffee industry, Starbucks has abundant resources available to fulfill its purpose. It is right. However, in a world where almost all the brands compete by customer experience, Starbucks still stands out. The first factor of its success can be the brand loyalty through killer customer experience. Providing a unique experience to clients has always been a key vision for Starbucks. It regards a pop-up shop not only as a marketing tool, but more as an opportunity to evoke new customer emotions, encouraging them to use all five senses to experience what it creates in the space. More importantly, it continues to evolve the features in the pop-up store and hence it does not become commonplace. This leads to Starbucks' second attribute. It is often said that imagination is the only limit to what you can do. That is non-stopping Starbucks, though. The giant keeps creating new means to innovate in and around coffee, accordingly, keeps visitors pouring in, and keeps "moments of connection". Moreover, it collects on-the-spot product feedback as well as the responses on the social media during and after the pop-up experience for further improvement. Yet, there are a lot we can learn or draw inspiration from our seniors.
---