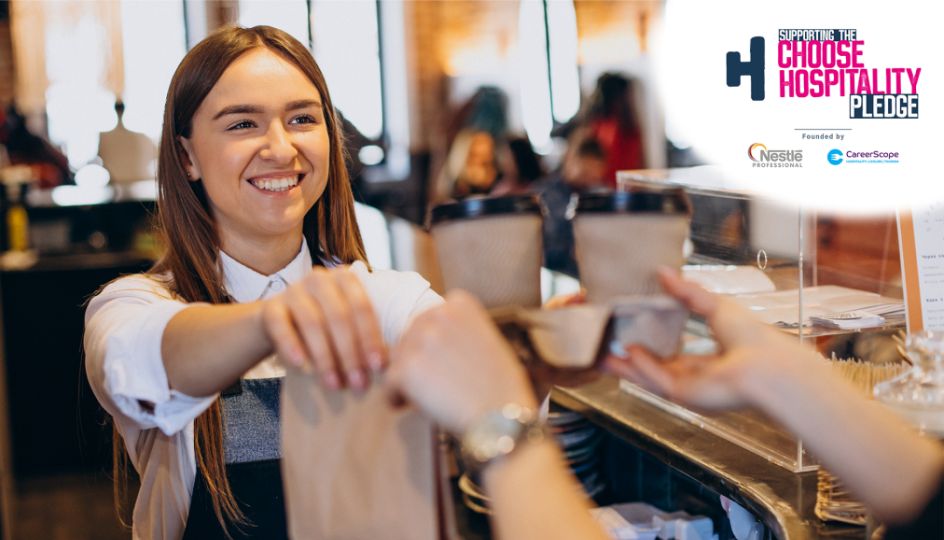 Nestlé Professional has launched today the 'Choose Hospitality Pledge' alliance asking hospitality ambassadors to step forward to promote the industry and the career opportunities that it offers to young people.
The alliance has been created with Choose Hospitality, CareerScope, Springboard, and a growing number of hospitality and industry leaders brought together by Nestlé Professional to help address young people's negative perceptions of the sector and encourage more young people into the industry.
As part of the efforts, the alliance is mobilising a team of hospitality ambassadors, tasked with visiting secondary schools across the UK to give young people an inspiring and comprehensive picture of the hospitality sector.
Hospitality leaders including Whitbread, Compass, Sodexo, Elior and PACE have already pledged support, plus industry organisations such as Bridging the Skills Gap and the Institute of Hospitality.
Ambassadors will be given specially developed materials, speaking aids and opportunities at their local schools to help them engage youngsters and promote a career in the industry.
More than 40% of hospitality businesses now face skilled worker shortages[1] and in the next 5 years, the situation is expected to get worse, with experts forecasting a 13-14 million talent gap for positions suitable for hospitality graduates.[2]
The 'Choose Hospitality Pledge' was created in response to Nestlé Professional's researchwhich revealed that, although some young job seekers are interested in the industry, many view it as a 'back-up career', with long hours and hard work. These negative perceptions are fuelled by insufficient information and a lack of ambassadors they can relate to.
Katya Simmons, Managing Director of Nestlé Professional UK&I says:
"Hospitality businesses are more than twice as likely as other industries to experience challenges filling vacancies[3]. We were keen to understand why, so we could highlight ways in which our industry could come together to deal with these issues."
"We learned that a lack of clear information and advice from key influencers has led to a serious image problem for the industry. Yet at the same time we have an untapped resource of bright, young individuals who could be inspiring and educating young people on hospitality careers.
"Given the severity of current recruitment challenges, it's important that we act now. The Choose Hospitality Pledge is all about galvanising up-and-coming hospitality superstars. Helping us to get young people excited about our industry again, and showcasing hospitality as a stimulating, flexible and incredibly rewarding career."
To read more go to the Nestlé Professional website: Our Choose Hospitality Pledge Launches | Nestlé Professional (nestleprofessional.co.uk)
To sign up as an ambassador, businesses and individuals go to https://careerscope.uk.net/choose-hospitality-pledge/ 
---
Notes to editors 
[1] The State of Hospitality 2022 Report
[2] Big Hospitality
[3] Office for National Statistics
Industry supporters of the Choose Hospitality Pledge are continuing to grow, and at the time of the launch members include:
•    Nestlé Professional
•    Choose Hospitality
•    CareerScope
•    Springboard
•    Whitbread
•    IHG
•    Institute of Hospitality
•    Bridging the Skills Gap
•    Hoteliers Charter
•    Manchester Hotels Group
•    PACE
•    UK Hospitality
•    Royal Lancaster Hotel
•    The Lowry Hotel
•    The Torridon
•    HIT Training
•    Lifetime Training
About Nestlé Professional  
At Nestlé Professional®, Hospitality is more than just a business. It is our business.
For the Hospitality Industry, this means inspiring the next generation of culinary talent through Nestlé Professional® Toque d'Or®; striving in the field in Nutrition, Health and Wellness; and collaborating with the industry for a more sustainable future.  From coffee to cocoa, and from food waste to water, we work with farmers, chefs and operators continually to help make strides towards sustainability.
After all, for our partners and for the Industry, Hospitality is our business…
---