Language has been critical in allowing us humans to communicate since the dawn of civilization. Through language, we have developed cultures and societies that are able to share ideas, express emotions and build relationships with one another. Language is more than just a means of communication – it can also be used as a powerful tool to educate, inform and persuade others.
Whether you're trying to deliver an important message or make a strong argument, understanding how to use language effectively can help you get your point across clearly and accurately. At the same time though, it's important to remember that language can also be used in relationships. The way we use words and phrases with one another can greatly affect how our relationships develop, as well as the overall outcome of any interactions we have.
For example, using positive, encouraging language can help strengthen a relationship while negative or aggressive language could drive away the other person. Understanding how language works between two people is essential for creating an atmosphere of trust and mutual respect. But what happens when people don't share a common language? Communication can still be successful as long as both parties are willing to listen and learn from one another.
That's why, for the latest issue of our magazine, I will be exploring language in relation to the coffee industry. I'll be looking at how language can create and break down barriers between different cultures, as well as how it helps shape customer relationships and product development.
I also want to discuss ways that businesses can use language to connect with their customers and bring them closer to their products. Finally, I'll examine the challenges that come with communicating across language barriers in a global context. This will be an insightful look into how the world of specialty coffee is shaped by communication – no matter what language.
Being on the road and getting coffee across language barriers is an adventure filled with discovery. Taking the time to learn about different cultures, languages and customs can be enriching, as it helps us all become more tolerant and understanding of one another. It's also essential for businesses that want to truly understand their customers in order to better serve them.
While researching the experiences of travelers who visit coffee farms and cooperatives in Latin America, Asia and Africa, I was reminded of how important it is to bridge cultural gaps through language. Being able to understand the locals' customs, beliefs and language can help strengthen relationships between buyers and sellers. This is especially true when it comes to building partnerships with smallholder farmers, who need to feel like they're part of the process in order for the relationship to be successful. As specialty coffee continues to grow and expand around the world, learning how to communicate across language barriers has become increasingly important for baristas, roasters and cafe owners alike. Through this cover story, I hope to offer a glimpse into what it takes to succeed in the ever-evolving world of specialty coffee while navigating its diverse cultural landscape.
Sourcing Across Different Languages
Considering the global coffee belt, it's easy to understand why communication is critical when visiting coffee farms and cooperatives in Latin America, and Asia. For instance, an importer from Europe may not understand the language spoken by farmers in Guatemala or Indonesia. Or a buyer from Canada might find it difficult to communicate with an exporter from Costa Rica. In these cases, one would imagine that language can be an obstacle to success – but it doesn't have to be.
Many of these countries have distinct cultures and languages that can create barriers to entry for coffee professionals who wish to learn more about the local practices and customs. Things are much easier when it comes to Africa, however, as many countries share the same language (English). This makes it easier for buyers and sellers to interact without worrying about language issues.
Whether we like it or not, English is the international language of business. It's the most widely spoken language on the planet. This means that even if you don't speak the native language of a coffee producing country, odds are you can still communicate with someone who does – as long as you both Connecting through Conversation Last February, I joined the 2022 Barista League champions on their Mystery Coffee Vacation to Colombia. With support from Café Tío Conejo, BWT, Crypto Baristas and Need a Barista, we had a jam-packed week of learning, competitions and visiting a coffee farm in Manizales. I soon realized that my little Spanish wouldn't be enough and there were a few instances that I had to use either body language or an app like Google Translate to make myself understood and to understand others as well. Truthfully, I sometimes had the luxury of having friends who were bilingual and could serve as interpreters. But while they were always available to help me out, it was still up to me to take initiative in order to communicate effectively with everyone else. One of the people in my group was Ivette Vera Loor. Ivette is a Quality Assurance and Training Director at Nomad Coffee, a coffee roaster in Barcelona. Her native language is Spanish, and during our conversation she said that this has been beneficial for her while traveling to coffee producing countries in Central and Latin America. "I have had the opportunity to travel to origin three times found that speaking Spanish has speak English. However, it's also important to note that English isn't the only language spoken in specialty coffee – Spanish and Portuguese are common too.
Recently, I was having a conversation with Yiannis Taloumis, owner of TAF Coffee, member of the International Jury of the Cup of Excellence and certified Q-Grader, about his coffee sourcing trips. He mentioned that while in Africa, where English is the primary language of many countries, he had an advantage. His ability to communicate in English allowed him to engage with farmers and exporters in a much quicker and more effective way than if he had only known the local language.
"When language is an issue," he told me, "I try my best to explain the concepts in English and use local words when appropriate. In Central and Latin America, I use English as well as body language and gestures. But my main focus is to try and be clear in what I'm asking and what I'm saying."
And at the end of the day, it wasn't that hard for Yiannis to communicate with farmers and exporters. He noted that they too were more than willing to make an effort to understand him, just as much as he was making the effort to understand them. He found that even with language barriers, it was still possible to build trust and establish lasting relationships.
Connecting through Conversation
Last February, I joined the 2022 Barista League champions on their Mystery Coffee Vacation to Colombia. With support from Café Tío Conejo, BWT, Crypto Baristas and Need a Barista, we had a jam-packed week of learning, competitions and visiting a coffee farm in Manizales.
I soon realized that my little Spanish wouldn't be enough and there were a few instances that I had to use either body language or an app like Google Translate to make myself understood and to understand others as well. Truthfully, I sometimes had the luxury of having friends who were bilingual and could serve as interpreters. But while they were always available to help me out, it was still up to me to take initiative in order to communicate effectively with everyone else.
One of the people in my group was Ivette Vera Loor. Ivette is a Quality Assurance and Training Director at Nomad Coffee, a coffee roaster in Barcelona. Her native language is Spanish, and during our conversation she said that this has been beneficial for her while traveling to coffee producing countries in Central and Latin America. "I have had the opportunity to travel to origin three times found that speaking Spanish has been beneficial in aiding my communication with the native people. Speaking their language helps create a more comfortable atmosphere and allows me to connect better."
When I reached out to Ivette to interview her for this story, I thought to myself that since I know a bit of Spanish, I should try to use it during the interview process and our interactions. This definitely added a layer of extra work on my part, but ultimately it helped me enrich my vocabulary as well. I also felt that by asking questions in her native language, she would be able to express herself more fluently and I could learn more about her experiences.
Our third day in Colombia, Ivette and I found ourselves sitting on the same table as Julián Marín Hoyos. Julián works at the Universidad Autónoma de Manizales as an English teacher and also as a translator and interpreter. He was there to help us with our communication needs and he even learned a few things about coffee along the way.
"Before this event, I had no idea of how much I ignored about the specialty coffee culture and terminology. This was an amazing learning opportunity, and thanks to a previous contextualization exercise, things went well for me as an interpreter and therefore, for the event."
It's definitely a good thing that he did his researchIt's definitely a good thing that he did his researchbefore attending the event as it made his job as an interpretereasier. He also noted that the most commonchallenges an interpreter will encounter will be relatedto terminology (academic context) and slang or jargon(informal settings).
"I believe I encountered a little bit of both (during the event), though it was easier to deal with the former since part of my job is to become acquainted with the language of specialty associated with any interpreting assignment. Now, with the latter it is more difficult because sometimes speakers start using language from a particular region, using idiomatic expressions and vocabulary that tend to be more metaphorical and sometimes unfamiliar, even to other native speakers. Something we should consider is that interpreting is about mediating between two cultures, now imagine having speakers from 24 different countries."
This made me realize how difficult it is to be an interpreter, especially in such a multilingual context like the one we were experiencing. When I reached out to Julián after the event to learn more about interpreting I wanted to know his thoughts on how people from different countries can reach an understanding when it comes to specialty coffee, even if they don't share a common language.
"I believe we should make strong efforts in order to strengthen the nations educational systems aiming to help students develop their communicative abilities in English so that it could be used as a Lingua Franca (ELF) or bridge language. This will impact in a positive way the specialty coffee field as well as the fields of research, politics, trading, etc."
The term English as a lingua franca (ELF) is defined as an international language used to communicate between people from different countries and cultures. Julián's suggestion of using English as a bridge language when it comes to specialty coffee reflects Ivette's experience with an English-speaking group.
"I recently had the pleasure of traveling home with wonderful people from many different parts of the world. The common language that enabled us to communicate fluently was English. Thanks to English, we were able to have meaningful conversations and connect with each other." Ivette explains.
Julián's suggestion of using English as a bridge language in the specialty coffee industry is certainly something to think about. Especially since it requires an effort to improve national educational systems in order to help students develop their communicative abilities in English. It would definitely open up communication between coffee producers, buyers and consumers from all around the world.
From Taiwan to Dublin: A Barista's Perspective
My own first contact with specialty coffee was back in 2018 when I took a job as a barista at a specialty coffee shop in Dublin, Ireland. That's where I met Weien Liu and we worked as baristas together. Originally from Taiwan, Weien had to cope with the language barrier while working in Dublin.
Weien made lots of efforts to learn English by getting used to the accent and pronunciation of Dubliners. Though she was initially apprehensive when it came to communication, she eventually built relationships with customers and staff members.
"It took me a little time to get used to the accent and some unique pronunciation," said Weien. "But it was also sweet that people at my workplace were speaking slowly for me to better understand." She also explained the challenges he faced when trying to communicate with customers and other staff members. "The most challenging thing was standing at the till. It's so overwhelming for my colleagues when it was raining outside and we had a massive queue out there," she said.
It wasn't just Weien who faced language barriers in her workplace. She believes that customers would feel the same pressure when they find that the baristas are using a different language. When interactions between people are as short as ordering a cup of coffee, having the ability to communicate in a language you are familiar with can make a real difference.
Weien's advice to other baristas facing a similar situation in their own workplaces is to be brave and never miss the opportunity to explore. "If you have any chance to explore this world by traveling and working in a different country, don't let language barriers hold you back," she said.
English: Barrier or Bridge?
The specialty coffee industry might need to increase efforts to bridge language barriers. Although English has been used as the main international language, it doesn't mean that it is easy for everyone to communicate in it. Ivette points out that establishing a unique language such as English helps so that the vast majority have a common language, but in the long run it ends up being a problem.
"Everything is centralized in a single channel of communication, perhaps the fairest thing would be for us to have other languages into account, or when it comes to creating a relationship between buyer and producer tries to be more equitable, and try to speak the language of the other. It may sound very complicated, but I think it would be the most fair." she says.
It's also about accessibility at the end of the day. While chatting to Yiannis he told me that although many coffee producing countries in Latin America have access to a lot of research in their language when it comes to agronomy but when it comes to roasting methodology, the majority of the information is available in English only.
Ivette also reminds us that not all producers speak English, and this should not be an impediment for them to create a business relationship with importers. "The vast majority of information that we can access from baristas, producers, roasters is in English, but it is no longer just the information that can be generated, it is the events we attend, everything is very centralized in English. And you realize that it is a problem when you see that the producers are obliged to learn a language to create a business relationship, bearing in mind that not all have easy access to learning languages."
Decoding the Language of Coffee
Miscommunication can happen not only when two parties speak different languages but also when the language of communication is coffee itself. Coffee has its own culture and language that needs to be learned and understood in order for relationships between producers, buyers, roasters and baristas to develop.
I'm talking about terminology, descriptors, sensory perceptions and the many things that happen during the coffee journey from farm to cup. It's essential for everyone in the supply chain to have a basic understanding of it in order to communicate effectively.
The language of coffee is constantly evolving and changing over time as more knowledge is gained by producers, buyers and baristas alike. Understanding this language is the key to building relationships, developing quality and advancing specialty coffee.
While in Colombia for Mystery Coffee Vacation, I was in the same group with Stefānija Duntava and Jelle Romviel, who ended up on the trip after winning a giveaway contest.
"Last year we decided to get into NFTs. When we were picking out an art project to invest in, we ran into Crypto Baristas, the NFT project by Coffee Bros. Later that year we were notified of a giveaway that we were unaware of joining. We automatically entered by owning one of the artwork characters of Crypto Baristas. By being incredibly lucky we were picked in third place for a trip to Colombia. The first person couldn't go and the second didn't respond, so we ended up going."
Stefānija and Jelle suddenly found themselves amongst a large group of coffee professionals, who spoke fluent "coffee".
"Coffee is way more complex than we anticipated. There's a lot in the process that we had no idea about. Like the fermentation and different kinds of drying and processing beans. What is a fermentation process? What is a kind of bean or plant? Is a geisha a plant or a taste or a part of the process or like I thought before this trip only a cultural phenomenon of 18th century Japan? All of these terms are thrown around a lot in dialogue and that makes it challenging to keep following what is being talked about in that moment." Jelle explains.
Being introduced to coffee through such an immersive experience can be intimidating at times, but it's also a great way to gain understanding and appreciation for the language of coffee. Stefānija and Jelle went back home to The Netherlands with a greater understanding of the complexities of specialty coffee.
"Before flying back we invested in a good amount of coffee to bring back. After learning a lot about the tastes of certain kinds of processes and plants we were very excited to try everything out. We are way more able to recognize a 'natural' coffee or can talk to each other now about how we think this is a 'Castillo' variety. One thing is certain. We've become way more picky about the coffee that we drink. And we can recognise a super dark roasted supermarket coffee, from a nice well roasted and grown bean from a specialty store now."
Julián would have approached it a bit differently, "Language is central in all human interaction, verbal and nonverbal. Now, when it comes to the coffee specialized language, customers should be approached gradually and assertively so they can learn about this culture through their experience without feeling overwhelmed."
This would indeed be the best way to introduce someone to the language of coffee, allowing them to learn and understand it at their own pace. What Stefānija and Jelle experienced was an introduction to specialty coffee through a more immersive approach, but Julián's way is equally important, especially when the customers might not be ready to change a favorite habit.
An Exploration of Coffee Flavor Descriptors
One would think that the language of coffee can be easily understood by those who work in the industry, but things are more complicated than they seem at first glance. Different countries, regions and even farms have their own ways of describing coffee. Language is rooted in culture and coffee is no exception.
Take the Cup of Excellence competition as an example.Take the Cup of Excellence competition as an example.The prestigious competition awards the highest-scoring coffeesfrom a certain region. There is an elaborate and complexlanguage associated with that type of coffee. It includes termssuch as "acidity", "body", "sweetness" and more.
The jury is of course well-versed in these terms but when it comes to flavor descriptors, things can get tricky. Yiannis is a member of the judging panel and he talks about how interesting it can be to see so many flavor descriptors for the same cup of coffee because the members of the jury come from different countries and have different backgrounds.
"Take fruits as an example, not every region can have the same type of fruit, so when we try to describe a cup with fruity notes, we need to keep in mind that not everyone has tried guava for example or knows what it tastes like. More often than not, the same coffee will end up having a different flavor description depending on the juror," Yiannis says.
The Coffee Flavour Wheel is another example of how language can play a role in specialty coffee. The wheel is a guide that includes terms such as "earthy", "citrus" and "spicy" but it also breaks down those terms into more specific descriptors. This allows baristas, roasters, and consumers to be more precise when describing a cup of coffee.
However, there are still a limited number of flavors on the Coffee Flavour Wheel. This means it may not always be able to accurately capture all of their desired flavors. Daniel Munari, Brazil's 2023 Coffee in Good Spirits (CiGS) Champion , likes to use local Brazilian ingredients in his drinks. "I believe it's about showing more of our countries. Exploring the native flavors that Brazil has, is a way of showcasing more of my country, going beyond the stereotypes and bringing up more reasons for people to fall in love with it."
Additionally, many competitors aim to create drinks that challenge conventional flavor expectations, making it difficult to find pre-existing categories in which to place them.
Daniel points out that there is a need for more variety and exploration of flavors within the Coffee Flavour Wheel. "I understand why the flavor wheel should be universal, but often it is much easier to relate to flavors that are closer to home. For instance, some berries that we see on the flavor wheel aren't common here in Brazil."
The flavor descriptors that accompany specialty coffee are an ever-evolving language. As new coffees hit the shelves and consumers become more educated, the language of coffee continues to change and adapt. From Cup of Excellence judges to the evolution of the Coffee Flavour Wheel, it is clear that there is still much to learn in the world of coffee.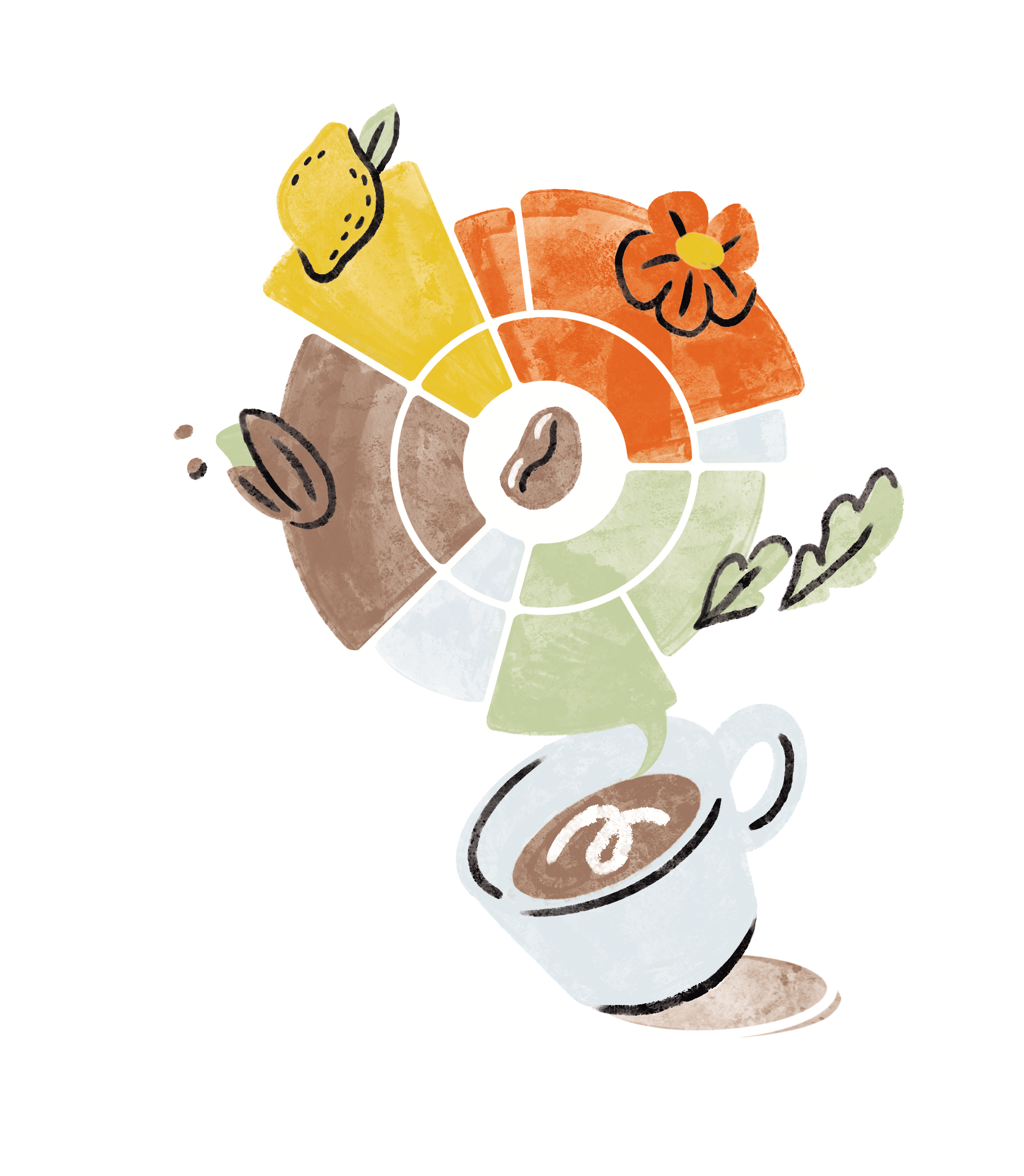 Perspectives, Roles, and Professional Competencies
Last October, the Specialty Coffee Association (SCA) unveiled a new task force to build a robust system for specialty coffee cuppers and graders. Composed of more than 40 volunteers and invited organizational representatives, the group released their inaugural white paper in April 2023.
Called The Value of Specialty Coffee Cuppers: Perspectives, Roles, and Professional Competencies, this paper outlines key perspectives on specialty coffee cupping roles and professional competencies that are essential in order to create consistent quality standards across the industry. The paper emphasized appropriate language use as an important communication tool under market advisory competencies.
These competencies involve the ability to effectively communicate key concepts about farming and processing factors, as well as the capability of creating market linkages between buyers and sellers. Cuppers should be able to use language that is easily understood by producers and processors while avoiding obscure cupping language. They can also aid in the creation of market linkages by making introductions (in-person or electronically), facilitating relationships as a proxy for either party, interpreting needs or language, etc.
What's more, the white paper was released both in English and Spanish. This is a step towards bridging the language gap that often exists between specialty coffee farmers, roasters, and consumers. By recognizing the importance of language in specialty coffee, this task force is taking an important step towards improving the quality of specialty coffee and creating a more inclusive industry.
Perfect Daily Grind, one of the most influential media outlets in specialty coffee, also supports three languages: English, Spanish and Portuguese. The website provides articles and videos to help coffee professionals all over the world stay up-to-date with industry news, as well as interviews with industry professionals in multiple languages. By providing resources in three different languages, Perfect Daily Grind is helping to bridge the language gap and furthering the specialist coffee industry.
In the end, we all use our personal experiences and the language we speak to communicate our ideas and feelings. Whether it's about flavor descriptors, aroma terminology or native languages, the more we understand each other's experiences and perspectives, the better our communication and our specialty coffee industry will become. But can we also use other tools to enhance our understanding?
Exploring New Technologies and Online Learning
A recent article by Helena Oliviero titled "How breaking down language barriers can help Colombian coffee farmers" and published on Coffee Intelligence described the experience of José Anargel Rodríguez, a coffee farmer from Colombia who recently had the opportunity to attend an export expo in Seattle. Although he was offered interpreters, he struggled to communicate due to his lack of English language skills.
The main problem preventing farmers from learning a second language is the limited resources available in rural areas such as Rodriguez's village. Opportunities for education are rare and expensive, and even in cities, English classes only reach beginner levels. However, with the advent of technology and smartphones, it has become easier for Colombian farmers to access language-learning resources online for free or at low cost.
As Rodriguez explains, this will enable them to form new relationships with buyers, create more direct deals and travel with confidence. He believes that learning a second language should be compulsory, and that the internet is helping to bring farmers closer to the rest of the world. By doing so, they can put their coffee on the map and get recognition for their hard work.
Another player that has emerged in the last few years is AI technology. AI could potentially help bridge language barriers by providing instant translation services, improving comprehension, and helping to connect people in different languages. However, this is a relatively new field and there are potential risks associated with using AI language models.
Companies must be aware of the ethical considerations when utilizing these tools, such as ensuring that all data used is diverse and representative, and regularly auditing their systems to identify bias or discrimination. With this in mind, businesses can leverage the power of AI language models to connect with partners and customers more personally, offer tailored experiences and drive growth responsibly.
Overall, it's important to acknowledge that language can be both a barrier and a bridge when it comes to specialty coffee. It all depends on how we use it. We should embrace the many different languages represented in our industry and make sure everyone feels comfortable communicating with one another. To do this, we need more resources available in different languages so that everyone has access to relevant information no matter what language they speak.
The specialty coffee industry has started to take some steps towards becoming more inclusive and accessible regarding this. By promoting multilingualism, allowing new technologies to bridge language barriers and providing free or low-cost online courses, everyone can benefit from improved communication and understanding. Specialty coffee has the potential to reach greater heights with increased access to resources in different languages.
Ultimately, open lines of communication are essential for any successful business venture in our global marketplace. Whether it's through language, AI technology or other means, specialty coffee professionals should be working together to foster a more diverse and interconnected world that appreciates cultural differences and uses them as fuel for mutual growth and success. With innovation and dedication, we can create an even brighter future for the specialty coffee industry and all of its members.
---