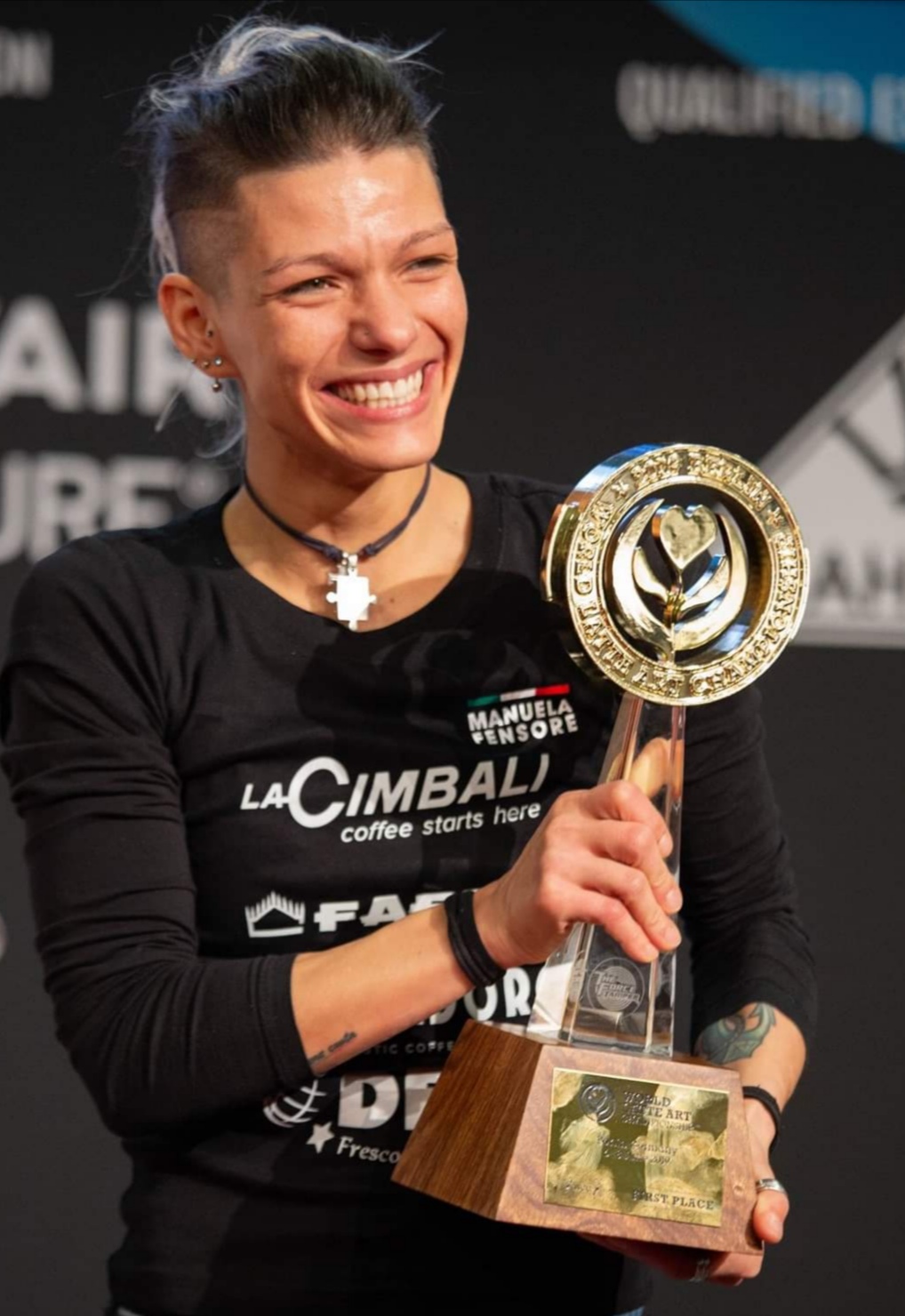 Crowned the 2019 WLAC Champion, Manuela Fensore couldn't believe that her greatest dream came true. "I never thought I could reach the highest peak in this discipline," she said. Entering the coffee industry six years ago, Fensore started her SCA training course in 2015 with Carmen Clemente, owner of the Barlady Cafè Academy in Milan, Italy, who is also her partner now.
As a fundamental course in the training, latte art attracted Fensore a lot. "I am passionate about art milk," she confessed, "I try my best to express myself and the thought of being able to make figures and elements because they are accompanied by their own beat and breath that guides you in the cup. This makes you feel good!" The love of latte art and art in general has caught all her attention.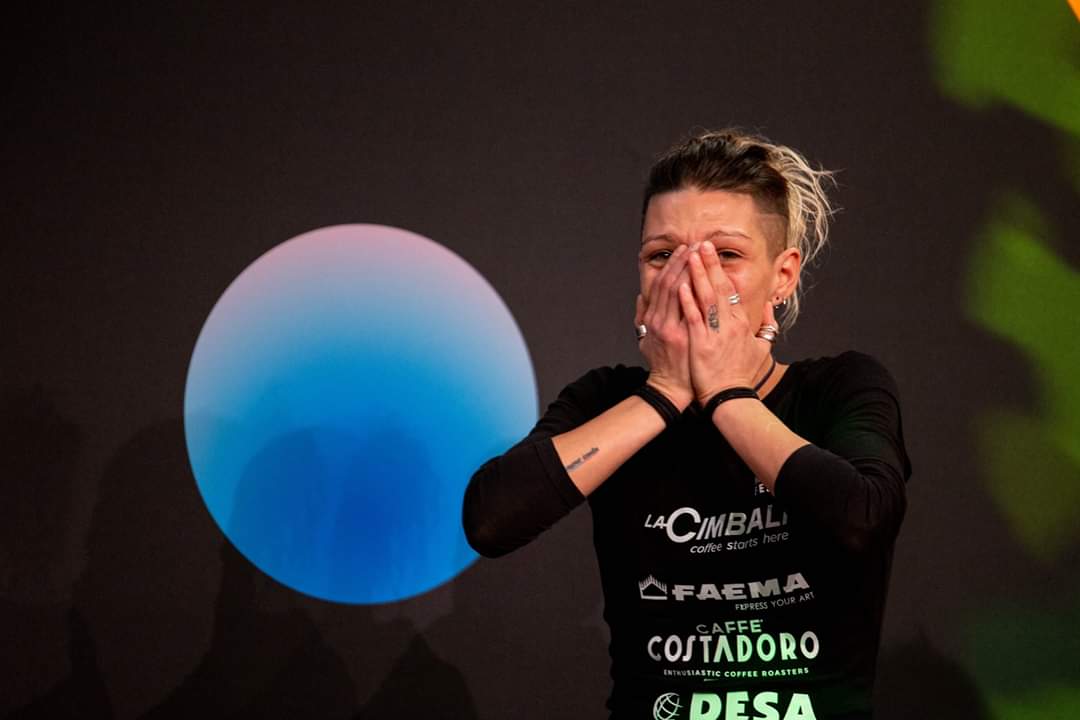 More than Love
In some definitions, barista is a person who prepares and also generally serves espresso-based coffee drinks. The word "barista" is actually an Italian word borrowed from the "bar" of "bartender" in English. That may be why Fensore used "bartender" in many of her answers during the interview.
In her opinion, "The thing that a bartender should keep in mind when preparing a coffee-based drink are the steps that must be followed to be able to achieve an Italian espresso."Fensore agrees that being a barista is very tiring from the psychological side to the practical side, but if done with love and passion and always to develop better qualities, "It is an equally gratifying job." The best part of being a barista to Fensore is "knowing how to make people feel good, putting them at ease and in such a natural way to involve them in the coffee fairy tale".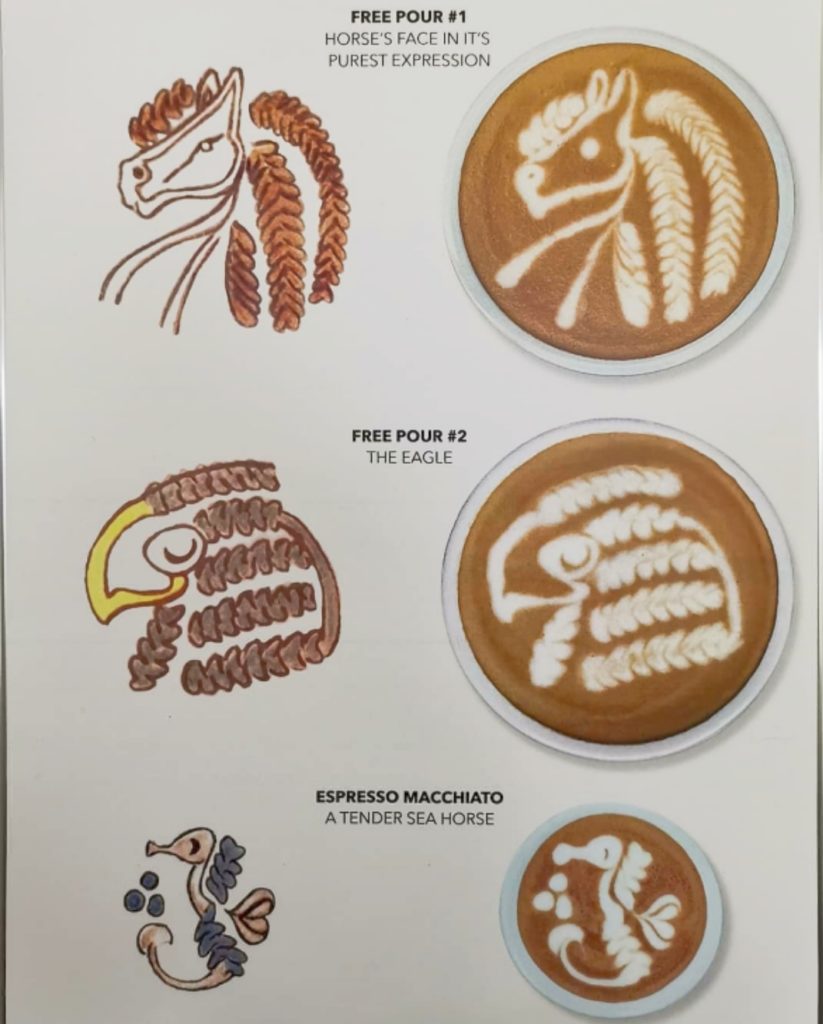 Meanwhile, apart from love, it's equally important for baristas to be able to be themselves, become familiar with the environment and people and strive to excel at work, according to Fensore. The service of a barista matters a lot, too. "The best traits include cordiality, hygiene, and training. Professionalism is everything," she stressed.
Having focused on latte art for the past years, Fensore expresses her determination to study further in specialty coffee in future as a long-term goal. "In Italy, it is very difficult to spread the knowledge of specialty coffee, precisely because of the various and refined nuances that should be enjoyed and developed through other types of extraction," explained Fensore.
However, since five years ago, the specialty coffee scene has changed and evolved in Italy. "The road is perhaps still long," she continued, "But I think it will not be impossible if from now on we all spread the knowledge, so we can train the future specialty coffee drinkers."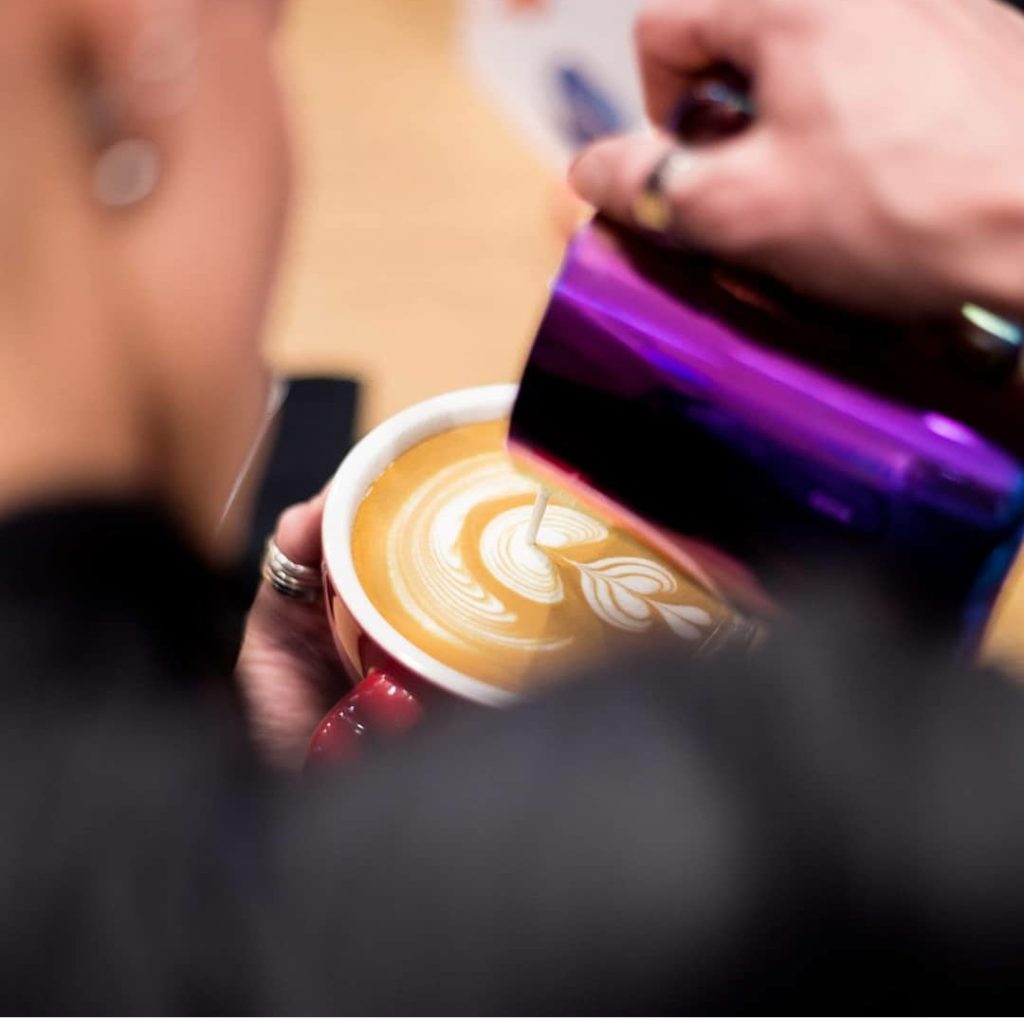 Fensore regards latte art as "a lark mirror", which opens up the market and lures customers in to find out the big, big world of coffee. She also believes that more people can be reached through latte art, which baristas should always try to approach customers and make them curious about coffee. "Because everyone always focuses on what is beautiful and welcoming, but when they see that it is not enough just to see or drink but also to know, then with a slightly 'softer' way baristas can spread more."
Furthermore, through competitions, seminars and events, coffee people can promote coffee culture together. Fensore said, "The best way to study is to do it all together."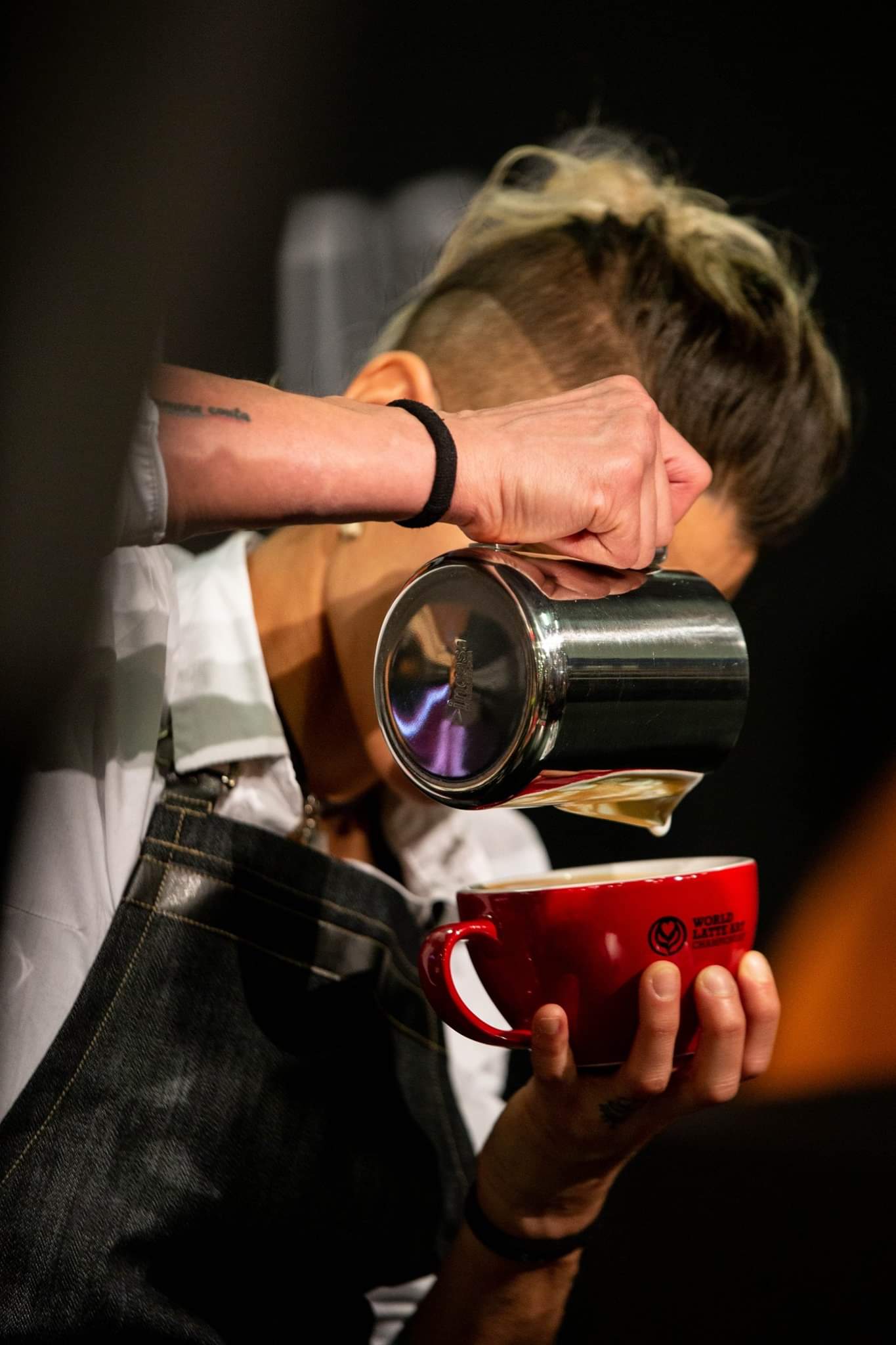 Practice Makes Perfect
After a few months of work in Milan in 2014, Fensore made the decision that later changed her career and life. "I decided to take a course based on coffee and the various techniques on milk frothing with my partner," she said, "This was how I met Luigi Lupi, also known as the pope of latte art." Lupi introduced the world of coffee to her and also noticed her potential in latte art. "Clearly before thinking about competitions, we always wanted the best in everything and worked hard but we never set aside the possibility," shared Fensore. If you see the insistence in her words, you can also find her "can-do" attitude and courage.
As the latest WLAC Champion, Fensore thinks her secret to great latte art is to never stop training hard. "Knowledge and training help baristas in their own sector, without which no better results can be achieved," she advised. When competing, it is wise not to think about the race when you have to face a stage. "In my opinion, it is necessary to enter a perspective of 'having already done it'," said Fensore.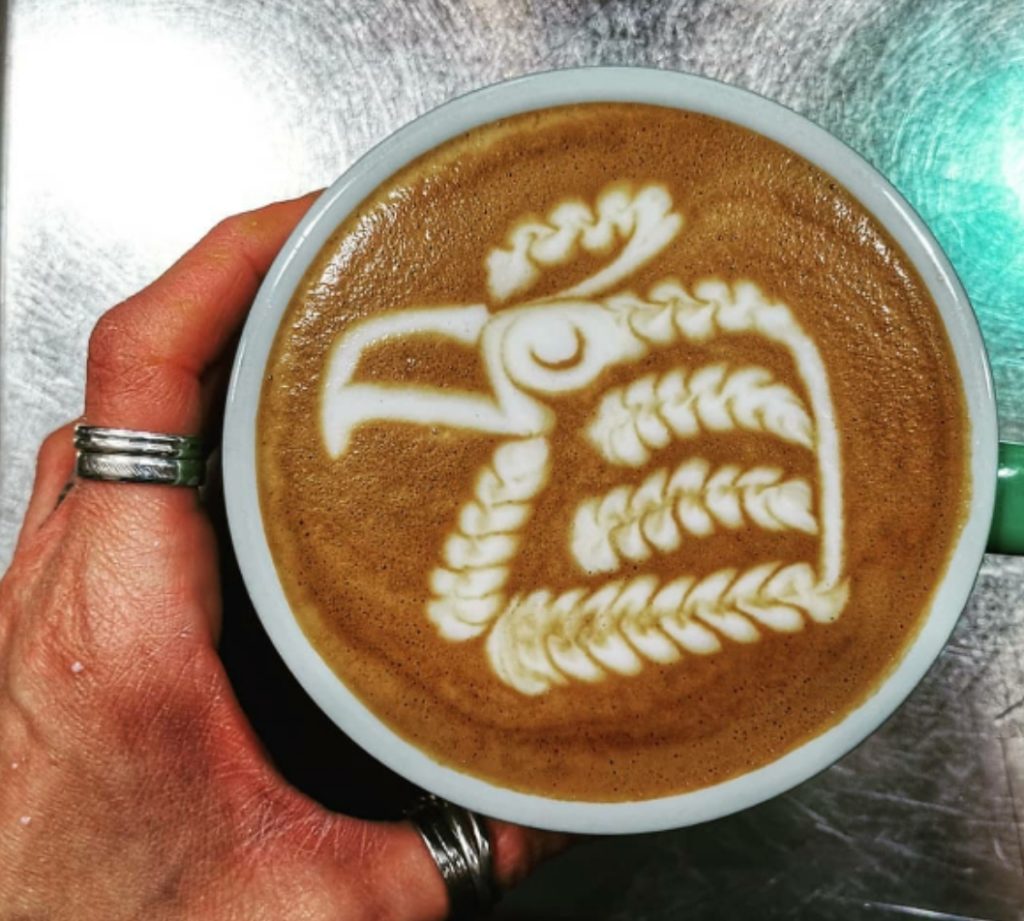 Such a perspective may sound impossible but once you reach it, you will be able to see a different world of coffee. To Fensore, it means going around the world to pass on her passion in coffee and perform during the events. "I find it very beautiful and stimulating. Surely, they are life experiences that will make us grow more!"
Coffee is amazing as it not only makes people addicted but also brings people together. "I love to amaze people. Making someone happy is not so difficult, so just do it with your heart," Fensore said, "The latte art made me, and I gave it everything, all of myself… I feel it flowing inside me."
Q&A: 
What origin coffee do you like the best?
MF: From those few that I have tasted, I love Guatemala, Panama, and Salvador, which have impressed me a lot for its high acid- ity and the absence of bitterness.
What do you do at your leisure time?
MF: I like very much to dedicate myself to my family and to my little baby, which is not so small anymore! At 7 years old! When I am not working, I like to do crazy shopping or traveling for a while.
What's your favorite drink apart from coffee?
MF: I love beer!
Competition History
2019 World Latte Art Championship – 1st Place

2019 Italian Latte Art Championship – 1st Place

2018 World Latte Art Championship – 12th Place

2018 Italian Latte Art Championship – 1st Place
---