In the last 5 years we have seen a movement from older established coffee companies and investment firms taking more interest in the specialty coffee industry. A recent move was Nestle paying an estimated $425 million for a 68% stake in Blue Bottle in September 2017. The new Nestle CEO Mark Schneider goal is to turn Nestle into a "nutrition, health and wellness" company. This is a huge rebranding project that will probably continue through acquisitions of other trendy and upcoming concepts within the food and beverage industry.
Another very interesting group is the JAB Holding Company out of Luxembourg. "JAB Holding Company is a privately held group focused on long term investments in companies with premium brands, attractive growth and strong margin dynamics." They hold majority stake in some of the most major "coffee houses" and have also been recently acquiring new coffee houses. Many of the names will be very familiar: Peets, Einstein Bros Bagels, Panera Bread, Pret a Manger, Jacobs Douwe Egberts, Caribou Coffee… Recently they took a majority stake in Stumptown and Intelligensia in 2015. Two coffee roasters and retailers both known for may I say coining the term "Direct Trade" and were foundational companies in establishing the third wave in the United States.
Then of course there is Starbucks who is the largest coffee retailer and roaster in the world with 27,000 shops and more than $22 billion in revenue. They also recently signed a deal with Nestle this past September 2018. Nestle is paying $7 billion to Starbucks in order to sell Starbucks coffee products, essentially a licensing deal. Again there seems to be a large movement within the larger players in the industry to start focusing on the idea of specialty coffee from a retail side.
Its great to see more interest in the specialty coffee industry from larger players, however a good question to ask is what will the affect be at origin and for suppliers particularly when we are essentially entering another coffee price crisis with prices being at a recent all-time low being barely above one dollar. Additionally there are several other environmental pressures affecting producers at origin making coffee more and more risky to produce. For example, the Journal Proceedings of the National Academy of Sciences predicts that the world's largest coffee producing regions could shrink by as much as 88% by 2050 as pollinators will be harmed by rising temperatures. Can producers at origin look to these large companies to be a part of the change necessary and investment or is it simply business as usual?
The spirit of specialty and participation at origin that is typical of specialty coffee roasters and shops must be maintained in order to maintain a healthy supply chain. And it is concerning as multinationals continue to take a large role in the specialty coffee community, because historically multi-nationals are not usually operating on a farmer/producer level, but can be negotiating on larger governmental levels in order to secure deals. Yet there seems to be little indication that the deals that they foster are toward the well being of the sustainability of the industry with growing margins and prices for growers but rather seem to only benefit the multinational's own bottom line. In the end of the day they are publicly traded companies where one of their main goals is to provide return for their shareholders, which can be easily seen in their market data.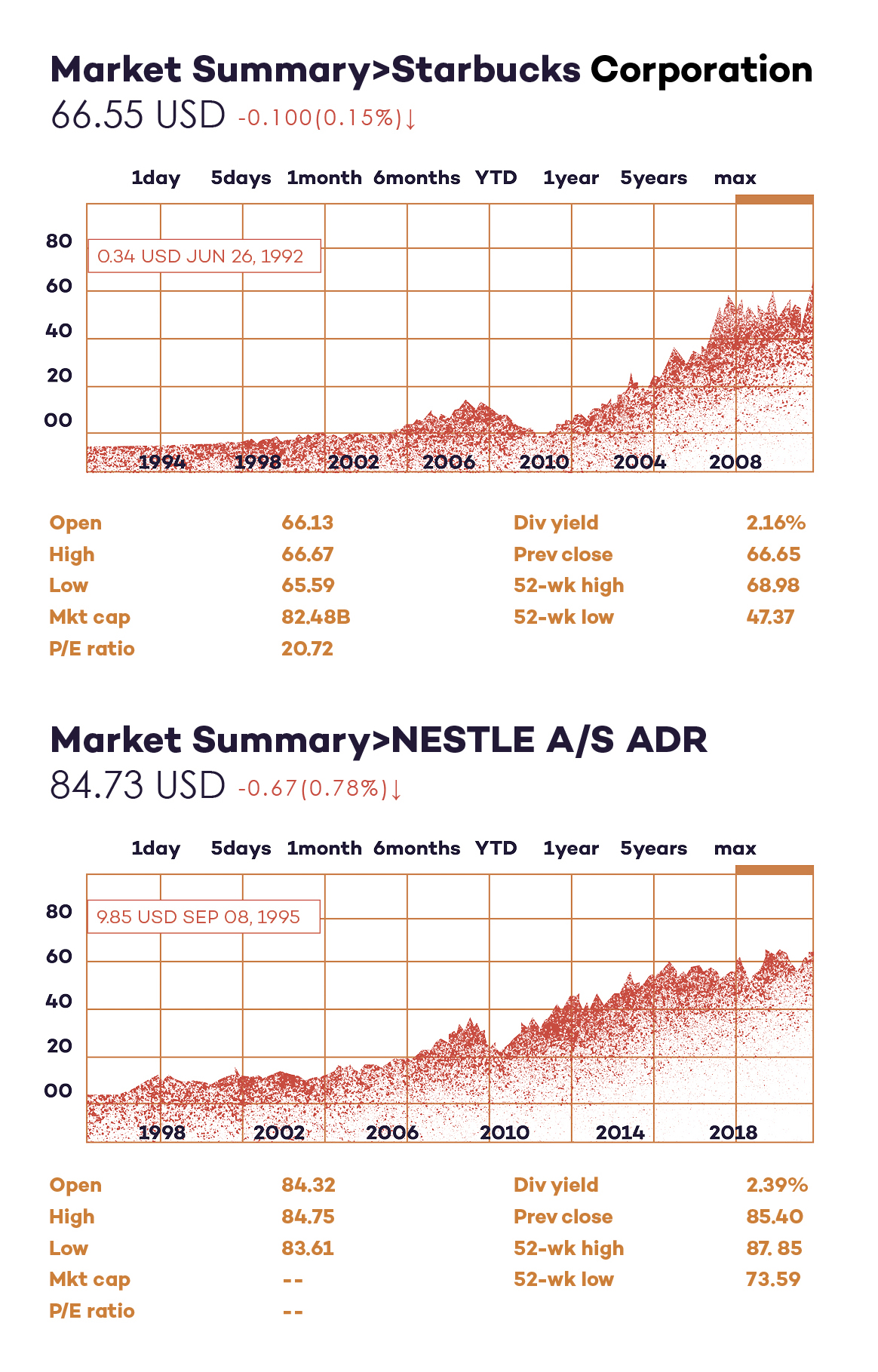 However it cannot be said that all the multi-national companies have not invested into origin and the supply chain. Starbucks has invested heavily into the supply chain and has been able to have a large effect on coffee research with an eye on sustainability. Starbucks has recently created their model farm in Costa Rica with the idea of helping to forward research in coffee and how to sustain it in years to come. This is one of the few major companies that have invested back into the coffee communities in a meaningful way, providing good research and making information more accessible for other producers worldwide and transparency.
Still when you look at the photos of the facility and finca you can see that it is a well-funded project and outshines most farms that you will likely see in Costa Rica. It can be seen as a statement of the power and reach of Starbucks and some would say that it still falls into the old colonialist mindset that has been ever present in the coffee industry where you have the consuming countries "helping" and "dictating" how things should be done. It would be great to see the coffee producing countries being the leaders on coffee research with dynamic and well funded research facilities.
Many would say that the largest risk and most pressing for producers worldwide is that we have an unbalanced scale where the risks of cultivating coffee and the prices being paid do not correlate. Coffee prices today are equal to prices to that of the 1970s, with the few glimmers of hope coming from the specialty coffee roasters that are willing to pay a premium for quality. These independent micro-batch roasters and specialty coffee shops are adding value to the coffee with more focus on the pedigree of producers and roasters to create truly unique experiences. For me it is not necessarily good to have large traditional coffee companies beginning to take interest in the specialty coffee movement.
They tend to have the mentality that coffee should be "cheap and affordable" thus when prices drop; the solution often brought by these types of companies is to increase production. Yet this mentality only promotes more high production/disease resistant hybrids and rarely values the difficulties of growing specialty coffees, the pedigree of the producer and the uniqueness/terrior of different growing areas. Its still treating coffee like a commodity and that is essentially equal throughout all growing regions. If a growing region can no longer produce at the ideal price, they are out of the picture for the long run. This is not a sustainable business then for anyone, rather it will be more of the same colonialist mindset – always moving production to where the cost of production is the lowest and abandoning the prior. This is the opposite of what the specialty coffee movement is about and it is urgent for them to start to adopt a new mindset.
For me the involvement of more multinationals in the specialty coffee industry is not good news unless they adopt a new mentality how to bring value to the industry and that that value is transferred back to producers. How is that consumers are willing to pay upwards of $7-8 for a glass of an ordinary and often unimpressive wine, when coffee retailers can be hard pressed to get the same for an outstanding cup of coffee? However, we do see some positive movement from Starbucks with their Reserve Stores. Starbucks has begun to build their Reserve Stores in the United States and other countries to bring all parts of the roasting and production to the view of the end consumer. It is truly a new experience and the coffees that they are bringing are quality producers throughout the world.
This is a move in the right direction and all players, large and small, should embrace ways of adding value to the final cup and end consumer. If other multinational coffee companies begin to add more value to the end product, their taking a larger role in the specialty coffee movement will be a positive impact, however if it is business as usual it will lead to a less diverse and less dynamic specialty coffee industry.
Story/ Keith Pech
---