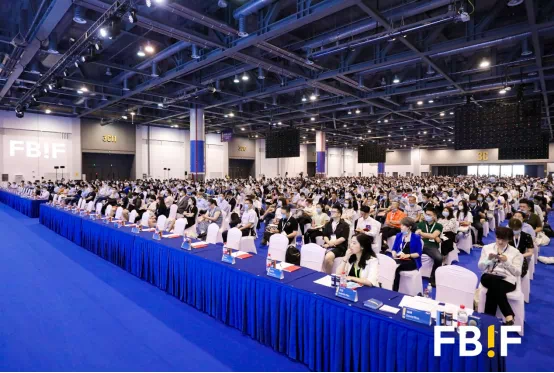 On-site photo of FBIF2020
Hosted by Simba Events, FBIF2020, also the 7th FBIF, was successfully held in Hangzhou International Expo Center on 8 July 2020. Themed as "Technology • Revolution", the forum focuses on innovation trends in the food industry. More than 130 global speakers and over 5500 decision-makers from over 700 enterprises such as Huawei, Mars, Mondelez, Yili, Mengniu, Coca-Cola, PepsiCo, Nestle, Nongfu Spring gathered at FBIF 2020 to discuss the future of food and beverage industry.
Consisting of the plenary session and five sub-forums, FBIF2020 presented nearly 90 speeches and interactions as well as 4 awards ceremonies. At the same time, the Food Show area covering 9,700 square meters displayed 8 themed activities and 200+ exhibitors, bringing an immersive experience.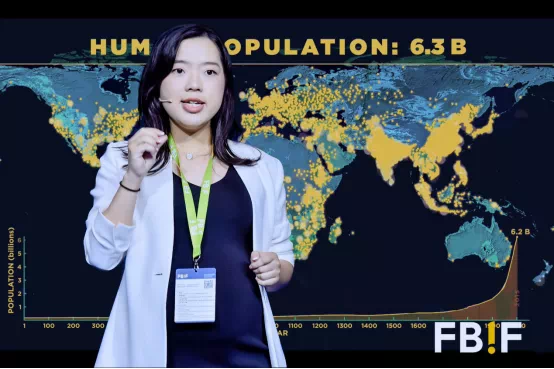 Isabella Hsu, Founder & CEO, Simba Events
At the beginning of the plenary session on the first day of FBIF2020, Isabella Hsu, Founder & CEO of Simba Events, gave a welcome speech on behalf of the organizer. She first extended thanks to all those who have made contributions and efforts to the fight against COVID-19, then put forward the common concerns of the food industry: Could our companies transform and adapt faster in the face of global social emergencies like COVID-19? Is the digital transformation for enterprises to stay at the surface of understanding or to practice in real fields? In the face of the new up-and-coming brands, how should our giant companies keep ahead? With these questions, the "Technology • Revolution" journey of FBIF2020 began.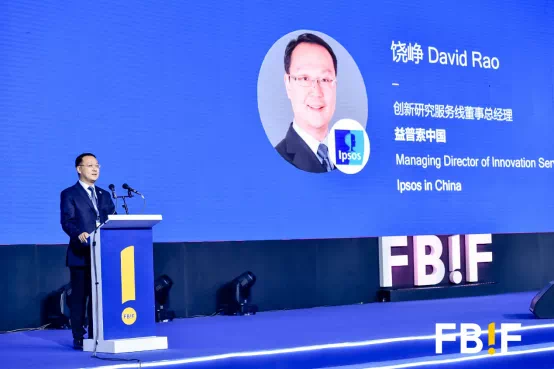 David Rao, Managing Director of Innovation Service, Ipsos in China, delivered a speech
David Rao, Managing Director of Innovation Service of Ipsos in China, and also the president of the plenary session, delivered a speech. He said that the theme of FBIF2020 this year was Technology • Revolution. "In fact, the thinking and behavior patterns formed by human beings for thousands of years have been rapidly changed by science and technology in recent years. We're seeing more and more technology companies come into the food industry, and they're changing the industry with their products and technologies."
He also pointed that science and technologies were helping product to realize disruptive innovations and a growing number of food science and technologies were being applied to food, which not only closed the gap between the consumer's growing demands and the strained natural resources, but also gave consumers more better choices and led the trend as well as changing the lifestyles of consumers.
01. The Way of Digital Transformation of Enterprises
Technologies are influencing all industries in all aspects. Dr. Liqing Su, Vice President and Chief Digital Transformation Officer, Huawei Cloud, shared how to accelerate enterprises digital transformation in this digital age and delivered a speech focusing on "Why, What and How to transform".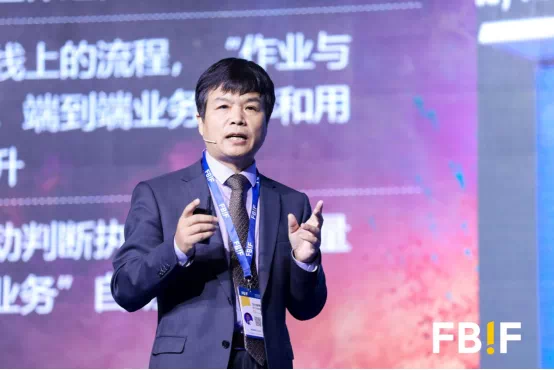 Dr. Liqing Su, Vice President and Chief Digital Transformation Officer, Huawei Cloud
Based on Huawei's own digital transformation and cloud practice, Dr. Su summarized and refined the digital transformation methodology and implementation plan for large and medium-sized enterprises. Technologies including Big data, AI, cloud computing, IoT, 5G and blockchain bring infinite possibilities to the food industry. For example, Huawei has applications of Intelligent Agriculture-Precise planting, Food Processing-Packaging Robots, Marketing Promotion-VR/AR Immersive Experience, Food Safety Supervision-Food Traceability and so on.
At present, digital transformation has three major innovation trends: experience innovation, process innovation and mode innovation, building better links between people, business, knowledge and things from different emphases.
When it comes to "what to transform", Dr. Su introduced the five aspects of transforming consciousness, transforming organization, transforming culture, transforming methodology and transforming model.
On "how to transform", he said that enterprises should first identify service objects and business objects. Then, they should unify controlling and management and guide the evolution of IT capability to cloud and servitization to support the digital transformation of enterprises. Finally, digital platforms should be established. For example, Huawei has built HIS (Huawei IT Service) digital platform to deposit Huawei's experience and data into the platform and turn them into services.
On the digital platforms, enterprises can make progress in digital office, digital operation, digital transaction and digital operation.
02. Industrial Transformation: Are We Reacting Quick Enough and Collaborating at a Rate that Can Truly Transform the Industry?
Nowadays, as competitions become increasingly intense, many enterprises are facing the opportunities and challenges of transformation. Especially for those large enterprises, they need innovation to improve their efficiency and in this process they will encounter various problems. Joost Vlaanderen, President, Greater China, Mondelēz International, Clarence Mak, President of Mars Wrigley China, and Jose de la Cruz, China Customer Management Group General Manager, Coca-Cola Beverages(Shanghai)Co., Ltd., held a roundtable discussion on "Accelerating innovation: Are We Reacting Quick Enough and Collaborating at a Rate that Can Truly Transform the Industry?"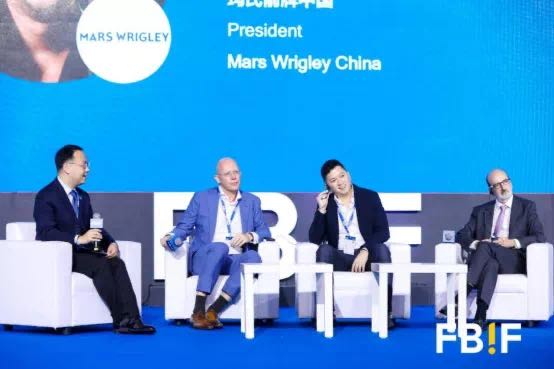 From left to right are David Rao, Joost Vlaanderen, Clarence Mak and Jose de la Cruz
According to Jose de la Cruz, with new products constantly emerging in the market, Coca-Cola has also launched many innovative products. This reaction comes not only from responding to changes in the industry, but more from consumers.
Clarence Mak pointed out that consumers were now looking for healthier products and were increasingly focused on the mission of brands.
Joost Vlaanderen said that consumer demands were on the rise, and they wanted businesses to respond faster. For example, Chinese consumers have a kind of demand that I want this thing now and you have to meet it now. Therefore, as enterprises, we must timely meet their needs, or they will choose other brands, which is a great challenge for enterprises.
Mondelez Internatonal, Mars Wrigley and Coca-Cola are all international companies, but they also focus on the differences in the Chinese market. As Joost Vlaanderen mentioned, Chinese people have their own health concept, which is different from that of western countries. Therefore, it is necessary to respond to the needs of Chinese consumers. Clarence Mak added that the trend is that Chinese consumers become increasingly proud of their cultures as well as their brands and willing to buy Chinese products.
As consumer demands change and update more and more frequently, enterprises will face kinds of challenges such as costs, speed, scale and so on, while we have seen that Mondelez International, Mars Wrigley and Coca-Cola take action to meet these challenges. The three guests mentioned above shared several cases, such as the co-branding of Oreo and the Palace Museum, which has quickly gained attraction. Mars Wrigley markets its chocolate products before the College Entrance Examination. Coca-Cola responds to health trends with fiber + products.
From the internal perspective of enterprises, Joost pointed out that specific cross-functional teams and task groups should be established to meet specific tasks. During the process of completion, there will be trials and errors and once there's a mistake or a problem, they have to stop immediately. Clarence believed that the creation and construction of a culture is very important. Jose de la Cruz said that Coca-Cola pays great attention to the internal construction of teams.
03. Sustainable Food Generation and Plant-based Transformation
As consumption escalates, more and more consumers not only pay attention to taste, flavor and price, but more importantly, they gradually tend to choose enterprises that do more in sustainability.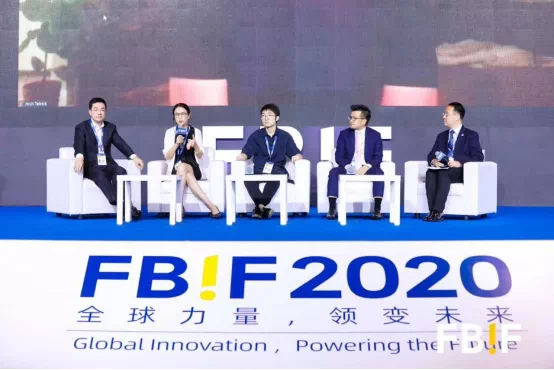 From left to right are David Zhang, President Asia, Oatly; Wuling, General Manager of Tmall Tasty; Junyi, General Manager of Tmall Brand Marketing Center; Jackson Chan, President, Cargill Animal Protein China (CAPC) respectively
In recent years, the rapid rise of plant-based products makes us see the trend of sustainability. Participants from Oatly, Tmall, Cargill and JUST shared their views on the development of plant-based foods and beverages in the era of sustainable development with the theme of "A New Era of Sustainable Food and Beverages – A Revolution for Plant-based Food is Taking Place".
First, Chuck Muth, Chief Growth Officer, Beyond Meat and Toni Petersson, CEO of Oatly, shared their insights into the new era of sustainability and plant-based products in a video. Eating animal meat, such as a simple hamburger, will involve land, water and other resources and affects the natural environment, according to Chuck. In addition, eating animal protein has implications for animal welfare, and the outbreak of COVID-19 has also affected people's intake of animal protein and their choice of plant-based proteins.
Therefore, consumers desire to find meat substitutes under the influence of multi factors.
Toni Petersson pointed out that the sustainable development is not a simple word but a kind of concern for others. For example, considering people who suffer lactose intolerance discovered by Swedish scientists many years ago, Oatly wants to give consumers more options with oat milk.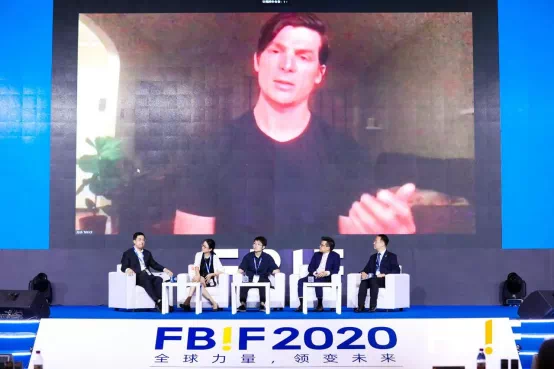 Spot connection with Josh Tetrick, Co-Founder & CEO, Eat JUST, Inc.
Josh Tetrick, Co-Founder & CEO, Eat JUST, Inc., thinks that we can realize that our food is not safe enough about the biggest driving force of sustainable development, which can be supported by a lot of evidence, such as more than 13 million people died of diseases. Besides, we also face climate change and all sorts of environmental challenges. Therefore, we begin to realize that a food system must make adjustments and changes because our food system is not safe enough and that the most effective way to make changes is transforming from animals to plants.
As for the driving force of sustainable new food generation, Jackson Chan, President, Cargill Animal Protein China (CAPC), said that human beings are great because they will find solutions when there is a shortage or expected shortage. China has the capacity to increase production capacity so as to meet the additional demand for animal or plant-based proteins or even beverages needed for future population growth in China or the world.
Junyi, General Manager of Tmall Brand Marketing Center added from consumers points of view. The post-1995 generation has risen up in the Chinese market much faster than expected. They have access to more education, scenes and information channels than we do. In terms of purchasing power, the post-90s generation will become the single group with the strongest purchasing power on the whole platform. Therefore, meeting the purchasing needs of those groups has become a problem we must solve together.
In the face of today's consumption, Chinese consumers will differ from international consumers in the following characteristics, which all depend on the changes of the population. The first one is that demand stratification increasingly changes; the second is that changes are fast and the last one is that consumers are relatively young in terms of age and they have more access to information. Therefore, they require more detailed information, which means that today we should not only tell consumers the safety and tastes of the food, but also why the food is healthy and how the tastes satisfy the current fashion trends.
According to David Zhang, President Asia, Oatly, there are two meanings behind what we call the new era of sustainability today. The first is the need for sustainable development of body and mind. Oatly advocates a diet of balanced nutrition and a healthier lifestyle. The second is that the earth and the environment we live in need of sustainable development. Oatly praises highly the use of green energy and make practice in sustainable development in production, design and use scenarios as well.
On how food science and technologies apply to the research and development of new products, Cargill, with years of experience in animal protein development and production, studied plant protein from the perspective of consumer demand. Oatly used patented enzymes to extract all the dietary fiber β-glucan from the oats, which is conducive to absorption. JUST figured out mung beans from more than 300, 000 plant species, to find gelatinous ingredient, and also figured out key formulation techniques.
As a giant of industry platform, how Tmall empowers food enterprises and help them promote? Wuling, General Manager of Tmall Tasty, said that Tmall was using big data to study consumer trends. For example, Tmall will look at what kind of consumers and what kind of scenarios are more appropriate for brands and products when there are products with new technologies such as plant-based. Therefore, Tmall and businesses can jointly study what kind of products, what kind of packaging, and even what kind of price are suitable for promotion among the precise consumer groups through the Tmall Innovation Center.
After products have a certain positioning, the next step is the thorough promotion. Considering now all media are fragmented, and the needs of individual consumers are diversified, precise promotion and precise accession are more efficient to promote products to consumers. In terms of new categories and technologies, Tmall is willing to work with enterprises to educate consumers.
Tmall can help establish a complete process for new product incubation, added Jun Yi. The core connection between new technologies and consumers is products, especially the new products with new technologies. As for the incubation of new products, the most complete process on the whole platform is first making qualitative and quantitative study on data, then making trial production and giving them to consumers, and finally collecting feedback to improve constantly.
After the panel discussion at the FBIF2020, Ruichi, Expert of Tmall Innovation Center released the White Paper of Tmall Vegetable Protein Drinks on behalf of Tmall. In 2020, the segment of plant-based protein drinks has seen great growth on Tmall. The growth rate of the whole market has reached 800% compared with that of last year in 2019. Most of the growth is driven by new customers. Among consumer groups, women account for 70% and the groups aged 25-34 and the groups in second and third-tier cities takes the lead. In the future, there will be five major trends of plant-based protein drinks, including more plant-based products, nutritional addition and subtraction, fresh drinks at low temperatures, various tastes and multiple crossover practice.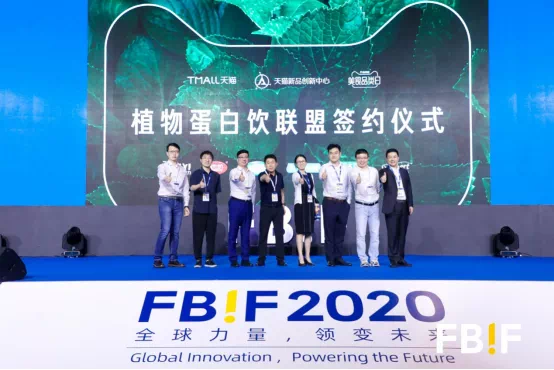 Plant-based Protein Alliance Signing Ceremony
In addition, plant-based protein alliance signing ceremony was held with participants including Oatly, St Hubert China, Vitasoy, Hebei Yangyuan Zhihui Beverage, Tmall, Yili and Dali Foods Group.
04.How do Technology Companies Win Together with The Food Industry?
Technologies bring changes to the food industry. Not only are food companies seeking technological innovation, but technology companies are helping the food industry. So could tech companies succeed in the food industry? How do traditional food and beverage companies respond to this new change? How do they compete or win together with technology companies?
Liu Xing, partner, Sequoia China, and Ralf Huebenthal, Head of Information Technology – GCR, Nestle (China) Ltd., made an online discussion about above topics.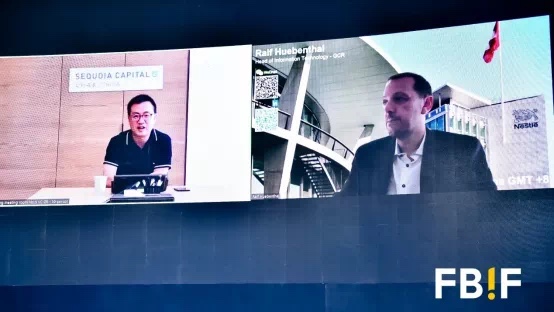 In the left is Liu Xing and in the right is Ralf Huebenthal
Liu Xing shared a case that Weiyang of Netease and Ant Financial Services Group use blockchain to help companies trace their origins. In addition, from the perspective of customer interaction, brand and marketing, increasingly more large enterprises will resort to digital media for promotion, such as Douyin, Watermelon Video and other platforms.
It is also worth noting that in the early stages of many products there is a new generation of entrepreneurs who have no background in the food industry but have high-tech backgrounds, such as Hitomorrow and Genki Forest. The founder of Hitomorrow engaged in IT is a product engineer of Nokia at first. Technical background not only brings better internal experience and return of internal investment, but more scientific and software methods used to optimize customer unit price. Tang Binsen, the founder of Genki Forest, is engaged in social game at the beginning. Later on, he applied technologies into the creation of Genki Forest from concept incubation to product design.
Ralf said that technology companies entering to the food industry is not a threat but an opportunity. Companies must continue to embrace digitalization which is not for the IT department but a thing that the whole company needs to do, especially the business department. Digitalization requires cultural and conceptual changes in an organization. Enterprises should change the brand-centered mode to the consumer-centered mode.
When it comes to how high-tech companies join the food industry, Liu believes that technology companies need to spend time and energy to understand the industry itself. For high-tech enterprises, they need not only advanced technologies, but also insights into the industry. It is very important for enterprises to learn industry laws and rules.
05. What Impact the Global Epidemic Have On the Chinese Consumer Goods Market? What Trends Have Been Driven by It?
In this year, the sudden outbreak of COVID-19 has affected all walks of life in different degrees. There are not only changes in the overall environment, but also changes in consumers' psychology and demands, which enterprises must actively respond to. Derek Deng, Partner, Bain & Company, gave a keynote on How Does the Pandemic Reconstruct the Consumer Goods Market.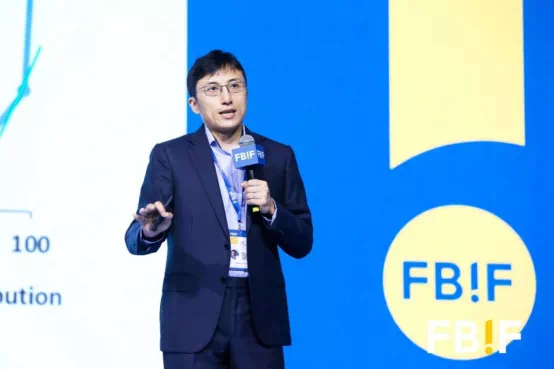 Derek Deng, Partner, Bain & Company
Some problems have been magnified and highlighted by the pandemic. There are some examples: in the post-globalization era, globalization is questioned and income is polarized. But at the same time, we are also seeing some changes or revolutions in the future that will disrupt the industry; consumers will become the organizer of the whole industry, and consumers will become the most important driving factor of the whole industry in the future; the whole industry value chain, especially for the food and beverage industry, will become more and more pan-integrated, and there will be more new forces, new brands and new players focusing on a certain segment or point.
In China's consumer market, the fragmentation and polarization of consumer demand and the change of competition pattern are worthy noting.
06. Marking Awards 2020 Ceremony – The Global Annual F&B Package Design Ceremony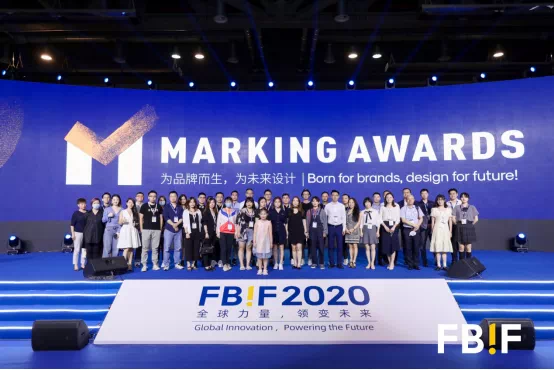 Marking Awards 2020 Ceremony
Chaired by Sean Chiu, Co-founder & CEO, Hangzhou Hotidea Brand Planning Co., Ltd, and Wanfen Xia, New Business & External Relations Director, BETC Asia, the last part of FBIF2020 plenary session—Marking Awards 2020 cereomony (Food and Beverage Packaging Design Award) drew to a successful close. 41 outstanding works with excellent creativities and delicate designs were awarded.
07. About FBIF
Food and Beverage Innovation Forum (FBIF), founded in 2014 by Simba Events, has become one of the most influential food-industry events in the Asia Pacific, praised as "Food Davos". Our aim is to communicate the most advanced technology, ideas and business experience, helping the industry leaders to become better decision-makers, promoting the positive development of F&B industry.
Notes: This year, we plan to replace the post-event report with a live broadcast at first. However, in order to avoid the regret of missing important information due to audio problems on the spot, we will continue to summarize the report after the forum.
After the forum, we will organize the contents into texts and the post-event report based on the live speech materials, and then freely share the report for FBIF attendees. It is expected to be available within two months after the forum. We do appreciate your attention to FBIF. Once the report is completed, we will share with you through WeChat group and email.
---