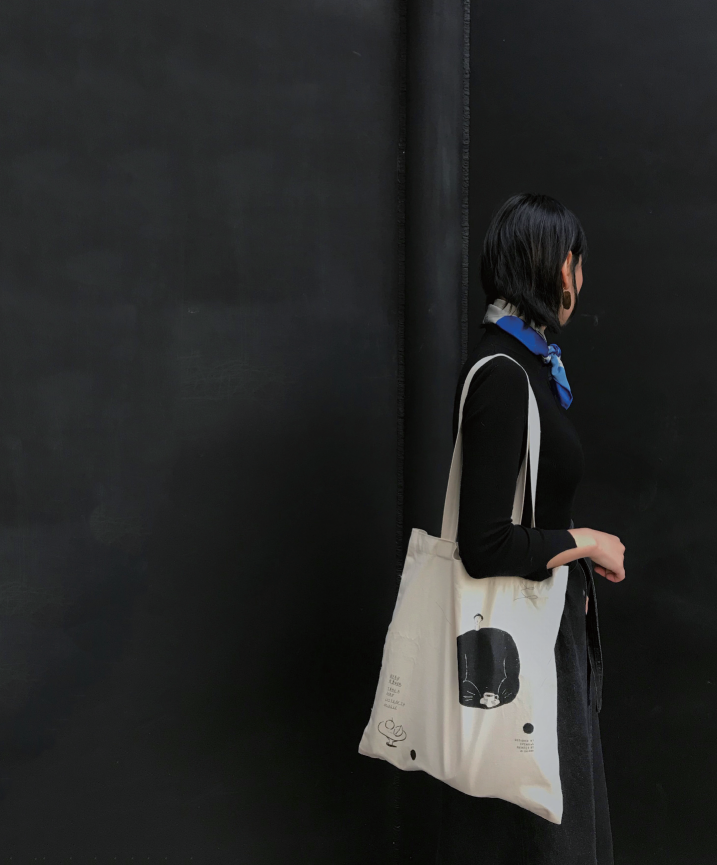 For most people, coffee is just an everyday drink sold in coffee houses, while the illustrators and designers might give you an entirely different experiences of enjoying a cup of coffee. In their eyes, coffee has so many possibilities, such as fostering crossover products like package boxes or canvas bags. The great potential behind this simple brown liquid is also closely related to the popularity of coffee cultures worldwide.
What does coffee mean to your life? This would be a nice question to think about in your coffee time.
Most people get to know Eve Yin because of the drip coffee bag she has designed for Blacksheep Espresso, a popular coffee house in Shanghai, China. The package features a panoramic portrait of the stories happening inside and outside the coffee house: The baristas work behind the bar, the grinder hums on the counter, customers chat under the lamplight and passers-by hold coffee cups in the street. The scenes become vivid in her illustrations, which reminds us that coffee exists in every aspect of our daily life.
Eve's style boasts both simplicity and individuality. She is particularly good at depicting urban life with brisk colors and simple composition, abounding with coffee-related elements and bringing a visual feast to the audience. Moreover, her works also encourage people to cherish every tiny moment of happiness in their daily routines, which is the main reason behind her popularity.
Eve was preparing for her own art exhibition, Time Tunnel, in a coffee house named Gregorius in Shanghai when we got in touch with her for the interview. Her idea for the exhibition was to find a place where people could enjoy her works with the aroma from a decent cup of coffee, thus making the exhibition more intimate to the audience. As to the selection of paintings, all exhibited works would be unveiled to the public for the first time. By now, you must be wondering: 'Who is this girl? What does coffee mean to her?'Here, you are coming on a journey with us to get to know her properly.
A Well-planned Freedom
On a sunny afternoon, the interview was taken at a coffee shop with a large window. She is a regular here. Well, she was not 'alone': Her favorite coffee was on the side of her drawing board. You could sense the freedom and romance through her paintings and working environment she created for herself. However, Eve said, this freedom did not come easily but from a well-prepared plan.
Eve majored in Visual Communication Design for both undergraduate and postgraduate studies, which involved courses regarding design, photography, calligraphy, and illustration. In short, anything related to visual expression. It is of vital importance for the learners to recognize their own interests. Luckily for Eve, she was aware of her enthusiasm and talent in graphic design from the beginning.
And she made the decision of being an illustrator while pursuing her Master's degree. From her perspective, designing is more rational, while painting is more emotional, thus making the combination of both a perfect way of expressing herself. Having been away from her paint-brush for almost four years, she decided to start over again. "I was not confident enough to call myself an illustrator until I left school," confessed Eve. Although she has always been into painting, it took her years of continuous practice and careful consideration before she made up her mind to become an independent illustrator and designer. Before gaining her Master's degree, she worked as an intern for a big internet company in Beijing when she showed off her talents in a few design projects. This also earned her a spot to start her career officially in this company. However, she went for an unexpected option by furthering her studies in Tokyo, Japan in a bid to polish her skills more.
Tokyo is a city of fashion and creativity as well as a perfect place for the artists. That's how Eve regards Tokyo. Her routines in Japan included language learning in the morning and city wandering in the afternoon as she hunted for inspirations. According to her, "My experiences in Tokyo had a profound impact on my styles and aesthetic understanding." It is essential to observe widely — she thinks it's equally important to explore what she has seen and experienced herself. She believes that the present is the stage when her art philosophy is taking the place, being true to herself. Eve worked for a company in Beijing for one year after returning to China. She kept practicing skills while gaining experience and getting prepared to become an independent illustrator. And then she moved to Shanghai, after her freelance career, which involved meeting interesting people and working on exciting projects. Compared to that everything is so predictable inside a company, she finds it more attractive to embrace more possibilities and challenges as a freelancer.
Reconciling between Idealism and Reality
In recent years, illustration is being acknowledged by more and more people. As a result, an increasing number of companies are trying to promote their products and lift brand image through illustration. Coffee being a common element in her paintings, Eve was invited by many coffee brands for business cooperation.
What left her with the deepest impression is Cafe Life, a co-branded drip bag coffee promoted by Blacksheep Espresso and Yongpu Coffee, which was also her first collaboration with a coffee brand. Both share the exact same targeted customers and a brand image of something cute for adults, which thus led to this cooperation. Through this crossover product, Eve made her debut in the coffee industry. Nowadays, her art works are exhibited in lots of coffee houses in Shanghai, such as Cafe Chez W, ODOR, Gregorius, and so on.
Eve somehow finds an excellent balance between the pursuit of both arts and profits although the duo normally seem to be in contradiction. Eve is pretty clear about her purpose. "I am painting both for work and art. While the former earns me bread and butter, the latter could realize my dreams." Most of her work partners are normally a fan of Eve, thus fostering the collaboration. But she needs to make certain adjustments according to theme and content in a bid to highlight the product's unique identity based on its brand image too.
Besides, Eve also founded EVENOlab Studio, promoting illustration products relating to our daily life, such as calendars, stickers, and the like. As a product designer, her rational self would take charge to make all the decisions, such as placing market demands before personal tastes. Other factors such as appearance, practicability, packages, and costs are all taken into consideration. She admits that she feels so accomplished when she sees these products in people's real life.
Moreover, her continuous exploration and creation is also reflected in her products and paintings but in a different format. "You don't have to let everyone like it or accept it. They don't have to be put for sale. This process is what I call 'internal innovation'."
From her perspective, everyone should learn how to coordinate between idealism and reality, thus giving yourself more options. As long as you have faith in yourself, you will eventually get what you are pursuing, regardless of your standpoint.
Falling in Love with Coffee
Eve's connection with coffee could date back to her study tour in Tokyo. While specialty coffee hadn't yet gained its popularity in China in 2015, it had already become a great part of people's life in Tokyo. Therefore, you could see coffee shops almost everywhere. Attracted by the decor and atmosphere in the beginning, Eve gradually learned to enjoy the taste of different types of coffee, just like different types of people she could meet inside the coffee house, representing the urban lifestyle. Since then, coffee has been one of the regular elements used in her art works.
Urban lifestyle means a lot to Eve, which also defines the city of Shanghai, a place where creativity is encouraged and innovation is happening every day. That's also the reason why Eve moved to Shanghai; she found the city suits her a lot, either in work or in daily life. However, instead of exploring new coffee shops, she is less busy in cafe hopping these days but staying in one regular coffee house as her working base.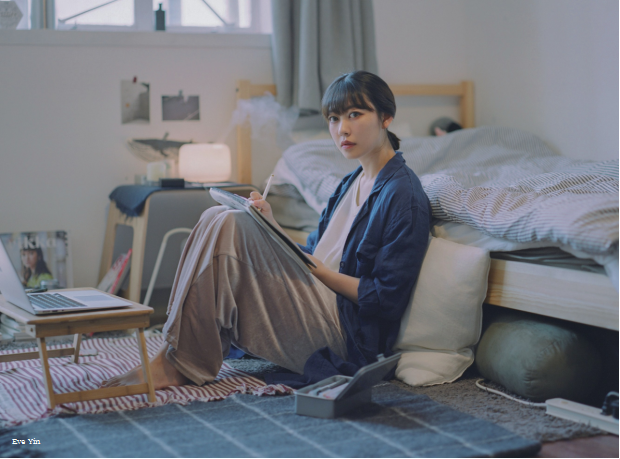 Q&A:
How often do you drink coffee?
Almost one cup every day. Usually in my regular coffee- house, sometimes I would make pour-over coffee if deciding to work at home.
Would you please recommend some of your favorite coffee shops?
My favorite place is Cafe Chez W, since I am a close friend of its owner. In the shop, I could have some nice conversations between works, which helps me to relax. Another place I would recommend is Café on air, whose interior design is really unique and attractive.
What does coffee mean to your life and work?
At first, making coffee was like a ceremony to me. It signified that I should get to work. However, its importance has been growing over the past few years, becoming an inseparable part of my life and work.
Eve Yin
Occupation: Independent Graphic Designer/Illustrator
Location: Currently in Shanghai
Education: Master in Visual Communication Design
One-year study tour in Tokyo after graduation, she founded EVENOlab Studio in 2017.
---