Every time someone speak of a country with the strongest coffee culture, we all think about Japan, but after visiting Vietnam, I think this country should be ranked number one in the list. Coffee in Vietnam is born to be part of people's everyday life, just like eating pho. There is even a saying that what coffee is to Vietnamese is same as hot dry noodles to Wuhan citizens, morning tea to Guangzhou people and shengjianbao (pan-fried bun stuffed with pork) to Shanghainese. Vietnamese has countless reasons to drink coffee every day, that is why cafes are always occupied by guests, chatting and drinking their favorite drink.
According to the latest data released by WTO (World Trade Organization), Vietnam produced up to 1.65 million tons of coffee beans in 2015-2016, ranked the 2nd place in the world, following Brazil. Its whole year production is 2 times higher than 3rd ranked country, Colombia. Based on Chinese customs data, among all the coffee importing countries, Vietnam is the No. 1 country from where Middle Kingdom imports the most coffee beans. It is up to 24600 tons for only 2015, accounting for half of the whole year's total imports of green coffee. Specialty coffee lovers might be very familiar with coffee from Brazil, Colombia, Indonesia and Ethiopia. However, as the 2nd coffee production country, we can hardly remember ourselves enjoying Vietnamese coffee. And we have to admit it is a dark horse of coffee industry: what is the mysterious force behind Vietnam coffee?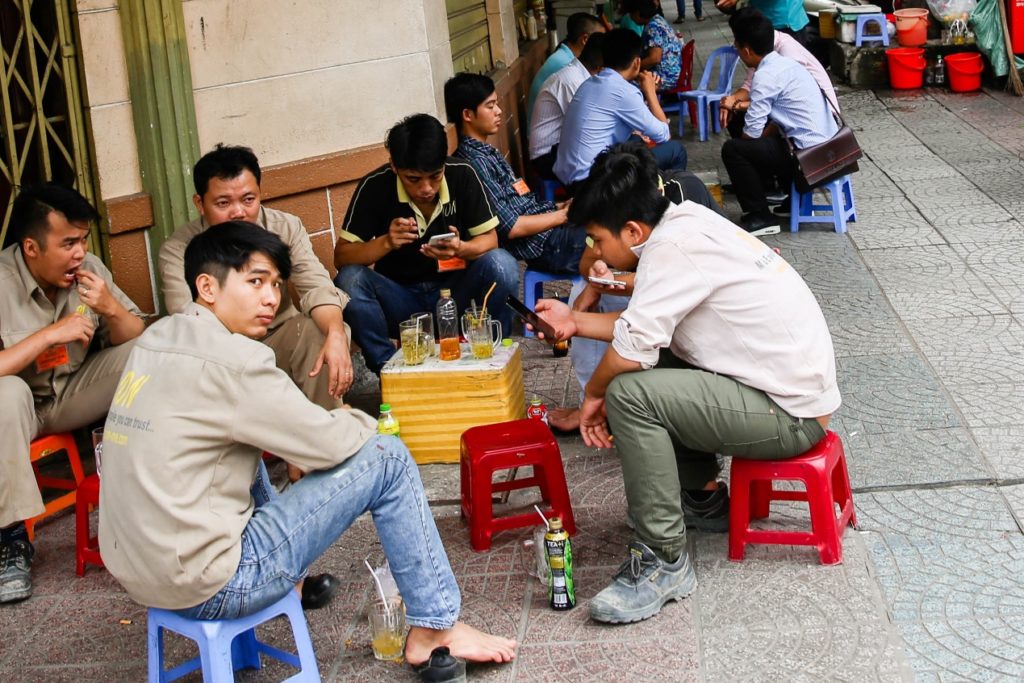 Rambling on streets of Ho Chi Minh City and Hanoi, you can find traditional Vietnam cafes at every corner, with small tables and stools just on the sidewalk. In the morning, a group of men either watch news or check their cellphones with a glass of coffee in front of them. In the daytime, they go to cafes to drink one more cup when in need of energy. In the afternoon, they prefer to meet friends in coffee shops, drinking and chatting on the road for a while. Even if it is a big family, they would like to chat and play at coffee shops' tables, ordering coffee or lemon tea for everyone. While in other countries people enjoy various types of coffees, here in Vietnam, they are all magically replaced by condensed milk ice coffee.
You can see traditional cafés almost anywhere: on the streets and lanes, in run-down buildings, next to a Starbucks, on a roof or on a balcony; sometimes several stools at the entrance of alley can be considered as a café, too. These traditional cafes seem to be vital for the country: a cafe is the beginning and the end of the day in Vietnam, while coffee could also be the beginning and the end of everything.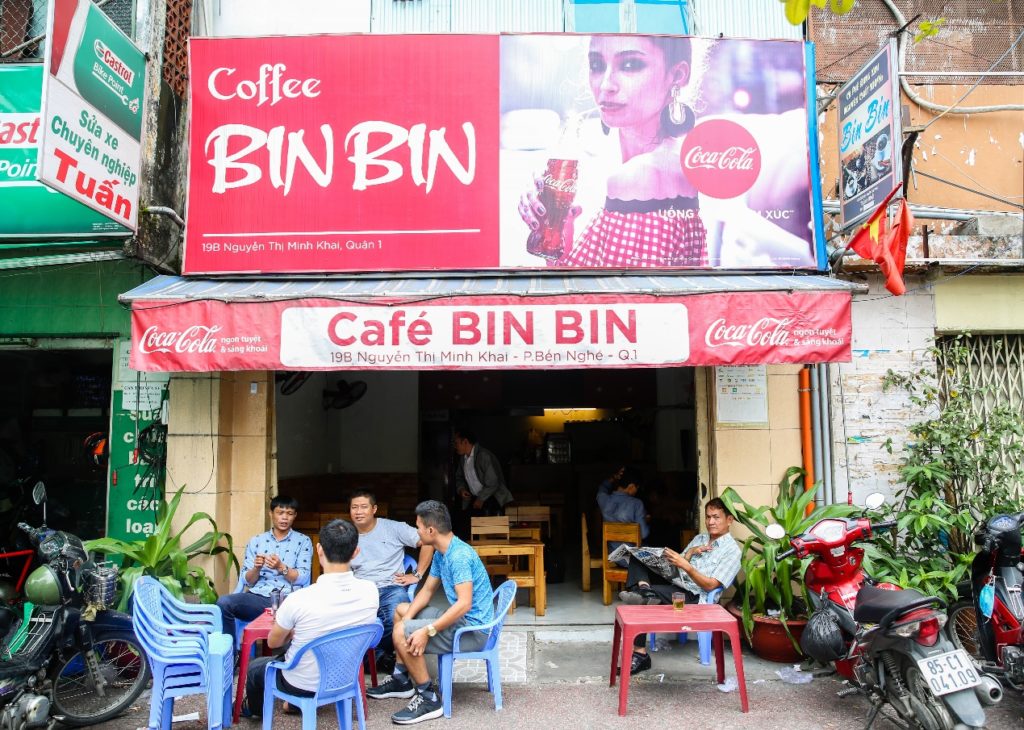 Drinking coffee is not a posh habit in Vietnam, the average price of a coffee in cafés is 35000-45000 Dong (about 10-13 RMB) and price can go lower if you buy a cup in a street café. Traditional Vietnam coffee, dark roasted Robusta, made with the help of local coffee pot, Phin, is the most popular drink around here. Put a layer of condensed milk at the bottom of glass, then add ice to the coffee, stir with a bar spoon; this is why waiters serve coffee with a spoon in the glass – to stir. The condensed milk ice coffee seems to be very heavy for foreigners, however, it is regarded as the real coffee by Vietnamese. It seems that heavy flavor of peanuts together with bitter Robusta taste are an integral part of Nam's people lives. Specialty what? Most of Vietnamese people do not really understand this definition, some even don't think of specialty coffee as a real coffee. The traditional Robusta coffee with condensed milk seems to be the heart and soul of coffee culture in Vietnam.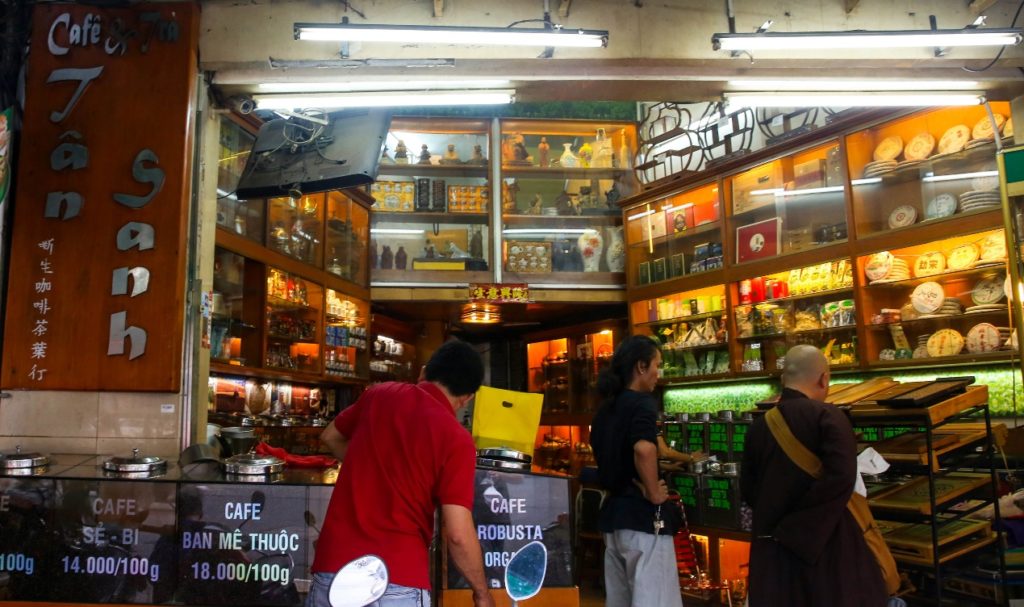 One more magical place in Vietnam coffee scene are roasted beans' shops, where only tiny half of a shelf is occupied by teas. The beans are displayed in transparent jars or cabinets and sold by weight. It is very similar to a selling-teas stand in China: low price, simplicity, transparence and big variety. Customers come to buy several kilos of beans so casually as if they are buying eggs for breakfast.
Balconies seem like a symbol of unknown and interesting world, which is deeply constructed in local reality. Walking on the main road, raise your head and look at the balconies: it seems like people have been enjoying their coffee surrounded by green trees forever.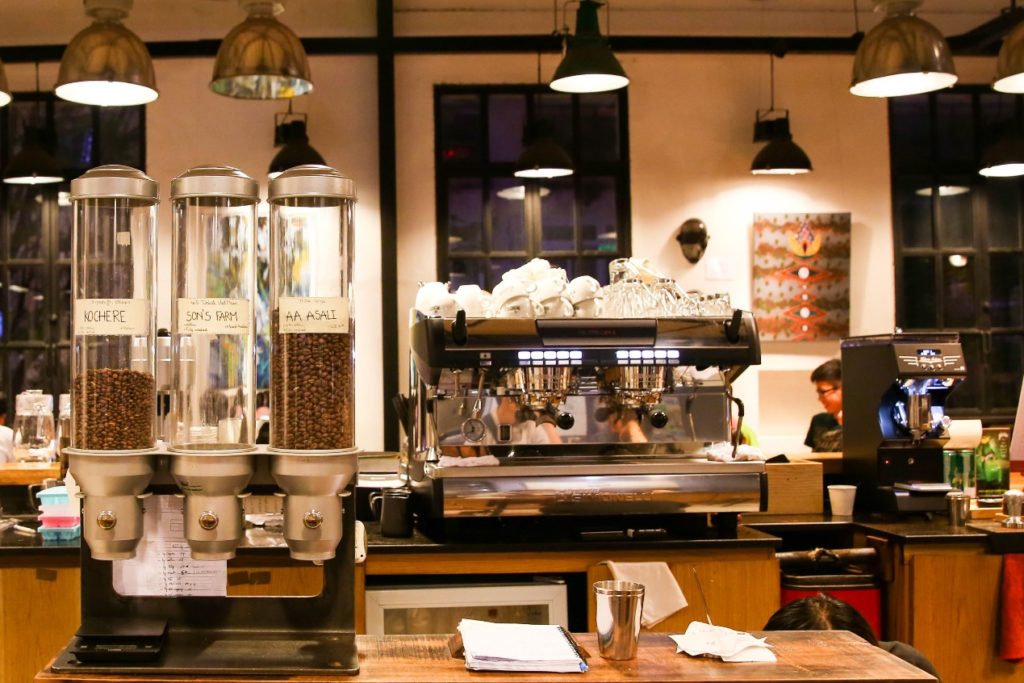 Due to being the second biggest city and economic center, Ho Chi Minh City is always mistaken for the capital of Vietnam, although Vietnamese prefer to call the city Saigon. French culture influenced local cuisine and coffee culture a lot, and as a result you will find European-style gastronomy almost everywhere. Thanks to our local friends, who helped us to look for traditional cafes, we were lucky to visit some rare Vietnamese specialty coffee shops, most of which are very young. But as young people in every country are same, willing to try new things and stay open, Vietnamese specialty coffee can always count on them in developing new coffee scene.
The Workshop
Hidden Treasure
This café is not easy to find as its banner outside is also not obvious. At the beginning we even thought that we were lost, walking through dark and narrow passages, climbing not-looking-friendly stairs. We were wondering till the very moment when we opened the door on the 3rd floor that leads us to the modern Vietnamese coffee world: on the right side of the entrance there is a big roasting machine, the bar is very hip and it is placed in the way to let guests and barista interact with each other.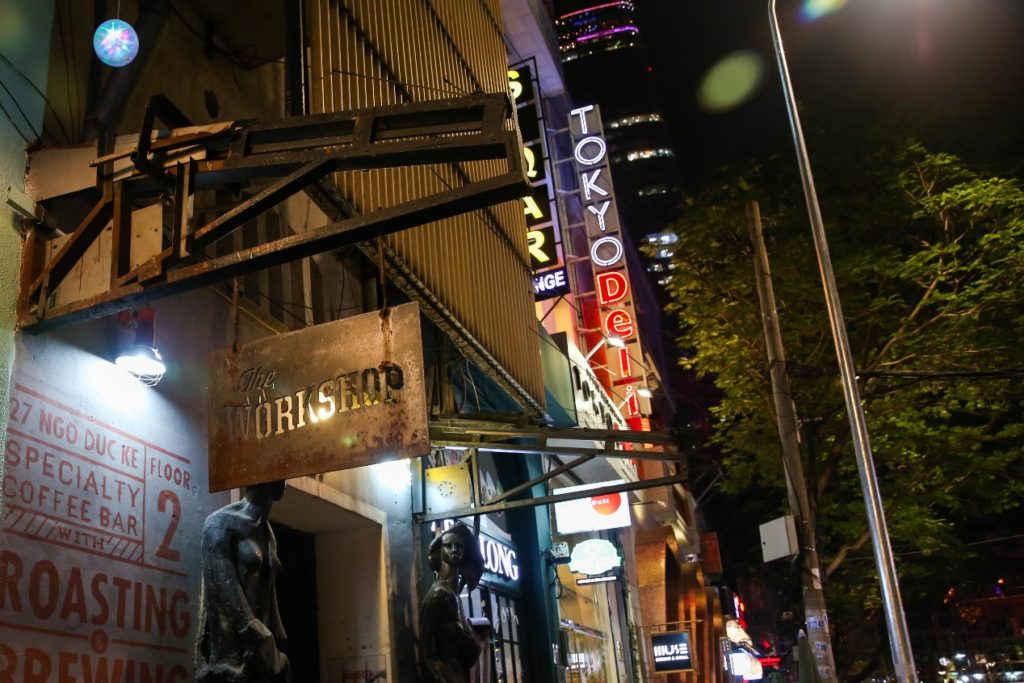 The café looks very elegant as the windows bring so much sunlight which reflects from walls creating this golden-light effect. You won't be disappointed by the menu, so be brave and order anything that look attractive to you, like soda coffee. The sharp contrast that this modern coffee shop gives you by simply being a part of the traditional building, shows you how different Vietnam can be. The Workshop Coffee is the first specialty coffee shop, which is also the alma mater of 2017 Vietnam Barista Championship silver medal winner, TẠ THÙY LINH. Even though it is hard to find, the place is packed during the weekend, people come here to enjoy high-quality coffee and just to hang out and meet friends. Moreover, the shop holds annual meetings of coffee producers, roasters and customers to introduce new crops. Bringing the community together is exactly what the owner, Dung, is aiming for.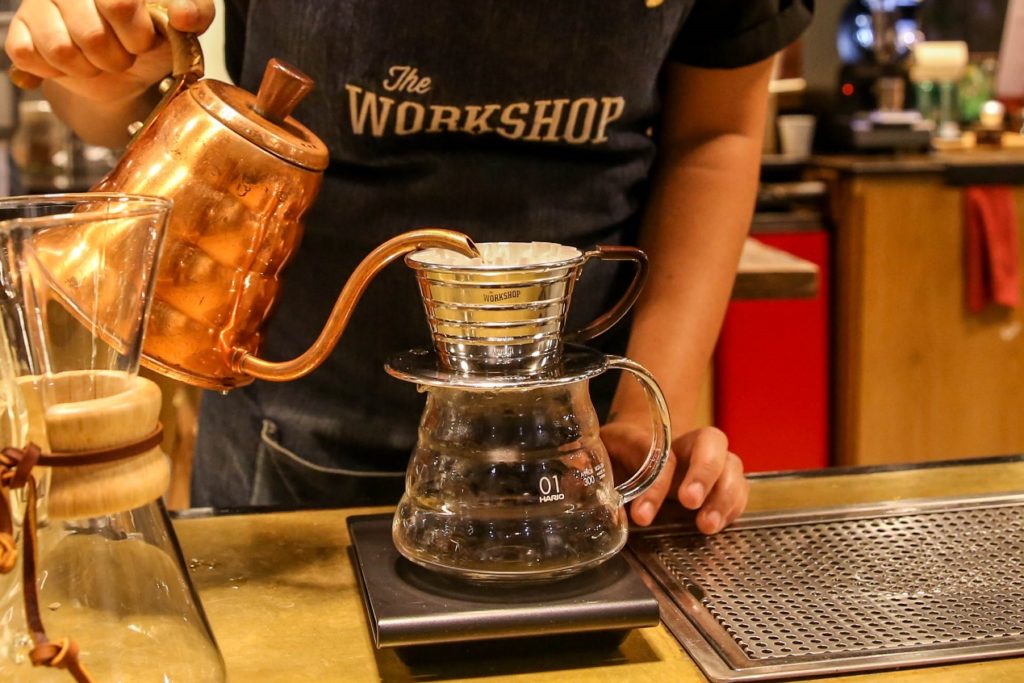 Cong Ca Phe
Serving Coffee from Dusk till Dawn
You might notice that this café is very different, first of all, from its name, Cong Ca Phe. Of course, its pronunciation is similar to coffee in Chinese (which is similar to the rest of the languages as 'coffee' is a loan word). This street is full of people: young, old, couples with kids – everyone enjoys this traditional street with its stools on the sidewalk and coffee in a cup. The traditional Vietnam coffee is made in Phin. The most popular Vietnam coffees are: iced black coffee (Ca Phe Den Da) and condensed milk ice coffee (Ca Phe Sua da), Sua da refers to the condensed milk in Vietnamese.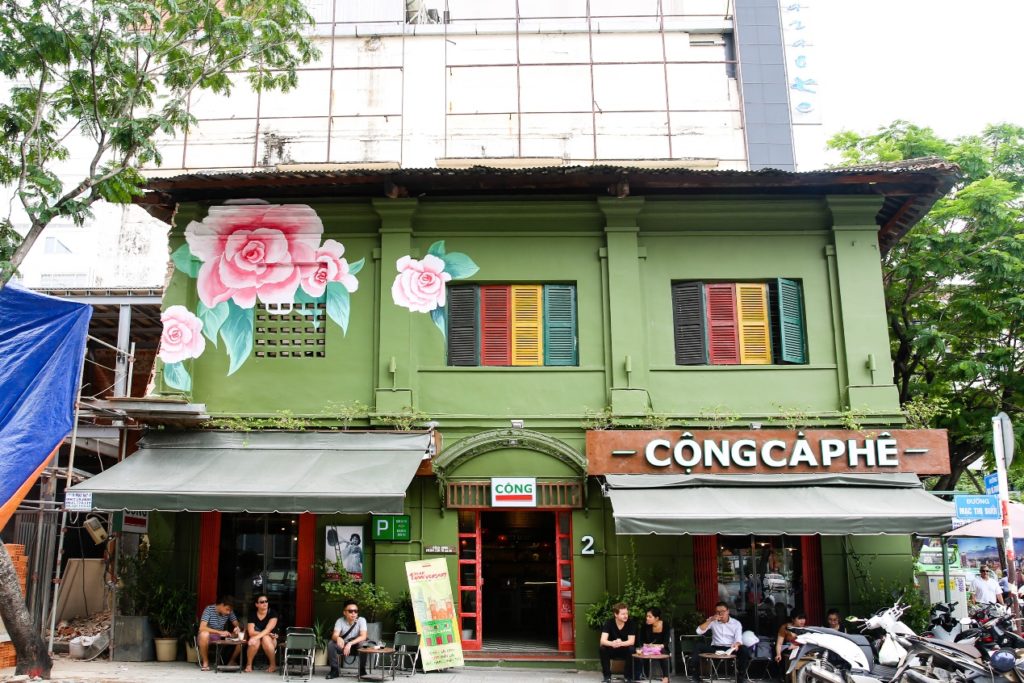 The Cupping Room
Passionate and Unrestrained Creator
This café has also a second name, The Klasik Coffee. Muscular store manage/owner is always at the store, attracting new customers and sharing his passion for coffee. He was born in Vietnam, grew up in Australia, and then came back to open this own café, he seems so active and curious to open new things every day, that is why he invent his own coffee equipment.
Shin Coffee
Fast Growing Café Chain
Shin Coffee is a new high-quality chain of coffee shops, the one we visited has opened its doors 2 years ago and since then it has been attracting customers not only with a big variety of drinks (even a list of decafs) but also with its piece and calming vibes, moreover, the walls of two-floor building are full of murals that describe everything about coffee: from bean to cup.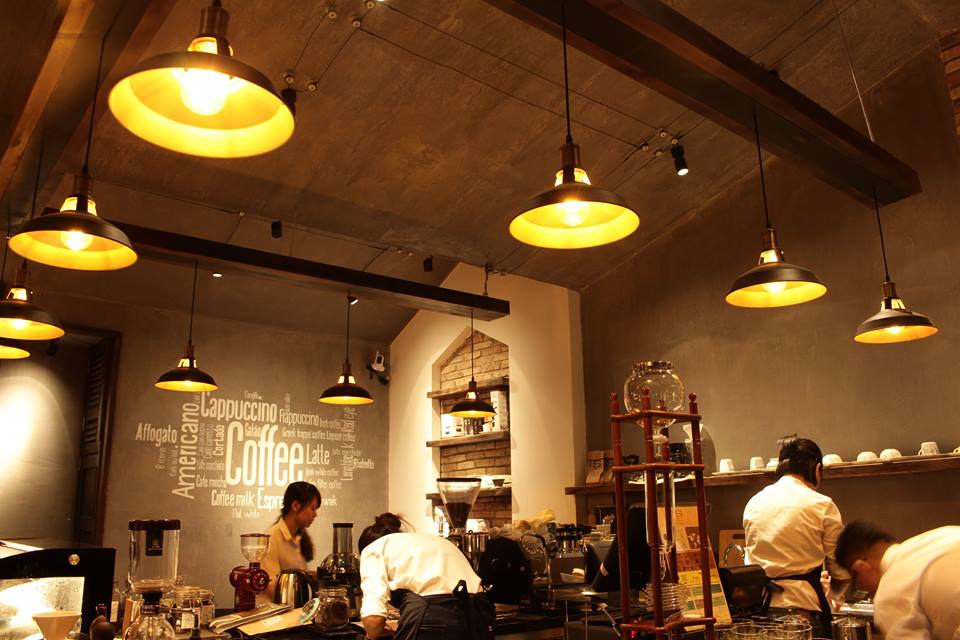 Saigon Coffee Roastery
A Compromise between Specialty and Traditional Coffee
This specialty coffee shop found its home in a corridor of one old building close to theatre. Passing through narrow passages, stepping into the old house of last century, walking through the dark old and seemed-to-be abandoned corridors, you will find this special place. The decoration is pretty minimalistic, in order to keep the space clear and airy.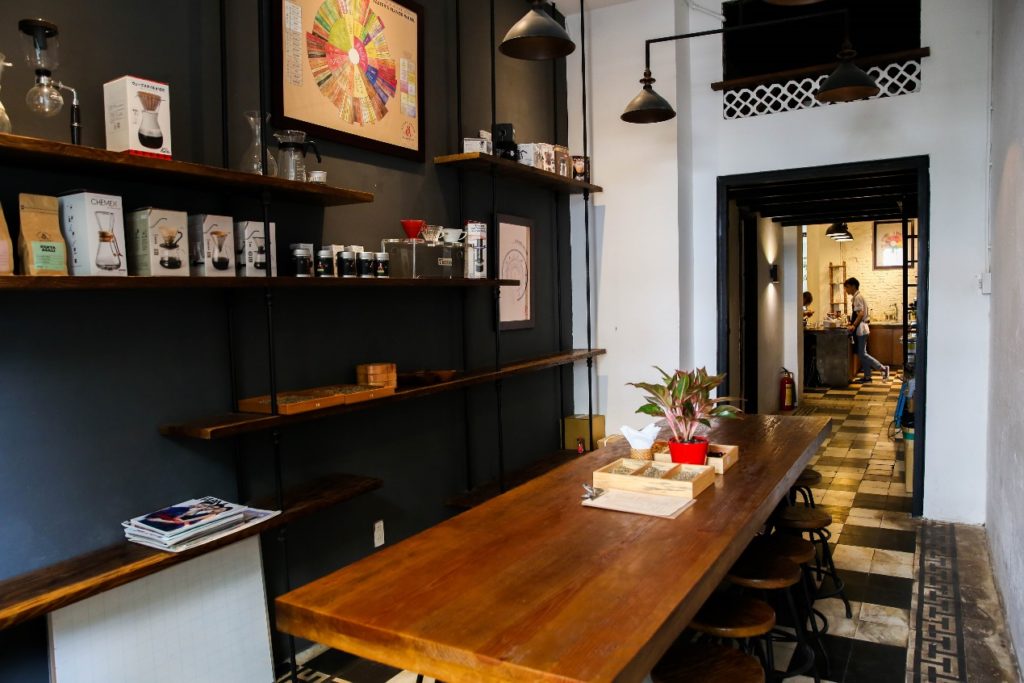 It turned out that the coffee shop is just one year old, Phap Vo, the owner of the newly opened place, worked in illy coffee company 10 years and can bring a lot of experience into business. Phap Vo says that Vietnamese people tend to think that specialty coffee is too light to be called a coffee, but he likes specialty coffee much more. At the same time, he loves to talk about traditional coffee, because it seems to be the essence of Vietnam coffee; so in order to fulfill local customers' needs, he uses a big-sized Phin to prepare the dark roasted coffee for the daytime.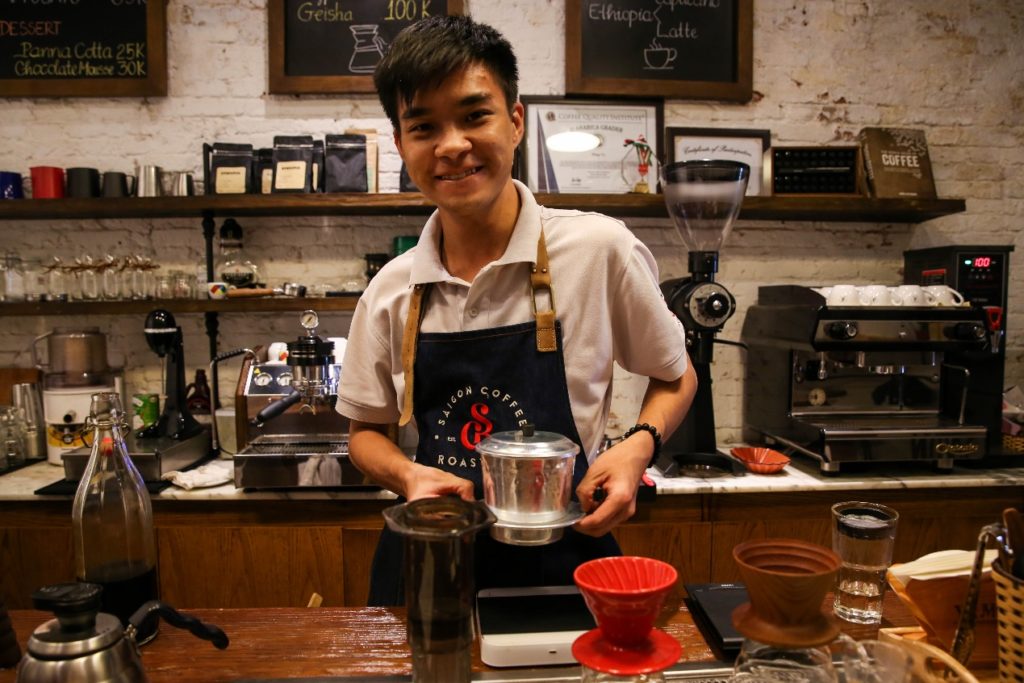 ---