Coffee Awakening is a project where the name says it all. Developed by Dinamica exporting company with the idea to provide a first-hand experience of a full coffee circle for coffee professionals. Benefiting your experience with luxury comfort stay in a glamping nestled in La Labor coffee farm, Guatemala. Starting from agriculture, processing, drying, milling to quality control, and trading- they have you covered! Sounds perkily, right?
Here is why: for every stage of coffee production Dinamica has an expert with education in related field and years and for some of them decades of experience. Driven by passion, innovations, quality and endless love for Guatemalan coffee and its people! The space is perfect for education, because here you are not only getting theoretical knowledge, but all practical parts. Dinamica's facilities are just 7 mins walk from glamping: wet mill, patios, African beds and guardiola, dry mill with fully equipped coffee lab, which is SCA Certified Premier Training Campus in Guatemala.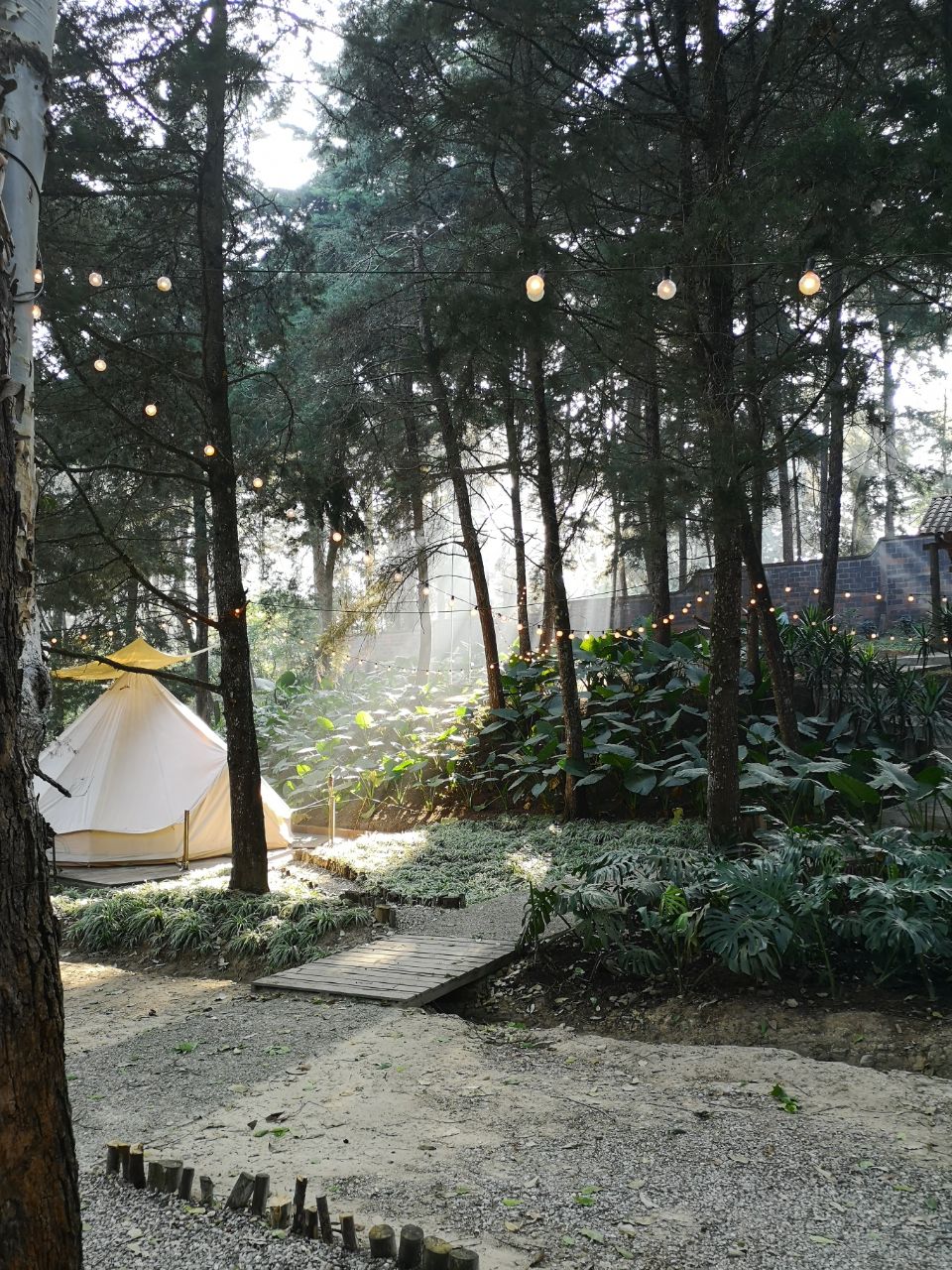 Glamping
But what is glamping? Made from words "Glamour" and "Camping" Glamping is where stunning nature meets modern luxury. It's completely different kind of experience, that kind that encourages cultural immersion, broadening of horizons and a deeper engagement with one's surroundings with enjoying this upscale approach to sleeping under the stars. That gives you a shift in perspective that improves the way to connect with the world.  In this case its cozy tents with comfortable beds, white linen, fresh towels and décor from Guatemalan artisans and designers. After a day on the field, it's a precious gift to have a warm shower, good time around fire pit and quality deep sleep. Sounds like a dream. Mornings here is even more special: sipping freshly brewed coffee, listening to the birds, smiling to the sun and realizing that the whole history of your morning cup happened just in this exact place.
Coffee Awakening is part of Finca La Labor, located in Zona 18 at an altitude of 1,500 masl. It is the last coffee farm in the city and zona 18 is the biggest zone in whole Guatemala. Finca La Labor is owned by Francisco Quezada Montenegro. His family owns the farm for more than 80 years! For "Chespi", as his friends are calling him, the sustainability of his farms is very important. He invests a big amount of his income in rehabilitation and renovation in order to keep the coffee trees and the whole ecosystem of the farms alive. Finca La Labor is one of his heart projects – due to its unique position, he decided to save this last city coffee farm by changing the biggest amount of the production to speciality coffee. Post harvesting facilities: Pinalense Eco-System, Cement fermentation tanks with tile inner layer, 1 drum dryer (Guardiolas) and concrete patios. Their system is based on using as less water as possible. During Harvest, they use around 10 cubic meters of water a day.
When it all changed
Original idea was to create coffee educational center with glamping accommodation. Project started off well in December 2019 hosting Producer Roaster Forum, CQI Course with Sustainable Harvest and roasters from all over the world. And then came March 2020…. we all know what happened. Everything was wrapped up and packed until further notice. Since September Guatemala has opened borders, but not that much coffee professionals are up for travels these days. Although people are interested in educational courses, they still remain suspended… Here is where the project team met their main obstacle: what should they do in such circumstances?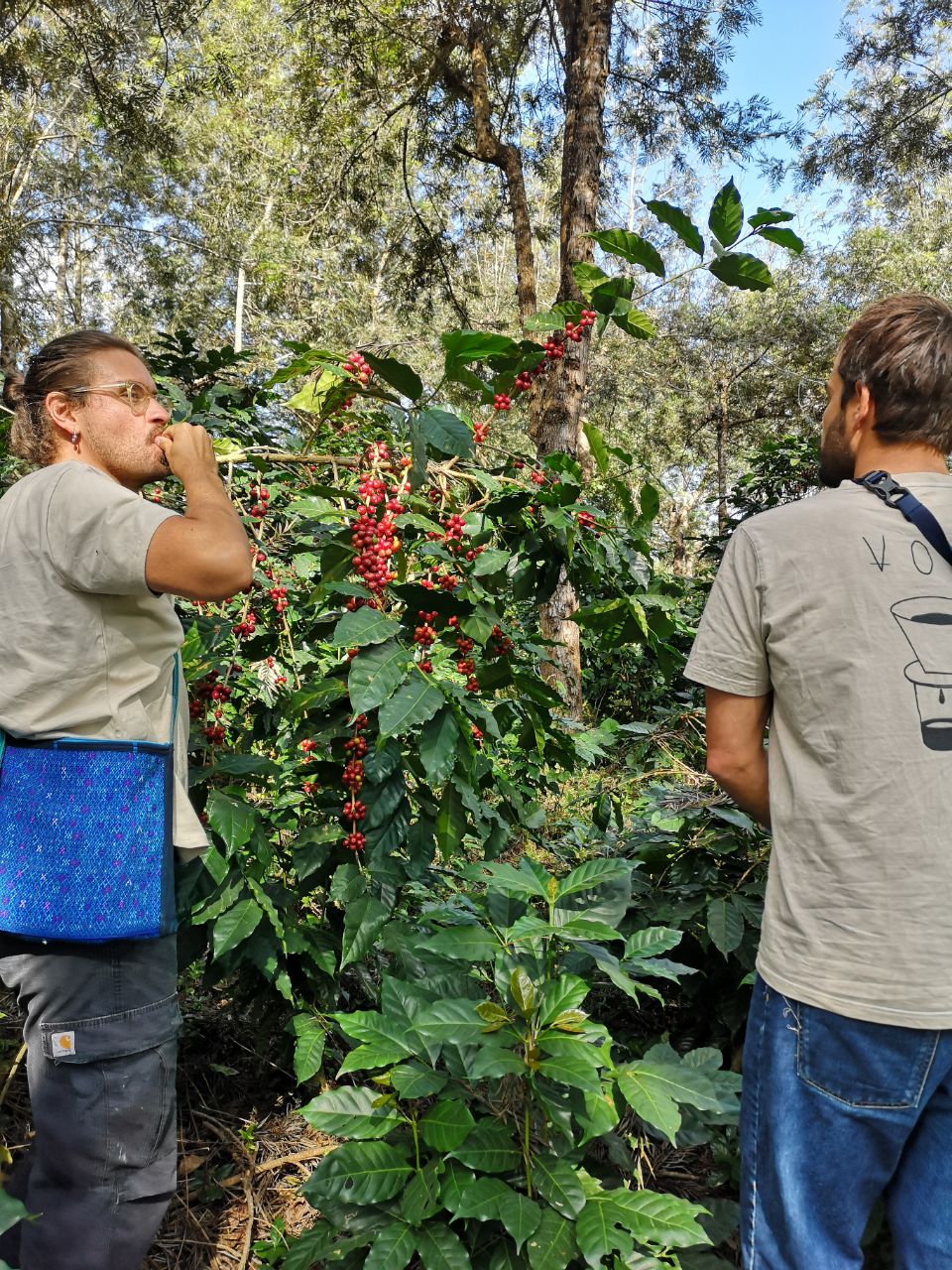 Foreigners and coffee professionals were heart and blood for the project! The team is still eager to share their knowledge and keep the place running, providing work opportunities for local people. So they started to think broader and asked themselves: "Why coffee pros only?"
This place is amazing itself: it's cozy, stylish, tranquil and here you can share our passion with anyone! Here the team came up with the idea to open space for stays, corporate events, yoga retreats, any activities which suits the spirit, but introduction to coffee is a must. They tailored a coffee tour to be interesting to a broader audience, it would be right to say: to different levels of coffee nerdiness.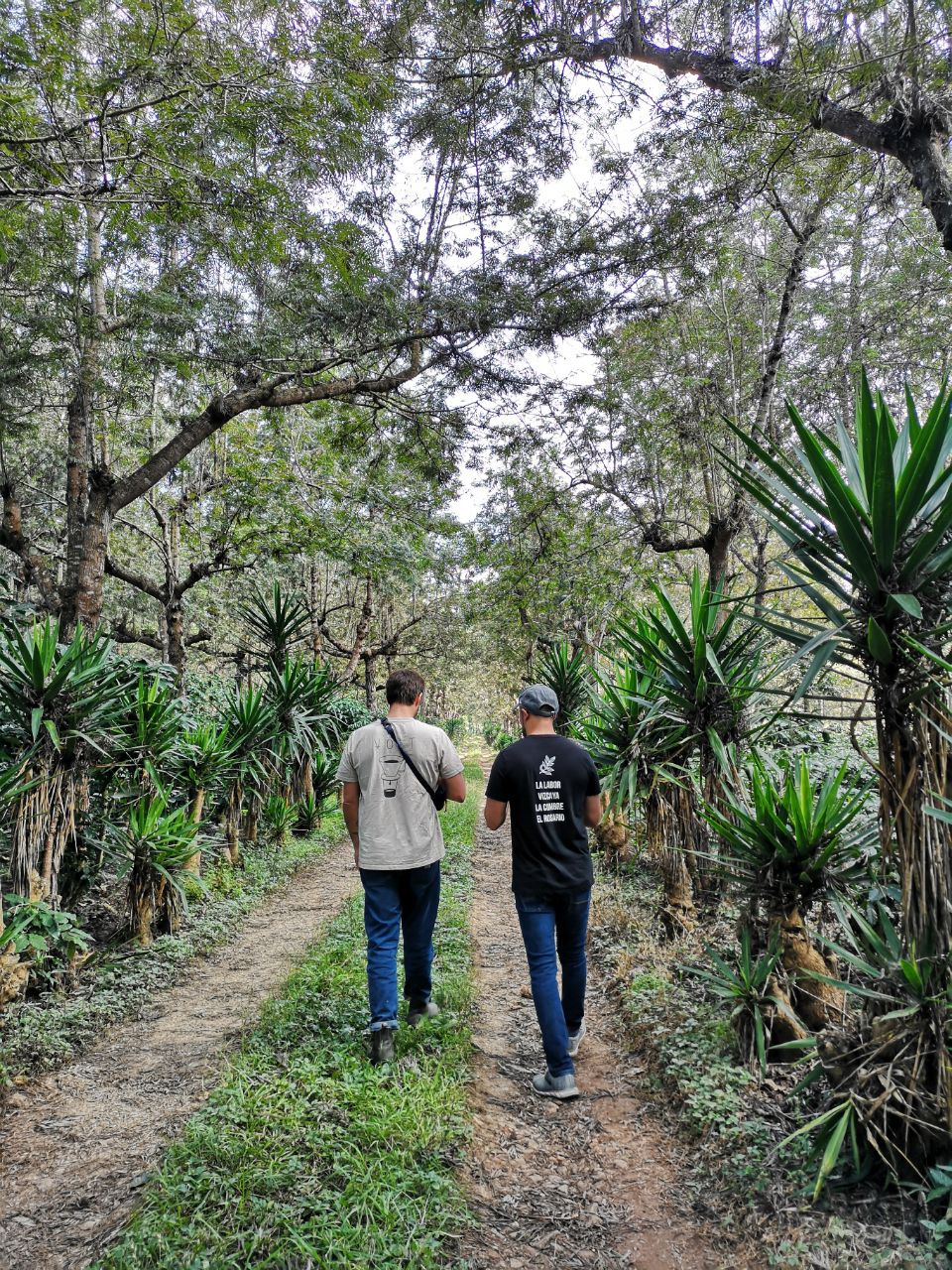 So now there is also a course for complete newbies, because the team believes once you dive into coffee world you will never be the same, now you are one of the big coffee community. It is more like introduction to coffee world, to coffee as a product that makes huge impact on life of the millions. They will not bother newbies with meticulous details of agriculture, processing, quality control and trading, but still you will get the whole experience of farm, mills and cupping. The main purpose is to give different perspectives for coffee not as drink, but mainly as product and the gap it creates between different parts of the chain, raise your consciousness as consumer and show how easy it is to make an impact. To be not just coffee lover, but the one who makes life of others better. To do this and more Dinamica team creating Brewtherhood project.
Brewtherhood
Idea of Brewtherhood was born out of the need to create a sustainable model that allows to further the dream of reuniting families around coffee. In addition, w the love for our beautiful Guatemala and its people plays a big role here. As members of this community, the team have witnessed the vulnerabilities and great needs that the producer families have daily, and they decided to take a step forward to impact the lives of those who make their morning coffee possible.The goal is to reduce the gap between the producer and the different actors that participate in the supply chain, reaching the final consumer, raising awareness of the reality that coffee farmers live in and thus awaken the generosity that will allow to bring hope to these families.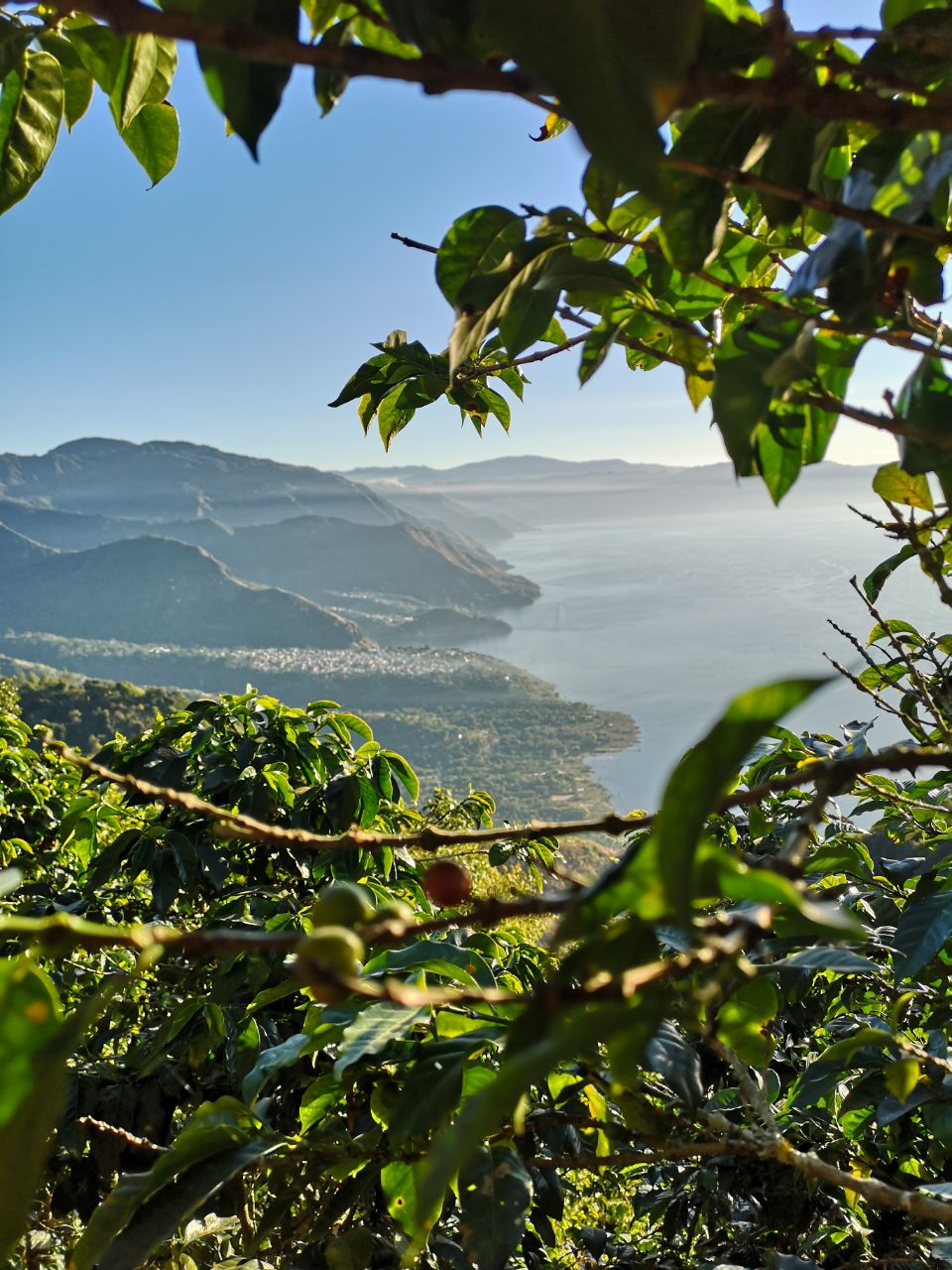 Goals & action
Based on UN's Sustainable Development Goals, the team has decided to focus our/their efforts on 3 pillars:
GOAL # 1 HEALTH AND WELL-BEING: Guarantee a healthy life and promote well-being for all at all ages.According to Anacafé, around 125,000 families depend on coffee in Guatemala, and the vulnerability of the producers and their families is highly alarming. As they are characterized by living in extreme poverty with lack of good health, being this essential for sustainable development. This objective takes into account the widening of economic and social inequalities, rapid urbanization, threats to the climate and the environment, the fight against infectious diseases, and new health problems, such as non-communicable diseases (UNDP).
Initiatives to be supported: 
Reduction in the use of wood stoves. 70% of the Guatemalan population cooks with firewood, the equivalent of 2.4 million families. Of these, 1.1 million resort to buying firewood. Today, cooking with firewood represents many problems: smoke in the kitchen, chronic diseases, excessive spending when buying firewood or time and effort in carrying it, deforestation, etc.
Action: Donation / subsidy of ecological stoves. Through the sale of organic coffee from ASPROGUATE.
Improve the life quality of the elderly in our community (z.18) Casa Hogar San Vicente de Paul.
Action: Donation of meals, through sales of Finca La Labor's coffee.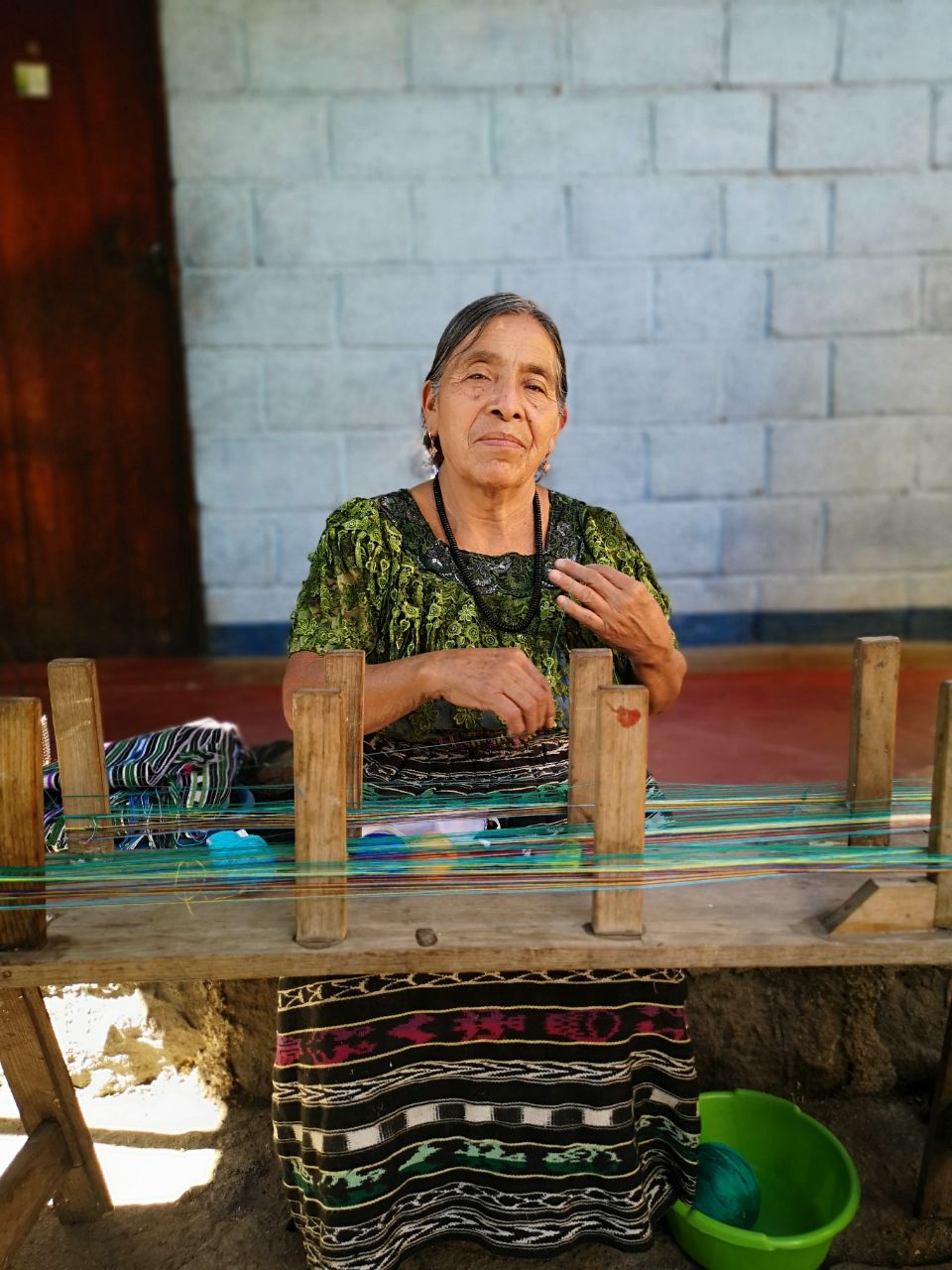 GOAL # 2 GENDER EQUALITY: Achieve gender equality and empower all women and girls.The Rainforest Alliance reported that women coffee producers produce less than their male counterparts, because they have much less access to resources than men.
According to the Food and Agriculture Organization (FAO), if the game were to be leveled, women could increase the yield of their farms by 20-30%. The ICO estimates that closing the gender gap could create an additional 30 billion cups of coffee per year.
The Association Fuerza de Mujer gathers more than 300 women dedicated to coffee production located in the regions of San Martín Jilotepeque, Acatenango and Atitlán. For 7 years, the associates have been meeting in search of development opportunities for their communities. Many of these women, head their homes alone, as a result of the migration of their husbands to the US or Guatemala City in search of job opportunities.
In 2015, Fuerza de Mujer associated with Asproguate, as the Organization offered them the opportunity to train them in coffee production and processes. In the absence of their husbands these women were left in charge of the parcels and required technical support.
The group has shown commitment and dedication in the trainings in order to maintain the FLO and CJ certifications. Fuerza de Mujer currently has plantations certified under the Fair Trade, UTZ, Rainforest Alliance and Organic seals; this thanks to the dedication and hard work of the group for several years to maintain the technical requirements of Asproguate.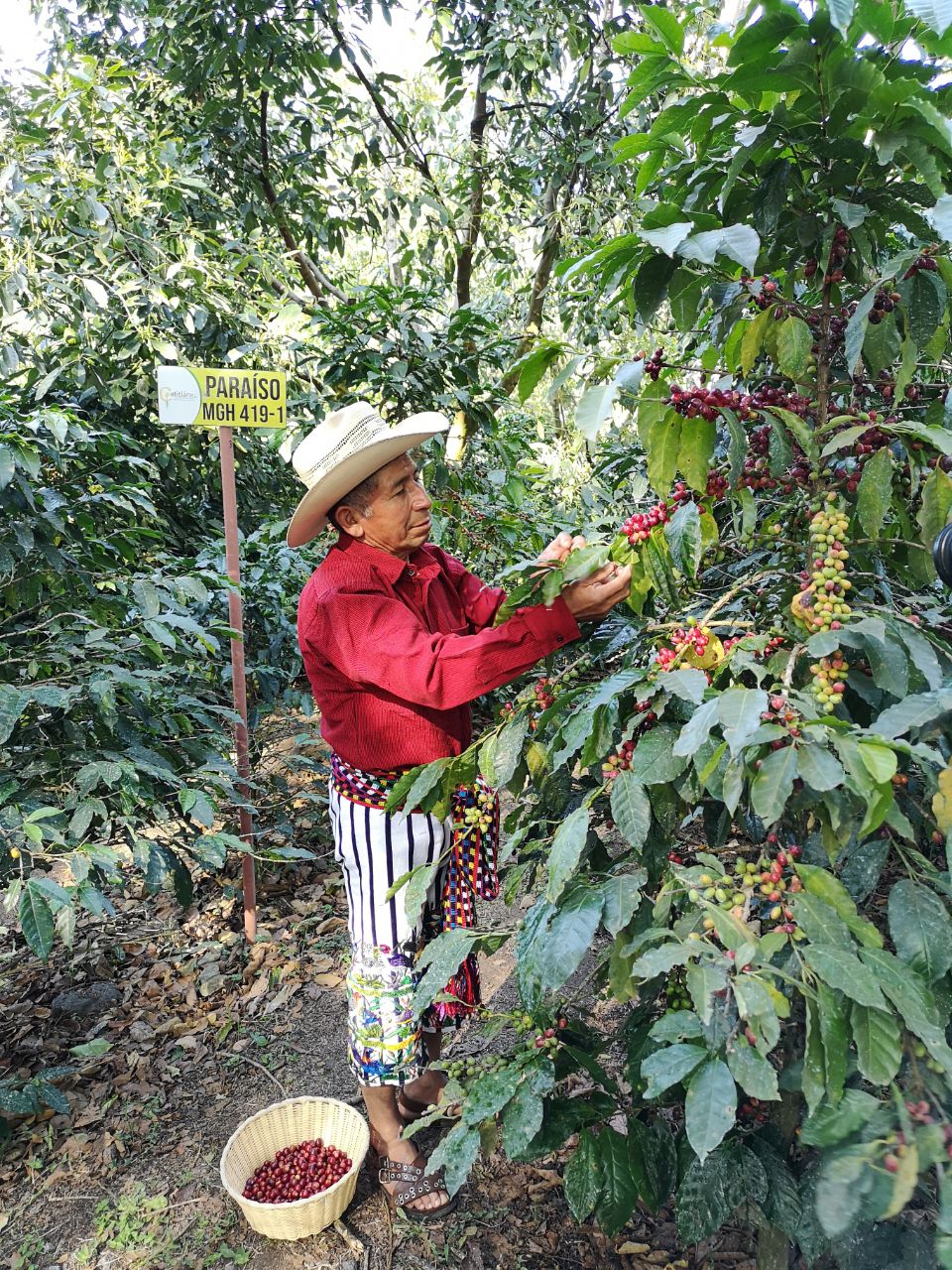 Lots of dedication and passion can be seen in this group of women, as a result of this, in addition to leading the production of coffee on their plots, a group of around 60 women are also weavers. With the aim of generating income for their families and maintaining the coffee plantations, they work beautiful typical fabrics of the region. Coffee and textiles are the basis of their economy, they combine both activities harmoniously to generate the necessary income for their families.
Fuerza de Mujer provides training focused on women's empowerment, basic financial management for field work, health, nutrition, in addition to the field issues involved in being in Asproguate's organic and environmental program.
Actions: Dinamica's team is passionate about the hard work of Fuerza de Mujer and wants support their development through its typical textiles entrepreneurship through donation of weaving equipment and financing of threads for textiles. With future support of educational programs for woman in agricultural, economic and leadership fields.
GOAL # 3 DECENT WORK AND ECONOMIC GROWTH: Promote inclusive and sustainable economic growth, full and productive employment and decent work for all.
According to the FAO, about 20 million poor people in rural areas worldwide depend on coffee production for their livelihood. Although international migration continues to be an attractive option for some, it is worth highlighting the great potential that the coffee economy in Guatemala presents, this being an activity that requires around 70 million wages a year throughout the country.
In light of the 2% increase in annual coffee consumption – 40 to 50 million more bags per year – projected to 2030, there is a window of opportunity to enter the specialty coffee segment both internationally and locally.
In particular, coffee farming provides a source of employment and economic income for 125,000 coffee growers, among whom 80% are small producers, and generates employment for 480,000 people permanently and temporarily. (Source: FAO)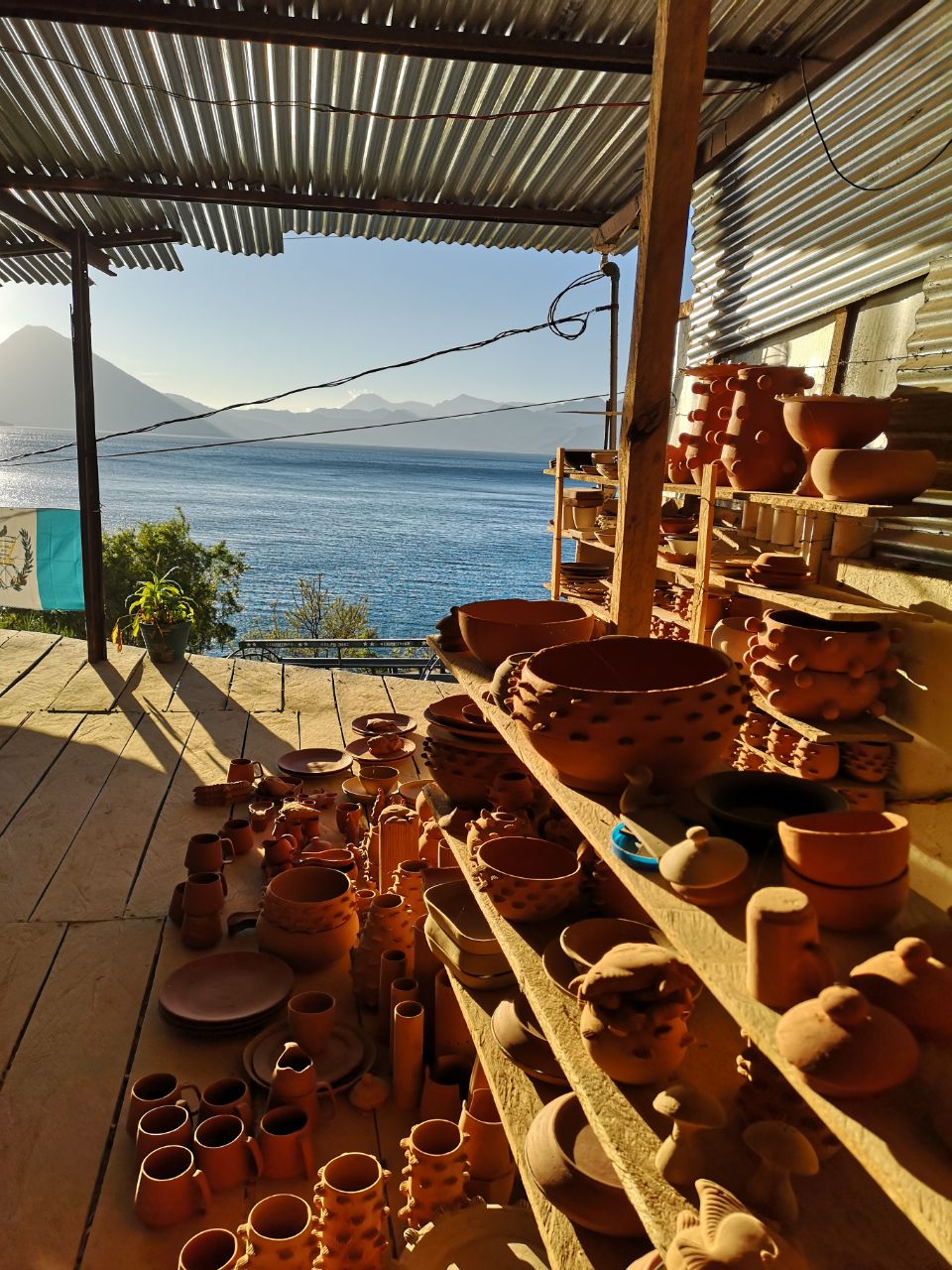 El Patojismo is a pedagogical current that experiments and fuses conventional pedagogical practices with alternative, dynamic and innovative expressions. Since 2006 when the project was founded, experience has been acquired that has allowed the construction of the methodology (in constant change and adaptation) so that eventually, it consolidates as a system and can be a pedagogical current and social movement for the benefit of the Guatemalan childhood and youth.
Actions: Collaborations with Fat Cat Coffeehouse and El Patojismo. Fat Cat Coffeehouse is coffee shop in Antigua with the team of young dedicated professionals and in collaboration with El Patojismo, the team wants to provide coffee education, barista, roasting courses and introduction for entrepreneurial world for local youth, with the help of local professionals now and with a plan to involve our international community as well as volunteer-culture exchange program in future. This will give work opportunities and career perspectives for young people who cannot afford this education, so they can sustain and work in Guatemala with their families, without looking for opportunities abroad. "Uniting families together around coffee" that is moto/core of Dinamica.
Back to the hood
For Brewtherhood Dinamica developing a line of locally-made products for sale in Guatemala and to ship worldwide, 20 % of the profit will be donated to support above mentioned goals within the local NGOs and to step into development of their own programs, like their collaboration with Fat Cat. There is no bad time for a good will and here at origin you can actually see your impact. Everyone in Dinamica's crew feels grateful and empowered to be a part of this creative and supportive team where challenges are received as tasks that are definitely going to be solved.
You may see it as minor changes, but during COVID everything in this project changed a lot. From internal operations to the target audience, price model and revenue streams to make it affordable but sustainable. Before it was mainly group tours for foreigners thoroughly organized by Coffee Awakening: arrival from airport, agenda, activities and even meals, so everything was under control and place operated in a group scale.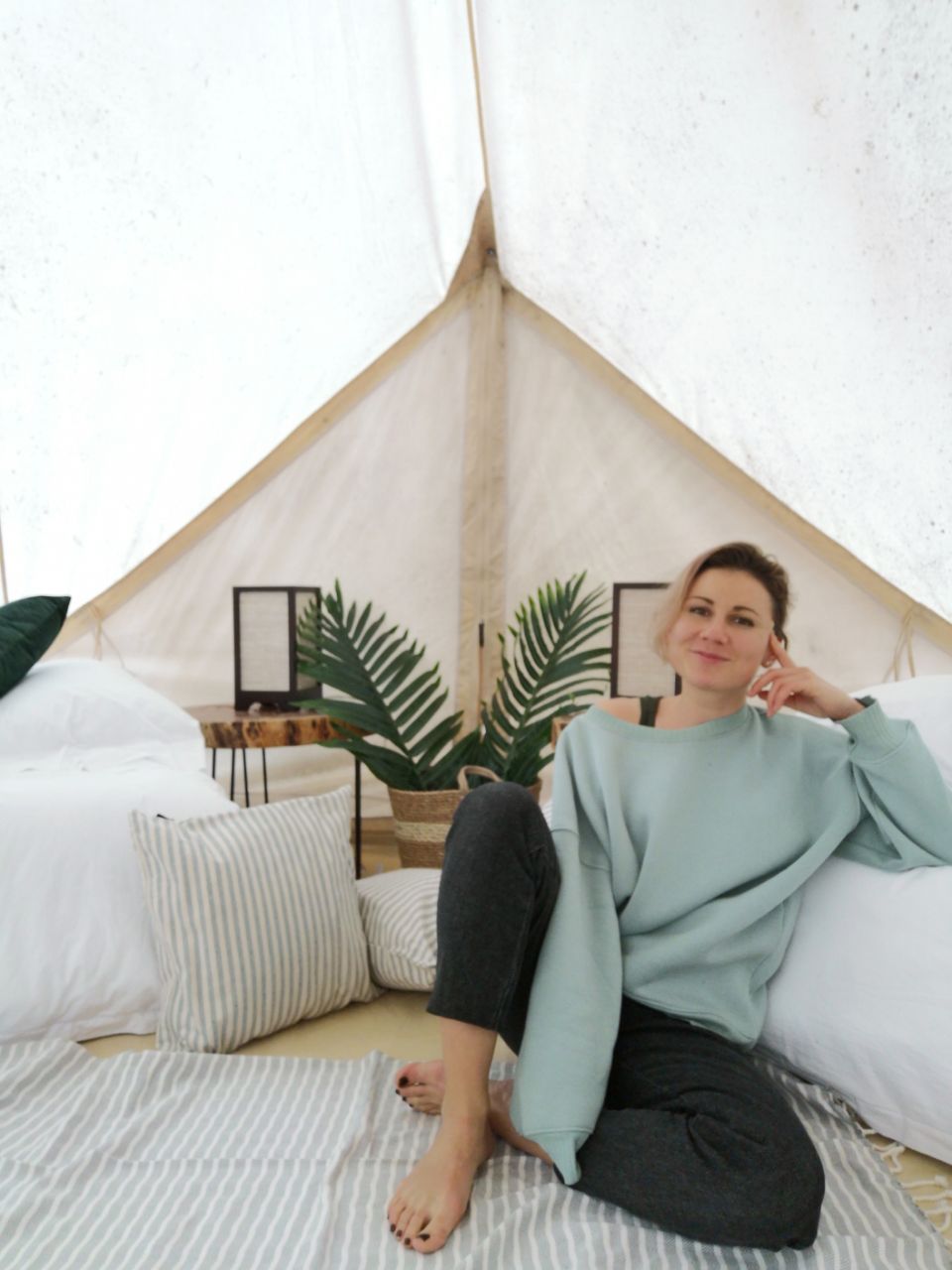 "Now we communicate with every guest separately, thinking wider on activity proposition and collaborate with wellness and entrepreneurial communities to attract more people. Keeping up with all restrictions and safety measures to make your stay not only enjoyable, but safe! And fun fact: as was mentioned before glamping nestled in private territory in Zone 18, which locally considered dysfunctional, so we need to work hard to overlap that gap in perception and stereotype of this part of the city and beautiful place safe from any point of view.
In life the only thing constant is change. It's been a long ride full of uncertainty, lack of clarity and changes, changes, changes. Life is going on and to keep up with it we all are getting more flexible, more creative, more openminded and we care, more than ever before. I believe there is no business that just remained the same during pandemic, but it's important to remember that core of every business is people. Sometimes we are too caught up with our own life, problems and needs and you may feel helpless to other, but there is always something small and easy you can do to make an impact. We are still the same team of dedicated coffee professionals and we are looking forward to meet all of the coffee guys from all over the world! Host you in a boot camp learning, tasting coffee, having fun and delicious traditional food. Share our stories sitting around the fire pit, take you for a trip to an active volcano, show local handcrafts. I am in love with colorful Guatemalan weaving art and ceramic, where every symbol has a history and I bet you are going to bring one to your home!  Until then we are going to take consumer consciousness to the next level, make as much good impact as we can and make our coffee family even bigger.
---