Curry, Wasabi, Ginger and Brown Sugar… Hold on, this page is supposed to talk about ice cream. Well, if I say these are some ice cream flavors developed by Chinese brand ALEXANDER'S, would you be brave enough to try them? ALEXANDER'S Founder Alex Wong is a young yet promising entrepreneur born with an 'ice cream' spoon in his mouth. His parents owned an ice cream factory back in the 1990s. However, he didn't take the path to be an ice cream maker for granted at first. During this interview with CTI, his confidence to challenge the traditional Chinese ice cream industry and bravery to start his business from online may give you an insight into what is happening in the ice cream market in China.
Ready, Set, Go!
Building his own ice cream kingdom, Wong confessed that he was influenced greatly by his parents. "I grew up in the ice cream factory, so I believe in the potential of this industry." However, unlike his parents, he wants his company to not only make a profit but also further help more people as the brand becomes influential.
Back in 2013, Wong was no longer satisfied with his job in the financial services industry in Hong Kong after graduating with his degree from City University of Hong Kong. So, he quit the job and devoted himself to finding a path to achieve his goal, public welfare.
He had no idea what he could do to achieve this goal until he read the autobiography of the famous Chinese entrepreneur Shi Wang, where he found his answer. Wong recalled, "You could only become a successful entrepreneur when you were able to help more people through charity or welfare programs as your influence could have a bigger impact by then." Hence, he started a brand with a mindset of building up a brand image as well as taking on more social responsibilities. In 2014, Wong established ALEXANDER'S with two of his senior high school classmates.
Starting from scratch, Wong and his team chose to be an online ice cream shop, a different way to market and sell his products, rather than the traditional bricks-and-mortar ice cream shop. To him, it is a great way to get in touch with a wider range of consumers. ALEXANDER'S puts emphasis on both online and offline businesses. "Being online or offline is not a multiple choice. To us, we can have the best of both worlds," Wong shared. "In fact, it is a symbol or result of the development of the economy and the progress of technology."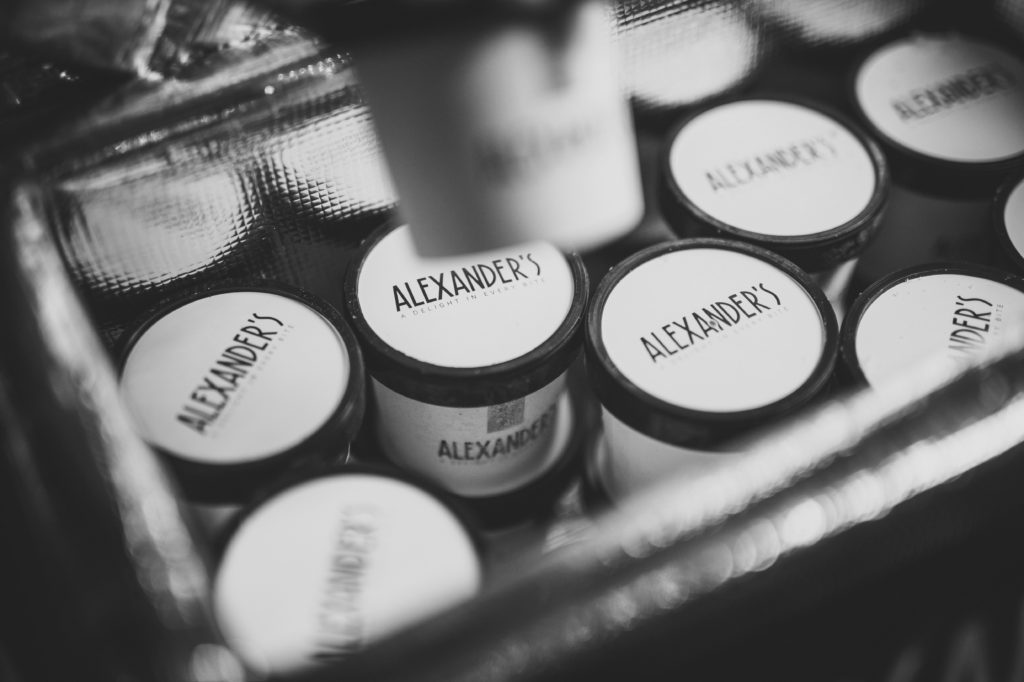 Photo: ALEXANDER'S
As the business grows, Wong's attitude towards public welfare stays the same. "Making profits and helping the community are never contradictory," he told us. "You do not have to be big as a company to take more responsibilities in society. For example, we practice being green by using organic ingredients from responsible food producers."
Meanwhile, the business also shows respect to nature through renovating the delivery packaging. "I don't want my son or grandson to find a foam box we delivered a few decades ago when we go to a beach one day." This concern makes ALEXANDER'S always conscious about how business practices could impact the environment. In Wong's opinion, everything happens for a reason. The development of the Internet and related technologies also facilitates the popularity of online business. "The invisible shelves on the Internet have no limits when it comes to products or services. Meanwhile, the well-developed logistics industry ensures that the consumers can receive their deliveries within a shorter period of time," he said. "Gradually, it seems that there is no need for consumers to show up in the offline stores." But this is not the end of the offline market.
A Magic Mix
It's a big challenge to Wong as Chinese consumers don't take quality into account, but the flavor and whether it is value for money. "It means there is big room to grow but it also takes some time," he confessed.
Free from food essence and artificial coloring, authentic ice cream to Wong is the answer to making the Chinese love ice cream and enjoy it like westerners as daily food. "Compared with the culture in Europe and the United States, ice cream is still not a necessary item to us in China," he said. "So, the best way to promote ice cream is to improve the quality by using the best possible ingredients."
To compromise or not, that is the question for Wong. But he doesn't give up in finding a balance.
For example, when Wong and his team developed a recipe for mango flavor, they wanted to use a local variety from India, Alphonsos, which he came across during a volunteer program. However, after a few public taste tests, he gave up on this idea. As it is also important to take the target consumers' flavor preference into consideration, ALEXANDER'S launched a mango flavor using a more well-known Chinese local variety.
Similar stories happened during the R&D process of vanilla and peppermint flavors too. "Some customers commented that they could taste grass in the vanilla ice cream while others said the mint flavor reminded them of toothpaste,"Wong joked. However, such feedback helped ALEXANDER'S to tailor flavors to its audience in the real market.
By now, the brand has developed over 20 flavors. As innovation continues, there are some challenges that can't be avoided. In the past five years, Wong has implemented many different ways and approaches to get closer to his audience and to introduce and promote the ice cream culture in China.
Setbacks never slow down Wong's steps, but rather drive him and his team to move faster and faster.
An Ice Cream Dilemma  No ice cream in winter?! "Hey, come on!" This may be a reply from a westerner. "But many Chinese regard it as a no-no when people want to enjoy ice cream in winter," Wong shared. The traditional view of ice cream consumption, to some extent, has stopped the industry from growing bigger in China. Remember ALEXANDER'S answer from the beginning of the article? Apart from creating more flavors, Wong is also trying to meet the needs of different groups of people. For example, the Vegan series and the Light Series, which is low in sugar. Innovation means breaking the boundary. The road may be bumpy but it is full of opportunities too. "The biggest challenge is when it doesn't sell," Wong admitted.
Pondering a way out of this dilemma, he realized that they needed to be seen more offline too.
An Offline Road to Success The new strategy actually works well for ALEXANDER'S, which allows more customers to see the brand in a number of events and activities, such as the Color Run, Uber Ice Cream Day or food markets like BLT. In the meantime, Wong also realized a common misunderstanding inside the ice cream industry. "We were too obsessed with the idea that our customers made the purchase because of the brand ALEXANDER'S, but that's not necessarily true," he continued. "As long as they like and enjoy our ice cream, it doesn't really matter where they make the purchase."
This innovative idea has opened up a new 'world' for ALEXANDER'S by working with the right business partner and providing the most suitable product for them. For example, they cooperate with Tai Hing Restaurant, a restaurant brand established in 1989 in Hong Kong, and La Cesar Pizzaria whose specialty is durian pizza. "Once you find the right scenario for your product, you will know right away and the next step is to make your potential business partner believe in you," Wong shared, "The half-year sales revenue of Hong Kong-style milk tea flavor ice cream in Tai Hing is equivalent to what we have done in the past few years."
By taking a different path to market products in a variety of scenarios, ALEXANDER'S steps further down the road, providing ice cream solutions to meet different needs from both business partners and consumers. This helps ALEXANDER'S to attract more business clients as it is now working with over 10 brands ranging from F&B to entertainment industries, totaling more than 1,000 offline stores nationwide. For example, the brand also works with many cinemas in Guangdong Province.
In Wong's view, a brand needs cash to grow bigger and stronger. As ALEXANDER'S is on its way to being a well-known Chinese ice cream brand, it is a wise step to let more people try and love the brand's ice cream first. The revenue from B2B allows Wong and his team to work more on branding, R&D, and direct to customer sales online.
The Importance of Supply Chains With an aim to further improve quality and diversity in their flavors, Wong shared ALEXANDER'S plan for 2020. "A bigger yet sustainable supply chain for our brand," he said. "We will introduce ice creams that can be consumed with only one hand while the other can be free to hold a mobile phone."
With more plans to build ALEXANDER'S as a brand, Wong believes both online and offline businesses are important to branding. "As long as you have enough 'traffic', you will attract more customers' attention," he pointed out. "When offline, you need to pay attention to location. A better location means our ice cream will be seen with a better sales revenue, though it potentially means a higher rent." This also becomes a benchmark when ALEXANDER'S chooses a potential business partner.
As a second generation ice cream maker in China, Wong believes the country needs its own culture for ice cream. He knows well about the hardship and setbacks in the traditional ice cream making industry; he loves challenges and innovations to make a difference. Now, ALEXANDER'S is available across the country. Next time you try an ice cream product from a chain store, such as Nayuki, it might be ALEXANDER'S!
About ALEXANDER'S
Established in 2014, ALEXANDER'S is a Chinese ice cream brand that is dedicated to providing good quality ice cream with best possible ingredients for its customers and business clients online and offline. ALEXANDER'S has attracted more business clients as it is now working with over 10 brands ranging from F&B to entertainment industries, totaling more than 1,000 offline stores nationwide.
---