Young Pu is a very young coffee brand from Shanghai. They might be newbies in coffee market for now, but they do not lack vision and strategy for the future.
The brand was named after its creator, who has been always fond of coffee: since university years he has been working with this black liquid and it was a love from a first sight. After graduating from Visual Communication Department of Chinese Academy of Fine Arts, Young Pu met his friend Zhong Shun and the two started working together in Ming Qian Coffee in Shanghai. Experience he gained in Ming Qian Coffee gave him a lot so he was ready to start his own business: Young Pu Coffee. This coffee company wanted to be different from the beginning: they are here to make people understand that coffee can be a very convenient drink, that is why they introduced Cold Brew to the Chinese market. Cold Brew by Young Pu Coffee is a ready-to-drink coffee that is packed individually, one pack has 7 servings inside. You can mix these servings together, with water, milk, ice, alcohol – lots of space for imagination. Moreover, ceiled pack will be ready to drink up to a month. Now Cold Brew by Young Pu Coffee is one of the most promising products on the market.
Becoming Famous
Originally, Young Pu just wanted to do convenient ready-to-drink coffee, but as it turned out, you can never hide away your designer skills, so in these 3 years Young Pu has done more than 200 collaborations with different brands, including magazines, television companies and so on.
Collaborations are one of the biggest strategic point for this young brand. As Young Pu selects and roasts coffee with, locally famous, Ming Qian Coffee, they decided to collaborate with other famous brands and help them make coffee and packaging design, earning bigger client base, so everyone is in win-win situation. The most famous collaborations for now are in movies like "Wu Kong", "Detective Chinatown" and "Jian Bing Man" with Jean-Claude Van Damme, in all of the movies you can see Young Pu Coffee's logo, which brings more attention to the coffee company. They usually choose companies to work with by only one factor: if the company is fun so they can do something interesting and cross-boarder together.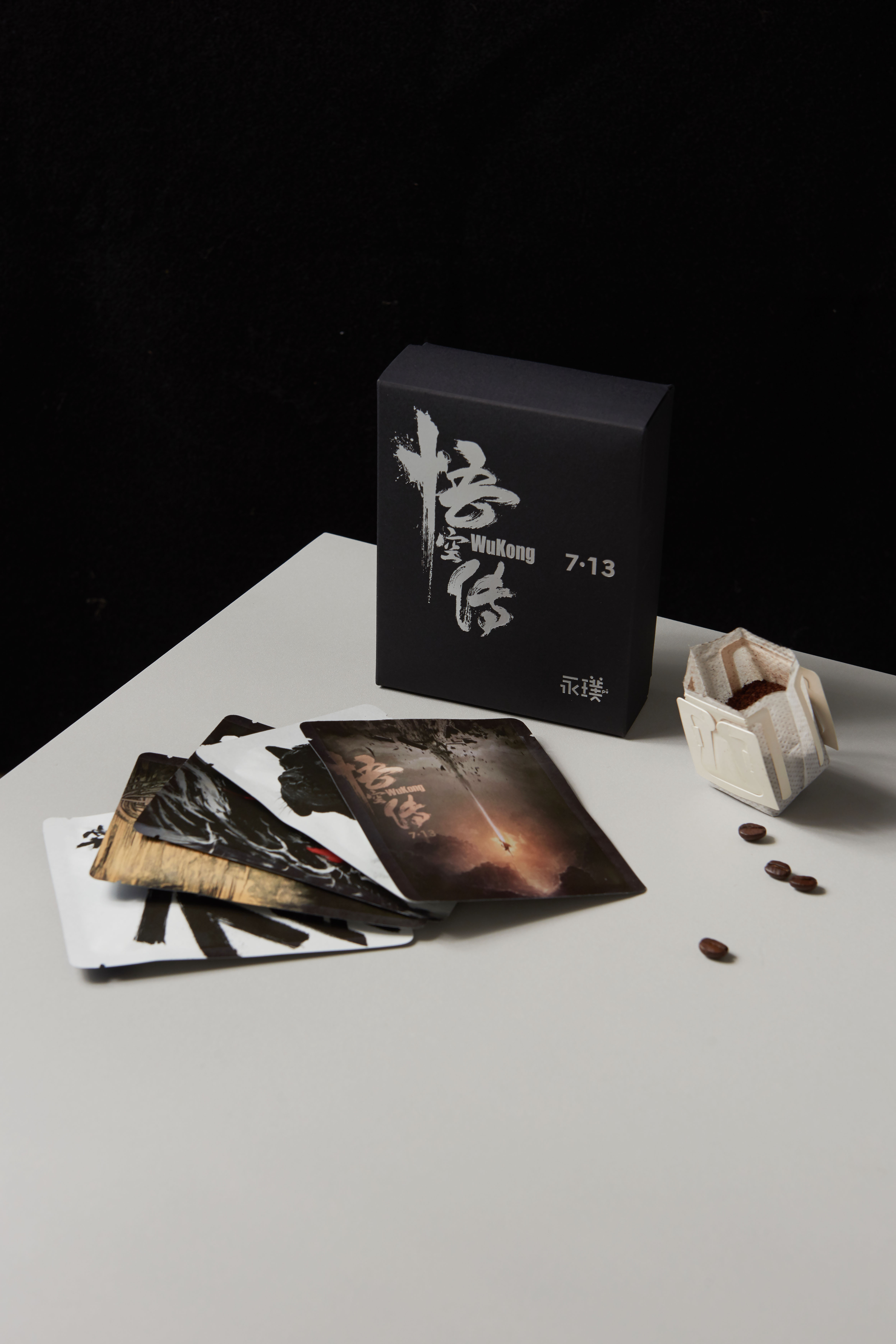 Business Strategy
As they let people know them more and more, Young Pu's goals are not just to earn as much as possible, the team main goal is to make more people in China fall in love with coffee. As Young Pu says himself, there is no big competition in Chinese market now, that is why all the brands should work to make people understand coffee. For now the brand has online shop, where anyone can order drip bags and cold brew, moreover, they plan to start to sell products offline in collaboration with Family Mart to communicate with their customers more and let them touch and see the design before buying. The brand will start with first tier cities as their target audience is mainly white-collar post-graduate females, in their 20s and 30s, as they have a stable income and can afford more than other age groups. That is one more reason why design is crucial for branding: young generation of customer shop with their eyes.
Goal
As Young Pu is one of the first brands in China who does convenient coffee to-go: no coffee beans, no coffee powder or even coffee machine needed to enjoy the drink, they want to reflect it in their own design. The company care about the original intellectual property rights and hire as much designers as needed to make the best design they can have to make it memorable to the customers. For example, this year the team spent 200 000 RMB (approx. 30 381 USD), as there is a demand for good design, Young Pu Coffee is seizing the day. For this brand doing brand's image has a higher value than profit. From the sales point of view, growth is still very fast, increasing at a rate of 4 times a year. Nevertheless, the goal is not to "grow 4 times", but "what to do next year?", "will the market will give good feedback?". At this stage it is crucial for Young Pu coffee team to work on the brand, brand value promotion, familiarity and quality assurance. Profits will follow. Young Pu believes that consumers who buy their products will be happy to recommend it to others. And is not it the best way to succeed nowadays, by the word of mouth? A satisfied customer is the best business strategy of all.
---