In recent years, the coffee industry has seen a significant shift in its landscape. From farmers and suppliers to roasters and retailers, many stakeholders have re-innovated their production processes as well as embraced digitalisation which has transformed how we enjoy our morning cup. Recently, there have been unprecedented advancements across the entire coffee chain from bean to cup, which is why I wanted to start this year's first issue by talking about reinvention.
The definition of reinvention is "making significant changes to something in order to improve or update it". The coffee chain has seen many of these changes that have had a huge impact on the entire process. By shining a light on these changes, we not only gain a better understanding of the new approaches being adopted by stakeholders throughout the chain but also inspire others to consider the possibilities of reinvention.
I have reached out to some of the key stakeholders in the industry to find out more about the changes they are making and discuss how digitalisation, technological innovation and sustainability initiatives have played a role in reinventing the coffee chain. But before we dive into all the changes, it's important to understand who the stakeholders are in this process.
A Closer Look at the Coffee Journey
The journey begins with farmers who cultivate the raw beans that go into each cup. For generations, they used traditional growing techniques, but in recent years, new technologies have been adopted to increase efficiency and sustainability. Farmers are using digital sensors to monitor climate change, for example, which helps them adjust their farming practices accordingly. They are also investing in new agricultural tools to facilitate precision planting and tracking of soil conditions.
The next step involves shipping and logistics from the farm or cooperative to a supplier or roaster. This stage has seen significant advancements too with companies investing in cloud-based platforms that enable real time tracking of shipments. This is an important step as it provides visibility over the entire chain and allows companies to ensure quality control throughout the process.
After the beans arrive at a supplier's facility, they are then sent off for roasting. Roasters were once limited to manual processes and batch roasting, but today they use automation and digitalisation to produce high-quality, consistent coffee. Roasters are also shifting their focus to specialty beans and creating unique flavor profiles that reflect the terroir of the region in which they were grown. Additionally, they are leveraging data to monitor and adjust the roasting process in real time and track production.
Once the beans are roasted, they move on to wholesale and retail outlets. At the wholesale level, companies are investing in automated inventory systems to streamline the ordering, stocking, and distribution process. What's more, many coffee equipment manufacturers are creating next-generation machines that are connected to the internet, enabling real time control over temperature and other settings.
We're seeing an increased focus on the customer experience here with many companies using artificial intelligence and automation to personalize their offer. Companies are also investing in e-commerce platforms, allowing customers to purchase coffee with the click of a button. From online reservations and ordering systems to loyalty programs that reward people for their purchases, retailers have a wide range of solutions on offer that make it easier than ever before to enjoy a cup of coffee at home or in their local café.
At the heart of many of these initiatives lies an increased need for education across the entire chain. Companies and individuals alike are seeing benefits in coming together and sharing industry expertise, which is leading to an increase in events, research workshops, and courses that help to further knowledge and understanding of the entire coffee industry
Impact at Origin
In terms of origin, reinvention takes forms like digital transformation and research to secure the future of coffee farming. In a past issue of Coffee t&i, I had a chat with Digital Coffee Future about the role of digital tools in offering transparency throughout the coffee supply chain. Digital Coffee Future is a virtual platform that promotes digitalisation within the coffee industry. The team aims to bring members of different segments of the coffee industry together to share ideas on how digital advances can benefit them as a collective.
The platform provides an open space where people from all parts of the sector can join together and collaboratively discuss how technological and non-technological approaches can be utilized to improve the entire market. This initiative strives towards creating an inclusive, pre-competitive network which involves farmer organizations, traders, roasters, NGOs, public institutions, tech providers, academics, baristas and private experts in the field. To reach this goal they organize community events and educational activities that guarantee everyone's voice and experience are taken into account.
More recently, from September to October 2022, the Digital Coffee Future (DCF) team, in collaboration with the Neumann Foundation and The Deutsche Gesellschaft für Internationale Zusammenarbeit (GIZ), held a six-week virtual digitalization training program for 20 coffee cooperatives from Central America. This pilot project, named The Digital Origin Education Program (DOEP), allowed participants to network with other professionals in the field of digitalization, gain knowledge from one another, and build an online community.
The online course offered by DCF teaches its participants how to use digital tools and data in order to strengthen the business operations of their cooperatives. Through lectures and exercises, the program helps coffee producing- country actors gain the skills they need to successfully implement digital projects. The pilot program focused on equipping Guatemalan and Honduran cooperatives with the knowledge necessary for independent digital project development. It included comprehensive lessons covering digitalization and its potential for the sector.
Additionally, DOEP offered guidance on assessing digital maturity levels as well as creating a plan for digital transformation. In the words of Marisol Velásquez of the coffee cooperative Cocrebistol in Honduras: "I believe that each coffee company will be strengthened in the different processes it carries out. We have received a very interesting and innovative training process. We have learned a lot about digitalization and digitization, which if we apply it will allow us to have the necessary information on time and also reduce working hours. Personally, it has helped me to learn many new and handy tools. This training has become a strength for my company."
This year also marked the second edition of the Future of Coffee Logistics Summit. Last November, Digital Coffee Future brought together professionals in the coffee, logistics and academic world to discuss topics around the current state of specialty coffee industry and its trade, how to reduce carbon emissions, improving warehouse efficiencies through data, risk management strategies and increasing volumes. The Digital Coffee Future team is filling a gap in the virtual coffee world, and thanks to their work we are able to build more resilient communities and a brighter future for the coffee sector.
In addition to these initiatives, other key coffee stakeholders like World Coffee Research and the International Coffee Organization are also playing their part in terms of training, research and development as well as technology sharing. In November 2022, World Coffee Research (WCR) launched Innovea, an international coffee breeding initiative. Funded by over 200 companies belonging to WCR's membership pool, this network seeks to accelerate the pace of genetic improvement around the world.
Innovea provides countries with access to improved breeding populations using modern genomic selection techniques without any restrictions. It is expected that countries could release new varieties as early as 2033 depending on the performance of these materials. The network also affords participating nations with open access to new genetic materials, training in modern breeding approaches and shared tools – all of which are designed to help tackle climate change issues in a competitive manner.
The International Coffee Organization (ICO) on the other hand, has recently released its 2021 Coffee Development Report (CDR), calling on public and private stakeholders to support young people's participation in the coffee production sector. The report paints a worrying picture of an aging workforce in coffee-producing countries, with rising global demand for coffee creating further pressure on both quantity and quality of supplies. To tackle this issue, the CDR proposes various strategies for engaging youth in coffee producing countries, highlighting existing obstacles such as price instability, low prices and limited access to resources such as land and capital.
A Holistic Approach
And while some actors focus on singular aspects of the coffee industry, Cropster is pushing for a holistic approach to improve quality and sustainability throughout the value chain. Founded in 2007, Cropster is the specialty coffee industry's leading software provider. Originally established to work with local farmers at origin, Cropster has since evolved and now provides solutions for roast profiling, inventory & green coffee management, production planning, quality control and online green coffee buying and selling.
With partners across 70 countries around the world, Cropster has made a mark in the specialty coffee industry, providing technology-centric solutions to help roasters, cuppers, traders, cafe managers and coffee producers get the most out of their specialty coffees. With a mission to make the coffee industry more sustainable, Cropster created products such as Cropster Roast for roasters; Cropster Cafe for retailers and baristas; and Cropster Origin for producers.
Andreas Idl, Cropster's CEO and Co-Founder, points out that Cropster provides tools that enable these professionals to learn and control the process while making their business processes more efficient. For instance, Cropster's tools allow roastery managers to automate production planning which saves them hours each week; resulting in satisfied customers, reduced waste (from erroneously produced coffee) and improved profitability for the coffee company.
"From the beginning, Cropster came out of the vision to make the coffee industry better and more sustainable. We have seen an inefficient and scattered industry, with many small companies doing a great job, but lacking the tools to be consistent and to control coffee to efficiently achieve high quality. We wanted to create tools that help coffee businesses make better coffee, be more consistent, and effectively achieve consistency," he says.
At the same time, the company actively participates in the Sustainable Coffee Buyers Guide, aiming to develop a tool that can provide coffee buyers with specific and sustainable farm gate prices. The ultimate goal of the Guide is to help buyers identify green coffee prices that allow farmers to earn a decent income, promote their prosperity and raise them above the baseline. Through this, buyers can make more informed decisions that are not only good for their business but also beneficial to the farmers.
As for their future plans, Cropster is developing a connectable industry platform that will support all three of their software solutions. Andreas explains, "We will combine our products for producers, roasters and coffee shops into a connectable industry platform. This does not mean that all the information is public, but rather information can be explicitly and easily shared. It means that a cooperative in Colombia might control its quality in Cropster, and share some coffee information with their roaster client in Korea, who uses a different part of the software to roast the coffee and manage their inventory and quality. Currently we are launching our generic Cafe solution to connect retail coffee equipment. So far, we have connected to La Marzocco machines, but we have developed a generic connector for nearly any type of espresso machine. Secondly we are connecting the roaster and the producer later in the year. With this step our three softwares Cropster Origin, Cropster Roast and Cropster Cafe will be connectable providing new benefits in efficiency and quality control."
Indeed, Cropster Cafe now allows automatic capturing of data from La Marzocco's IoT ready (internet connectable) espresso machines. Through a built-in or retrofit gateway, the connected Cropster Cafe accounts capture this data in real-time across multiple machines and locations. When associated with recipes, Cropster Cafe aggregates all captured data to generate reports on machine usage and brew consistency by machine, location, and brew parameters. This makes it easy for cafe managers, trainers and bar staff to take action based on the insights obtained without any manual intervention. A true innovator and disruptor in the specialty coffee industry, Cropster is making a measurable impact on the way coffee is managed and produced. We can expect to see continued growth and development of their platform in the years to come.
Competence for Everyone
When you think of the people involved in the coffee industry, baristas, roasters and farmers typically come to mind. However, there is another group critical for producing the best cup of coffee – technicians. Coffee technicians are responsible for managing customers and their requests, plus having in-depth knowledge of mechanical and electronic equipment, raw materials, and the ever- changing sector. Gruppo Cimbali, Italy's leading espresso machine manufacturer, has created a tool to help coffee technicians ensure the best result – the Coffee Technicians Wheel.
With over a century of experience, Gruppo Cimbali has established itself as one of the world's leading manufacturers of professional espresso coffee machines. Over the past 70 years, their export operations have allowed them to bring espresso coffee to people all around the globe. The company is made up of iconic brands like La Cimbali, Faema, Casadio and Hemerson, ensuring that they have all the expertise needed to create comprehensive solutions for the hospitality industry. Their products are renowned for their reliability, performance, ergonomics and design as well as consistently delivering delicious cups of coffee every time. This combination makes them an ideal choice for anyone looking for superior quality in their espresso machines.
Recognising technicians' need to master their trade Recognising technicians' need to master their trade and bring the coffee supply chain closer together, Gruppo Cimbali created the Coffee Technician Wheel. This tool offers an easy-to-understand overview of all variables related to coffee extraction – from flavor development to dose/time/brew ratio – allowing technicians to quickly access and analyze information. The wheel is divided into two main sections: Technical parameters that can be changed, such as water, espresso machines, and grinders; and Organic Properties of coffee that cannot be altered but can be managed to produce optimal results in the cup.
Additionally, it is color-coded into four segments that cover each aspect affecting extraction. Each segment contains a pictogram symbolizing the various stages of the process for easy visual reference. By adjusting temperature and pressure settings on a light-roasted natural coffee machine, using suitable water, and grinding appropriately, coffee professionals can create an exquisite cup. Edgardo Ferrero, Group Services Director at Gruppo Cimbali explains that the goal was to create a tool that would help coffee technicians to ensure the best result in the cup.
"We were inspired by the coffee sensory wheel and condensed its concept into a more specific tool for the equipment used to process and extract coffee. This tool brings awareness, clearly demonstrating how many variables can affect extraction and which ones they are. It can be used like a compass, simplifying the search and correction of variables or providing correct orientation in order to obtain the desired result."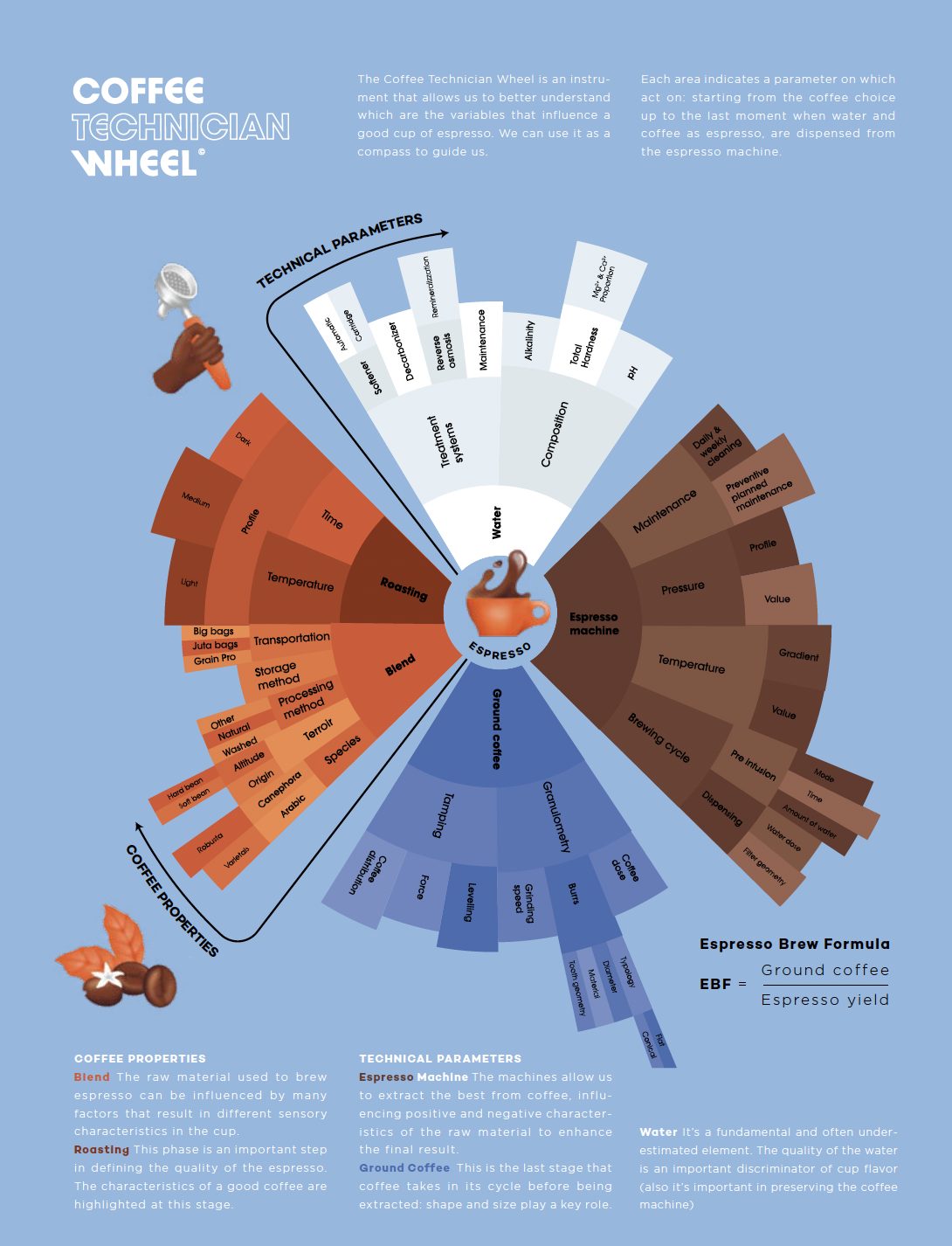 The Wheel will eventually evolve into a digital tool with its own proprietary platform. This platform will provide users with detailed information on how to operate and calibrate super automatic machines, as well as how to handle other beverage options such as milk, plant-based drinks, hot chocolate, and tea. At the CoffeeTechnicians Guild Summit in Italy last November, Edgardo introduced the Coffee Technicians Wheel to promote an understanding of coffee culture and optimal equipment management. He highlighted how sharing knowledge and expertise within the sector provides immense benefits for everyone involved.
"My opening statement was 'If you think training is expensive, try incompetence', transposing a famous saying from the world of education to our technical world. It was in this context that we came up with the idea of sharing our expertise outside the perimeter of our partners, with the largest technical community in the industry and beyond. The more competence and overview there is throughout the sector, the more everyone benefits, in a more extended concept of corporate social responsibility," Edgardo says.
This Wheel is truly a bridge that connects technicians, baristas, roasters, and farmers along the supply chain. It can also be used as an educational tool in classrooms. Updates are soon to come which will include an examination of water's effect on both machines and flavor; a look into espresso machine technology and its innovations; a comparison between different brewing techniques illustrating how technical aspects alter sensory experiences; plus an analysis of traditional machine hydraulics and their unique characteristics. If anyone wishes to receive a high-resolution file of the Wheel, or be informed on future infographics, they are welcome to write to technical. news@gruppocimbali.com.
Skills as a Currency
As we continue to navigate our way through the coffee journey, we finally reach the baristas. Baristas are often unsung heroes of the coffee industry, working hard every day to keep up with customer orders and produce a quality cup of coffee. Their knowledge is invaluable, providing educational support and guidance to those who wish to learn more about coffee and its preparation.
The current staffing shortages in specialty coffee suggest that employees expect better contracts, working conditions, and professional development opportunities. Despite this, demand for specialty coffee has remained consistent since the pandemic began. As a result, the hospitality industry is having difficulty finding and keeping skilled workers. Skillhood, a specialized skills application for frontline workers, offers a solution to this by providing comprehensive collections of skills tailored to individual frontline roles in specialty coffee.
These skills are included in the Skillhood Coffee Skills Glossary. The Coffee Skills Glossary is a solution to the problem of competency recognition, introducing skills as a currency. Skillhood's in-house specialists, along with independent contributors from the coffee industry, have provided concise definitions for over 75 coffee skills and 20 transferable skills. Everyone can contribute to this open forum by adding, defining, editing or validating a skill – ensuring accuracy and usefulness of all terms. The glossary is free and accessible on any phone.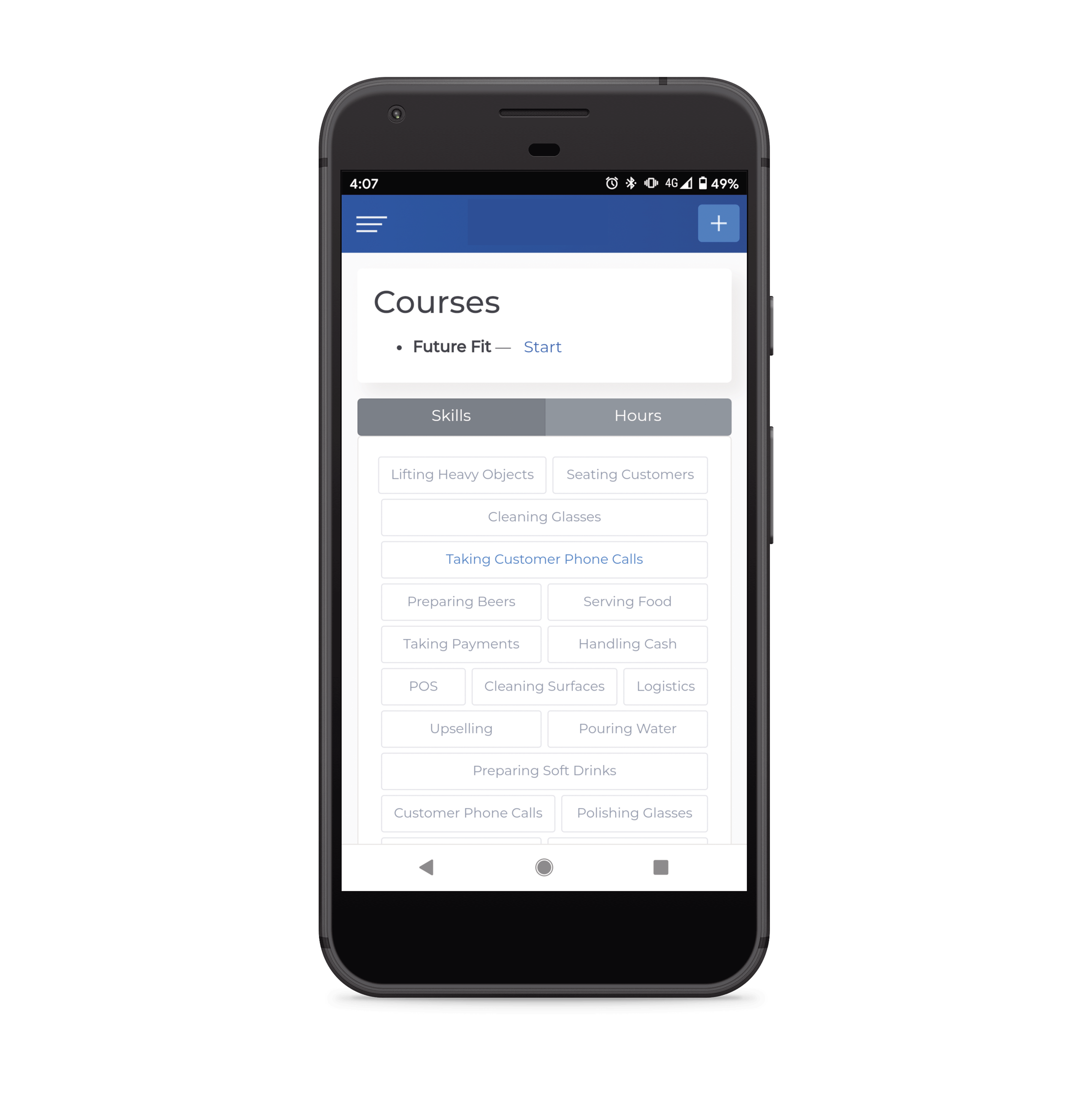 Will Ross, founder of Skillhood, explains, "We set up Skillhood to make frontline work safe, dignified and prosperous. Maintenance roles that deliver services in-person and connect supply chains are vital to how economies run, but they're less visible and undervalued in society. By improving job seeking and internal mobility, the key goal is to make noticeable, structural improvements to a person's economic security. Never worrying about being able to pay monthly utility costs would be one example."
Over 50 successful baristas from around the world were interviewed to gain insight into how to chart skills effectively across time. The interviews allowed for an understanding of how a barista progresses incrementally through their career, learning new skills through different shifts and colleagues/managers encountered. By inspecting operations and what employers expect from a given role, it's theoretically easy to identify the necessary skills for a barista. However, parsing these skills over time provides the real-life experience of skill acquisition. It is essential that those in this profession are able to develop their abilities and adapt them as needed along with any challenges they may face throughout their career journey. This helps ensure their success within the workplace and beyond.
"I've been working in the coffee sector for more than 15 years but when I was starting out it was almost impossible to find information about my work as a barista," says Melanie Weldert, Barista and Quality Controllerat roaster Rösttrommel Kaffeerösterei in Nuremberg,Germany. "The information I needed was on different internet pages or in books that were out of date. I'm fascinated by Skillhood's work on the Coffee Skills Glossary for the simple fact that it's a simple and easy-to-use tool. What's more, it's relevant not only to baristas, but also to skilled employees in Gastronomy."
Ross aims for Skillhood to become a platform for meaningful discussions about progress in frontline work, which can aid businesses in understanding their transformation requirements. By providing frontline workers with a better employment experience than what is typically offered, this could create balance between the kinds of jobs needed as we enter into the second quarter of the 21st Century.
The Last Link
The coffee journey doesn't end with the barista. The customer is the final link of the coffee chain and must be valued as such. The coffee industry has seen a massive shift in the way that customers interact with businesses. The onset of the pandemic caused an unprecedented disruption to café and restaurant operations. Many businesses have been forced to re-invent themselves, often transitioning from traditional in-store retail models to digital solutions. This has caused a shift in customer expectations as well, with many now expecting a more tailored experience based on their own interests and preferences.
With this new reality, coffee businesses are responding by using technology to provide customers with personalized offerings. Coffee professionals are utilizing digital technologies such as mobile ordering, e-commerce platforms for online sales, and customized loyalty programs to further engage customers and increase repeat business. Additionally, companies are relying on data analytics tools to better understand the needs of their customers and create an individualized user experience that is both seamless and enjoyable.
The primary goal is to build stronger relationships with consumers through more meaningful interactions and higher quality products & services. Convenience is at the core of all of this. Recent years have seen the emergence of key consumer trends that point to a clear preference for convenience when it comes to coffee. Single-serve coffee makers and pods allow people to quickly make a fresh cup of coffee in seconds. Ready to- drink (RTD) coffees have grown increasingly popular, especially among younger consumers, driving more brands to launch RTD products.
Additionally, more and more coffee shops are investing in systems like coffee on tap which brews and stores coffee in kegs and dispenses from a tap – making nitro cold brews and nitro lattes accessible with ease. All these trends demonstrate that reinvention in the coffee industry retail is possible and often necessary in order to stay competitive. The coffee journey is ever-evolving , and it is essential for businesses to continuously reinvent themselves in order to stay competitive.
From farming, sourcing, roasting and brewing, to retailing and consumption, the entire coffee supply chain has been going through a reinvention over the past few years, and is likely to continue doing so in the future. The most important lesson is that by sharing knowledge, experience and insights across the entire coffee supply chain, we can create more meaningful relationships with customers and partners, foster greater sustainability, and ensure a more exciting and tasty future for all.
---