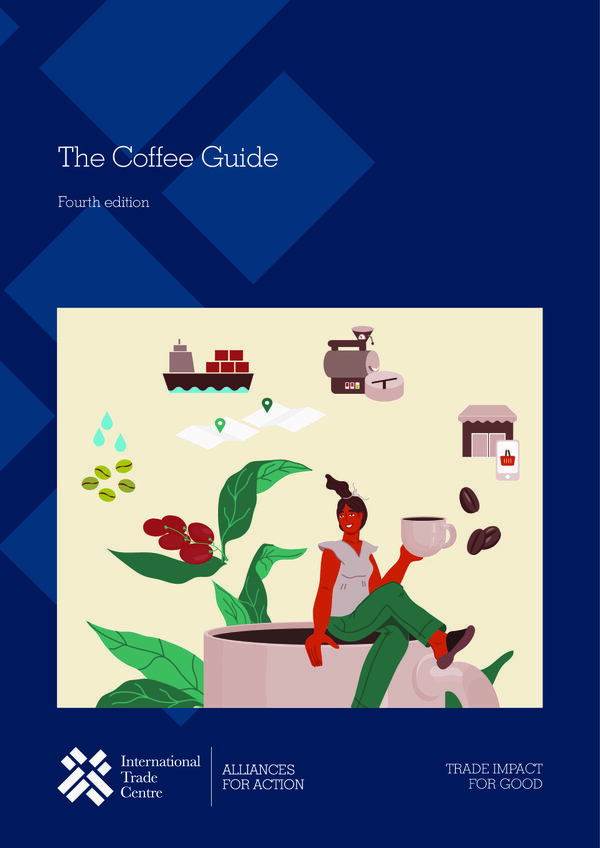 May 12(The International Trade Centre) – The International Trade Centre (ITC), through its Alliances for Action initiative, today unveiled in Addis Ababa, Ethiopia, the Amharic translation of the fourth edition of the world's most comprehensive, practical source for the international coffee trade, The Coffee Guide.
This new edition updates the latest trends of the last decade, especially for quality, digitalization, climate change, finance and risk and consumer preferences. It presents fresh industry data that classify production and consumption numbers by coffee quality segment (standard, premium and specialized) rather than the traditional Arabica/Robusta classification of data.
This guide is designed to be a practical tool for producers, exporters and other value chain stakeholders to support a positive transformation of the sector. It can be accessed globally and free of charge in 5 languages: Amharic, English, French, Portuguese and Spanish. It builds on collaboration with more than 70 coffee industry actors from across the globe, from seed to cup, to chart a path towards a more sustainable future for the industry. A focus on sustainability, inclusiveness and partnerships steer its content.
'This is our first-ever Amharic version of the Coffee Guide, part of our move to more actively include coffee stakeholders in Ethiopia, the birthplace of coffee,' said Pamela Coke-Hamilton, ITC Executive Director, at the launch event in Addis Ababa. 'We've been providing neutral, hands-on information on the global coffee value chain for decades, and this latest edition puts a special focus on how product quality matches up with its impact on the environment and the lives of people behind the cup.'
H.E. Dr. Sofia Kassa, State Minister for Ethiopia's Ministry of Agriculture said: 'Last year, we earned $1.4 billion in coffee exports alone, an unprecedented amount. The backbone of this success is our smallholder coffee farmers, and we must give back to them.'
This Amharic translation was facilitated thanks to the support of the Ethiopian Coffee and Tea Authority as well as of the Ministry of Foreign Affairs of the Netherlands through the NTFV programme in Ethiopia. It also relies on contributions from the European Union (EU), the Organisation of African, Caribbean and Pacific States (OACPS), the Agency of African and Malagasy Robusta Coffee (ACRAM) and the International Coffee Organization (ICO) under the 'ACP Business-Friendly' programme implemented by ITC's Alliances for Action sustainable agribusiness initiative, which is also responsible for leading the production of this Coffee Guide.
Making key industry knowledge accessible to the birthplace of coffee
There are 12.5 million coffee farms worldwide. 2.2 million of these can be found in Ethiopia. The coffee sector in Ethiopia represents millions of livelihoods, a quarter of its export earnings and the country consumes half of what it produces. Regional trade, value addition at origin, digitalization, knowledge sharing, and green practices are some of the transformative solutions that we can leverage to help it rise to its rightful place in the global coffee sector.
ITC's popular Coffee Guide, 4th Edition is a seminal publication that explores these solutions and other crucial sector topics. It offers insights and practical pointers how coffee sector stakeholders can adapt to a rapidly changing sector, increase resilience, build effective business strategies and step towards sustainable growth.
It accompanies ITC's work in Ethiopia with its local coffee sector partners in the framework of the Netherlands Trust Fund V programme, funded by the Ministry of Foreign Affairs of the Netherlands.
The Amharic translation of the Coffee Guide pays tribute to Ethiopia's coffee sector and will play an active role in education and knowledge sharing there. The ECTA will integrate the Coffee Guide in its capacity building and training curricula, using it as an education tool to increase the competitiveness of smallholder coffee farmers throughout Ethiopia's unions and cooperatives.
Distributed by APO Group on behalf of International Trade Centre.
---