Coffee is deeply ingrained in Greek culture, and has been since the days of the Ottoman Empire. The traditional way of making coffee with an ibrik coffee, was the main form for centuries until after World War II. Coffee shops were popular places to enjoy a cup of coffee and socialize with friends, as it remains to this day – an affordable and enjoyable way to come together.
In the years to come, the Greeks started showing a knack for inventing coffee drinks. In the late 1950s, instant coffee started gaining popularity in the United States and Europe. In Greece, what started as a simple way to make coffee quickly evolved into the beloved frappe. A Greek invention, the drink involves mixing instant coffee with sugar and water, then shaking and adding cold water or cold milk foam on top. The drink was an instant hit, and soon many Greek cafes began serving it. Today, frappe is enjoyed all over Greece by many, though the entrance of espresso in the country has threatened its popularity.
The introduction of espresso to Greece was quite early, as hangouts for artists, secularists and intellectuals served it in the 1950s. However, it wasn't until the 1990s that espresso and cappuccino became popular with the general public. The invention of two Greek variants – Freddo Espresso and Freddo Cappuccino – which blended the rich taste of espresso with a need for iced refreshment, caused a shift away from frappe drinks and an almost universal adoption of espresso-based beverages. Espresso became the new favorite Greek habit, whether it was hot or cold.
The start of the 21st century has seen the Greek coffee scene become even more varied and diverse. A discerning and informed group of consumers now exists in the country who are constantly looking for, reading about, trying out and offering their opinion on the different types of coffee they drink. The "Third Wave" of coffee is finding lots of fans in Greece, with this newfound interest leading to plenty more options for customers as well as better all-round services.
Despite all these changes, one thing remains at the heart of Greek coffee culture: it is still a leisurely, everyday pleasure enjoyed with friends and loved ones. This June, World of Coffee is coming to Athens, bringing together the best from all over the world. This is a chance to get to know the city's ancient history, sample the local brews, and immerse yourself in the slow coffee life like a local. Here are five coffee shops to get you started!
Cutting Edge Authenticity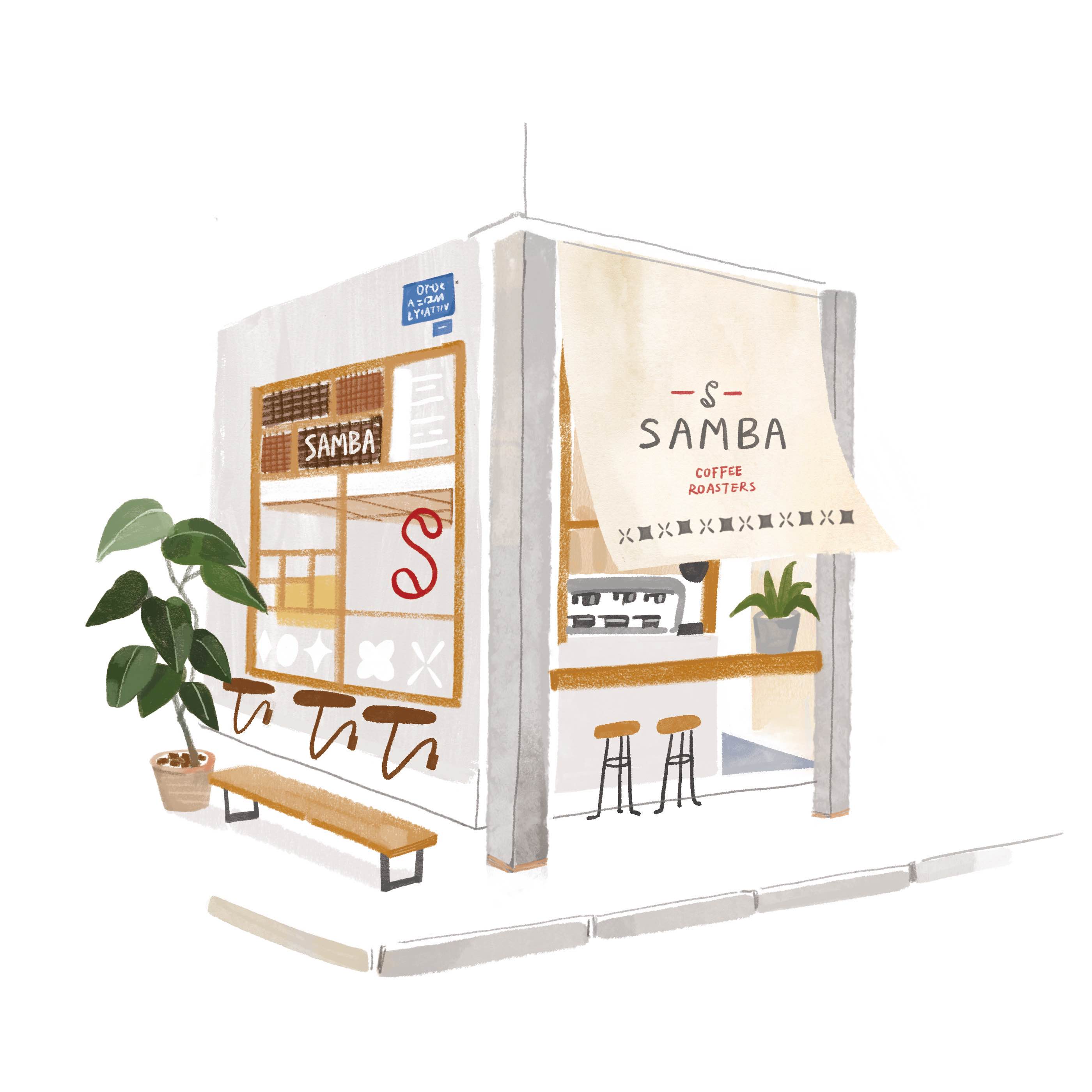 📍Solonos 36, Athens 106 73
🕒 Monday – Saturday 8:00 -19:00, Sunday 9:00 -17:00
⇔Panepistimio
Stefanos Kalafatas founded Samba Coffee Roasters in Athens in 1979 with the goal of sharing his passion for coffee and introducing us to its unique aromas and flavors. Now managed by the second generation of the family, Samba continues to roast high quality coffees from around the world.
In 2020, they opened their flagship store on Solonos str. in Kolonaki, a modern space that features custom wood and metal constructions, big windows, state-of-the art coffee equipment and an almost hidden second floor with just a few seats that offer a short escape from the hustle and bustle of the city. Here you will find coffee varieties from producing countries such as Ethiopia, Peru, Kenya, Rwanda, and more. This spring the team has launched their cold brew in a can, a delicious single origin coffee from Ethiopia.
The shop also offers a selection of 100% natural Greek artisanal soft drinks, as well as kombucha. For dessert, try some of the scrumptious cakes such beetroot with walnuts, cinnamon and olive oil or the irresistible cinnamon rolls. As far as savory food options go, Samba has put their trust in chef Marko Rossi. Among his creations are the hearty bun with Lefkada salami, cream cheese, tomato, fresh basil and truffle oil as well as BLTs that quickly disappear. Don't miss it!
Feel Earth's Heartbeat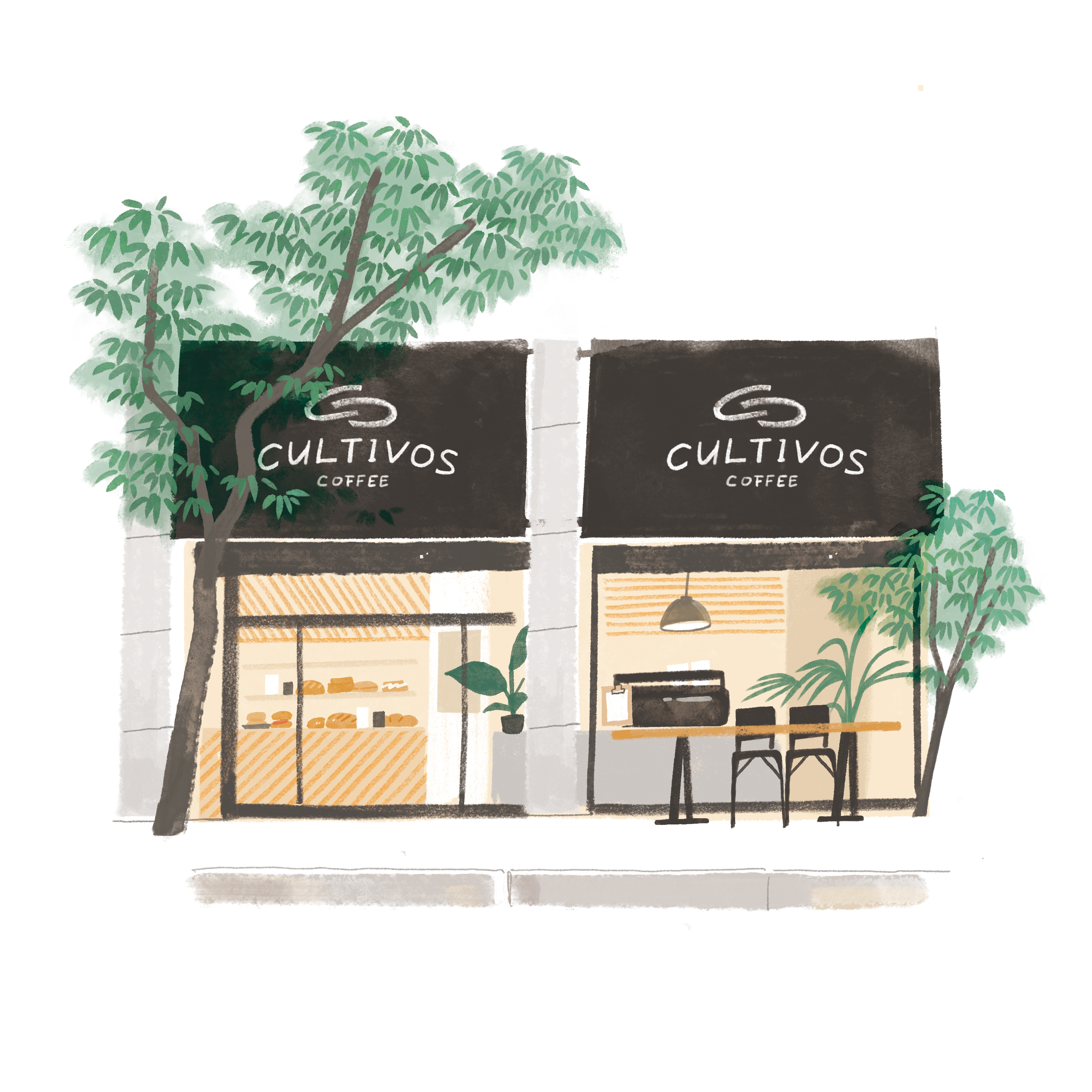 📍Skoufa 66, Athens 106 80
🕒Monday – Friday 7:00 – 19:30, Saturday 8:00 – 15:30, Sunday closed
⇔Panepistimio
The Cultivos coffee shops are a franchise established by Yiannis Taloumis, co-owner of TAF Coffee, member of the International Jury of the Cup of Excellence and certified Q-Grader. TAF is a well-known brand that has become the symbol of excellent coffee both in Greece and abroad.
Opened in 2020, just before the pandemic hit, Cultivos in Skoufa str. is not only the largest store of the coffee chain but also one of the most important; for it is a hub for training, tastings and events. With a philosophy that pays homage to Mother Earth and the cultivation of quality goods, Cultivos has strong ties and long term collaborations with producers that bring award-winning and distinguished coffees to our cup on a daily basis.
The shop has three unique areas – perfect for remote working, barista training and leisurely afternoons enjoying delicious treats like cake, fresh juices, smoothies and food such as sandwiches, focaccia and pinsa romana. Plus there is also soft cocktails, aperitivos and other snacks – making it the ideal spot to hang out.
It Moves You to Act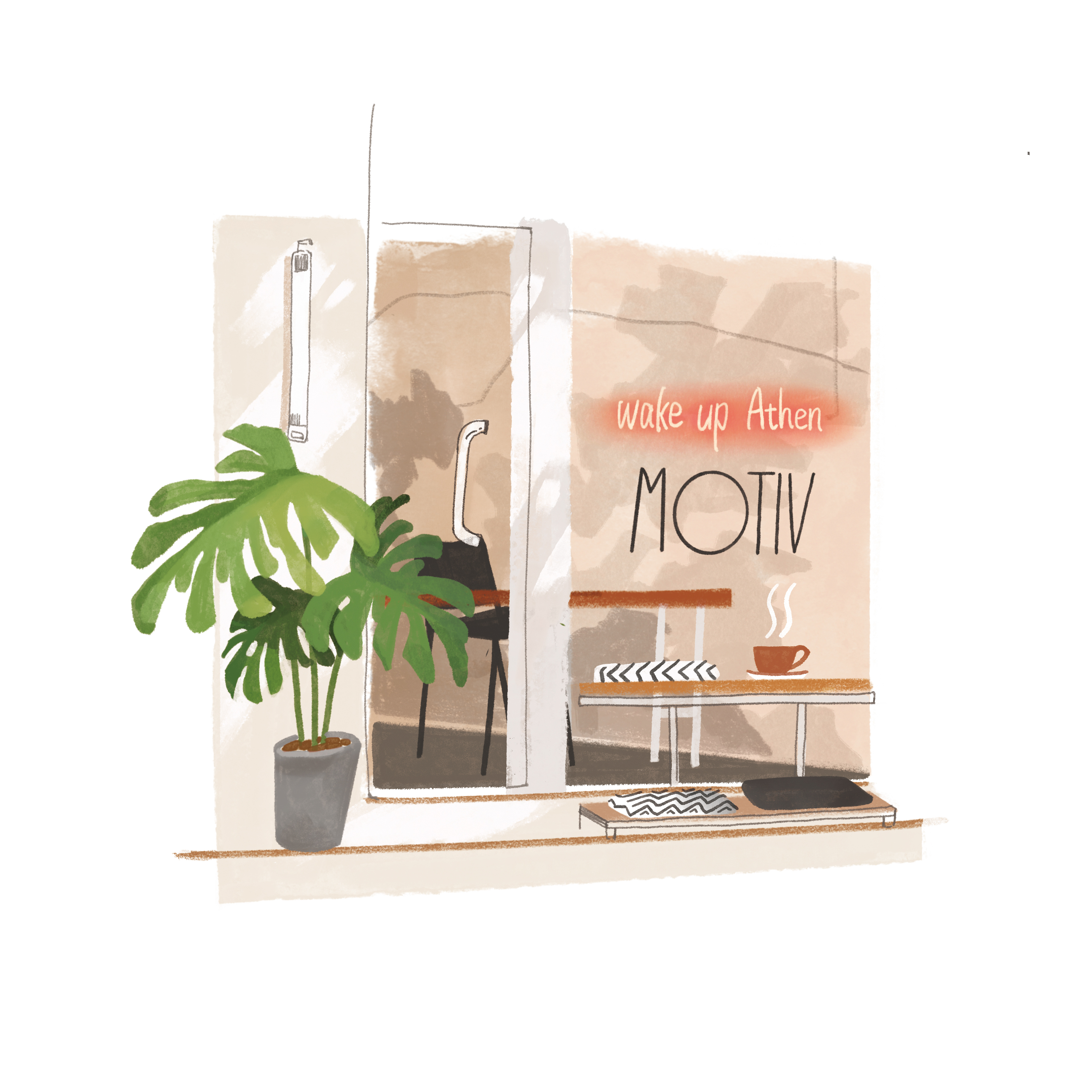 📍Formionos 42, Athens 116 33
🕒Monday – Friday 7:30 – 19:30, Saturday – Sunday 9:30 – 19:30
⇔Evangelismos
As of the start of 2023, MOTIV, the coffee shop that you can't miss if you pass by Emmanouil Benaki str. in Exarchia, has a new sibling, as a second shop just opened in Pagrati. The interior design was curated by JoNat Architects and it's minimal yet industrial with huge windows to let natural light inside. There are also wooden elements and plenty of greenery that give off a relaxing, natural vibe. If you feel like sitting outdoors, there are benches available for you – a perfect spot to enjoy sunny days in the city.
The MOTIV team offers a delicious freshly-roasted house blend from Brazil, Nicaragua and Guatemala with hints of chocolate and nuts for an even richer flavor. Additionally, they serve single origin coffees which change periodically; some origins include Colombia, Uganda and Ethiopia.
When it comes to food, the focaccia is not to be missed – the fluffy dough and harissa sauce with rosemary make it an aromatic delight. And for a sweet alternative, their brioche is just as delicious, filled with decadent pastry cream, white chocolate, and salty pistachios. More options Basque cheesecake, babka, praline- filled knots, chocolate cookies, and a signature cake made with coffee and chocolate.
Back to the Roots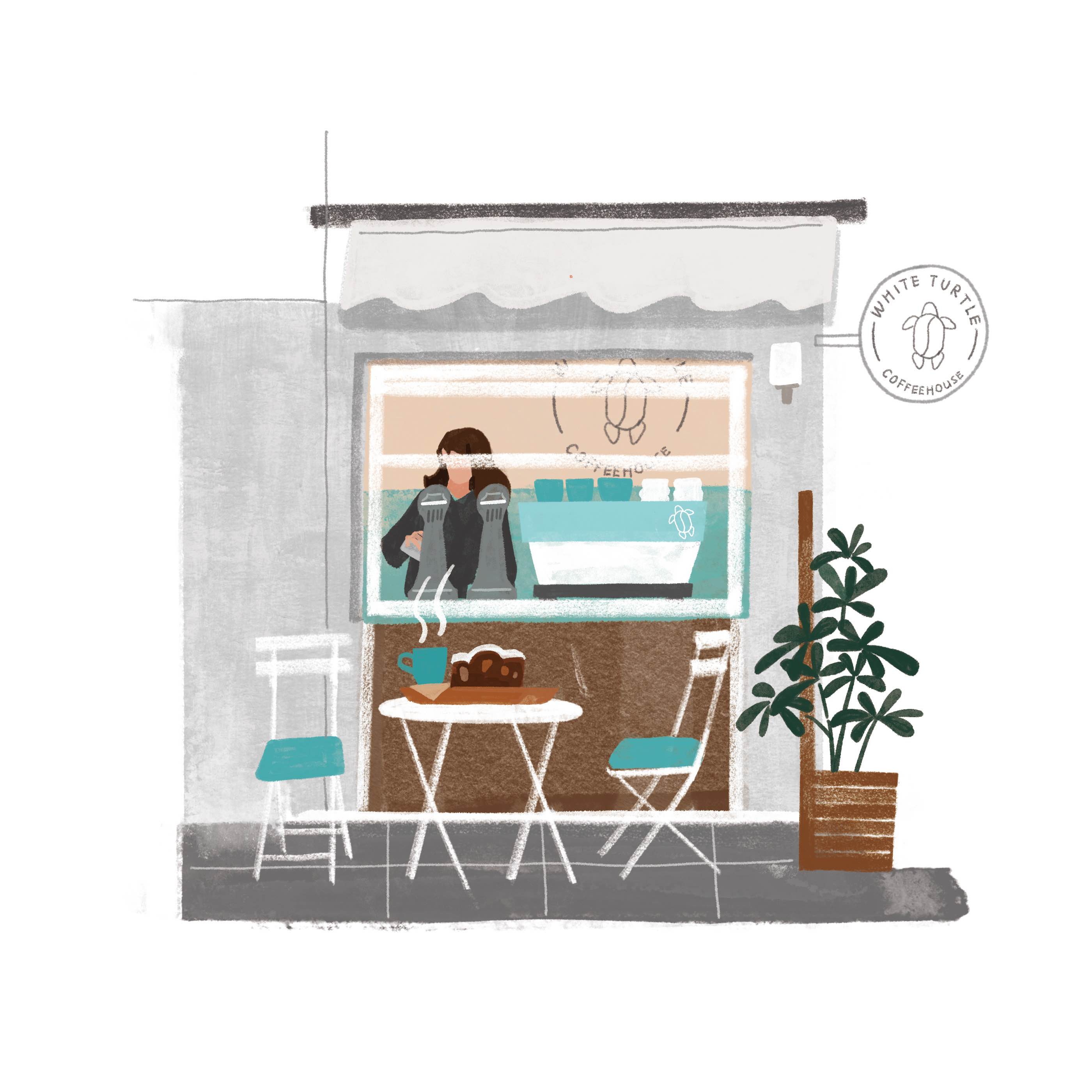 📍Stournari 43, Athens 106 82
🕒Monday – Friday 7:30 -19:00, Saturday 9:00 – 18:00, Sunday 9:00 – 16:00
⇔Omonia
White Turtle opened its doors in June 2022, a stone's throw from the National Archaeological Museum. Stelios, owner of the shop, traveled far and wide to gain experience in the art of making coffee. He collected ideas, images and tastes from around the world before deciding to return home to Athens and create his own spin on a modern-day coffee shop. Just like the white turtle species which always returns to its birthplace, Stelios came back with a vision of what coffee culture should look like in 2022. Drawing on the simplicity and clean lines of Scandinavian design, it has tables inside and out, windows all around, as well as an atmospheric loft for some peaceful reading or working, it's a great daily moment of escape.
They serve up specialty coffee from the local Cafeistas Roasters – coffees from unique origins and microlots from small growers – as well as a small selection of local beers, tea and chocolates. For something sweet, they have homemade carrot cake(vegan too), cookies, brownies and other snacks like baguettes and wraps, with vegan options as well.
A New Concept Is Born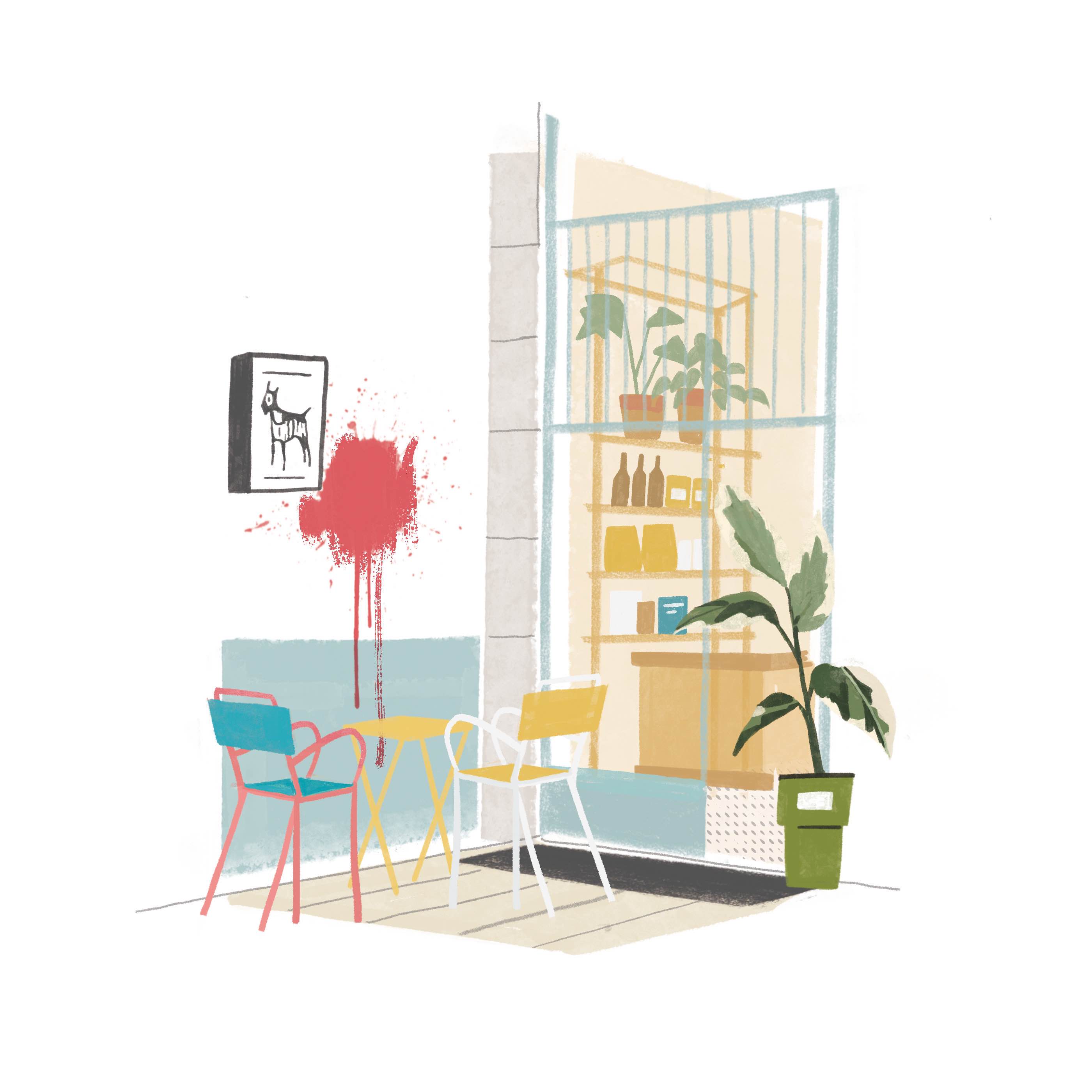 📍Agias Zonis 21, Athens 113 61
🕒Sunday – Thursday 9:00 – 23:00, Friday – Saturday 9:00 – midnight
⇔Agios Nikolaos
Santo Belto, a concept store located in Kypseli, opened its doors in August 2022. It is the brainchild of three local residents – graphic designer Sotiris Andritsos, furniture designer Elli Gidakou and chef Marina Chrona – realized with the help of architect Panagiotis Bafis. The interior of the space has a nicely balanced palette of white, peanut, and Swedish wood. As an unexpected twist, there is a large red stain on one of the walls, which perfectly complements the rest of the decor.
Marina is in charge of the food menu, which includes brunch dishes that pay homage to Greek flavors, local ingredients and seasonality, such as trachana risotto with milk and honey or bobota (Greek-style cornbread) pancakes with feta cheese. The coffee selection is curated by Underdog Coffee Roasters and the menu includes various options including the usual espresso-based drinks, as well as ibrik coffee, espresso tonic, iced lattes and cold brew.
There is also a selection of wines produced by Greek wineries, as well as beers from local microbreweries, organic juices, soft drinks and aromatic infusions. The shelves are stocked with designer objects made in Greece, many of them by Kypseli artisans.
---