March 2, 2023(K Group) – The new Pirkka Kaffe products that are now available at the gardening sections of K stores use coffee grounds that are generated at the Neste K service stations. Pirkka Kaffe gardening soil and Pirkka Kaffe growth nutrients are the products of K Group's and Berner's bold circular economy cooperation.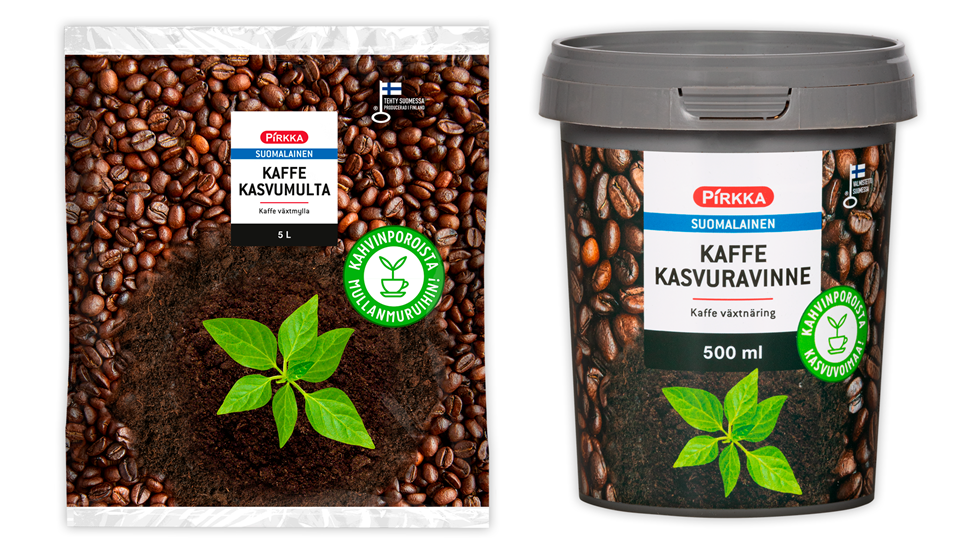 As the spring approaches, many people go to the gardening section of stores. The gardening section now also offers innovative new products made in accordance with the principles of circular economy using coffee grounds to make gardening soil and fertiliser. The use of coffee as a fertiliser for plants and flowers is a trick familiar to many home gardeners, but the idea to use coffee grounds on an industrial scale came from Seppo Lauer, the storekeeper at Neste K Linnatuuli. 'I noticed how much coffee grounds ended up in the organic waste. It has been wonderful to see how an idea that was born out of everyday work has grown into a large-scale circular economy cooperation project. Now the coffee grounds can be put to good use,' says Lauer.
Promoting circular economy is a strategic choice at K Group. 'One important part of this operation that is also visible to our customers is selling product that are produced with materials that are generated from our other operations. In 2022, we collected 81,000 kilograms of coffee grounds from Neste K service stations, and these have already been used to produce 55,000 bags of Pirkka Kaffe gardening soil. The collection of coffee grounds has become part of everyday life at the stations,' says Timo Jäske, Sustainability Director at Kesko's grocery trade division.
Promoting circular economy is also important for Berner. 'We are open-mindedly looking for new opportunities to strengthen circular economy, and this world-class project with Kesko is an excellent example of this,' says Jussi Petäjä, Product Group Director at Berner.
Unique products tested by a consumer panel
The gardening soil and fertiliser made from coffee grounds are used just like ordinary products. The gardening soil made from coffee grounds includes a suitable amount of nutrients, has a durable structure and features living micro-organisms, just like good soil should. Before arriving at the stores, Pirkka Kaffe gardening soil was tested by a consumer panel consisting of the members of the K Kylä customer community.
'The members of the consumer test groups were happy with the composition and structure of the gardening soil in a test that was carried out in the autumn of 2022. The consumer test group gave special thanks to how well the seeds germinated and the plants thrived in the gardening soil, especially when considering the test took place during a season with little light,' says Petäjä.
Circular economy innovations require seamless cooperation
The Pirkka Kaffe products are the results of K Group's and Berner's bold cooperation to make circular economy products using materials generated by K Group's other operations. The coffee grounds are collected daily from Neste K service stations with return logistics and brought to K Group's central warehouse in Vantaa, which means the collection does not generate additional emissions. From the warehouse, the coffee grounds are transported to the manufacturing facility of Berner's GreenCare brand's cooperation partner in Saarijärvi using the existing transport routes. Here, the coffee grounds waste is mixed with Finnish hemp fibre and the nutrient-rich fava bean shells that are generated as the result of the production of Raisio's Härkis fava bean products. These help make the heavy mass airier, which facilitates the composting of the coffee grounds. The coffee grounds mixture is composted and used to manufacture Pirkka Kaffe products. Thanks to the use of coffee grounds in the production, the use of growth peat can be decreased by up to 30%.
Coffee grounds from 70 cups of coffee are used to make one five-litre bag of Pirkka Kaffe gardening soil. Millions of cups of coffee are enjoyed at Neste K service stations each year, which means there is plenty of raw material for industrial manufacturing.
Pirkka Kaffe gardening soil and Pirkka Kaffe fertiliser are now available at the Neste K service stations and K-food stores. The products have been awarded with the Key Flag to show that the products have been made in Finland.
---