Coffee is a prelude for camping. You can casually put canned coffee in the knapsack before hitting the road, or bring fancy drip coffee and grinned beans to shake off hiking fatigue in the forest. Today, the newest posture is to take a full set of coffee makers to create a fresh sip. As the prelude gets longer and seemingly complicated, a novelty outdoor melody composed by specialty coffee follows. The duet of coffee and camping has been taken as a jigsaw piece for modern high-quality lifestyle.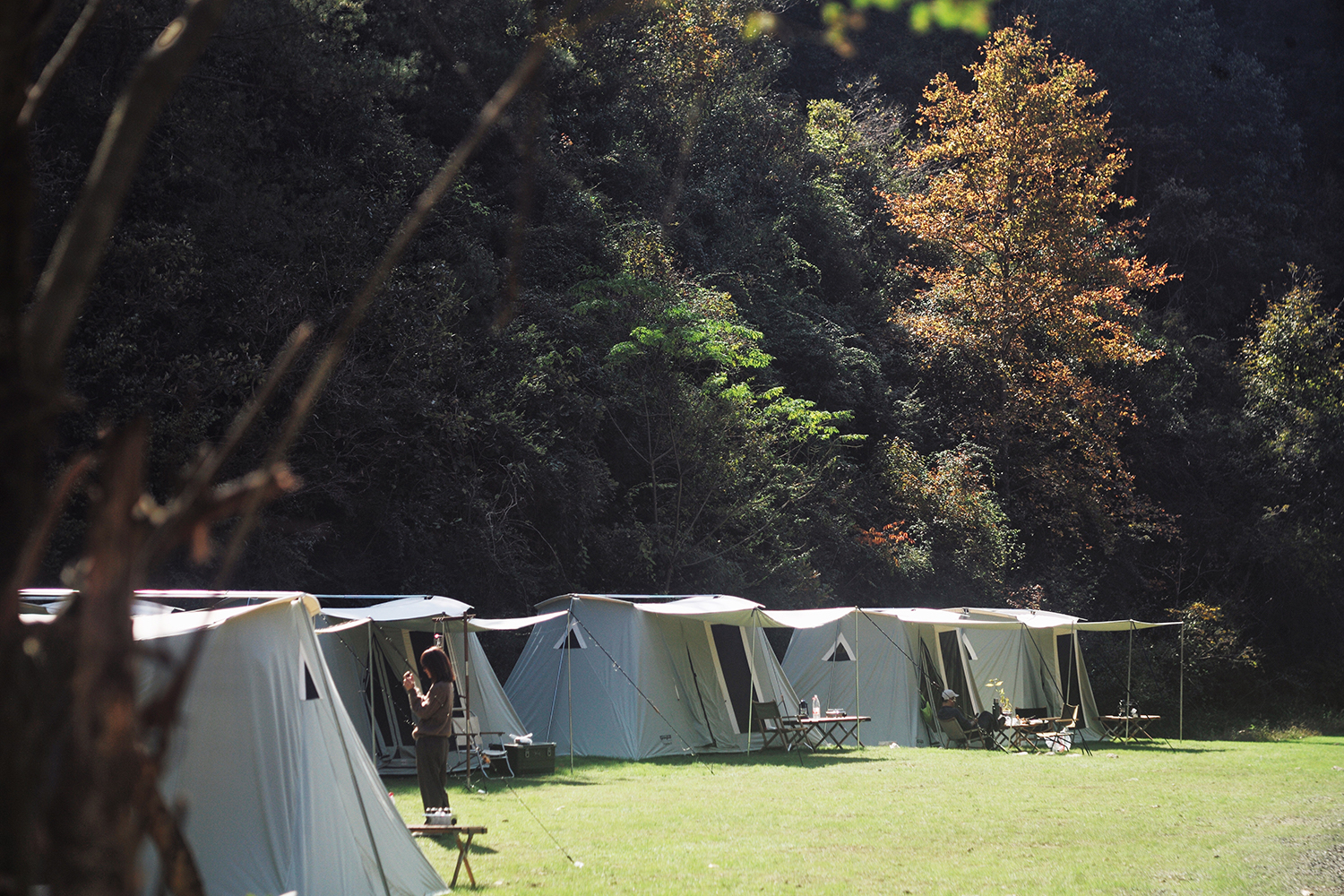 On the large stage of Asia, lifestyle fashions come and go. As for picnics, tablecloth, fruit and simple snack have been cliché guests for a basket, and grassland as the venue brings less expectation. More attention has shifted to how to drink coffee practically during camping. In this year, camping coffee emerges as the new fashion benchmark.
Between spring and summer, the best time for hiking, we interviewed Herz Wang, the factory director and co-founder of ABC Camping, a Chinese outdoor lifestyle brand, and Saroengrong Wong-Savun, the founder of Rubber Killer, a Thailand niche design brand. Here are their ideas about the fashionable camping coffee.
Reset Outdoor Scenario for Coffee
Modern specialty coffee never stops to set an applicable "third place", being it the profit-targeted coffee vans which sells drinks through their windows or the natural land where people visit during holidays and drink coffee to freshen up themselves. To provide a space with more freedom and stress-free communication, cafes tend to set individual seats to make customers stay longer and attract passers-by with the image of ease. This trend is especially obvious in Asian, reflected by the opener space design. In Japan and Thailand, many independent stores take the availability of garden as a factor for location choice, designing open-air leisure seats in front gardens and backyards. Some go even further, setting up reading zones and stairs on lush trees to include the nature into their operation. In China and South Korea, the focus is 'getting closer'. Stores tend to simulate an outdoor space inside the concrete architecture, such as indoor rock gardens and small lush gardens wrapped in the ceiling.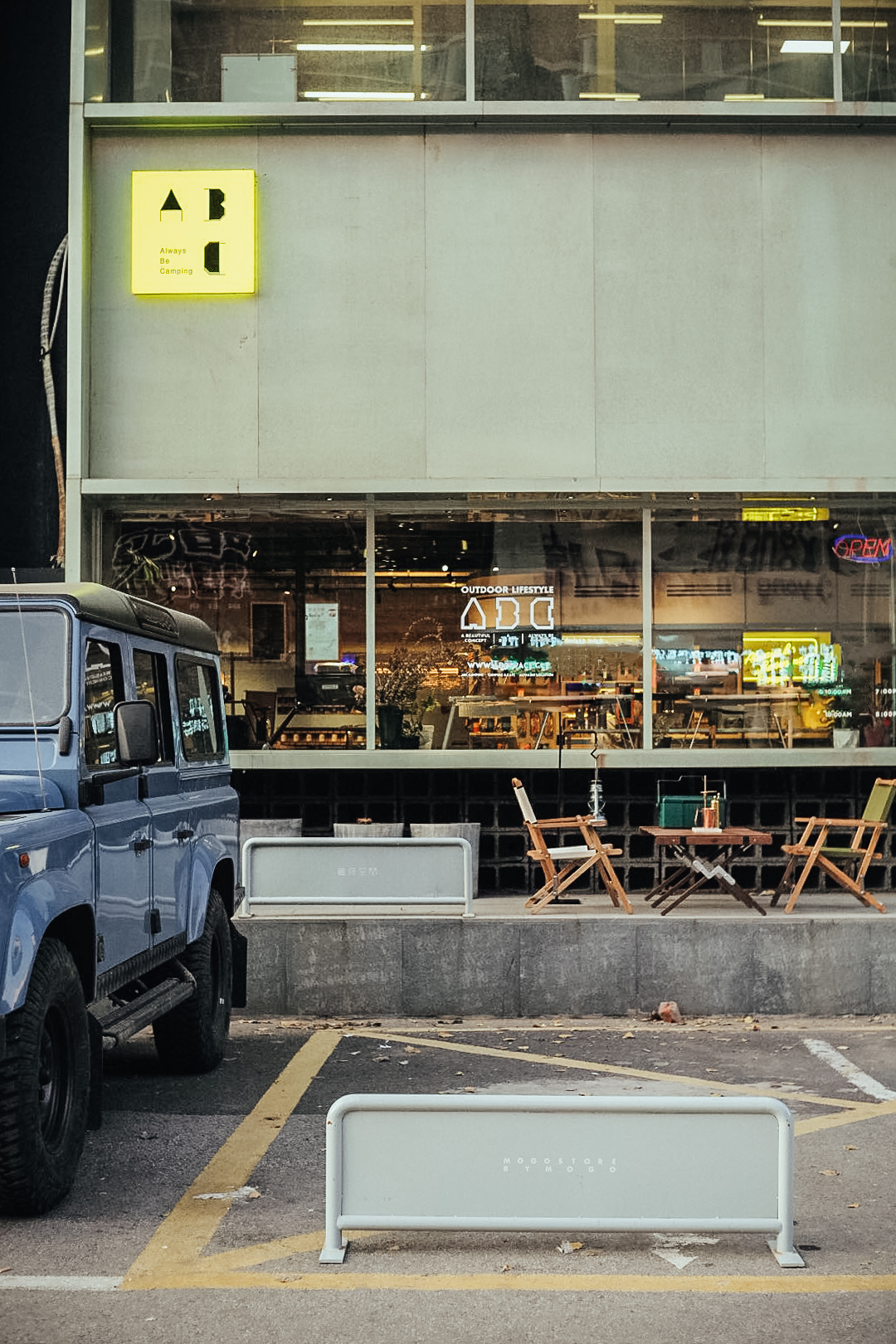 As camping coffee tops the weekend event list, some 'considerate' store owners set up tents in their gardens, removing the stress of choosing a destination and purchasing equipment for customers. Along the cobbled path, camping lights and folding chairs go well with wooden guitar and cloth decorations. Resembled as an urban Eden, these stores make camping easier for customers, and generate attention and revenue due to 'instagramable' photos.
However, the city coffee can't really quench the thirst for wild land, and camping coffee still tickles the fancy of many people. To satisfy the eagerness, ABC Camping & Cafe offers two solutions. As the business agent for 60-70 international outdoor equipment brands, ABC Camping provides multiple camping products to create a better wild experience. Meanwhile, in their first physical store in Hangzhou, they intentionally set a coffee bar near the full-length window, where customers can savor coffee made by expert baristas.
Popularity Shaped by Habit and Unexpected Cause
Though booming at the moment, the picture of camping coffee was quite different in the past, especially in the last year. On January 12, 2020, ABC Camping kicked off its formal operation, yet just after one week, it was hit by the pandemic. About four months later, the brand staggered back. For the team who planned the project in mid-2019, the challenge was no easy task. "ABC Camping & Cafe started trial operation in last October." Wang told us about the initial design for the space, "During the half year of the trial operation, we made lots of changes. At first, we didn't feel the need to add coffee in our business. We didn't think about this idea. However, I personally really love coffee, so I tried to introduce this element. Another change is the enrichment. Order from foreign brands and dispatch are very time-consuming, which really delayed our operation. Considering this and the demand to provide more real experience in our physical store, we tried to introduce domestic individual brands to enrich our space."
One of the introduced brands is MOGO, a decoration design brand founded by Wang earlier. When she operated her clothes boutique at first, she received frequent inquiry for business space design because of her art design background. This inspired her to start her own studio to create a new industry field, but the shortage of furniture options was a huge obstacle for her to find project solutions. "Back then, we felt the absence of many items that we wanted to place in the business space. We scrolled through domestic and international brands but struggled to find vintage-like items that suited the overall style. We sometimes bought real vintages through cross-border online shopping, but it was not always practical." To complete this gap, they set foot in the furniture industry.
Two to three years later, MOGO launched a vintage-style series called "part-time furniture", which refers to the possibility of using the item in another environment context. This series became the predecessor of their owned brand Kinoco, a brand for manufacturers, and later nurtured Kinoco outdoor. "I am passionate about outdoor activities. Our self-designed products and our role as international brand agent can provide solutions to outdoor lovers and customers. That's why ABC Camping & Cafe got popular among camping insiders as soon as we kicked off."
When we go back to normal from home quarantine and travel bans, the travel demand that was repressed for almost a year finally get relived. Taking the tide of camping fashion, the brand concept of "no boundary between furniture and outdoor events" echoes with the public.
According to Technavio, a marketing research agency, the European market value of the camping tent might exceed USD 5.4 billion from 2016 to 2020, with a CAGR of over 4%. As the analyst Abhay Sinha said, "The low cost of camping trip makes it an affordable and popular form of entertainment for youngsters." However, this conclusion does not apply to the reality. In fact, the booming Glamping in Asia represents the birth of new lifestyle.
Condition for Camping Coffee
Coming from Europe and America, Glamping sets its foothold and evolves in Asia. The "glamorous" target has shifted from tent equipment to portable camping equipment, and the preparation becomes more exciting. "As indicated in the China Outdoor Items Market Research Report 2019 by COCA, the sale amount reached RMB 25.02 billion with a steady momentum. Those who haven't tried camping may think this hobby has a high threshold." Apart from searching for camping tips, many beginners care about equipment options. In their shopping lists, Stanley and SnowPeach which cover most of the outdoor needs get a dominant position. "I quite love outdoor activities. I think it has influenced my habit and dress. For us, it's about lifestyle." Wang said.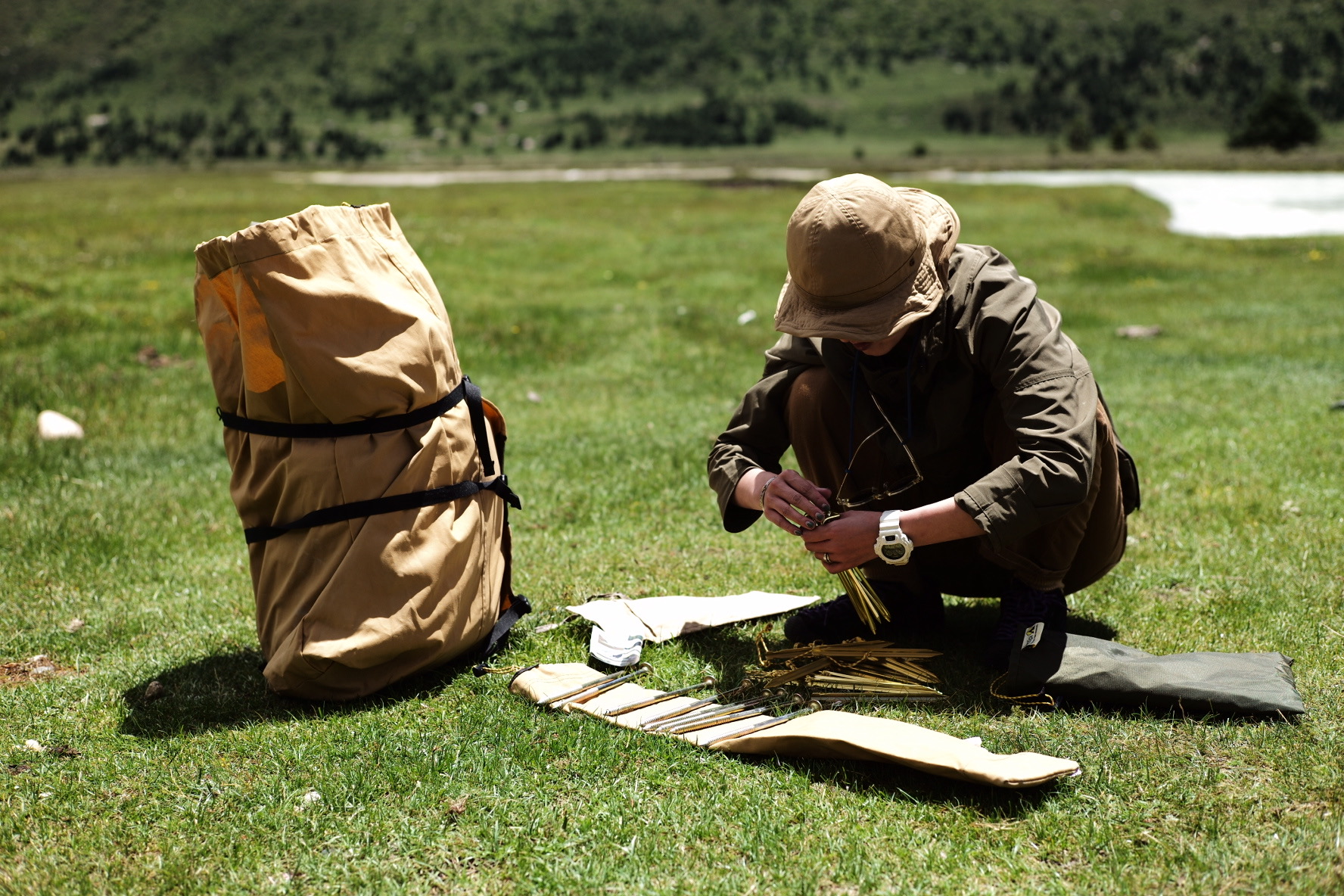 Wang believes the eagerness for outdoor is ingrained in everyone's DNA, proved by the enjoyment of walking in parks and hiking in mountains. The motivation may come from pandemic, work stress and fast pace of modern life. "Since the primitive society, we have started pursue a more comfortable life. Glamping is a form of this." Though she is not against fancy photos on social media highlighting visual impact of camping, she puts more focus on the variety of the ways we play. "Everyone has his own preference. Many outdoor lovers many enjoy the wildness more and dislike Glamping. However, we can't deny it's a safer and more comfortable option. Many beginners can enjoy themselves through this way."
In the blend of Glamping, social media and modern needs for caffeine, the trend of brewing specialty coffee arises. Taking outdoor environment as a simulated specialty cafe is what ABC Camping & Cafe pursues.
Talking of personal camping coffee experience, Wang told us that she makes adjustment according to the real needs. "If I just take a knapsack and travel light, no choice would be more practical than drip bags and instant coffee. If I drive to do Glamping, I will certainly take grinder, filter and pot with me." When we asked if she inquired for the flavor, she nodded. "However, I only care about flavor in certain conditions. For example, I have many kinds of beans in hand and I can control the water temperature. If these are not possible, I am not picky as what I want is just a cup of coffee."
Wang believes that the 'professional' equipment shouldn't be the highlight of Glamping. "Camping is not limited by equipment. If you can't find something more proper, you can take moka pot for home use, as long as you can get access to electricity and fire." In the store of ABC Camping & Cafe, many customers tend to roam and leave with just some items, gradually enriching their camping equipment.
We can find two types of customers in the store. Some are professional outdoor players who hunt for equipment and occasionally order a cup of coffee here. Some come here for coffee and sometimes get small items. The age spans from 20 to 55. The store boasts about nearly 20 coffee equipment brands including UNIFLAME, FIRESIDE and Bialetti, covering different using levels. Some are even called by Wang the "must-have equipment" for beginners. This year, the brand will put more focus on the coffee part, increasing its outdoor image and launching more special drinks and side dishes.
"A Two-way Street"
In the nutshell of camping necessity, lies the concept of "taking indoor appliance to outdoor space". While in the brand concept of ABC Camping, home appliance can go outdoor, and vice versa, camping can happen in your dining room. The second floor of the physical store in Hangzhou is designed to be a permanent exhibition space for the public, named as Camping Room. Planned by Wang, the space takes cues from lifestyle and blends home atmosphere and outdoor equipment. She replicated some home corners of hers and her colleagues' in the space, and the owners' passion about music, motorbikes and others are reflected in the furniture. Besides, the space is also used for top-tier brands sharing and exhibition.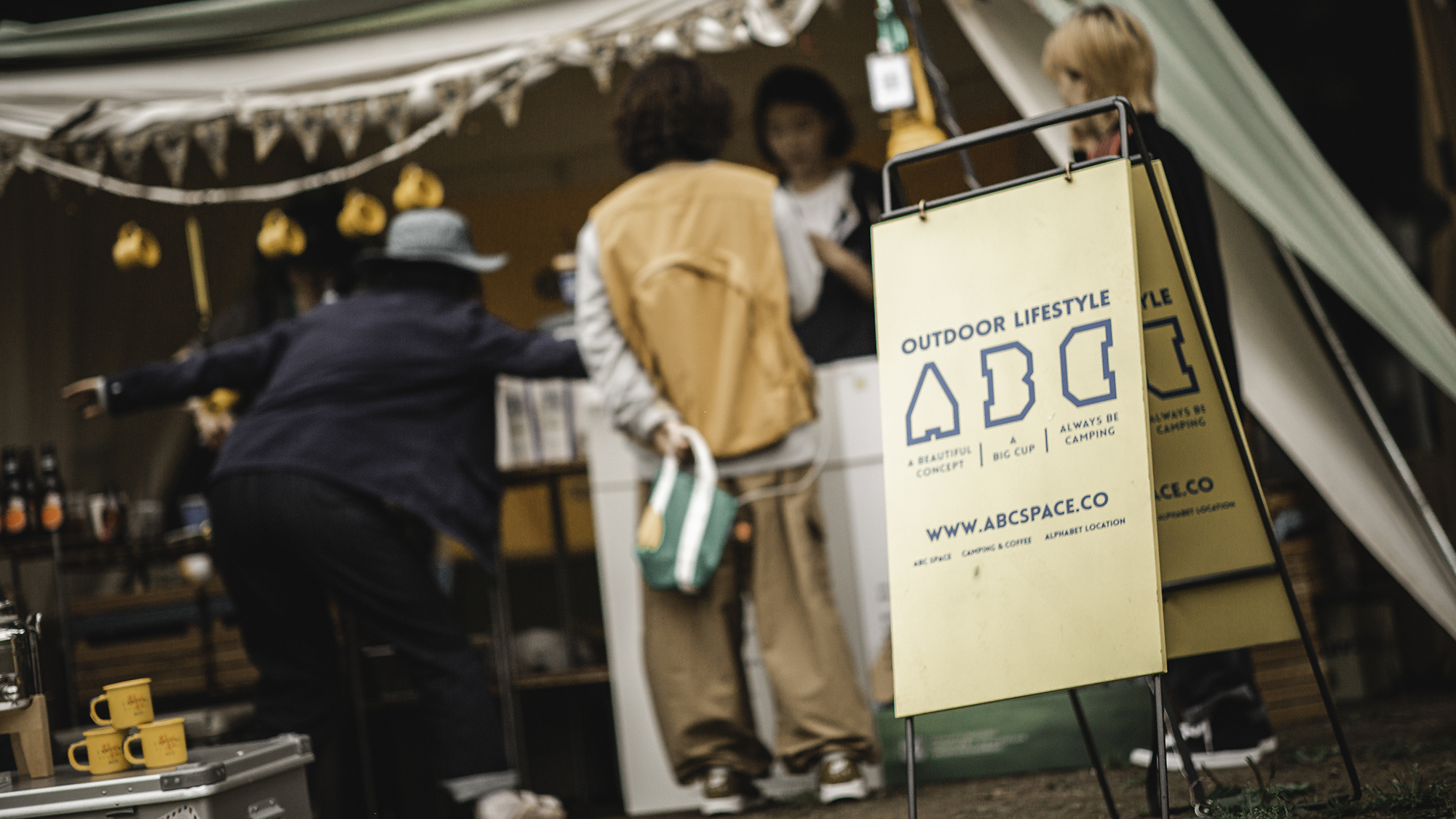 The brand action is not just limited in this space. In addition to their second physical store in Shenyang, which opened at the end of last year, they co-organized a city forest project called "Plant b" in this spring. The project gathered camping and coffee lovers in Hangzhou Botanical Garden and enjoy the natural vigor in the spring market. They also rolled out another domestic camping and outdoor brand communication platform called "Plan. C", inviting brands to explore the future fashion together.
Since its founding, ABC Camping has never confine outdoor lifestyle with certain pattern or definitions. Instead, they pursue interesting ideas and multiple styles. As Wang said, "ABC" itself does not stand for anything. It can be "Always Be Camping", or "a_bigcup" (the Instagram ID of the brand). With the enrichment of camping, coffee and other content, ABC changes from a name to a stature, demonstrating the idea and lifestyle of the founder.
---