Imagine reading this in the news: an Australian barista competing for the Nationals for the past seven years persevered to finally win the World Barista Championship (WBC). Come to think of it, it has also been seven years since an Australian has won the WBC, the last being Sasa Sestic in 2015. Anthony persisting for years with one goal in mind is the epitome of what champions are made up of. If that isn't inspiring then I don't know what is.
Anthony was crowned the champion last month in Melbourne and the first to lift the accolade at a homerun event. This was his first time competing at the world level, but no stranger to competing in the Australian Coffee Championship for the past seven years, which according to him, was a hard bridge to cross.
He was in awe of his fellow competitors, some of whom were an inspiration to him watching them compete on the big stage over the years. He felt grateful to be sharing the stage with them, and at the same time really confident of his presentation and knew it was spot on.
The theme of his routine was based on "trust". The trust that we consumers often place on baristas to have an experience worth remembering. This is something he is obsessed about and is very close to his heart— Anthony's words—not mine. His core focus remains on upskilling in the barista category and his drive to serve with a passion.
The fact that someone like Anthony realizes that you can never know enough was really humbling to hear. He is very meticulous in his approach, very structured, and it doesn't come as a surprise that he understands and enjoys the art of learning. Undoubtedly, his team at Axil Coffee Roasters had a big role to play. He was mentored by David Makin, coached by Jack Simpson, and his coffee was roasted by Matt Crowley.
Throughout the interview I was thinking of a quote from Robin Sharma, "mastery begins with humility." In this interview, we speak about Anthony's routine at the WBC expanding on the four key decisions he presented to the judges, the talk of the town—cryodessicated milk, the most important skill to develop for baristas, and his plans going forward.
There is a lot I want to ask you about the WBC, the routine, the win. But before I dive into those, I want to ask how you feel you have evolved as a professional from when you first started in the industry?
Yeah, that's a big question. I've definitely evolved a lot. I think a lot of people come into the coffee industry without realizing how much of a rabbit hole it really is and how much learning there is to do. I find that the more I progress, the more I feel I have to learn regardless of how good I am. I'm constantly being humbled by the industry and by coffee.
I remember listening to a podcast and you spoke about working in a restaurant when you first started out and how you became intrigued with preparing coffee. I'm pretty sure you look back sometimes and reminisce about that version of Anthony, the skills you have acquired over a period of time and even the mindset—it must be a night and day difference.
Oh, absolutely. I've evolved and so has the industry. It's growing, especially over the last few years. It's been a really exciting thing to be a part of and progress with the industry, to take on new technologies and explore new ways of doing things.
It's necessary to grow. I was blessed to be invited to see a competitor do a practice run of her routine for the National Barista Championship here in the UAE, and I realized it was not a walk in the park. There's a lot to it. I know Matt Crowley and Jack Simpson helped a lot. How did you all prepare for the competition? What was the game plan?
Well, I generally coordinated everything, from training to planning a direction on what needs to be focused on. I'll draw from Matt and Jack on their input, and set up sessions together when needed. I do a lot of the organizing on the back-end, behind-the-scenes. I'm a bit of a nerd, so what that looks like is—a massive todo list. Looking back now, I think I've literally written 1000s of notes leading up to the competition. I'll structure everything from things I should experiment with to the routines I should be doing. I'm very organized that way. I'll look at it as a project and to support the project, I'll factor in key priorities and subcomponents we need to be focusing on. I manage that depending on what needs the most attention. Leading up to the competition, I'll focus on one thing at a time. A few weeks might be technique, on some days it's the roasting or the signature drink. It changes depending on feedback from the team. Visual aids took a few weeks to prepare—conceptually how that looks like, organizing it and putting it into action.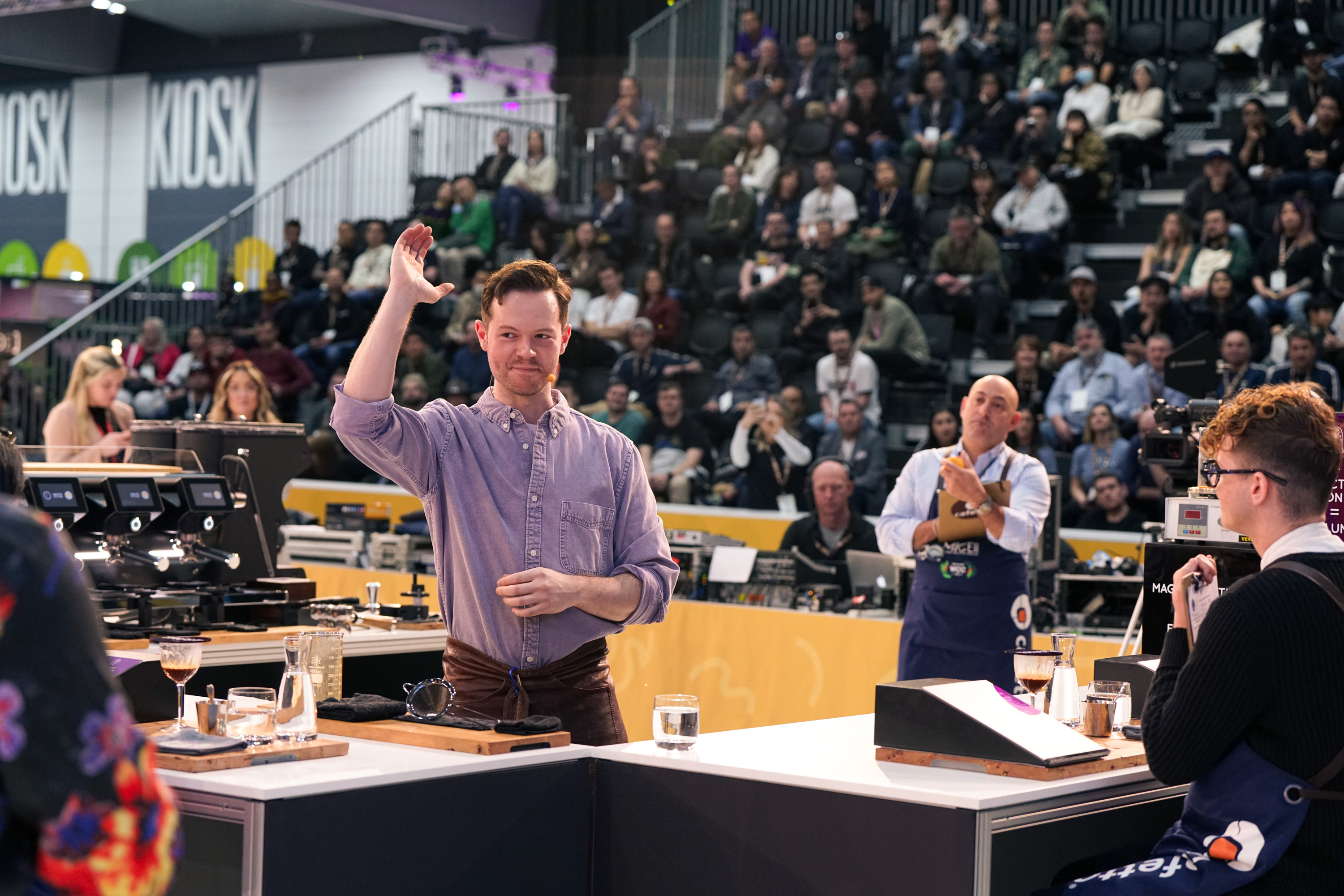 I could instantly relate to your presentation at the WBC, which was based on trust. Could you summarize it for those who haven't seen it yet?
Absolutely. Today as a barista, one of the biggest challenges for me is delivering an experience that tastes the way I say it will taste. I have to be honest, it's something that has frustrated me and I've become obsessed about it over time. It's very close to my heart and I also feel it's really important in this industry. If we want to connect with people and customers, bring them into our world of specialty coffee, and to keep them there, we need to build trust with them. And for me, the best way we can build trust is by representing coffee in the way we say we will. Suppose if we say that a coffee is going to be a certain kind of experience, and if they don't feel the same, how are we supposed to build trust with them? And if they don't trust us, how are they supposed to learn about specialty coffee? And it goes further than that; how will they be motivated to enter this world and pay more for high quality coffees? Trust makes them feel comfortable, and makes coffee feel more familiar. They can connect with the flavors of the cup and in the end they are motivated to learn and continue exploring specialty coffee. That is the depth of trust I want to offer.
The fact that the customer takes away something from that experience is key. You spoke about four key decisions in your presentation. Can you explain them to our readers?
Every single variable in that routine was well thought out and intentional. We were strapped for time and had to be very specific on what to present to the judges. We narrowed it down to four key decisions we felt were interesting and had the most impact. The first one was using Nestor Lasso's coffee from his farm El Diviso for the competition. It was his decision to ferment the coffee anaerobically for 80 hours. That process gave the coffee very big and definable flavor notes. The second key decision was to use a very specific kind of WDT tool (Weiss Distribution Technique). I explored a variety of different distribution methods and techniques and the one I ended up using gave me the highest levels of extraction which further highlighted the complexity and sweetness in the cup. The third key decision was roasting and that was Matt's decision. When we first started working with this coffee, it had these beautiful tannins at the finish but they tended to dominate the cup. We wanted to refine those tannins, make them more soft and delicate, a bit more complex. Matt's key decision was the roast profile and it resulted in him finishing at a lower end degree to limit the external color of the bean. What that also did was curved out the tannin and acrid notes. The coffee had solubility and sweetness with really soft, beautiful complex red wine tannins on the finish of the coffee. The fourth key decision was milk cryodessication. Many of you might have heard of freeze distillation before. Cryodessication is just another word for freeze drying. We cryodessicated the milk turning it into a powder and recombined it with the original milk. This process consistently concentrates the milk increasing the concentration of sugars, fats, proteins, vitamins and minerals. The result is delicious. The texture is very moussey, custardy, thick and sweet. It lifts up the flavor of the coffee and doesn't dominate it.
Oh my, my mouth was watering when you were talking about both the coffee and the milk. I want to talk to you more about milk. Freeze distillation was a big deal when Ben Put, Canadian Barista Champion, introduced it in 2017. I had a chance to taste a few coffee beverages using freeze distilled milk only this year, and I have to say it's delicious. I can only imagine what your technique must have made the milk taste like. I want to understand, how did you come about this technique of concentrating your milk?
Just to give you context on this, in order to build trust we wanted to make sure we're delivering the experience, and in order to make sure we're delivering upon the experience, we wanted to make sure that we explored every variable we possibly could. From roasting all the way through to the cup. We even thought about the type of spoon to use and how to stir it. Every little detail possible. As a part of that exercise, we explored milk. We tried different milk brands and types of milk—full cream, high fat, skinny milk, lactose free, combination of different milk blends and, of course, freeze distillation as well. Jack Phillips and my coach came up with this idea to freeze dry the milk. We've got a freeze drier here at Axil Coffee and tried it because we didn't want to leave any stones unturned. When we recombined the milk powder with the milk, we realized we were on to something exceptional and refined the process going forward.
What was your experience like competing in the World Barista Championship?
Funnily enough, it wasn't as different as I expected it to be. I have competed at the Australian nationals for the past seven years, and the WBC felt familiar. The scale of the competition was definitely much bigger, and the organization was more structured.
You felt very confident, very comfortable. I could see that in your presentation.
I think I did. As a team, we had given our best and knew that there was nothing else we could do.
It's been seven years since an Australian has won the WBC and that too, on home ground. I also read that you have been competing in the Australian Coffee Championship for the past seven years, and now you have both the crowns! It must be surreal, I want to know more. How do you feel? How did Australia react to your big win?
It's something I've always dreamt of, for a really long time. To finally reach your goal is an incredible feeling. I can't describe the feeling exactly, but I'm somewhere north of happy, humbled and grateful. It's inspiring to see the support that I've received from people across Australia and internationally. People take the time to message me and I am at a loss for words. I still see the trophy when I walk past it and wonder if it's really there.
I'm really happy for you, Anthony. It was well deserved. You are an inspiration to many baristas. What advice would you give them who are thinking about competing?
The first thing I'd say is, don't get intimidated by competition. There are many moving pieces and it's difficult, I agree. But at the end of the day, there are only a couple of things you really need to focus on particularly when you get started. You need to understand the rules, score sheets, and serve good quality coffee. That itself will get you really far in the competition. Once you've locked that down and created that foundation, there's a lot more attention you need to put on other areas like your presentation and the concept. When you are competing for the first time, it might be wise to have a concept simple enough so you can execute it well. Finish within time, don't break any rules, make good quality coffee, and you'll do pretty well. Start with something achievable like that and be mindful to not overwhelm yourself as you start out. Use the competition as a way to improve your skills. It's easy to get caught up focusing on the result but keep in mind so much of the reward is in the process. I've learned so much about coffee through the preparation. I've another bonus tip for you, look for people who are willing to help and don't be afraid to ask. You won't get it if you don't ask. Either way you have nothing to lose.
I would have imagined anybody to be easily intimidated. The competition was tough this year, especially for the Australia nationals. I could see that you were all about staying in your lane, believing in the work that you have done leading up to the competition. The presentation was spot on and very impressive to see. You definitely have more resources and a voice now than you did before. How do you feel about this, Anthony?
I feel excited and have a greater sense of responsibility. I've realized what I say has more reach and impact. I definitely want to contribute to the industry and share ideas that will help benefit the coffee stakeholders. It's exciting to have this avenue and I'm looking forward to what's in store for me.
What would you like to work on next? Are there any personal skills or industry-related issues that you would like to work on?
I definitely want to create partnerships with companies that I've worked with over the years. The opportunity to work with the equipment, develop an understanding and innovate in that area sounds exciting. My focus has always been in barista skills. I leave the sourcing and roasting to people with much more experience than me. I want to go all in and improve my barista skills further and everything that goes behind it.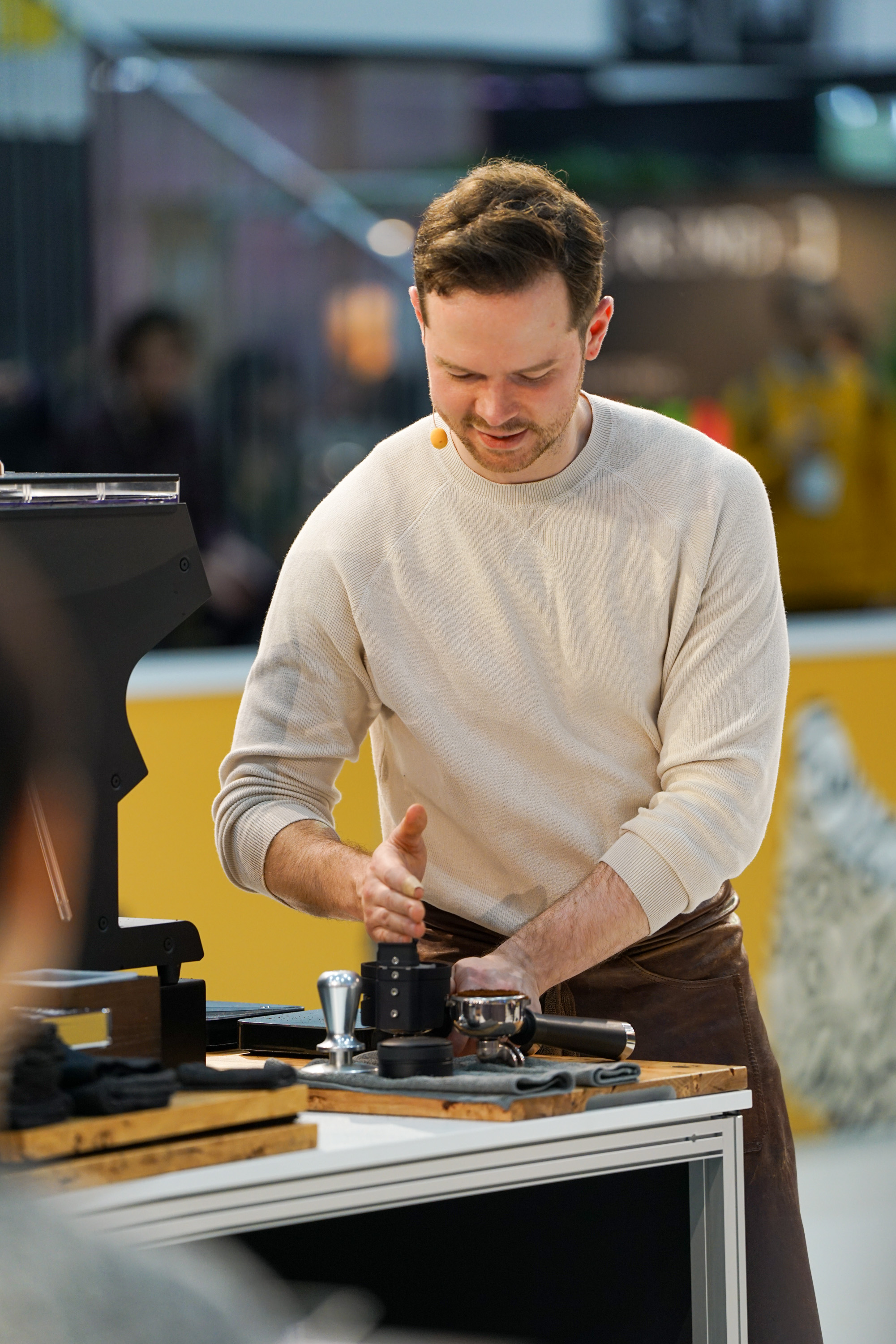 What about the baristas, what do you think is the most important skill for them to have?
If I had to pin it down to one thing, it is the ability to know how to learn. Give a man a fish and he'll eat for a day but teach him how to fish and he will eat for a lifetime. That's something that I've learned through my years of competing, how to manage my sessions and to teach myself. To learn how to break down the process and understand variables. What goes hand-in-hand with how to learn is learning to practice. This is something I feel a lot of baristas can benefit from. For eg. Baristas can spend four hours making coffee in the training room without actually further developing their understanding of the whole process. The key is to know how to focus on one particular thing, slow it down to the point of perfection, and speed it up until you master it.
We humans love to overcomplicate things. Love that advice of going back to basics.
We've seen this with baristas all the time and I've been there myself early in my career. If the coffee isn't where it needs to be it first requires a look at some of the core fundamentals of dosing, distribution, tamping and recipe development before jumping to obscure variables.
That's true. I know we can't predict anything but how do you think the coffee industry will change in the next few years?
Two words—customer experience. If we want this industry to thrive, we really need to justify charging higher prices to people, and that is through connecting customers to specialty coffee. We need to find better ways of expressing specialty coffee to the consumer whether that's through the language that we use, through tasting protocols, or the cafe experience. I think there's a lot of potential to be creative in what that looks like, and I feel that's where the industry is heading.
Last question, I'm actually very curious about the coffee scene in Australia. What are the ongoing trends right now?
We've seen more cafes adopt frozen coffee and/or multiple coffee menus showcasing different coffees reminiscent of what you'd see on a wine menu.t We're also seeing more emphasis on milk, freeze distilling, weighing the milk in the cup and more.
Excellent. This shows that either consumers are willing to experiment or that they are aware of the new techniques and innovation taking place in barista competitions. I am excited to see what's next for you, champ. I have a feeling that you are only getting started and this was a teaser of something great yet to come from you.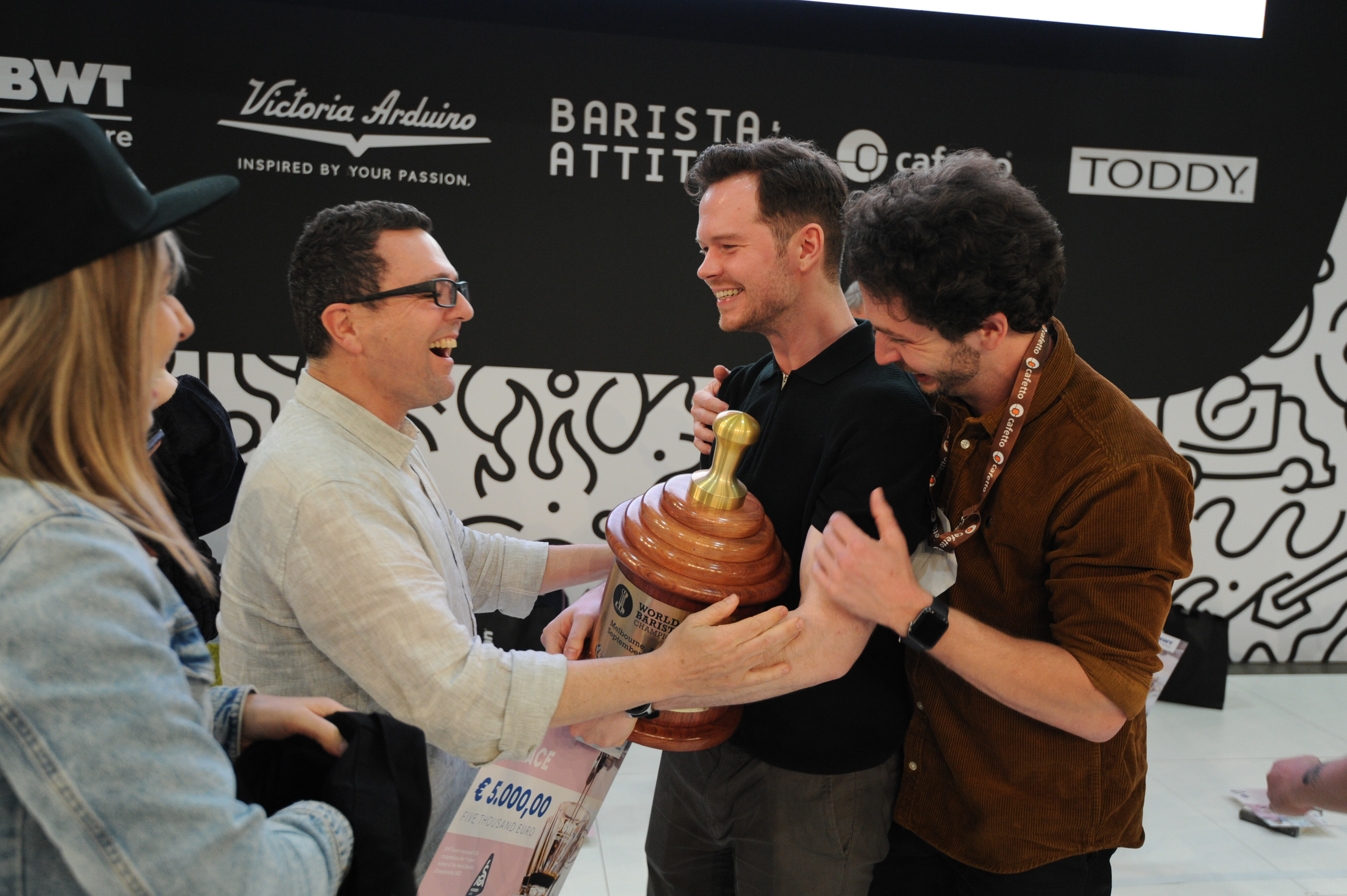 ---