Getting tired of the taste of vanilla, chocolate and pistachio in ice cream? Why not try some wacky ice cream flavors? Located in the Inland Sea of Japan, Shodoshima is famous for its 400-year history of soy sauce production. And everyone who comes here would have a soybean sauce flavored ice cream. It is an imposing way to make travelers on the island taste the previous food heritage. Asians are always more adventurous with food flavors than the west. It is not only a cultural thing but also has science support. An essay in Nature magazine analyzed over 56,000 recipes and found out that western cuisines have a tendency to pair ingredients that share the same flavor compounds; while Asian cuisines are doing the contrary: the more flavors two ingredients share, the less likely they would be paired together in Asian kitchens. This might explain why more Asian style ice cream brands would create interesting wacky flavors.
For example, a Japanese-inspired new ice cream shop in Melbourne, Kōri Ice Cream is introducing Asian flavors to Australia, including some adventurous ones unfamiliar to the locals. As a newcomer in Melbourne, Kōri Ice Cream already got into the spotlight thanks to its unique wacky flavor of ice cream. For example, there is the miso soup flavor, a combination of vanilla tofu, nori seaweed, and miso. The ice cream has a sweet-salty taste almost similar to salted caramel. There is also the Hojicha flavor. Hojicha is Japanese green tea roasted in a porcelain pot over charcoal. It usually has this dark, roasted bitter flavor. However, when served cold, the light tea floral taste becomes perfect.
Kōri Ice Cream is a collaboration between Bernard Chu, the owner of LuxBite, and Joane Yeoh, Good Food Guide Young Chef of the Year 2022 finalist. Both of the two have a similar taste palate and opinion when it comes to sweets, and are also very passionate about patisserie and sweets in Japan. After a casual dinner chat about opening a Japanese-inspired ice cream shop, they made their dream come true. Joane told us the concept behind their ice cream: "We think that ice cream should be fun rather than be safe, which applies to our brand or concept. And to make the wacky flavor work, we need to make sure it tasted good as well."
On the other side of the hemisphere, an up-rising Chinese artisan ice cream brand is also experimenting with wacky ice cream flavors. The brand is called Enjoy Gelato (歎雪糕). The owner Subraina Sun established the brand in 2017, aspiring to bring Chinese elements into ice cream. Unlike most of the gelatos in the market, Enjoy Gelatos always challenges itself with unusual local ingredients from all over China, to give consumers a taste experience they never have before. So far, it has created over 200 flavors, most of which are inspired by Chinese regional elements.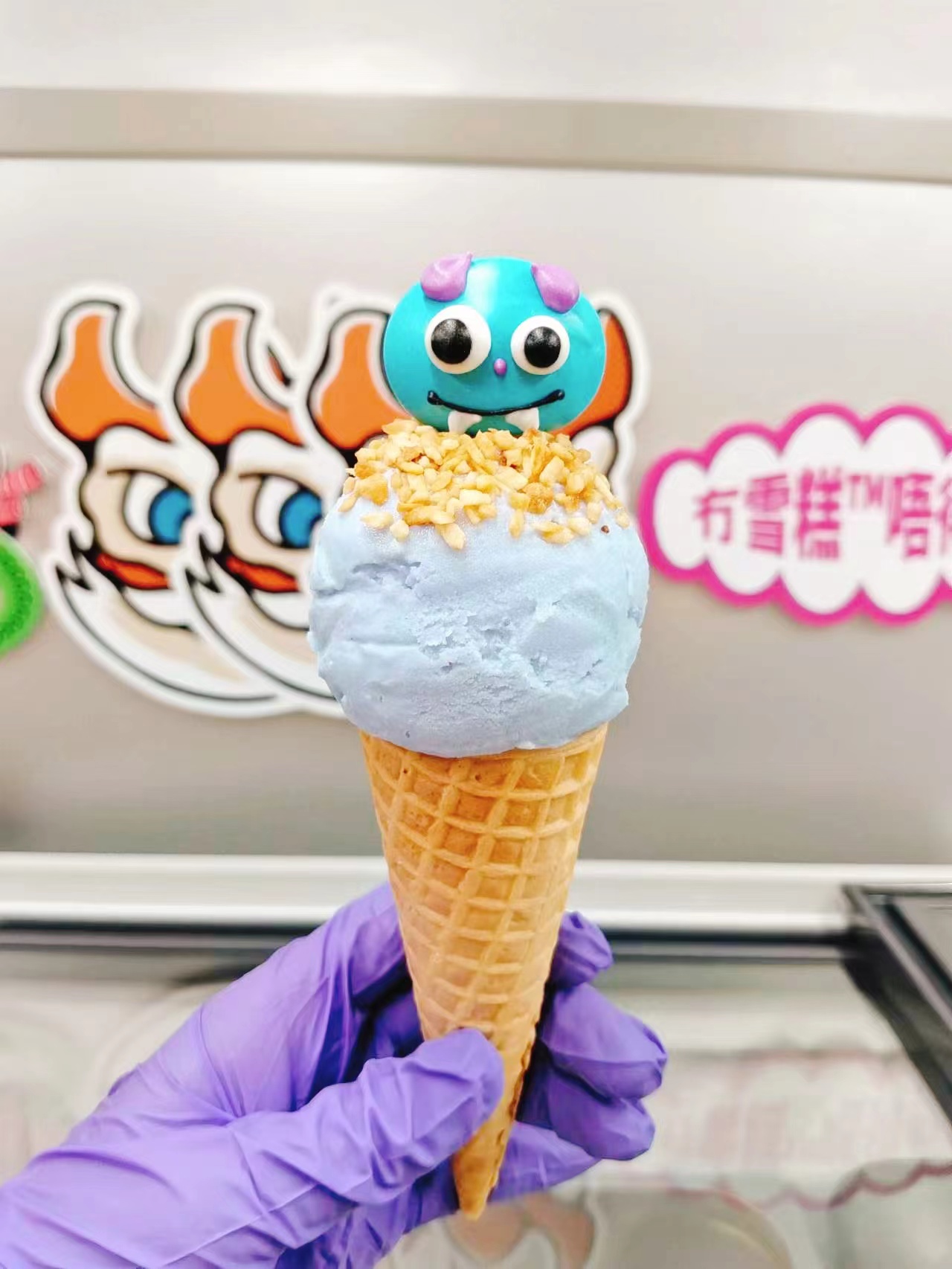 For instance, one of their regular flavors is Indian Gooseberry with olive. Indian Gooseberry is a fruit that is mainly consumed in the southern part of China. Many people are not fans of the bitter puckery flavor when they first try it. However, when put into the ice cream, it is refreshing and offers a sweet aftertaste. Another Enjoy Gelato's signature flavor is Moutai flavor. When the milk is infused with the famous Chinese spirit, it surprisingly creates a taste similar to white chocolate. To push your taste bud to another level, Enjoy Gelato has made some very innovative flavors, such as fried spicy crab, pickled carrot with cheese, and spicy sugar-coated haws. These flavor ideas emerged in Subraina's head while having dinner with friends and she later started experimenting with them.
Wacky Ice Cream Beginnings: Fine Dining
One interesting thing to notice is that both Subraina and Joane come from a background in the pastry industry, and they use ice cream as a way to fulfill their own dream. For Joane, she and her business partner Bernard both have a common thought of pursuing high-quality entremets rather than compromising the quality for quantity. Making ice cream is a little easier to handle compared to the patisserie business Bernard had for the last decade and Joane's previous work in different restaurants. Joane told us that Kōri Ice Cream is now in the process of launching a selection of fullsize ice cream cakes. Through their pastry experience, Joane thinks it is easier to create entrees in a frozen stage.
Subraina, who also previously worked as a pastry chef, on the other hand, decided to use gelato to explore and get a deeper understanding of ingredients from her home country. She said: "It was in 2017, when I was still working in the bakery of the Macau Casino Hotel, I suddenly realized that I had very little understanding of the Chinese ingredients and seasons. Therefore, I decided to go back to mainland China to start a workshop about homegrown ingredients. Gelato is a good way to practice."
In business or management, we always say the outside perspective is crucial as it sparks and stimulates new ideas. That applies to the ice cream industry as well. With a crossover background, both Joane and Subraina are able to make innovative ice cream flavors that have never been made before. However, if we zoom out to a bolder perspective, it is not difficult to realize that many wacky or unique flavors of ice cream first appeared in fine dining instead of ice cream ateliers. Recently, an article from Financial Times has dug into the trend of wacky ice cream in high-end restaurants. In Cambridge, The Garden House restaurant spring menu this year, features the Jersey Royals potato flavor ice cream. Recently opening Chicago fine dining Esmé serves a savory caviar course with sweet potato, kombu, and bonito ice cream. Even the prestigious Michelin restaurant El Celler de Can Roca started to offer flavors such as "perfume", "forest land", and "old book".
Fine dining is always at the front line of innovative desserts. The most famous example would be the popularization of the molten chocolate cake. It first got generally recognized in chic restaurants in the upper east side of New York and later took the world by storm. Joane, who is experienced in fine dining, believes that fine-dining restaurant menus are generally more adventurous and always try to be innovative and different from other restaurants. "Fine-dining restaurants' customers are also more adventurous; they are looking for something new and unique and are not afraid to try all the wacky flavors. In fact, they are expecting to try wacky flavors of food that gives them a 'wow effect'," she said. Moreover, most fine-dining restaurants could afford higher costs due to the selling price of the overall menu; therefore, they are more willing to risk making unusual flavors. In fact, if we trace back to the history of ice cream, we will find that it was first served to the rich by some adventurous chefs.
Inspirations Behind Wacky Ice Cream
To create a "wow effect" wacky flavor ice cream, ideas are always the core, especially for innovation. Most of the time, past life experiences become inspirations. It could be a delicious dish tasted during travel or a beautiful melody heard somewhere. It could be a book or a chapter. "All these things can be translated into flavors," Subraina stated. For example, the Indian Gooseberry Olive flavor was a reproduction of the Indian Gooseberry juice she accidentally tasted during her travel in Shantou, China. "The refreshing and sweet taste was almost unforgettable, so I came back to ask the fruit shop owner to teach me," Subraina told us.
For Joane, it is the same. Most of the flavors made in Kōri Ice Cream are inspired by the amounts of sweets she has tried in Japan that might work well in ice cream as well. She reckoned: "I have been passionate about creating interesting new flavors rather than making ordinary flavor throughout my career as a restaurant pastry chef. So when it comes to Kōri , I make quite a few adventurous savory ice creams that I always wanted to try." For instance, the Nori seaweed flavor was just for fun for Joane, as she personally loves eating nori chips, but now it has become one of Kōri's signature flavors.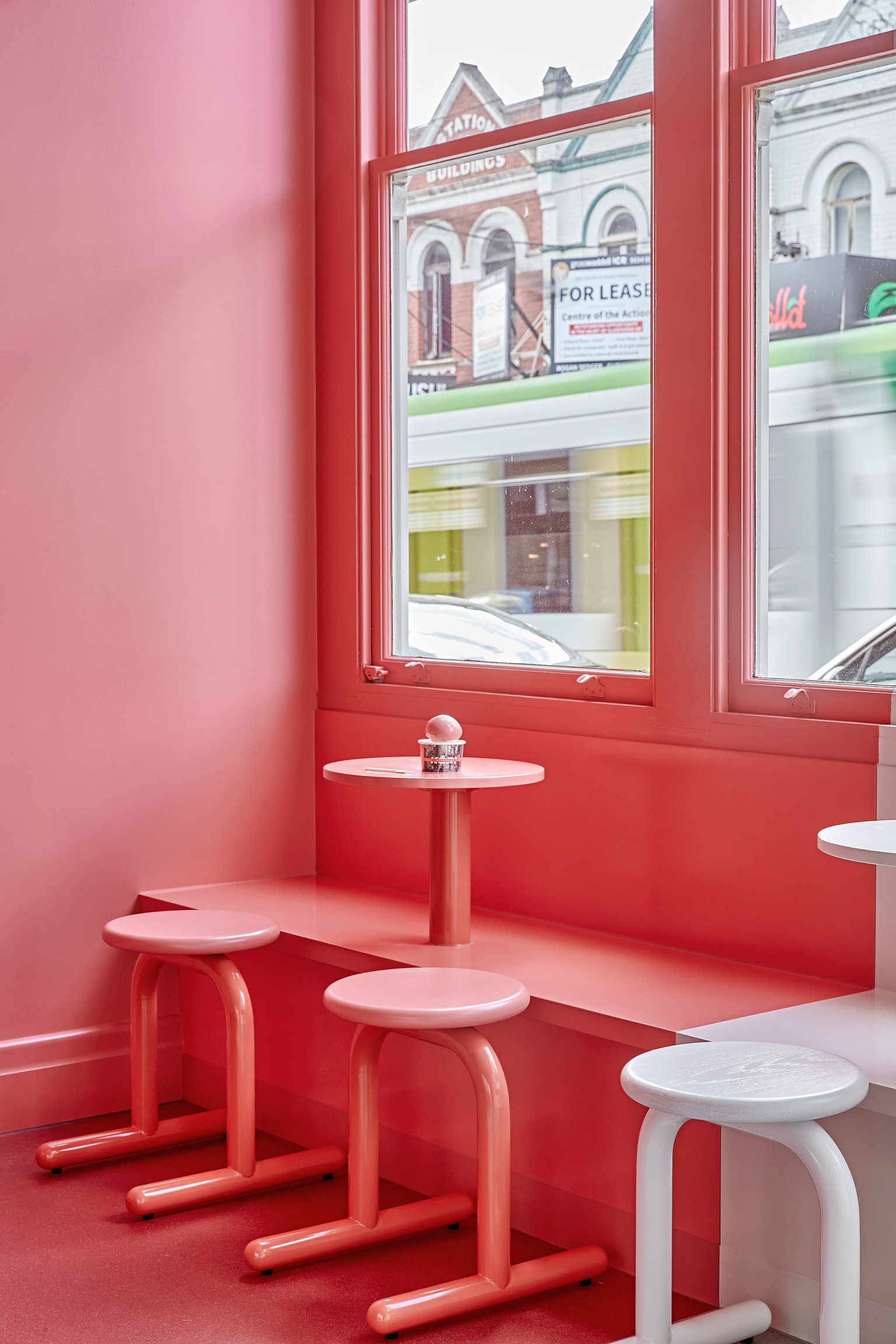 Fresh local ingredients are also an essential inspiration for wacky flavor ice creams. Many niche ingredients are regional. It is only recognized by a small number of people living in the area. Discovering more local flavors is always Enjoy gelato's brand mission. Many of their ice cream flavors contain local ingredients all over China. For example, perilla is an unfamiliar ingredient for most Chinese people and is mostly only consumed in Hunan province. However, Subraina successfully infused it into the ice cream and made it one of their most popular flavors. "We explore the possibilities of these ingredients and maybe inspire people through them as well." She told us.
Finding the Balance Between Wacky and Tasty
However, most of the time, the more well-known the ingredients, the more widely accepted the more niche the ingredients, it is difficult to find consumers who can resonate even with the help of education. Subraina told us that even though Enjoy Gelato has over 200 flavors, the most popular ones, such as strawberries, chocolate, and vanilla, are still the most common.
The results of the 2022 consumer research show that taste is the primary factor that Chinese consumers consider when purchasing ice cream, accounting for 86.2%. Also, according to the analysts at AIMC, although new brands of ice cream have emerged in recent years, consumers' favorite flavors have basically followed their past habits.
Of course, people won't buy the idea only if they get convinced by the ice cream itself. To create a welcomed wacky flavor ice cream, it is crucial to balance being wacky and tasty. After all, you want to make ice cream that people could indulge in. There are some basic rules for matching ingredients, for example the general direction of the taste, the sweet and sour ratio, and the texture. Whatever wacky flavor you created; it is still much based on the general matching rule to make sure it won't get too weird.
Another essential element is sugar, Joane added. The amount of sugar put into the ice cream would affect not only the flavor but also the basic texture of the ice cream. Nevertheless, as Subraina reckoned, to make a tasty wacky flavor, it still must rely on the creator's past professional experience to balance the overall taste. A deep understanding of the ingredients is extremely important so that you can have enough knowledge to "control" the ingredients and make it shine in the ice cream, Subraina told us.
On the other hand, consumers also need to be encouraged to be adventurous with flavors. Subraina said she would always ask customers to try them in the shop. "It is always difficult to accurately describe the taste or the texture in words. Therefore, we prefer trying before buying." Subraina told. Media, especially social media, is also an effective way to draw people's attention and curiosity for wacky flavor ice cream. Joane told us: "At the beginning, people were skeptical towards our wacky ice cream. However, after a few weeks of opening and with the aid of different media exposures introducing our concept and also highlighting these wacky flavors, people are now excited to try all of them."
Finding the balance between using advanced technology to create innovative ice cream and serving the customers with delicious high-quality ice cream is also a lesson that any ice cream maker needs to learn. Even though creating wacky flavor ice cream is exciting, ice cream entrepreneurs should not be too radical in innovation, especially for those technology-led ice cream entrepreneurs as Sobraina suggested. Focusing on the quality of the product is much more important for ice cream brands to survive, especially if not in big cities.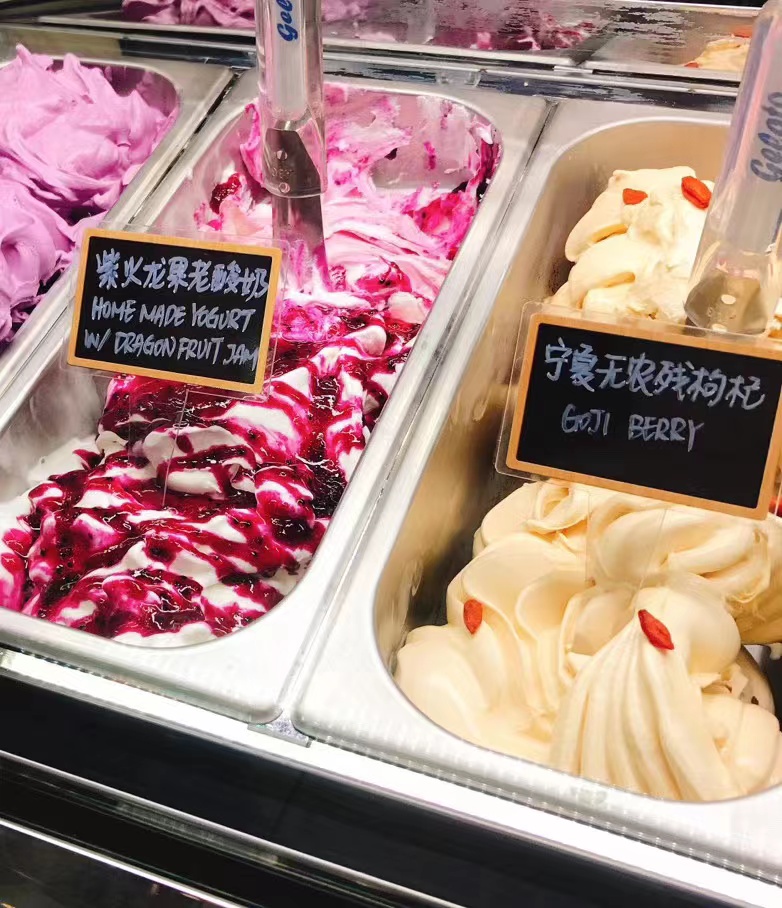 Nevertheless, we cannot deny that technology brings a lot of possibilities to ice cream. A hundred years ago, when chefs created ice cream, they created a new form of dessert. Nowadays, chefs and ice cream makers are still trying to subvert people's perception of ice cream thanks to the most advanced technology in the food indust ry. One of the most recognized technologies used in ice cream is molecular gastronomy. Initially introduced by the legendary Spanish restaurant El Bulli, again a world-famous fine-dining restaurant has now become the selling point for a few ice cream brands.
For example, the chain brand Creamistry uses liquid nitrogen to instantly freeze ice cream. It not only gives the ice cream a more decadently rich creamy flavor but also makes it possible to turn any ingredient into ice cream flavors. Other critical technologies that help expand ice cream flavors are advanced food processing technology, new storage methods as well as cold chain transportation. These technologies help to bring rare ingredients to the studios and into customers' hands as new wacky flavor ice creams. Moreover, smoking equipment can allow ice cream makers to replace the air in ice cream to make it smoky. Low-temperature cold extraction to obtain plant cell fluid so that it can transform more different ingredients into flavors. "Every step of technological development is encouraging innovation in ice cream," Subraina said.
When talking about what's the next wacky ice cream they want to create, both Subraina and Joane already got some ideas they want to try. As Halloween drew near during our interview with Joane, she told us that she was trying to infuse the sweet and salty Japanese curry flavor into the plant-based pumpkin ice cream as a special flavor for the holiday. Meanwhile, Subraina is thinking of getting hands-on experimenting with seafood or pickles. However, whatever it would be, Subraina believed that the core is to make the ice cream flavor interesting and tasty while aligning with her goal of making the best use of local ingredients.
As for future innovation in the ice cream industry, ice cream entrepreneurs should never forget to "stay consistent, stay creative. Be brave, be bold, be different with creating flavors," as Joane suggested. Today's wackiest ice cream flavor could be the most common and welcomed flavors ten years later. Who knows?
---