Nükhet Çubukçular is a Turkish artist who started to make a name in the coffee industry in recent years. She designed a Mountains tee for Orea, a London-based coffee brewers and equipment brand, a t-shirt conveying black voices for Cxffeeblack, a coffee brand that aims to reclaim the black history of coffee and reimagine its black future and a wristband for I'M NOT A BARISTA, a nonprofit organization aims to empower baristas and coffee people worldwide, among other projects.
She looks undeniably cool on social media, but went through a tough time when she was young. Because of the conflict between her family and local religious beliefs, plus the conflict between family members' religious beliefs, she feels no love in a home full of rules. Always bullied when she went out, she had to rely on tattoos to protect herself. Later she skated, did graffiti and worked at an extreme sports clothing store. All these seemingly cool things are her way of protecting herself. No matter where she was, she always felt like a "bad sheep".
At 28, there was change: a cafe gave her a job opportunity. She started as a waitress, and later became a barista and assistant roaster. Then she realized she has a spiritual connection to coffee: throughout history people have banned and studied coffee, they even tried to read their fortunes in coffee grounds. It is a known but practically unknown fruit, just like her. Today, the specialty coffee community is her safe space where she can fully express herself.
However, while working in the coffee industry, she also became aware of its issues. It was painful for her to see that many people just saw coffee as a business. When COVID-19 started spreading, she had to return to her hometown of Izmir to turn to art to make a living. For Nükhet, art is more a way to turn the pain she felt in the coffee industry into a strength.
Creating art helps her make a living. And even though she misses her working days in cafes, her dream is to inspire the young generation through her passion for coffee and design. It hasn't come true yet, but she's on the right track…
While growing up, her pain shifted from family background to tattoos to stepping outside of herself when she empathized with the pain of others. She recognizes that between feelings of sadness, fear, love, despair and compassion, one should not categorize fear as bad and compassion as good. She fully believes in balance.
Although sometimes she still thinks she is the "bad sheep", now she also knows being the "good sheep" is not good for her. The good sheep followed the rules, and she wanted to do more to challenge the traditional things.
Here's her story through her own words.
Boundaries
I live in Izmir, Turkey. When I was 5 years old, my grandfather gave me coffee without telling my mother. It was my first time tasting coffee.
My grandfather was born in 1920. A cup of coffee a day was a ritual for him. He always hid Turkish coffee in the cabinet which he did not tell my mother.
My grandparents came from France before my mother was born. They were not so religious. My father was Alevi and he died before I was born. My mother is a Christian. According to what my mother said, my mother was ostracized from family society because of world view when she married my father.
This situation has not changed much the last 20 years, not from a political point of view. Diversity is not truly tolerated, for example, in some regions, women that don't wear a hijab are exposed to harassment verbally and even physically. The community I lived in always complain about the church my mother works at and they shout and scream at them as a group.
I, on the other hand, was one of those who were rejected by society because I had a different worldview from my community. I was judged in my childhood. I started by doing tattoos to places which look like childish efforts to show how different I am, how rough I am. As a young girl, growing up in the street, that saved me from so many risks sometimes.
It was a short process. My mother always set me free to search for my real self and be a good person. This helped me search for religious histories. As I saw magazines and realized that every symbol has a meaning, I started cultural studies. I was very excited when I saw the Asian figures like warriors and dragons. What impresses me the most in Asia is tea rituals. I feel it down to my bones. I have a Geisha tattoo on my back, I find wisdom in dragon eyes, I have a wave tattoo on my left arm and a cloud pattern. They are all inspired by Asia. "Hope" is written on my throat. I could not imagine this anywhere else on my body. With every sip, every time I look in the mirror with the thought that people will see me for the first time and have an opinion about me without talking about me. Tattoos on visible places of my body became the fastest way to give a clue about me.
Even if the initial purpose was different, now it is the greatest way to present myself. This is like how you want to show yourself when buying a navy blue t-shirt. I am doing it to remember important feelings, times and cultural figures that make me feel strong. It is only a temporary representation of yourself when you wear a t-shirt or listen to some music. Tattoos can also remind me who I was. I do not use accessories. I wear very simple clothes. We can say it's my accessory, my own personal way of expressing myself.
I really like tattoos, but I don't want to become a tattoo artist. It's nice to leave a mark on people's lives, but I am very afraid of creating bad karma… Maybe it's nice to do a few small simple things (I just did line drawing for my mother) but it's hard to do this as a profession.
Skateboards and Posters
Growing up with just one parent and three siblings, I had an insufficient childhood. We lived in a house with two rooms with my grandparents, my mother, my older sister and two older brothers. I grew up wearing my sister and brother's clothes. I was using old books, clothes and brushes. Most of the time, we even shared the bed. When I was 6, I had my own skateboard. The skate area was close to my house and I felt I could go whenever I wanted. Being able to go where I want to go is a priceless thrill for me.
At 13, I started hanging posters in my room, like band posters. At 14, my mother thought it would be prettier and less dirty if I did graffiti, and she allowed me to buy spray paint and paint graffiti in the skateboard area, and I became the popular kid with the cool room. I did a lot of street painting in the 8 months after that.
But I can't feel any love in my home, only rules. From the time my father died when my mother returned to my grandfather's house, there were always boundaries in my home. My family was always like that — this is my home, and if you are here, follow my rules! My grandfather never hugged my mother. Naturally, my mother treated me the same way.
Then, at 15, I left home and went to Istanbul to start my life, participated in mural festivals, skate park painting and many street paintings.
At the age of 16, my friend gave me some papers about drawing techniques when she knew I did not have any chance to study Art. And I started to do art through imitation. I could not believe it when my friend asked me to create some art for a concert. I can say sincerely that true friends helped me to develop myself in terms of self-confidence.
I started working at an extreme sportswear store when I was 17. This work experience made me realize my passion for adventure and that my ideal workplace was where I could openly welcome my self-expression. However, because the company was facing financial problems, I was forced to find another job.
Coffee Helps Me Find Myself
I Googled "places to work where tattoos wouldn't be a problem" and found that a coffee shop might be a good choice. When I was 28 years old, a coffee shop gave me an opportunity to work here in Turkey, and my mom was happy as she thought the job was better than in an extreme sports clothing store where I was often injured.
I entered the coffee industry by washing dishes, and then I started to fully understand it when I became a barista and assistant roaster.
One day, I helped the cafe owner to prepare a Turkish coffee for the Cezve/Ibrik Championship, and we got Finca Las Margaritas from Rigoberto Herrera Valle Del Cauca Gesha. I thought that a woman who put on perfume passed by me when I had my first sip. I then realized the smell came from that coffee. It made me think that if that coffee carries such sweet, soft melodies of pineapple and rose, what have I been drinking all this time?
My excitement for coffee began to turn into passion as I started doing more research. Standard recipes were usually applied in the workplace. I started experimenting with quietly changing the temperature of the water and changing the grind. I promised myself that one day I would make such a naturally sweet coffee that even those who don't like black coffee would enjoy. Because of my love for bartending, I started planning to represent Turkey in the Coffee in Good Spirits Championship. But when I started getting ready for the championship, the contest was canceled without any explanation.
But I still think I'm lucky. I am thankful to my boss who gave me a chance to do innovative things. In fact, this is rare in Turkey because of the high cost of specialty coffee. Commercial coffee is more dominant. Through coffee, I also made many friends.
Using Art to Do Something for Coffee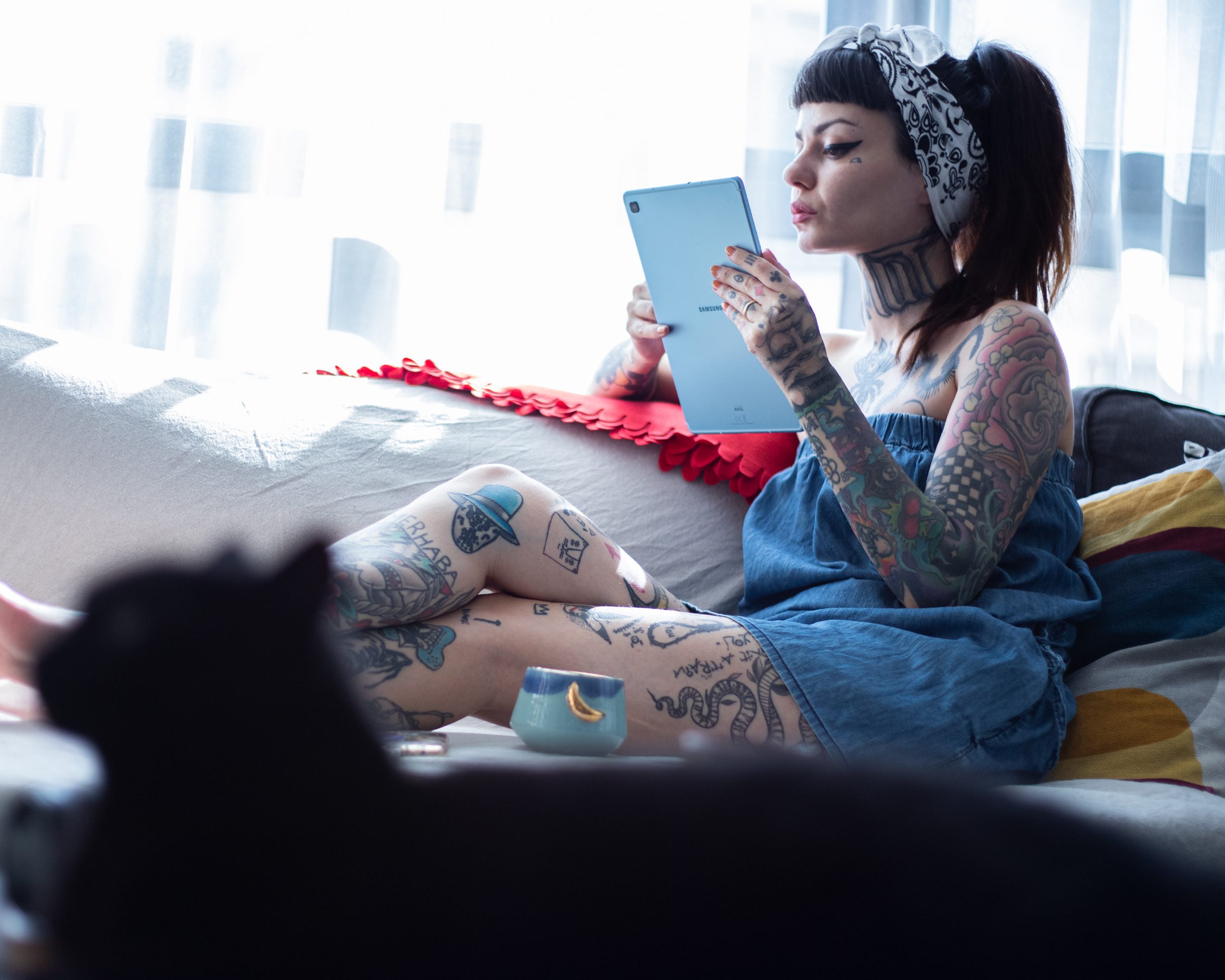 However, I lost my job at the coffee shop due to the COVID-19. My experience in the coffee industry made me realize that I was serving coffee to an elite group of people who just wake up, go to a store, and enjoy their life. It was then that I realized who grew coffee was more important to me than who drank it.
I couldn't find a job for a long time, and that's when I started to turn a bad thing into a good thing and started creating my art.
In April 2020, I started designing stickers to sell at low prices and share my work on my Instagram account. The account name "blckhoneygirl" comes from the first coffee I ever had from abroad — Duran Family's Black Honey launched by White Star with flavors of blackberry lemonade, apricot, lychee. My roaster friend used to call me "black honey" and before I drank the coffee, I didn't know what she meant. That day, my friends told me that it's a way to process coffee. My name has no "a" in "blck" because it was taken by an inactive user. I've asked Instagram many times to fix this, but maybe that's what makes me different.
At first, I volunteered for many charity projects to help many unemployed baristas. I also produced illustrations and donated the proceeds to coffee farmers in need. After a while, even though this created a spiritual uplift in my life, it put me in a financial bind and I started pricing my art. In August 2020, I designed a coffee bag for Turkish coffee brand Delfiano Coffee Beans.
But then I found that illustrating as a way to make a living put me under pressure., I thought I needed to always please my followers and and do commercial collaborations.
Eventually, it pained me to see people drinking coffee just to get likes and followers on social media instead of helping farmers solve their problems. However, being rational about getting likes and followers on social media has also become a task I need to face. 50 people unfollowed, 20 people followed… I wonder why people don't like me anymore. Then I realized that it would be a serious problem to try to change myself and get people that I didn't know to like me. What matters to me is who is following me, not how many followers I have. People don't need to be curious about what I'm doing. But it makes me very happy to witness my development and change, and to be liked.
The pressure in commercial collaborations was people tring to change me. They just wanted to benefit from the illustrations.
Aside from the financial anxiety, turning freelance is such a joy. Since the beginning of this year, I can set my own prices and live by choice as I wish because if I don't dream something, I can't make art. In the process, I communicate with so many important people with names like @cxffeeblack, @orea.uk, @europeancoffeetrip, etc. that sometimes I can't believe it.
We All Have a Skeleton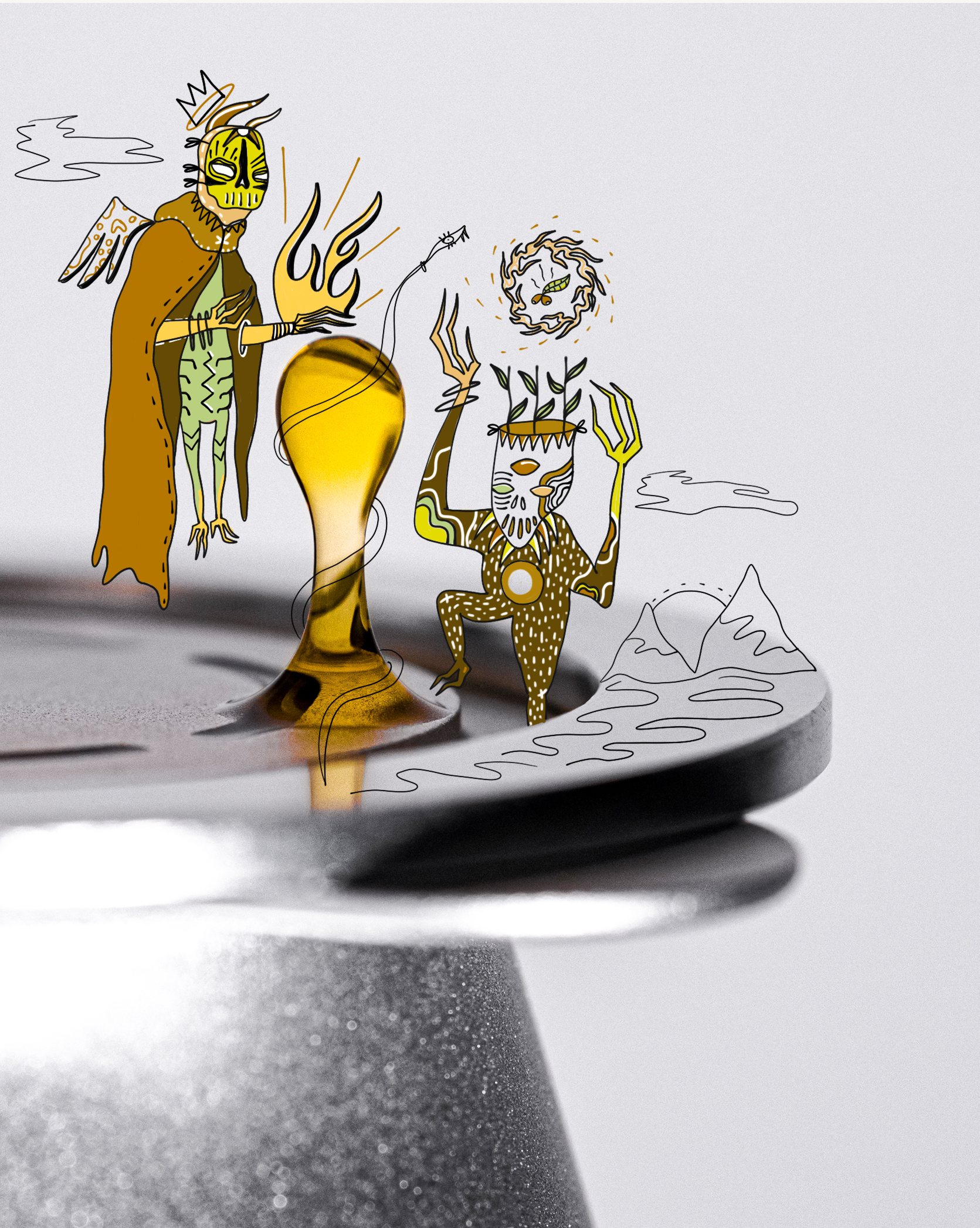 Skulls, masks, and serpentine figures are elements that I use most in my work.
Skull is an anatomic figure which actually represents all humanity. For me, it is a reality that exists in everybody but all humanity fears to see. Serpent represents so many feelings. Some believe, it is a cure, but others think that it is an enemy. It depends on the culture where you were raised. I want to show the things people and all society refuse to see, since we are all caught in certain beauty standards in the age of advanced technology and the internet. But all of us have a skeleton. And it is essential to remember this. Even if it is ugly, reality is the most necessary feeling for me.
In addition to the original color of the skeleton, if I did not identify with black color — the color of black coffee, I would choose turquoise. True turquoise, the color of the rivers that flow through central Asia, is both rare and stunning. Turquoise is one of the oldest gemstones in the world. It was considered a precious treasure in ancient times and is still a popular amulet that is considered to have divine energy. But this perception of mine might change as time goes by.
Art is another way I've found to get involved in the coffee industry amid COVID-19. My dream is to inspire the youth generation through my passion for coffee and design. Although I have not yet realized my dream, and I know the process is difficult, the only thing I am sure of is that I will keep moving in that direction.
I just have one message to the world, don't let your past failures take away your confidence in achieving your goals. Here I want to write a quote by Joe Rogan which encouraged me a lot, "We define ourselves far too often by our past failures. That's not you. You are this person right now. You're the person who has learned from those failures. Build confidence and momentum with each good decision you make from here on out and choose to be inspired. Live your life like you're the hero in your own movie."
---