We met Maurizio Valli, 40, founder and owner of Bugan Coffee Lab and its 4 branches, in Bergamo, Italy.
Passion, determination, and a love for coffee are strong within this man.

In 2000 he opened his first location and he faced the challenges that every Italian coffee shop owner has to deal with. The coffee corporations will come knocking on your door and try to lease machinery and supplies to you for free, as long as you buy their coffee.
This model is the way the Italian coffee Industry has worked for over 60 years. The costs of opening a coffee shop are high, and leasing is a good way to manage those overhead costs that can overthrow your business plan.
Maurizio, who besides being a nationally awarded barista and certified SCA trainer, is also a very curious and inquisitive man. He started looking into the business model that the coffee corporations are strong-arming bar owners into and he decided he was not going to be like the rest. How do those companies make a profit if they are leasing the equipment for free? The answer is honestly quite frightening, those contracts force baristas into purchasing low quality and scrap coffee in exchange for "free" equipment.
Life Changing Travel
Driven by his determination, he began training, specializing, and competing so that he could conquer the coffee kingdom. Those competitions were a key turning point for Maurizio, since they became moments of interaction with colleagues, growth, sharing, and innovation. During one of the competitions he opted to use a specific type of Panama sourced coffee beans. He was the only Italian to use Panama sourced coffee in a national level competition. Shortly after the end of the competition, he was approached by a woman from Panama, a coffee seller who invited him on a life changing journey in, you guessed it, Panama. He packed his bags and spent 10 days experiencing life on a coffee plantation first hand, something not a lot of other Italian Baristas experience. He came back from his visit to the Cafe Eleta plantation with a new mindset: his goal was not to just be a barista, but to revolutionize the coffee culture in Italy by sharing the knowledge that he had acquired in Panama.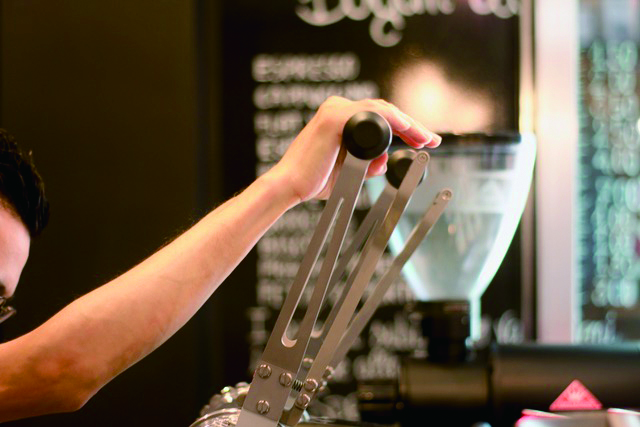 From 2012 to 2014 Maurizio toured Northern Europe, where specialty coffee was already an institution. He became an SCA certified trainer and opened the first Coffee Lab, Bugan Coffee Lab, in Bergamo. You can see his time spent in Northern Europe reflected in the interiors of his cafes and the designs of his products. He began training teams of baristas to compete in major national and international level events and in 2017 his hard work paid off and his team brought home the gold in the three main categories.
Maurizio is considered one of the famous coffee connoisseurs and roasters at a national level. In 2015 he won the Italian Barista Championship and was proclaimed "Best Barista of the Year". "La Cucina Italiana" Magazine puts the Bugan Coffee Lab among the ten best roasting companies in Italy and writes: "Calling Maurizio Valli's restaurant a roastery would be an understatement. It is a real laboratory where customers can buy but also just taste various single origins from all over the world and learn innovative extraction techniques".
Unexpected Changes
How does his approach to coffee mix with the current changes in coffee consumption in Italy after the COVID-19 emergency? Maurizio hopes old habits will change: everything, from the layout of the cafés to the frequency and the consumption methods will change.

This pandemic will result in an incentive to improve and modernize mindsets and methods across the country.
That's the point of revolutions though, isn't it? Once the balance is shattered and there is a need to rebuild from scratch, perhaps it is appropriate to approach things in a new way rather than trying to resurrect the dead.
"The concept of the café must change: no more crowds at the counter and no rush to walk in, chug an espresso and go. You go to your local café with the desire to enjoy an experience, just like you would at a restaurant." says Maurizio. "Separate the lab and seating area. Have the customer observe the coffee-making process, and have those who serve it explain the characteristics and qualities of the coffee the customer is about to drink". The widespread concept of ordering takeaway coffee is still not normal in Italy, it is still very much a foreign way of experiencing coffee for both baristas and customers. Ordering from a distance, waiting and then taking the drink away, in your own mug, is the way Maurizio wants to go since indoor consumption is currently limited by on-and-off lockdowns. Bringing your own cup to the cafe should become the new, eco-friendly, normal. No-one should be drinking specialty coffee from a paper cup.
The License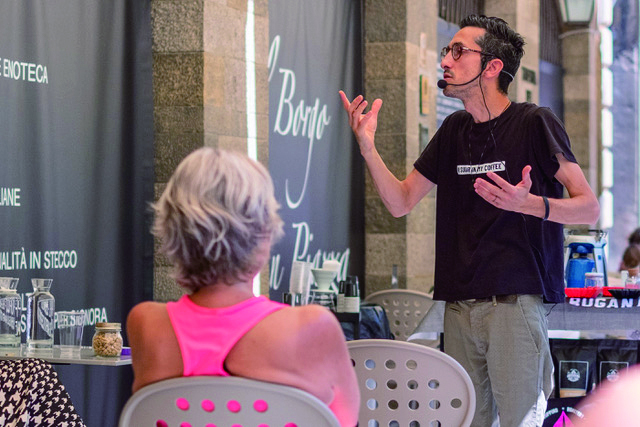 It is difficult to make predictions about the future now, but delivery cannot be the only possible solution, "especially for a product like coffee, which is difficult to transport". Not even the re-organization of spaces will do it, since most Italian cafés are nothing more than very small rooms. It will be necessary to intensify and maintain a high-quality standard, starting with the service, which must become more qualified and professional. "When coffee shop owners come to Bugan Coffee Lab to train I usually ask them how they got here. Their answer is usually "I drove here", so then I would ask them if they have their license. Their eyes open and I can feel the confusion in their minds. My point with this is: before you drive a car you need a license. It should be the same for coffee: how are you going to make and sell coffee if you don't have a "license" AKA proper training," explains Maurizio.
To be able to keep business moving forward, however, it will not be enough to simply be good bartenders. Having an entrepreneurial mindset and an eye for quality is now a must as well.
As of November 2020, the road to reopening is still long and the light at the end of the tunnel is blurred by the impossibility to predict what will lay ahead of us in a few months. So what can baristas do in the meantime?
Delivery and Online Sales
Italians normally only ever get sushi and pizza delivered, however, since COVID-19 and all the restrictions it brought along, Bugan has begun delivering its beans to more and more thirsty Italians. Their need to get creative to stay in business has also pushed them to come up with new marketing strategies to implement sales, explains Maurizio.
So let's go back to coffee. If the system is already patented for food, desserts, as well as for beans, how about espresso, cappuccino or filter coffee – is delivering those items and maintaining their quality even possible? "Yes, but also no. We could study formulas with specific thermos that guarantee the quality of the product, but always within a few meters of the bar for filter coffee, definitely not for espresso or cappuccino", explains the owner of Bugan, who also adds: "At the moment though, I don't feel like taking the risk of coming up with the perfect delivery method. I will stick to less delivery and keep my focus on high qualitative standards and direct relationship with the customer in order to build loyalty".
Though sales of coffee delivered to your home may not be the future of coffee consumption, according to Italian coffee masters like Maurizio, Italians continue to grow interested in learning about coffee.
Improvement Comes from Knowledge
Bugan coffee Lab has its own coffee Academy. The goal is to not only train enthusiasts or future baristas, but distributors and passionate coffee lovers as well. The theoretical online classes are not yet an option, since the in Lab experience and coffee tasting cannot be handled well remotely, but in-person workshops will resume as soon as gathering in groups will become possible again.
With the shutdown of cafes more and more Italians left home alone with their old Bialetti moka, have gained interest in coffee and its different ways of consumption. Once you go specialty coffee you never go back.
There is a growing number of free resources available to common coffee consumers who want to learn more about beans and techniques. The free offer for this demographic is perhaps a little limited, but certainly, a useful opportunity to learn more about the subject and venture out the espresso addiction typical of us Italians. For those wishing to learn more about the topic of coffee, however, there are also online courses offered by various SCA – Specialty Coffee Associations – certified trainers just like Maurizio Valli and his team of baristas.
The day when Italians will walk around the streets of Milan or Rome holding coffee in a little paper cup is still a long ways off. Regardless of this fact, there is a small group of Ita-lian coffee connoisseurs who grind their own beans, boil their purified water, and steep their coffee in an Areopress to start off their day. To them, this new coffee culture that is looming on the horizon is a brighter coffee future for us all. Sorry Italian Grandmas, thank you Maurizio.
---